Air Fryer Potato Wedges
Air Fryer Potato Wedges are crispy with seasoning on the outside and perfectly tender on the inside! These are so insanely delicious you are going to love them! Air Fryers were made for potatoes, seriously. Try out these tried and true air fryer potato recipes to see why, Baked, Roasted, and of course Fries. Air…
Air Fryer Potato Wedges are crispy with seasoning on the outside and perfectly tender on the inside! These are so insanely delicious you are going to love them!
Air Fryers were made for potatoes, seriously. Try out these tried and true air fryer potato recipes to see why, Baked, Roasted, and of course Fries.
Air Fryer Potato Wedges
Oh my goodness! I love potatoes, whether they are fried, mashed, baked, or made into a heavenly cheesy side dish. Not to mention the velvety soups, potato hash, roasted potatoes, and even potato chips! Now, these! I have always loved them baked in the oven and still do, but the air fryer makes it so much faster! Sometimes it doesn't matter how well I plan, I am always scrambling to get side dishes for my main dishes. Often they get skipped completely because they take too long to cook. Not with the Air Fryer!
The air fryer will give you incredible crispy crusty outsides and tender fluffy insides in less than half the time, and with less oil. I can less fat and get even better results with the air fryer. The big bonus is I do not have to heat up the kitchen to bake them too. Awesome! These potato wedges go perfectly with just about anything but I love them with hamburgers, grilled chicken, and steak!
What You Need For Potato Wedges in the Air Fryer
Change the seasonings to your likings. Suggestions below.
Russet potatoes: Perfect for frying, they get beautifully crisp.
Extra virgin olive oil: This helps crisp them up and helps the seasoning stick.
Garlic powder: This will stick better than minced garlic and is not quite as strong as the fresh.
Italian seasoning: A perfect blend of spices and herbs.
Salt or to taste: Got to have a bit of salt for flavor.
Freshly ground black pepper or to taste: Not too much, you do not want it to overpower.
Freshly grated Parmesan: Can use jarred parmesan, but make sure it is finely grated.
Chopped fresh parsley for garnish: This is optional but adds color and a bit of freshness.
Let's Make Potato Wedges
These are going to be done in no time and go perfect with just about anything.
Prep Potatoes: Cut each potato lengthwise in half. Cut each half into three wedges.
Seasonings: In a large bowl add the potato wedges, olive oil, garlic powder, Italian seasoning, grated parmesan salt, and pepper.
Air Fry: Place the potatoes in the basket of your air fryer. Cook for 390 for 15 minutes. Shake the basket every 5 minutes until crispy and golden brown.
Serve: Garnish with fresh parsley and serve with ketchup, ranch, or sauce of choice.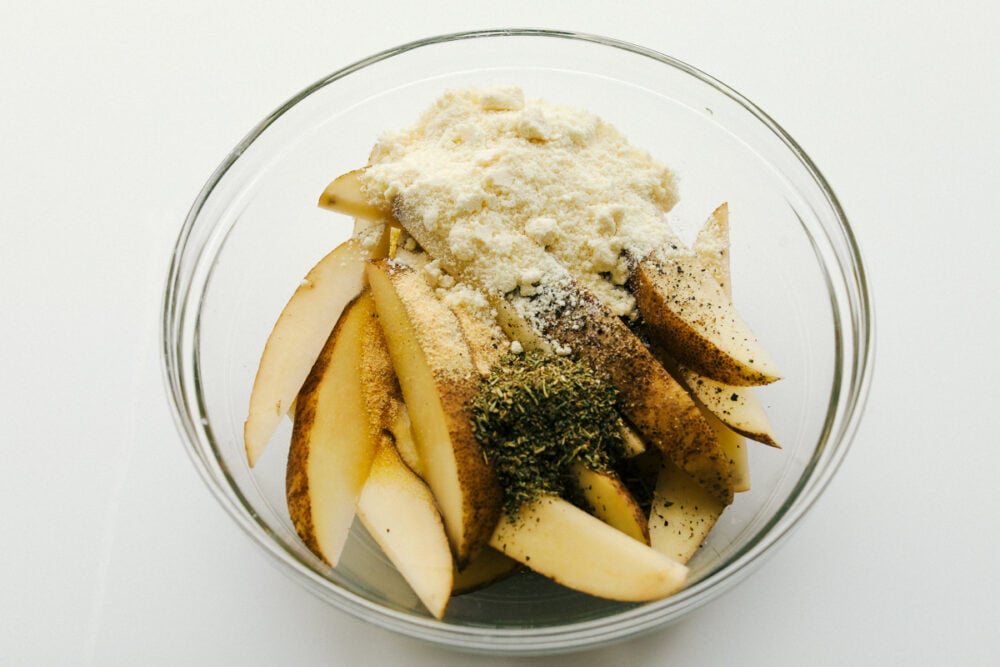 How to Make the Best Air Fryer Potato Wedges
Baking them in the air fryer gives the perfect texture you'd expect in less than half the time.
Even: To ensure that your wedges get done at the same time and cook to the same doneness, cut them as evenly as possible. You want the potatoes to be the same thickness as well as length.
Potatoes: Russets are the potato of choice to use here. They will crisp up the best and still be tender on the inside. Reds and Yukons are waxier and will not get as crispy.
How to Cut Wedges: Cutting a potato into wedges is easy. Cut the potato in half-length ways. Then cut each half lengthways again, and again till you get the desired thickness.
Air Fryer: The air fryer is a mini countertop convection oven that uses circulating air to cook the potatoes. You can overlap the potatoes wedges a bit, but shake them halfway through cooking to get them crispy all over.
Soak: If you want even extra crunchy outsides, soak the cut potatoes in cold water for 30 minutes. This helps remove some of the starch and allows them to crisp up nicer in the air fryer. Be sure to dry the potatoes really well with paper towels or a clean dish towel before adding oil and seasonings. Otherwise, the excess moisture will cause the potatoes to steam instead of air fry, leaving them soggy.
Leftovers: These will keep in the fridge for up to 3-4 days, they will get soggy in the fridge so I recommend reheating them in the air fryer at 400 for 2-3 minutes or till crisp again.
Potato Wedge Variations
You are going to love how fast these cook, you can have an easy delectable side dish in a breeze.
Seasoning: Depending on what you are serving your wedges with, you might want to change up the spices. Trade out the Italian seasoning for taco seasoning and omit the parmesan cheese. When done baking sprinkle with cotija cheese instead and serve with guacamole and sour cream.
Spice it Up: Trade out the Italian seasoning for chipotle chili powder, cumin, and smoked paprika for a smokey spicy potato wedge. Top with cheddar cheese and serve warm.
Ranch: Keep the parmesan and stir the potatoes with ranch mix for out-of-this-world ranch potatoes.
Everything seasoning: This seasoning is not just for bagels. Toss it with these potatoes for a unique taste.
Basic: There is nothing basic about these but if you just want a classic fry flavor, forgo the cheese and herbs and season with just salt and pepper. I also like to use season salt too.
These potato wedges were made for dipping or smothering, either way, they will be exquisite. Ketchup is an easy go-to for dipping, but sometimes you want to spice it up, these sauces below will do just that. If you like to smother your potatoes, make chili and cover them with it and then top it off with cheese and sour cream. We also like to drizzle this heavenly cheese sauce over the potato wedges, so yummy! I do not think there is a wrong way to serve these delectable potato wedges.
Dressings, Sauces, and Dips
The Famous Fry Sauce
Dressings, Sauces, and Dips
Copycat Chick fil A Sauce Recipe