Air Fryer Sweet Potato Chips
Air fryer sweet potato chips are the most delicious, crunchy snack! They are SOO good and much healthier than the store-bought version! This homemade favorite is something you can munch on all day long! I love a snack that is sweet AND savory. These chips satisfy that craving and are one of my favorite ways…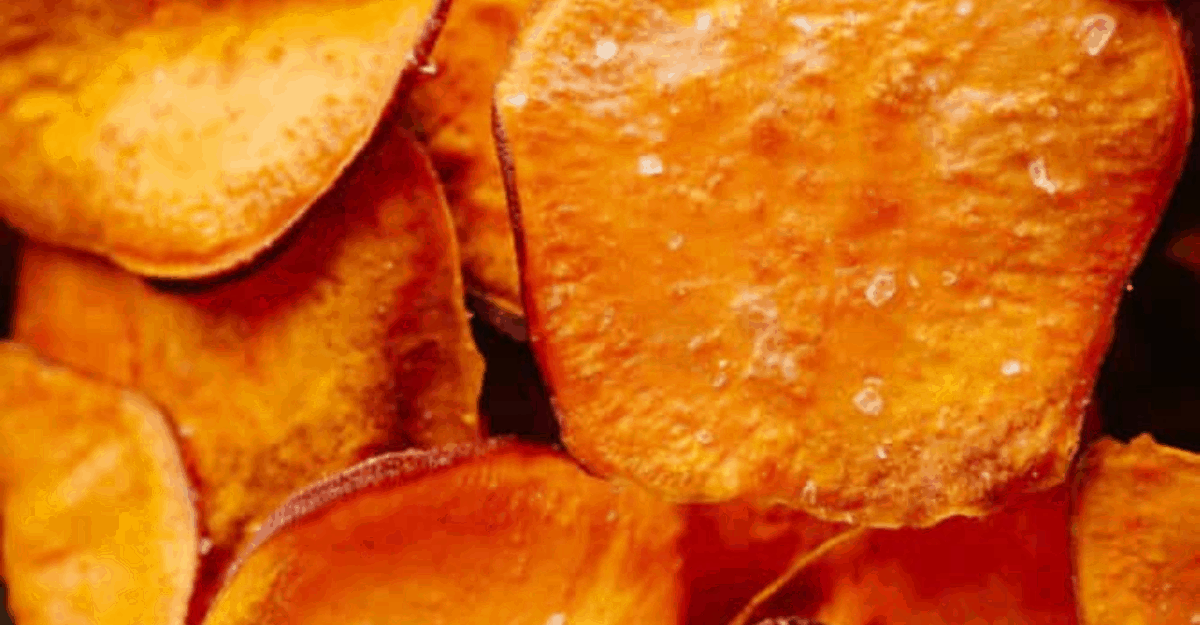 Air fryer sweet potato chips are the most delicious, crunchy snack! They are SOO good and much healthier than the store-bought version! This homemade favorite is something you can munch on all day long!
I love a snack that is sweet AND savory. These chips satisfy that craving and are one of my favorite ways to eat sweet potatoes! A few more snacks that you can make to munch on at home are these Ranch Pretzels, Baked Zucchini Fries, and my personal favorite, Green Tomatoes!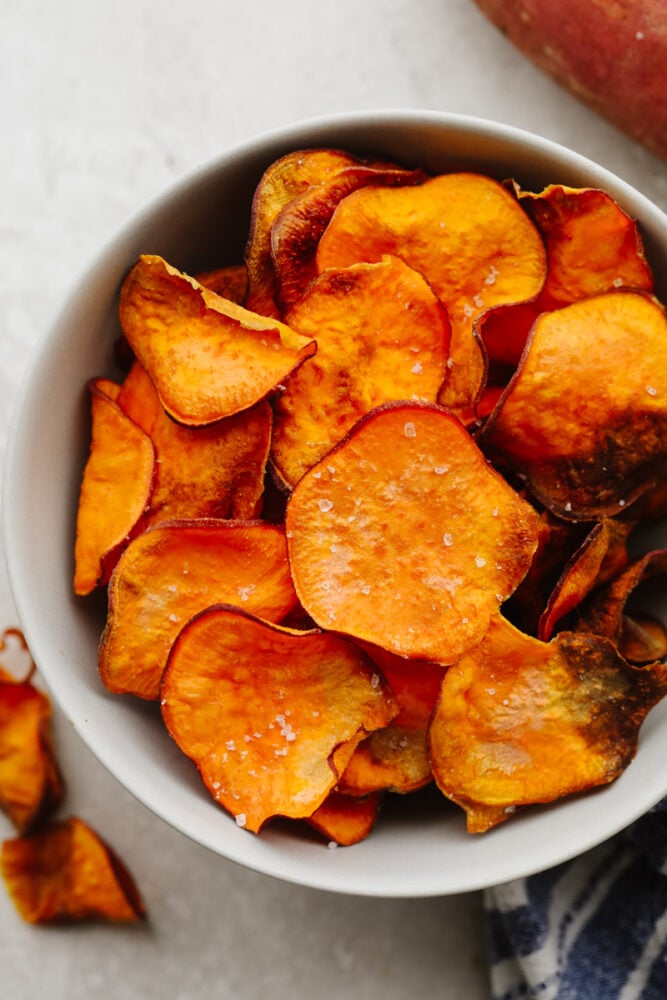 Air Fryer Sweet Potato Chips
The name of this recipe just SOUNDS delicious to me! Any recipe that can make my mouth water before I even cook it is a winner in my book! So, if you love sweet potatoes and are looking for a new way to cook them up, you've come to the right place. These air fryer sweet potato chips are absolutely delicious! They are crunchy and salty and best yet… EASY to make! All you have to do is slice them up, season them through, and pop them in the air fryer. This makes it so easy and you will have a scrumptious snack ready to go in under 30 minutes! And if you love these, you should try these other potato chips or french fries in the air fryer too!
Air fryer sweet potato chips are as yummy as they sound! Plus… they are healthy! You can buy these at the store but they won't be as healthy or fresh as these ones. So save yourself some money and make up a big batch of these next time the craving hits! Cooking them in an air fryer also allows you to get the benefit of "fried" foods without all of the oil and grease! In fact, it's one of my all-time favorite ways to bake up normally fried recipes. I get the delicious taste without the guilt! So go ahead and try these out, I'm sure that you will agree they are a winner!
Ingredients in Air Fryer Sweet Potato Chips
Well, this one is about as easy as it gets! All you need is 3 (yep you read that right… 3!), ingredients and you will be snacking on these in no time! See the recipe card below for a list of exact measurements.
Sweet potatoes: Choose medium sized sweet potatoes when you are picking these out!
Olive oil: Just a small amount is needed!
Salt: This will give you that salty, chip flavor!
Let's (Air) Fry Up Some Chips!
Before you begin, you will want to make sure that you have a mandolin slicer ready to go! This will give you those thin, potato chip slices that you need for this recipe!
Slice: Using a mandolin slicer, slice the sweet potatoes into very thin slices.
Soak: Soak the sweet potato slices in cold water for 20 minutes to remove the additional starch from the potatoes.
Dry: Remove them from the water and pat dry with a paper towel.
Sprinkle and toss: Toss the air fryer slices in the olive oil and sprinkle with salt.
Cook: Lay the slices in an even layer in the air fryer. Cook at 350 degrees for 10-12 minutes or until crisp.
Remove and repeat: Remove from the air fryer and repeat until all of the sweet potato slices are used.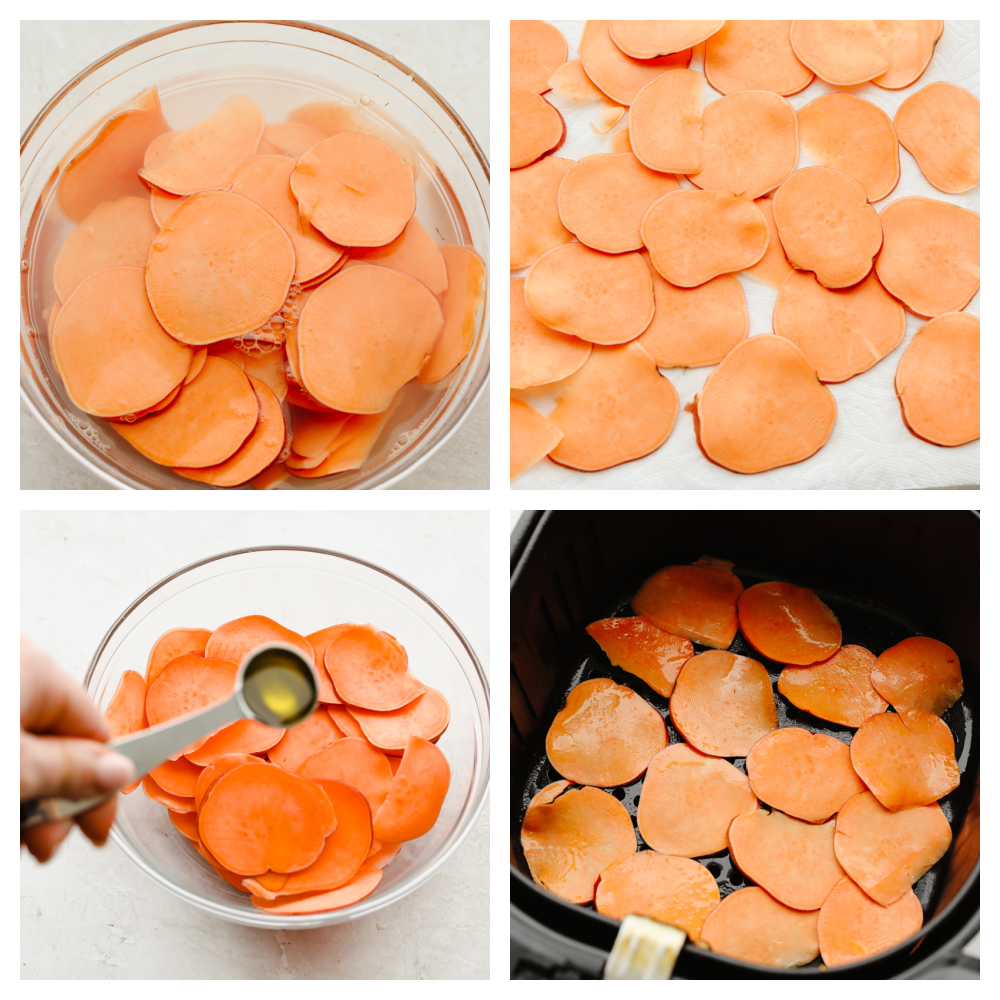 Air Fryer Tips
If you are new to using an air fryer, here are some tips for you! These will help your food turn out just perfectly. And really, once you get the hang of it, you will never go back!
Preheat your air fyer: To get the most evenly cooked food, you should preheat your air fryer. Some air fryers have a specific preheat button. If yours doesn't, then go ahead and set it at the cooking temperature for your recipe for 3 minutes before you put food in it!
Don't overlap: It's best to cook in layers in the air fryer! If you do then your food will turn out better! Make sure that you don't overcrowd the basket and that your food doesn't overlap. Placing too much food in the basket doesn't allow it to cook properly. It will end up soggy and not crispy!
Don't forget to flip: In *most* air fryer recipes, you are going to want to take the basket out and flip or shake the food halfway through cooking. You do this because this will help you get you the most even crisp on all of your food!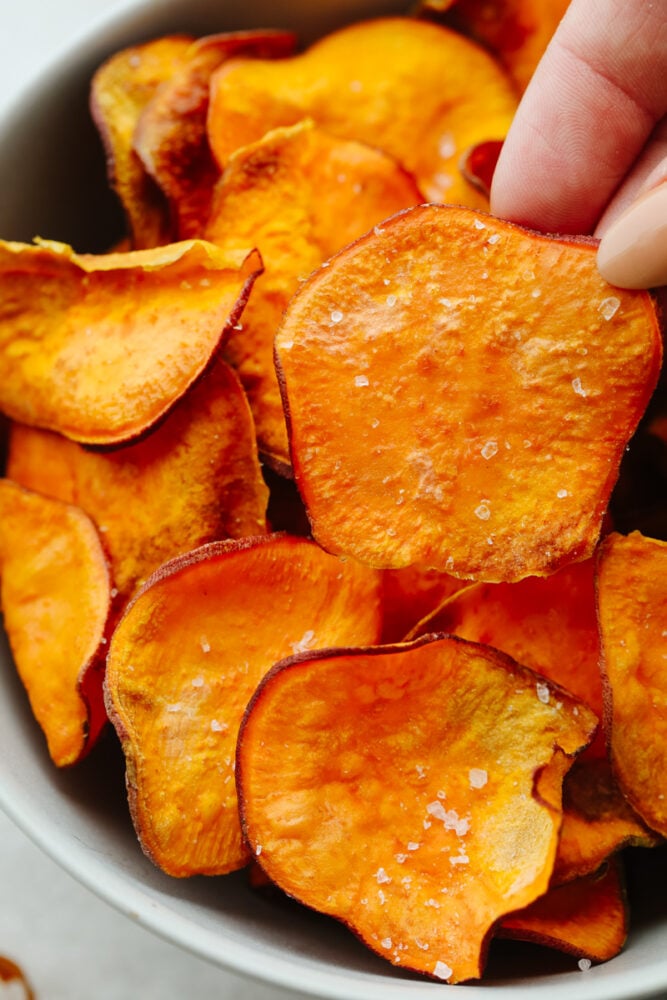 How to Store Leftovers
The best part about air fryer sweet potato chips is that (just like normal potato chips) is that you can enjoy them for a few weeks after! So go ahead and double or triple this recipe and cook up a bunch at once! You will be so happy that you did!
Room temperature: Once you are done eating your sweet potato chips, you can save them for later! Store them in a plastic ziplock bag or airtight container. You can store them in your pantry out on your counter for up to 2 weeks!
Appetizers
Air Fryer Fried Pickles