Amazing Thread Breaks Down All 18 Kinds of Disney Movie Songs
Reporter Justin McElroy points out the patterns that structure Disney movie musicals and suggests there are only 18 types of songs total.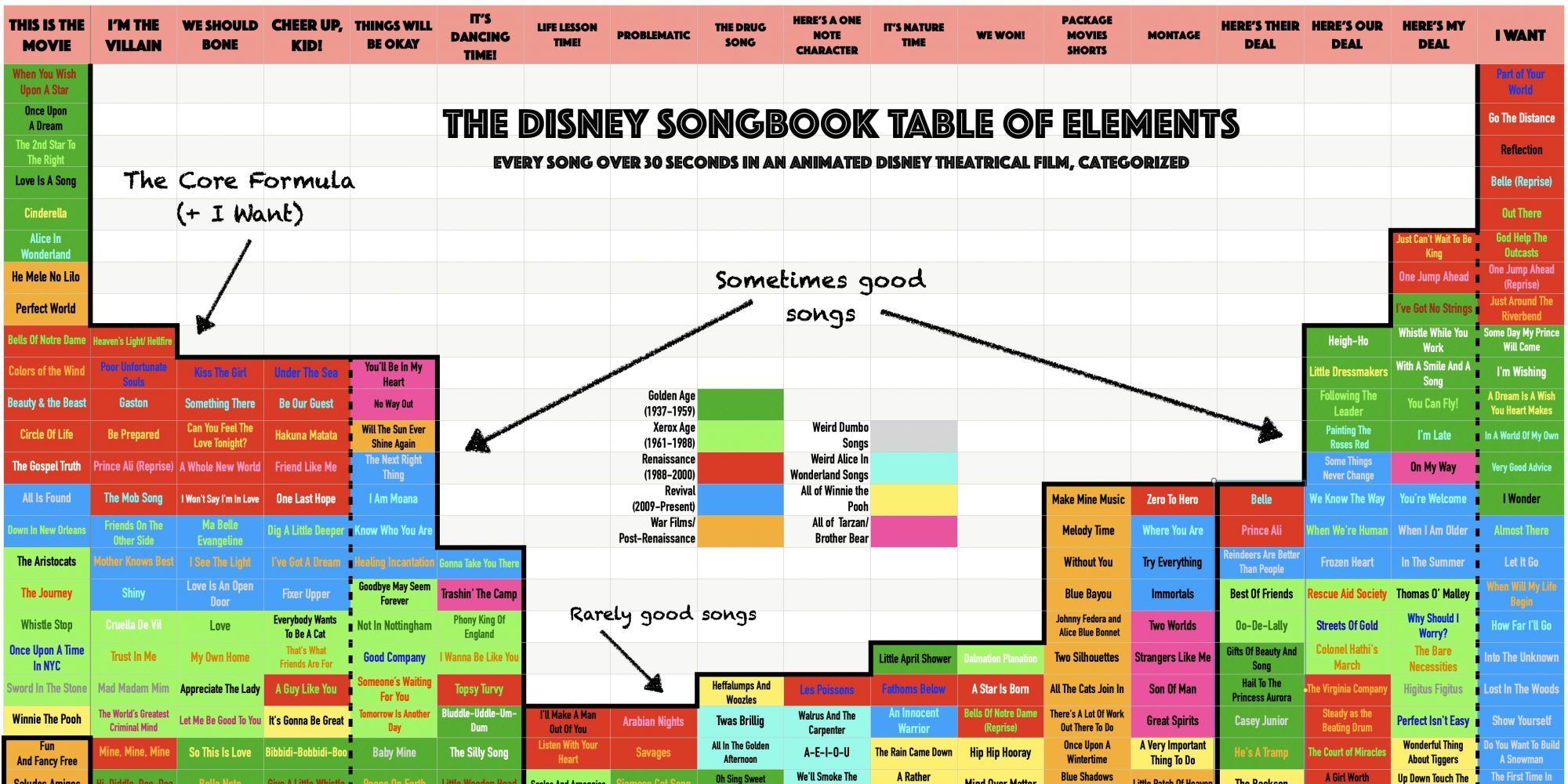 Reporter Justin McElroy cracked the code of Disney's musical magic. Disney animated films and their soundtracks are a staple of many childhoods. The studio frequently adapts fairy tales, myths, and other cultural stories, alongside original plots. However, while seemingly few connections exist between the plot and theme of Snow White and the Seven Dwarfs and Pocahontas, for example, they do have excellent songs in common.
It also helps that Disney often collaborates with the same musicians multiple times. Alan Menken is probably the most famous, having crafted songs for several Disney animated classics in the 1990s. These include The Little Mermaid, Beauty and the Beast, and Aladdin. Menken has also worked on newer Disney films like Tangled and Enchanted, as well as several of the studio's live-action remakes. He'll return for , working with Lin-Manuel Miranda. In fact, Miranda is already beginning to form a similarly long-lasting relationship with Disney, writing songs for Moana and starring in Mary Poppins Returns.
Now, Justin McElroy, a reporter for CBC Vancouver, suggests there is more than meets the ear in Disney songs. He uncovered patterns that structure them, explaining there are categories of songs into which animated features fall. His impressive Twitter thread is thorough and lays out the evidence well. It's not enough that he defines 18 categories and examples, he delves deeper to cite the types of Disney characters who'd sing certain songs, as well as the number of times each category song appears. McElroy finally summarizes the entire grouping experience into a visual graphic, titled The Disney Songbook Table Of Elements. Check out the thread below:
Impressively, The Disney Songbook Table Of Elements includes all phases of the company's film production, including the Golden Age in 1937-1959, the Xerox Age from 1961 to 1988, the Disney Renaissance from 1988 to 2000, and the ongoing Revival Era. It makes sense that few memorable songs fall into the outlier category, and "Problematic" is a graveyard where numbers like "The Siamese Cat Song" go to die. Though not regular features, the outliers appear in more than six films each, signaling the importance of registering the categories.
Recognizing anomalies is also important because sometimes the outliers produce standouts like "I'll Make a Man Out of You." The act of tracking and defining the genres of song highlights the consistency of Disney productions from the company's inception to now. It also finds the through line for which songs draw children and certain performers. Here's hoping Disney sticks to its formula, while creating new animated films with "I Want," songs to entertain kids for years to come. The Disney Songbook Table Of Elements bridges the viewing experience of Disney animated classics across generations.
Next: Frozen's Let It Go Was Originally A Disney Villain Song
Source: Justin McElroy
Source : Screen Rant
More