Animal Crossing: New Horizons Best Kitchen Design Ideas & Examples
Animal Crossing: New Horizons players have made some truly beautiful and creative kitchen designs. Here are the best fan-made examples and ideas.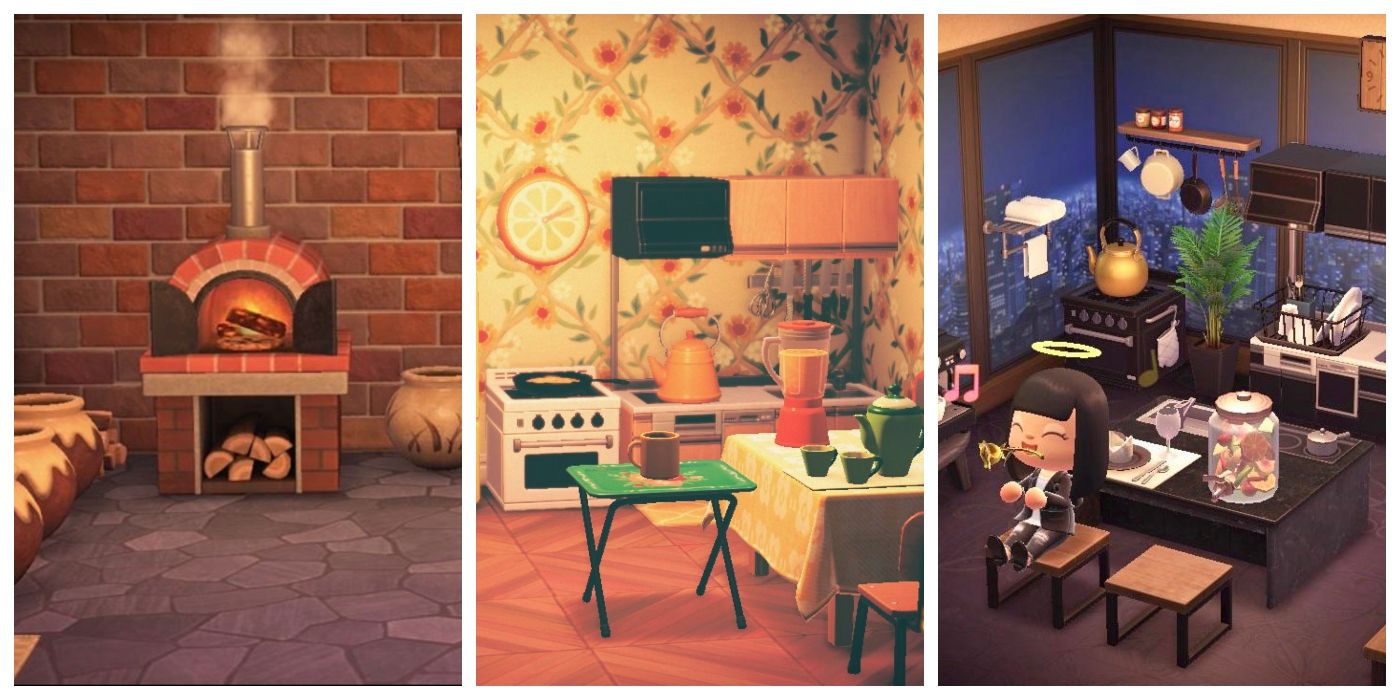 A quality kitchen design is, for many players, endgame. The sought-after and hard-to-obtain Ironwood furniture items give Animal Crossing: New Horizons' fanciest kitchen builds a certain prestige, but the desire for an impressive cooking area in players without Ironwood has also led to some creative and inspiring workarounds.
New Horizons has found itself a flourishing online community not captured by previous Animal Crossing games. This is partially due to massive sales numbers, which reportedly resulted in the game surpassing its lifetime sales expectations in only its first two months. But those sales would likely not have been so high if it hadn't been for the COVID-19 pandemic, as many people are seeking normal daily activities and social interactions in virtual spaces. The series' chill, life sim-style gameplay has always provided that, and the further proliferation of Twitter and Reddit in the time since New Leaf's release has created places for people to share their Animal Crossing experiences.
In their self-isolation, Animal Crossing fans have made and shared some truly wonderful things, using the game's new terraforming tools to create unique islands and building creative room designs. As players make it further into New Horizons, kitchens have become a popular choice of room to customize. Here are some of the Animal Crossing community's best New Horizons kitchen layout examples and design tips.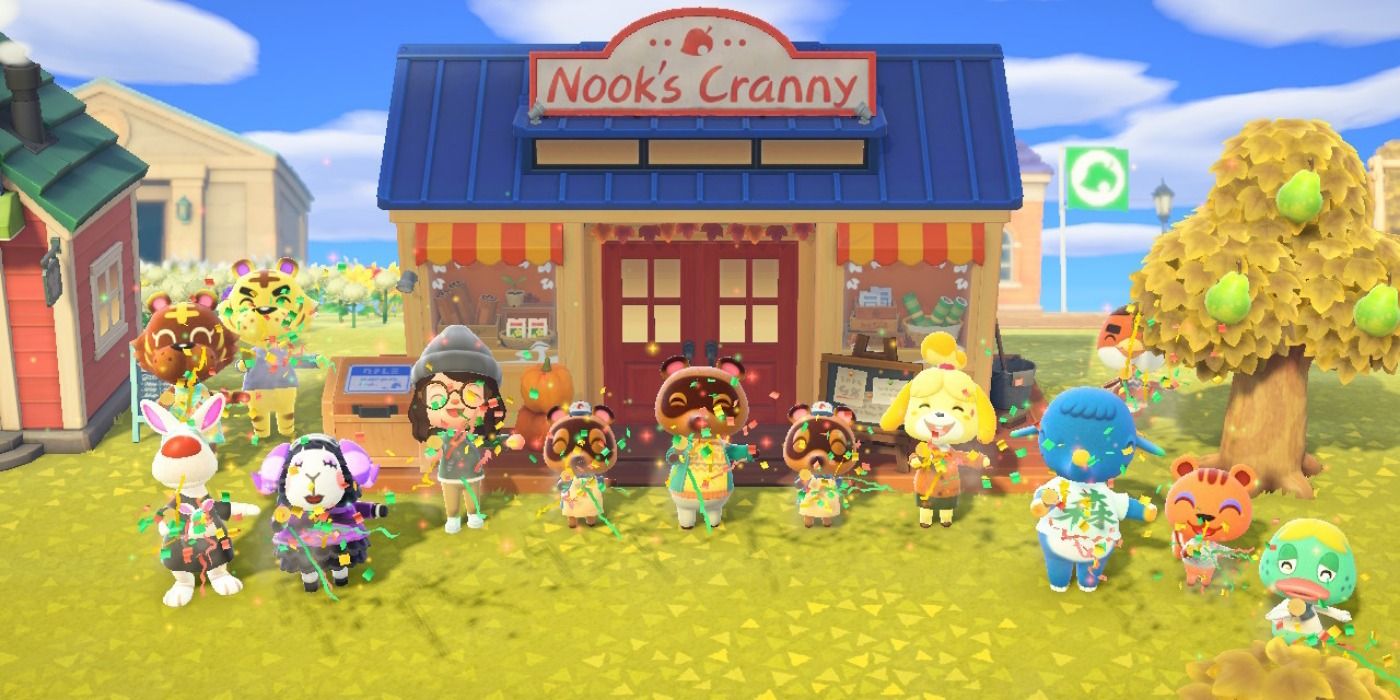 Ironwood Isn't Everything
The Ironwood Set is quite possibly New Horizons' most coveted furniture line. Its sleek, wood-and-metal design looks modern but not too flashy, and its kitchen pieces are particularly nice. Players like cymelanie and Tyrynn have been able to pull of some extremely cool Ironwood-based kitchens that show exactly why so many New Horizons players want these DIY recipes.
But plenty of players have also devised amazing kitchens without Ironwood. Reddit user nervouswreckhere combined a few small Ironwood items (stools and a table) with mostly other kitchen-related furniture parts for a very clean result, made even more impressive by their choice of wallpaper. As shown in the tips below, wallpaper, color, and many other factors can spruce up a kitchen to the point where its lack of Ironwood does nothing to diminish its beauty.
Still, without the Ironwood parts, players will have to get creative with their kitchen item choices. Reddit user crumbsicle demonstrated an interesting use of the DIY Block Dresser as kitchen a counter when flipped around, for example, and some players have even found ways to use s custom patter designs to make fake Ironwood kitchens.
Give It A Theme
Ironwood or not, one way to make a kitchen stand out is to give it a unique theme. Reddit's adeleiney, succubusy, and babypenguin00 all picked strong themes (turquoise diner, 1970s, and fish), which help tie the rooms together and create a cohesive space. This especially helps when players only have access to more unconventional items, as seen in the next tip.
Go Old-School (Really Old-School)
Taking kitchen themes to the extreme can result in some simple but effective designs. For example, many players have decided to create very old-fashioned kitchens. Reddit user lyslace created an awesome Skyrim-style kitchen using a mishmash of more traditional furniture pieces, and players like arebaderci have done similarly medieval-inspired designs.
If players don't have access to all these furniture pieces, they can follow chillychinchillada's lead and use simple, easily accessible DIY recipes and furniture items to create a similar look.
Color Is Key
When designing any room in New Horizons, it's important to consider how the colors of players' chosen furniture items harmonize. Some of the best kitchens use small accents of color to pull the room together in a subtler way than the heavily themed designs. Take lunathelark's kitchen, which uses just three yellow objects to establish strong points of interest.
With those pops of color, it's also important to make other parts of the kitchen consistent. Reddit user thirtytwoounces used almost entirely black and white furniture pieces, which makes the orange, green, and dark red elements of their kitchen stand out.
Go Small, Or Combine It With Other Rooms
While many players' impressive kitchen layouts are huge, room-spanning masterpieces, others are just simple, small parts of larger spaces. Something like Falconasse's kitchen - tucked into a corner beside a living room - could be a great place to start for kitchen builders. A good way to section off a kitchen is an island countertop, but these are quite expensive and hard-to-find, so a simple table like Falconasse's is a great substitute. Reddit user ikthur pulled off a similar effect, using a small table to separate a beautiful kitchen from a living room.
Many of these examples combine multiple  kitchen design tips, utilizing space, color, and creativity to make something unique and impressive. Players should find plenty of inspiration in the above Animal Crossing design ideas, so all that's standing between them and the kitchen of their dreams is a bit of hard, virtual work.
Next: Animal Crossing: New Horizons - Garden Designs Tips & Tricks
Animal Crossing: New Horizons released on March 20, 2020, for the Nintendo Switch.
Image Source: Modestmanatees/Reddit, succubusy/Reddit, nervouswreckhere/Reddit
Source : Screen Rant
More