Bubble Pizza
Bubble pizza is a fabulous spin on pepperoni pizza that is easy and crazy good! Soft pillowy biscuits are smothered in sauce, pepperoni, and topped with cheese! We love pizza in our house and there are so many fun ways to make it besides in the round. Try these tried and true recipes Pizza Crescent…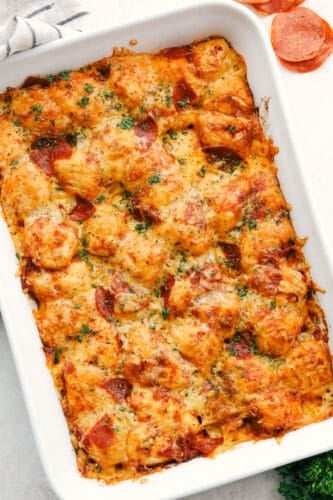 Bubble pizza is a fabulous spin on pepperoni pizza that is easy and crazy good! Soft pillowy biscuits are smothered in sauce, pepperoni, and topped with cheese!
We love pizza in our house and there are so many fun ways to make it besides in the round. Try these tried and true recipes Pizza Crescent Rolls, Calzone, and English Muffin Pizzas.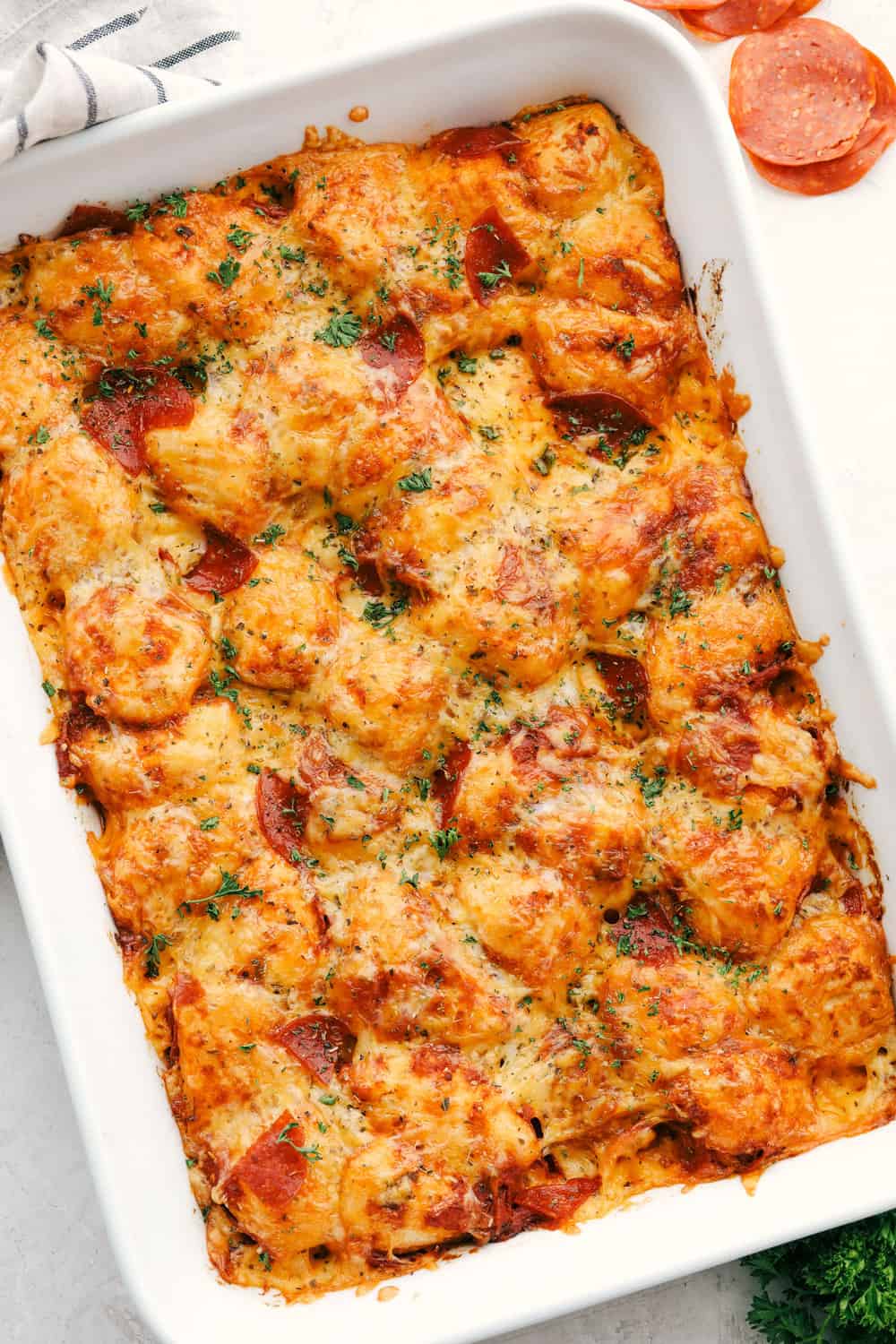 Quick and Easy Bubble Pizza
When you are craving pizza but need it quick, this bubble pizza is the way to go! Customize your pizza any way you like! This is the perfect combination of biscuit, cheese to pepperoni ratio. Every bite of bubble pizza gets better and better with the same stringy, hot cheese, sizzling pepperoni and the biscuits that is like crust. Your family will be asking to make this each week!
Creating pizza is the best Friday night tradition! Now add this bubble pizza to your rotation and see how simple this pizza casserole comes together. Bubble pizza is named from the biscuits being simple to use and act as a crust in the casserole. They bubble up being baked and create the best balance of bread, cheese and sauce mixture. You can't go wrong with this bubble pizza recipe!
Ingredients for Bubble Up Pizza
Bubble Pizza is super simple to make and has just the right amount of ingredients that you will have on hand. Easy and delicious, this bubble pizza will be a huge hit for dinner!
Regular Biscuits: I used a can of Pillsbury dough biscuits.
Pizza Sauce: I love homemade sauce but any store bought kind will work well too.
Parmesan Cheese: Freshly grated is the best but if you want to keep it simple, purchase the pre-shredded in kind in the bag.
Italian Seasoning: This is a pantry staple and always on-hand.
Garlic: My favorite ingredient to add when choosing Italian dishes!
Pepperoni: Cut your pepperoni into fourths for a bite size look.
Colby Jack Cheese: Shredded cheese that will be sprinkled on top.
How to Make the Best Bubble Pizza
It is easy to make and comes together in a less than 10 minutes. Your kids will love to watch the oven window as the biscuits start to bubble up!
Prepare Pan: Preheat oven to 350 degrees.

 

Spray a 9×13 inch baking dish with cooking spray and set aside.
Mix Together: In a medium-sized bowl combine the biscuits, pizza sauce, parmesan cheese, Italian seasoning, garlic, and pepperoni.
Add Biscuits: Spread in an even layer along the bottom of your baking dish.

 

Do not overlap biscuits.
Bake to Perfection! Top with shredded cheese and bake for 15-20 minutes or until biscuits are cooked and cheese is bubbly.
Variations for Bubble Up Pizza Bread
Mix and match all the toppings to customize your bubble pizza just the way your family loves it!
Sauce: Mix up your sauce and try Alfredo Sauce or a zesty Italian sauce that is store bought.
Cheese: Switch your cheese with an ooey-gooey mozzarella or even a sharp cheddar.
Biscuit Dough: If you love homemade, these biscuits are perfect for using in this recipe.
Protein: Shredded chicken, sausage and ham are great ways to create a hearty and filling dinner.
Toppings: Add as many or as little toppings to create the best bubble pizza. Try green peppers, canned pineapple, sliced black olives, mushrooms or onions for a delicious twist.
What to Serve with Casserole Pizza
Make a complete meal with these delicious side dishes!
Salads
My Favorite Caesar Salad Recipe
Bread
Homemade Breadtwists