Captain America: 10 Awesome Pieces Of Steve Rogers Fan Art We Love
MCU fans are a passionate bunch. Some have taken the time to create some incredible pieces of fan art.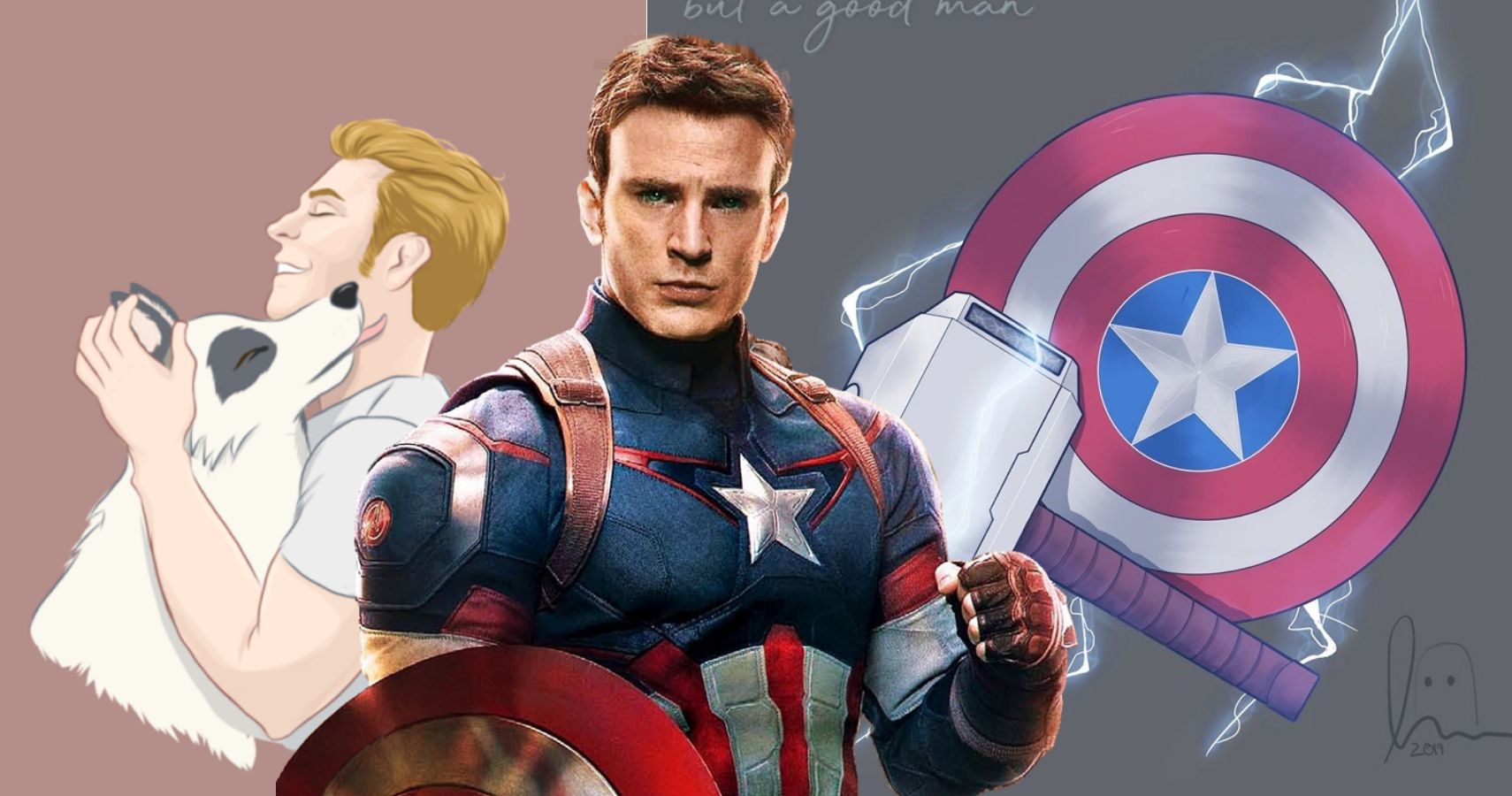 Steve Rogers is one of the great heroes of all-time. He served as Captain America, sure, but it's his own strength that truly shines. He's a man out of time, having survived the loss of his world twice over. He stuck to his values to survive, prioritizing people over institutions. In the end, he was simply a good man.
RELATED: 10 Mandalorian And Baby Yoda Fan Art Pieces That Make Our Hearts Sing
Steve Rogers is fictional, of course, but that doesn't stop him from influencing very real lives. The following artists have spent time and energy creating these works of art. They have sat with Steve Rogers in their minds and produced something beautiful.
10

A Good Man By Kwerschlaegers-art
Steve Rogers proved himself worthy of Mjolnir in Avengers: Endgame. He fought Thanos off with the hammer and his classic shield. Kwerschlaegers-art captures the power of this combination.
As Dr. Erskine, the man who created the super-serum that turned Steve into a super-soldier, told him right before his operation, make sure you remain "Not a perfect soldier, but a good man." As Steve would come to find out, there's a huge difference. These words, combined with Mjolnir and the shield, perfectly encapsulate Steve's Endgame experience.
9

The Reunion We Deserved By Fadefilter
Steve lost his two best friends, Sam Wilson and Bucky Barnes, during the Snap. They turned to dust before his eyes. The next time he sees them, they are mid-battle. Fans never get to see their touching reunion. Fadefilter fixes this.
In this lovely piece, Steve gets the hug with Sam and Bucky he deserves before he returns the Infinity Stones and chooses not to return. It's a hello, but perhaps it's also a goodbye.
8

Stubborn Steve By Imgaystrawberry
Steve Rogers is one stubborn dude. As he once said himself, "Get killed? walk it off." Imgaystrawberry perfectly captured this side of Steve's personality. It's no one's stab wound but his own, so everyone else can mind their own business.
RELATED: Lord Of The Rings: 10 Pieces Of Fan Art Fans Will Love
If Steve's on a mission, he's not going to stop to get medical care. There's no stopping him when he sets his mind to it. Even Bucky can't talk him out of it.
7

 Steve Mulaney By Kimalaiset
Here, Kimalaiset smartly put a John Mulaney quote in Steve Rogers' mouth, and it works. Fans can absolutely imagine Steve saying, "I don't care for these new-Nazis." The poor guy sacrificed himself to save the world from Nazis only to wake up in the next century where there are still Nazis.
Steve Rogers is probably just like us, watching Mulaney's specials and laughing so hard he cris. There's no way to tell whether John Mulaney exists in Steve's world but it's nice to hope that he does.
6

The Cure For Sadness By Spidey-art
It's pretty clear from all the MCU movies that Steve is deeply sad. There's even a deleted sequence from Avengers that shows him traveling around NYC, steeped in his own melancholy. He lost his loved ones, his world. He's nothing but a soldier, a shell, a mantle.
Here, Spidey-art has lovingly gifted Steve a cat to cheer him up. There's nothing better than a ball of fluff to aid in the curing of sadness. Hopefully, comfy Steve lets this cat into his heart - and his lap.
5

Dog Person By Metusdoloris
On the other hand, Metusdoloris pegs Steve as more of a dog person, like Chris Evans himself. They've given Steve a dog to cheer him up instead. He would do great with a dog. They could go for runs together, play catch in Prospect Park, and cuddle on the couch while catching up on Steve's pop culture list.
RELATED: 10 Pieces Of She-Hulk Fan Art We Adore
This cutie is a gorgeous mutt (Steve would absolutely rescue a shelter animal) who's just as in love with Steve as Steve is with him. They're best friends now, there's no denying it.
4

Captain Equality By Latelierderiot
Captain America protects everyone. He fights for what's right and believes in human rights for all. That includes trans people. While some may use the Captain America mantle for their own agenda, Steve Rogers stays true to himself.
In this one, Latelierderiot reminds us of Steve's values. There's no reason why Steve wouldn't protect trans people as he would everyone else. He's a hero, and heroes protect.
3

Through The Ages By Pineapplebread
Steve has had a long life. Born into a small body with multiple health problems, Steve became the societal epitome of male perfect after taking the super serum. He ages, but very slowly.
Here, Pineapplebread has skillfully drawn Steve from every movie. They've animated it so viewers can see the changes over time. Steve becomes world-weary but never loses the heroism in the way he keeps his chin up.
2

Truth, Justice, And The American Way By Portraitoftheoddity
Captain America stands for truth, justice, and the American way. So does Steve Rogers. In Portraitoftheoddity's art, Steve meets Colin Kaepernick, the football player known for taking a knee during the national anthem. The two are shaking hands.
RELATED: 10 Marvel Avengers Reimagined As Hogwarts Students (Fan Art)
Steve respects all individuals. Except, perhaps, the Nazis he punches. Steve, the hero of World War II, respects all forms of protest. Though he was in ice during the Civil Rights Movement, Steve is no stranger to civil disobedience. The early 20th Century had its share of marches too. And fans don't doubt that he caught up on history as soon as he awoke. Steve Rogers believes in justice for all.
1

The More Captains, The Merrier By Persehpone
In this fun illustration by Persehpone, Captain America meets Captain Marvel. Carol and Steve spend a day in the sun together. Steve, dressed in hip clothing for once, wears a cute bro tank that reminds us of the iconic Endgame scene regarding "America's *ss."
Carol, on the other hand, flaunts her guns. For good reason, too. She's ripped. Sun's out guns out is right.
NEXT: 10 Marvel Characters Reimaged As Disney Princesses (Fan Art)
Source : Screen Rant
More