Chocolate Lasagna
Chocolate Lasagna is a no-bake slice of chocolate heaven! Layered with a cream cheese and pudding layer, sandwiched between whipped topping and luscious Oreo crust, it's too die for! No-bake desserts are a MUST in the summer, they are easy, full of flavor, and don't heat up the house making them. Try these tried and…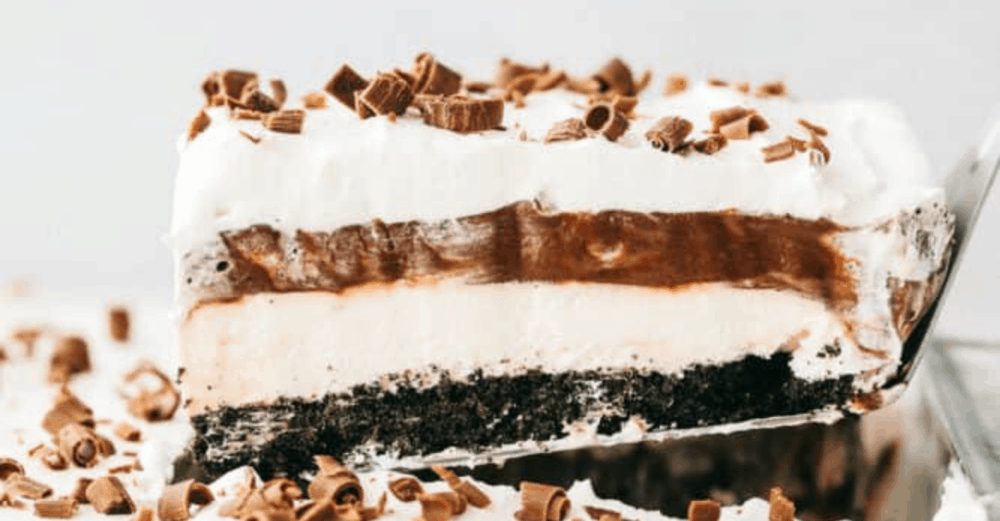 Chocolate Lasagna is a no-bake slice of chocolate heaven! Layered with a cream cheese and pudding layer, sandwiched between whipped topping and luscious Oreo crust, it's too die for!
No-bake desserts are a MUST in the summer, they are easy, full of flavor, and don't heat up the house making them. Try these tried and true No-Bake desserts now, Cheesecake, Key Lime, and Strawberry Pie.
Oreo Lasagna
I love food with layers. They not only look amazing but taste amazing too. Just like My amazing Lasagna and 7 layered salad, this Oreo lasagna is as pretty as it is scrumptious. The rich chocolaty crust is made from Oreos and unsalted butter that I could eat by its self it's so good. The creamy tangy cream cheese layer is sweetened with vanilla and lightened up with cool whip. Then you'll make the chocolate pudding layer with evaporated milk which is a total game-changer. Top it all with whip cream and chocolate curls for a decadent dessert that is actually light and insanely delicious!
Oreo Lasagna is a perfect dessert for summer potlucks or BBQs! It's easy to transport and serve straight from the pan. With all the layers and chocolate flavors this dessert always disappears fast! It is a surprisingly light dessert for all its layers making it an ideal treat when you do not want something heavy. The fact that it's no-bake makes it even better. No reason to heat up the kitchen! Your family and friends are going to love this!
Ingredients For Chocolate Oreo Lasagna
These ingredients are split into separate parts when layering the chocolate lasagna. This is layers of deliciousness and fun for any get together! For all the measurements follow the recipe card below.
Packaged of regular Oreos: It is best to use regular Oreos not double stuffed to get a more chocolaty crust.
Unsalted butter: Melt the butter in the microwave in 10 to 15 seconds intervals.
Cream cheese: You can use either low-fat or full-fat cream cheese in this recipe. Soften the cream cheese by leaving it out or microwaving it for a few seconds.
Powdered sugar: Powdered sugar mixes in easier from the granulated sugar.
Vanilla or vanilla bean paste: Either will give you a rich vanilla flavor perfect for this dessert.
Cool whip: Find this in the freezer section next to the ice cream.
Evaporated milk: Evaporated is richer and a bit thicker than regular milk with a slightly sweet aftertaste. It creates a velvety smooth pudding.
Instant chocolate pudding: Be sure to get instant and not cook and serve pudding.
Cool whip: Thaw cool whip in the fridge before using. Keep it cold though.
Desired toppings: Make it how you like it choosing from,  chocolate chips, crushed Oreos, mini chocolate chips, chocolate curls, chocolate sauce, candies, etc
How To Make Chocolate Lasagna Cake
In five easy steps you will have the most delicious layered cake! It is simple to create the first layer with Oreos then add to the lasagna with each step. It is going to be a huge hit when it is being served!
Crush: Using a food processor, add all the Oreo cookies and crush them until they resemble wet sand. Add the melted butter and mix until combined.
Crust: Press the oreo mixture in the bottom of a 9×13 casserole dish and put in the fridge for about 10 minutes to set up. You can use the freezer instead to cut down the wait to about 5 minutes.
Mix Layer 2: Using the paddle attachment, mix your cream cheese until it's smooth and fluffy. Add in the powdered sugar and vanilla. Once combined, mix in 8 ounces of cool whip by hand until completely combined. Spread evenly over the oreo crust and return to the fridge or freezer for 10-15 minutes.
Whisk Layer 3: In a medium bowl whisk the evaporated milk and pudding mix together until nice and thick. Spread it evenly across the cream cheese layer and place in the fridge for 10-15 minutes, until the pudding has set up.
Layer 4 and Chill: Once the pudding is set up, spread the remaining cool whip across the top and add the toppings of your choice. Chill in the fridge for at least 3 hours before serving. Serve chilled.
The Best Oreo Lasagna Tips
This chocolate lasagna is super easy! You will need to plan time for the layers to chill and is a great make ahead dessert! Get ready to WOW your family!
Freeze as you go: After each layer is put in the pan, place it in the freezer. This will help to solidify the layers so that they stay nice and clean, and don't run together.
Freeze before cutting: To keep those layers pretty freeze the dessert for 30 minutes before cutting it. This will keep the knife from running the layers together and give you nice clean edges. It will also help to chill it just enough before serving.
Oreos: To get the best chocolaty flavor and texture, use regular Oreos, not double stuff. Save the double stuff for dunking in milk.
Use a Food Processor: To get the finest crumb from your Oreos use a food processor to crush them. It will create a consistency like chocolate sand which we love. You can also crush them using a zip-top bag and a rolling pin if you do not have a food processor. Get them as fine as you can so it doesn't fall apart when scooping.
Chocolate Lasagna Variations
This chocolate Lasagna is easy to substitute and customize to make it your own. Make it different flavors, substitute the milk or even add fun toppings for different parties and events. This chocolate lasagna is going to be a family favorite!
Evaporated Milk: Using evaporated milk gives richness to the pudding that is exquisite. If you do not have evaporated milk on hand, you can use the equivalent of regular milk to mix your pudding. It may not thicken up quite as much, but will still taste amazing and work perfectly.
Cool Whip: If you want to use hand-whipped cream instead of cool whip you can. It will not keep as well as or long but should still be amazing. Be sure to whip the cream till it's stiff and add sugar to sweeten it a bit.
Pudding: You can use a different kind of pudding if you prefer. Sometimes I have mixed one vanilla and one chocolate together to lighten the chocolate. There are many variations of the pudding out there, try one that speaks to you.
Toppings: You can top this lasagna with a wide variety of goodies. Think chopped nuts, mini chocolate chips, chocolate curls, cut p peanut butter cups, Snickers, or M&M's. Any candy bar that you desire would work here too. Also, try Andes mints, toffee bits, or keep it simple with a simple dusting of cocoa powder or more crushed Oreos.
How to Store Chocolate Lasagna
This no bake chocolate lasagna cake is perfect to make ahead or even freeze! It is simple to make and ready to eat once it is cooled.
Make A-head: This oreo lasagna can easily be made up to 3 days ahead of time. Store in the fridge covered. It can also be frozen and thawed overnight in the fridge before serving.
Frozen: This will freeze beautifully and if you want can even be served partially frozen for an almost ice cream-like texture.