Chrissy Teigen & John Legend Join Fan's Zoom Birthday Bash
Celebrities are opening up on Zoom, interacting with fans in new ways. This time, it's John Legend and Chrissy Teigen making a birthday surprise.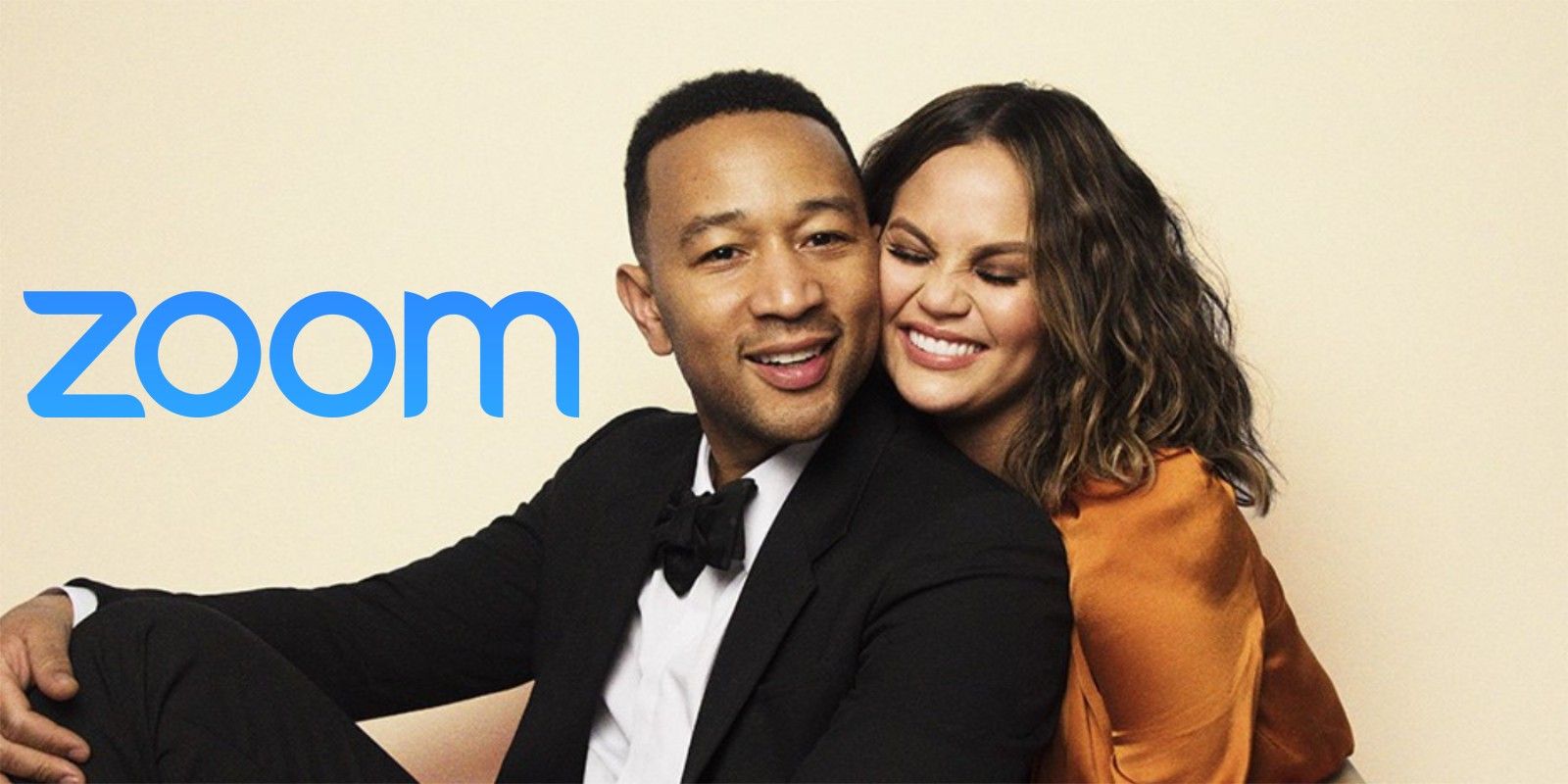 Celebrity couple Chrissy Teigen and John Legend gave a fan the gift of a birthday hang out via Zoom chat. It's the latest in a growing trend of coronavirus-induced social distancing leading to random acts of humanization for famous people on social media.
While it can sometimes lead to problems, Zoom's accessibility has truly helped bring people together. Since gaining such ridiculous popularity a few months ago, Zoom has become synonymous with the video chatting concept. Between people doing "happy hours" with friends and co-workers, and things like online birthday celebrations, social distancing has shown the world that it's easier to be social from home than we thought. Beyond that, though, technology is also making other interactions between celebrities and fans happen when they may not have otherwise.
Perhaps in the spirit of doing something we wouldn't do in the course of our normal, pre-COVID 19 lives, Chrissy Teigen and John Legend jumped into a fan's Zoom birthday chat. The fan, "gracie" on Twitter, posted a screenshot of the video call, thanking the celebrity couple for spending time with her. The image was then retweeted by Teigen, triggering strong reactions from fans. Some people expressed elation for gracie's apparent random luck, while others took it as an opportunity to plug their own birthday Zoom chats, publicly posting room IDs and passwords in the retweet's replies. Others still took it as a chance to attack Teigen for her staunch anti-Trump views, accusing her of spending time with fans as a tool to promote her propaganda. That's the internet sometimes.
Celebrity interactions are one of the biggest unexpected outcomes of the coronavirus pandemic. It's interesting, at the very least, that some famous people are taking this opportunity to let the world into their home lives. It's fantastic that others are using it as a way to encourage people to do great things and find success. Chris Hemsworth of Marvel movie fame, is hosting free workouts and fitness advice, for example. Dwayne "The Rock" Johnson is spending every Sunday doing a live Q&A session with fans, opening up about his careers, marriage, lifestyle, and motivations.
John Legend and Chrissy Teigen are adored by millions of people but so it's awesome to see them spending time with those fans. This isn't the first time they've taken to social platforms to share their time with others, though. Teigen especially is no stranger to reaching out online and connecting with people. Hopefully, we'll see more examples of this from other inspirational people going forward.
More: Celebrity Zoom & Instagram Live: A Fascinating Window Into Stars' Homes
Source: Twitter
Source : Screen Rant
More