Coming 2 America: Every Easter Egg & Reference In The Movie
Coming 2 America includes nearly 50 Easter eggs, so when do they appear and why? Here's a complete list of all the movie references and callbacks.
Coming 2 America includes nearly 50 pop-culture Easter eggs, so when do they appear and why? Eddie Murphy reprises his role in the 2021 movie, along with multiple performers from the 1988 franchise-starter, Coming to America. The sequel includes several references to mainstream movies, though most of them are direct callbacks to the original film.
Directed by Craig Brewer, Coming 2 America has polarized critics and casual streamers since releasing in March 2021. The screenwriters mostly retain the thematic structure of the first franchise installment, but also make sure to update the dialogue for a story about familial loyalty and female agency. There's plenty to enjoy, even if the collective jokes are more about nostalgia than innovative comedy.
In Coming 2 America, Prince Akeem (Murphy) returns to the United States after learning that he fathered a son before meeting his wife, Lisa (Shari Headley). The king's eldest daughter Meeka (KiKi Layne) is fully qualified to become the queen of Zamunda, however, the rightful heir is technically a Queens native named Lavelle Junson (Jermaine Fowler). When the prince-to-be is located in New York City and then trained in Africa, Brewer's film settles into a groove by steadily referencing standout moments from the first film. Here's every Easter egg and movie reference in .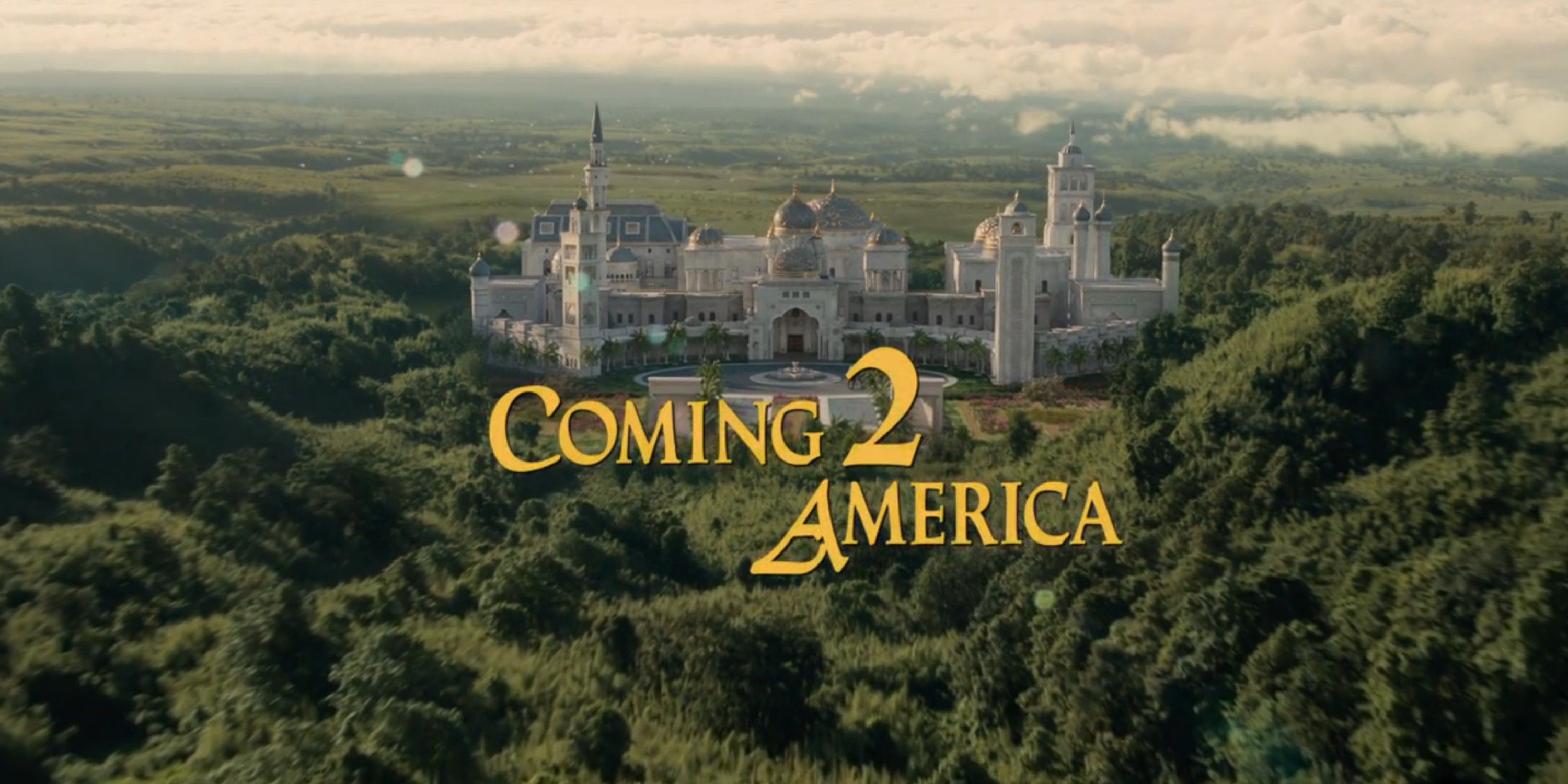 Coming 2 America begins with an overhead shot of Zamunda and a musical nod to the original film. In Coming to America, "Mbube (Wimoweh)" by Ladysmith Black Mambazo opens the film, while the sequel kicks off with a different version of Solomon Linda's 1939 production. In pop culture, the song is best known as "The Lion Sleeps Tonight."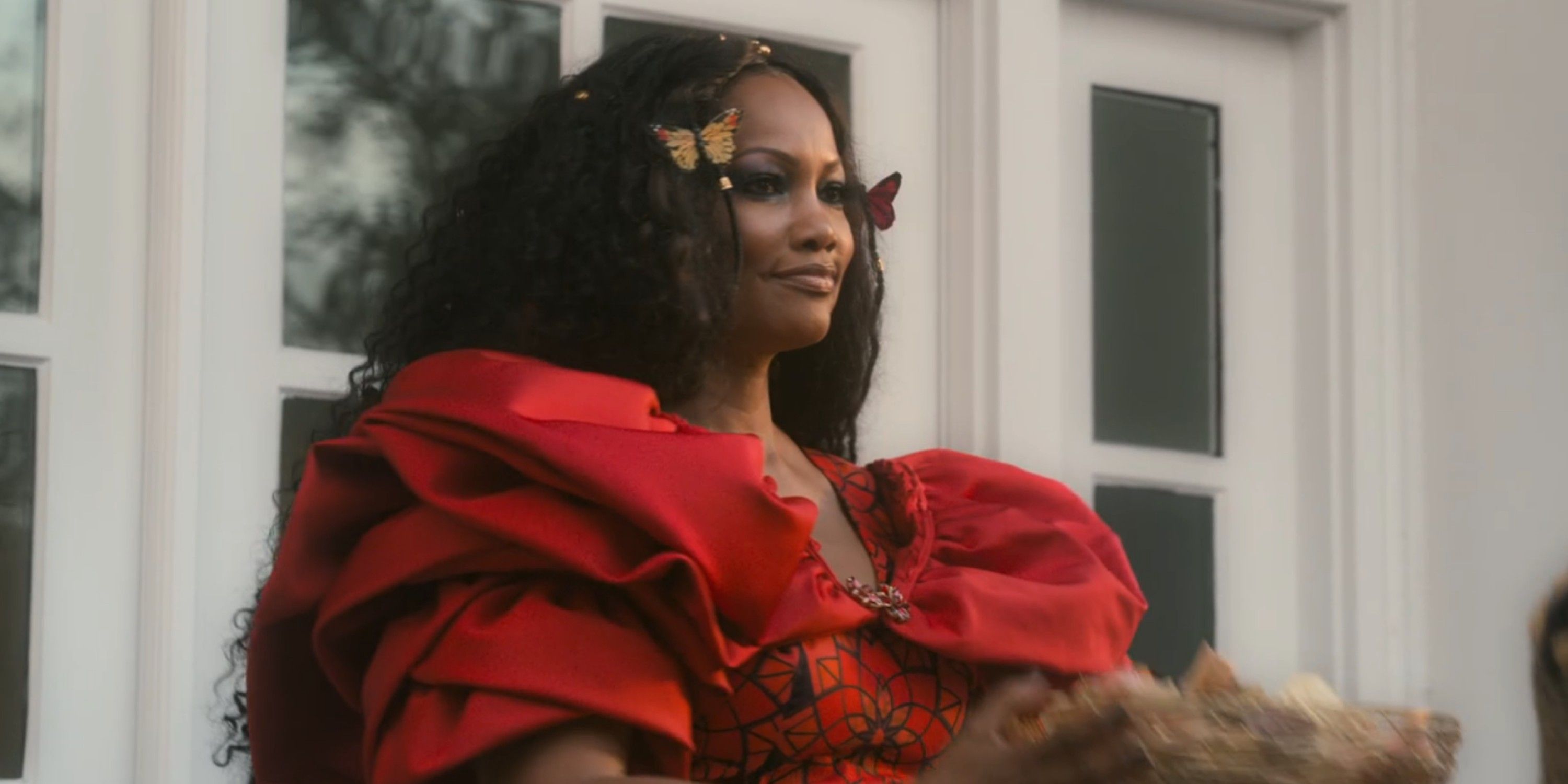 Garcelle Beauvais reprises her original franchise role as a royal rose bearer in Coming 2 America. In both movies, she appears during the opening minutes. Beauvais is best known for portraying Doris Toomes in Spider-Man: Homecoming.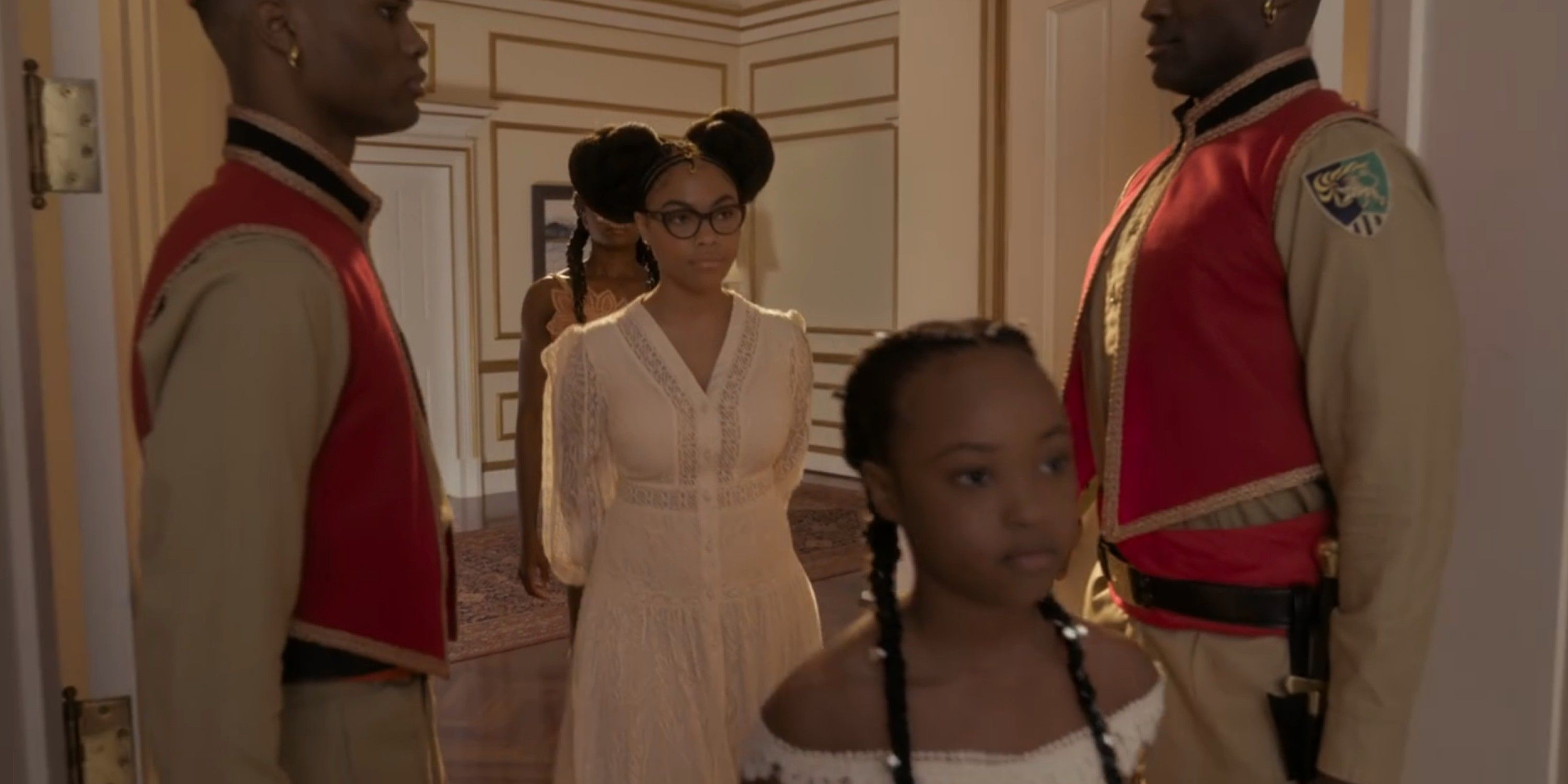 During Prince Akeem's introduction in Coming to America, he leaves his bedroom with three rose bearers. In the 2021 sequel, it's Prince Akeem's three kids who leave a bedroom. Murphy's real-life daughter, Bella Murphy, portrays the middle child, Princess Omma Joffer.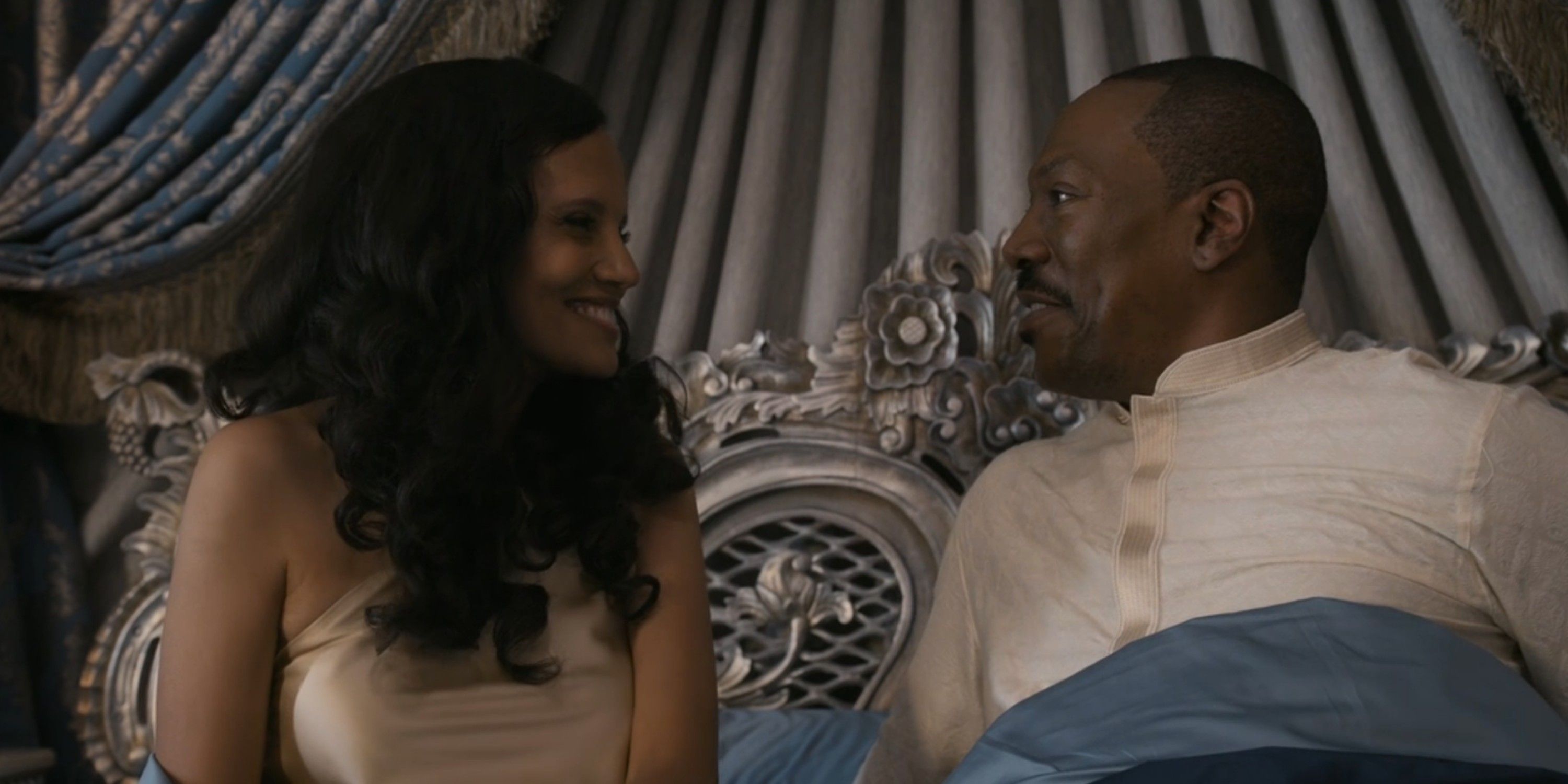 In Coming 2 America, King Akeem and Queen Lisa wake up and receive anniversary blessings from their three daughters. Murphy's character states "It IS our anniversary!" - a callback to the line "It IS my birthday!" in Coming to America. The original 1988 film ends with Prince Akeem and Lisa getting married in Africa.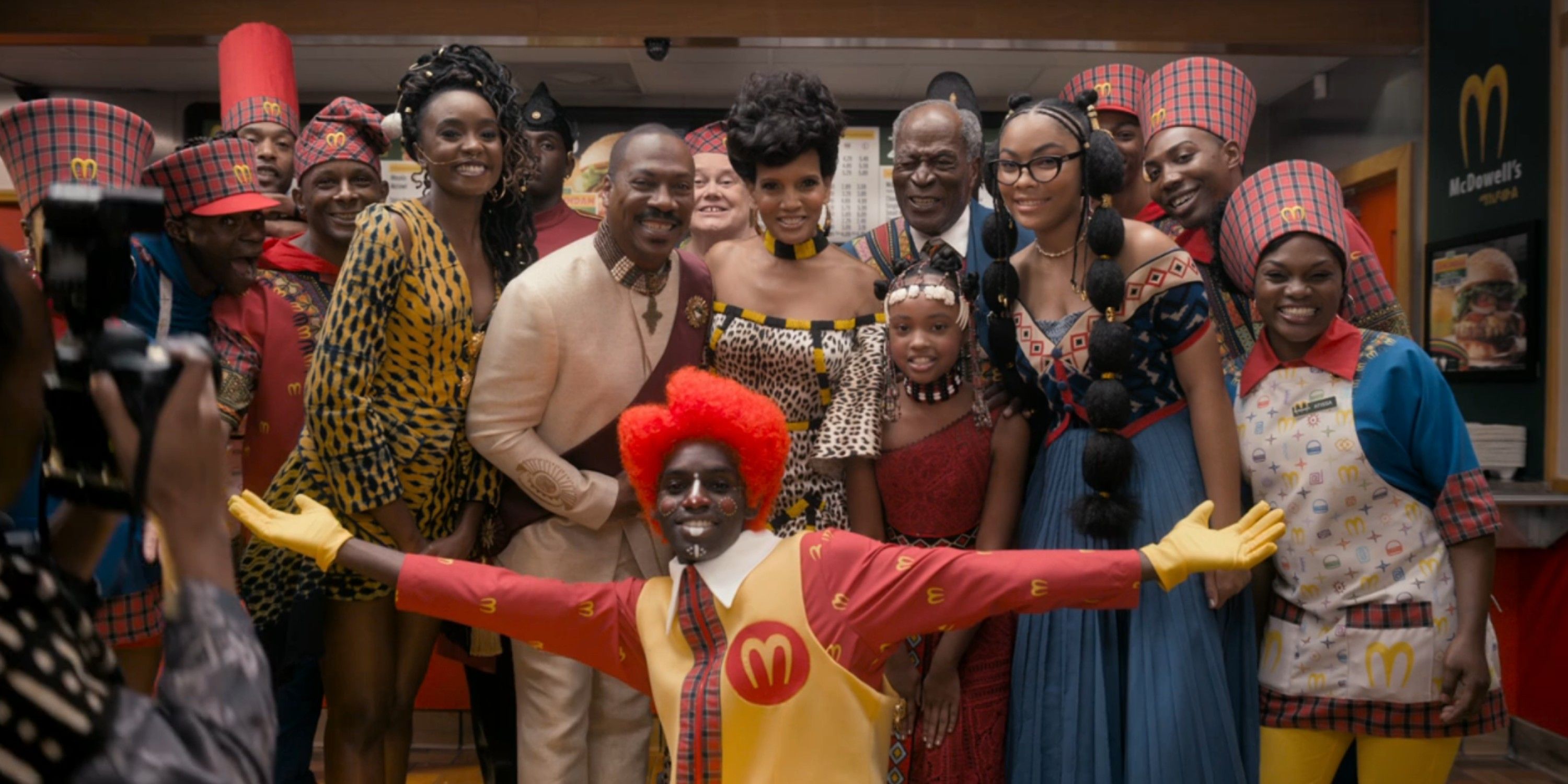 In Coming to America, Prince Akeem lands a job at the restaurant chain McDowell's, which is owned by Lisa's father, Clay (John Amos). Coming 2 America reveals that the franchise has now extended to Africa. For the sequel, Amos reprises his role, along with Louie Anderson as Maurice.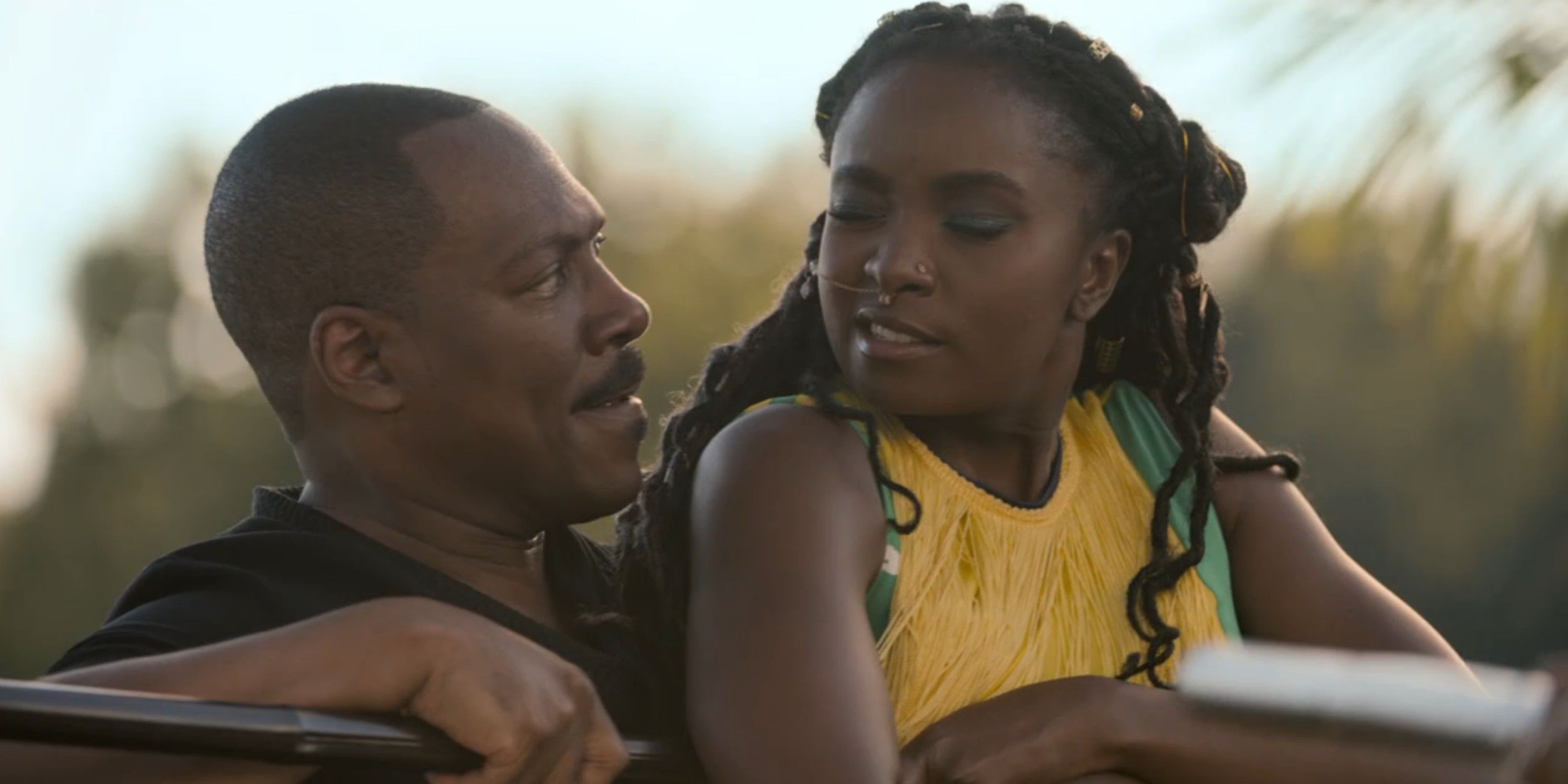 Coming to America's first act includes a stick fight between Prince Akeem and Semmi. In the sequel, Murphy's character trains with his three daughters. The scene highlights the skills of Princess Meeka Joffer, who wants to be Queen but technically can't because of Zamunda traditions.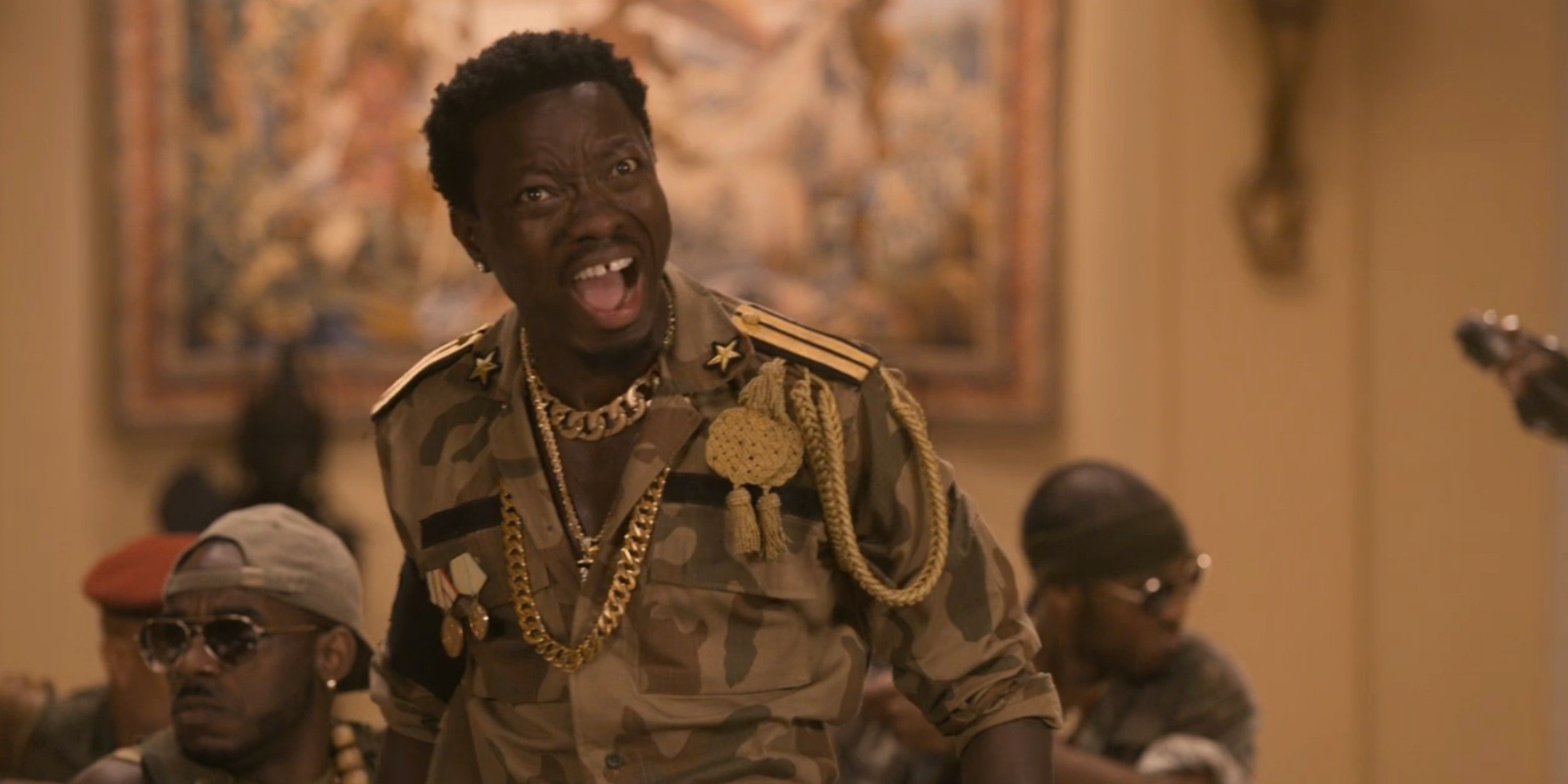 The leader of Nexdoria, General Izzi (Wesley Snipes), receives a grand introduction in Coming 2 America. He's identified as "the tamer of elephants" and "the most well-endowed man in Africa" by Michael Blackson's character, and also "the inspiration for Mufasa." The moment references the 1994 movie The Lion King, in which Coming to America actor James Earl Jones voices Mufasa, the father of Simba.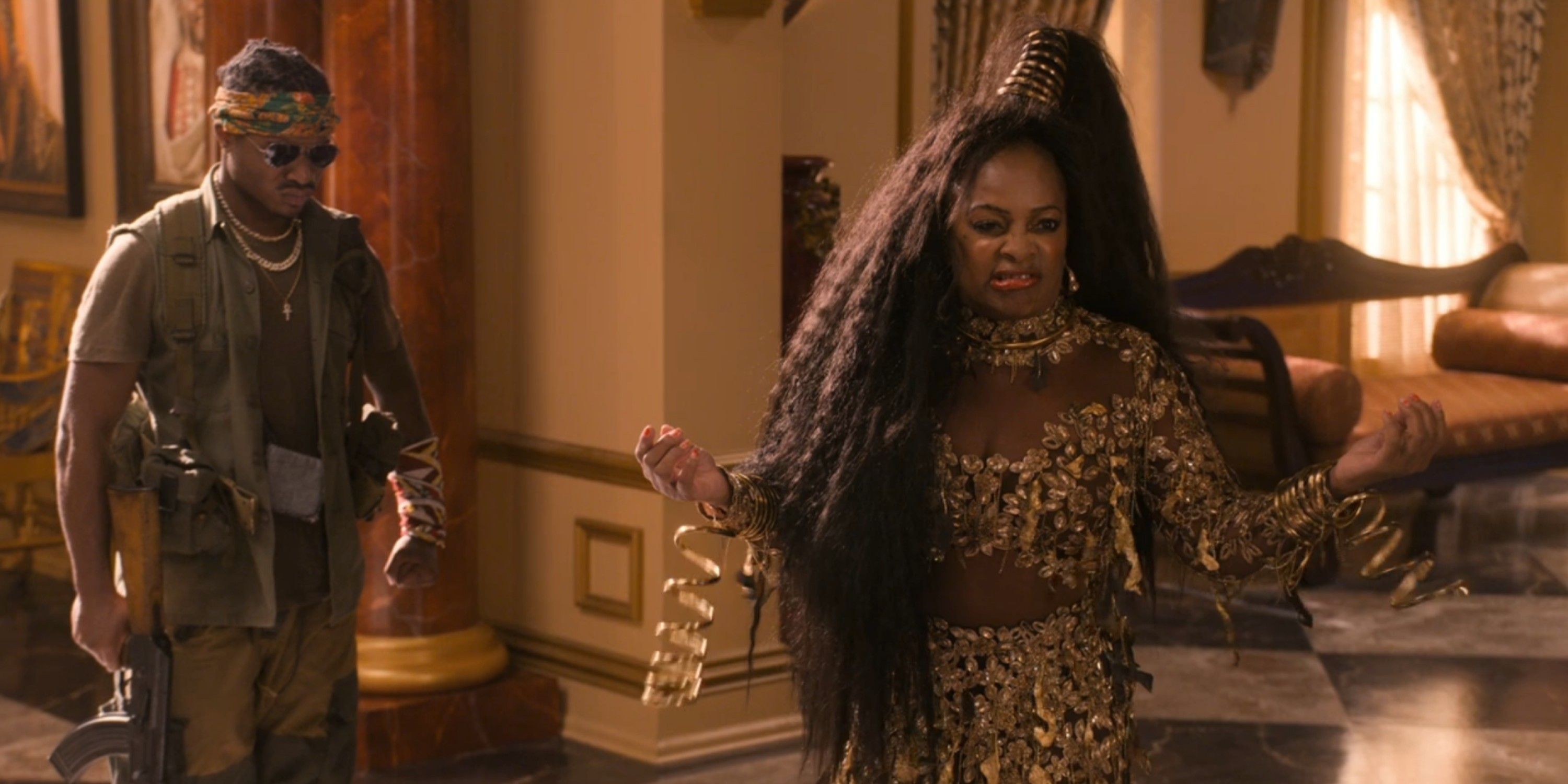 Before leaving for New York in Coming to America, Prince Akeem abandons his barking bride-to-be, Imani Izzi (Vanessa Bell). In the sequel, she's revealed to be General Izzi's sister, who still barks like a dog three decades later. Bell is best known for portraying Carol Fisher in Shameless.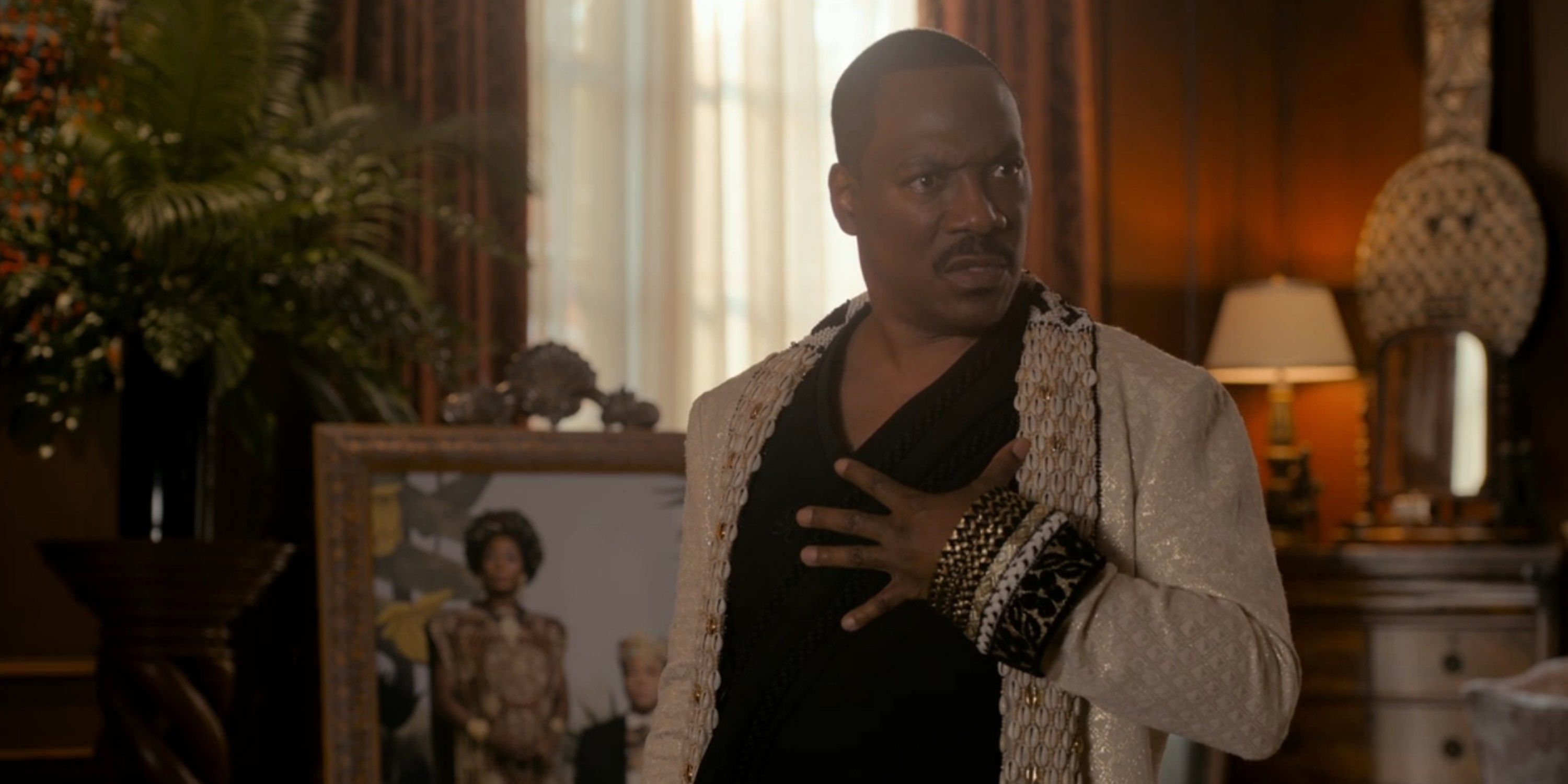 King Jaffe urges his son to "sow his royal oats" in Coming to America. In the sequel, Murphy's character denies that he has a son in the United States and uses the same "royal oats" phrase. Once again, Coming 2 America stays true to the original film's narrative structure.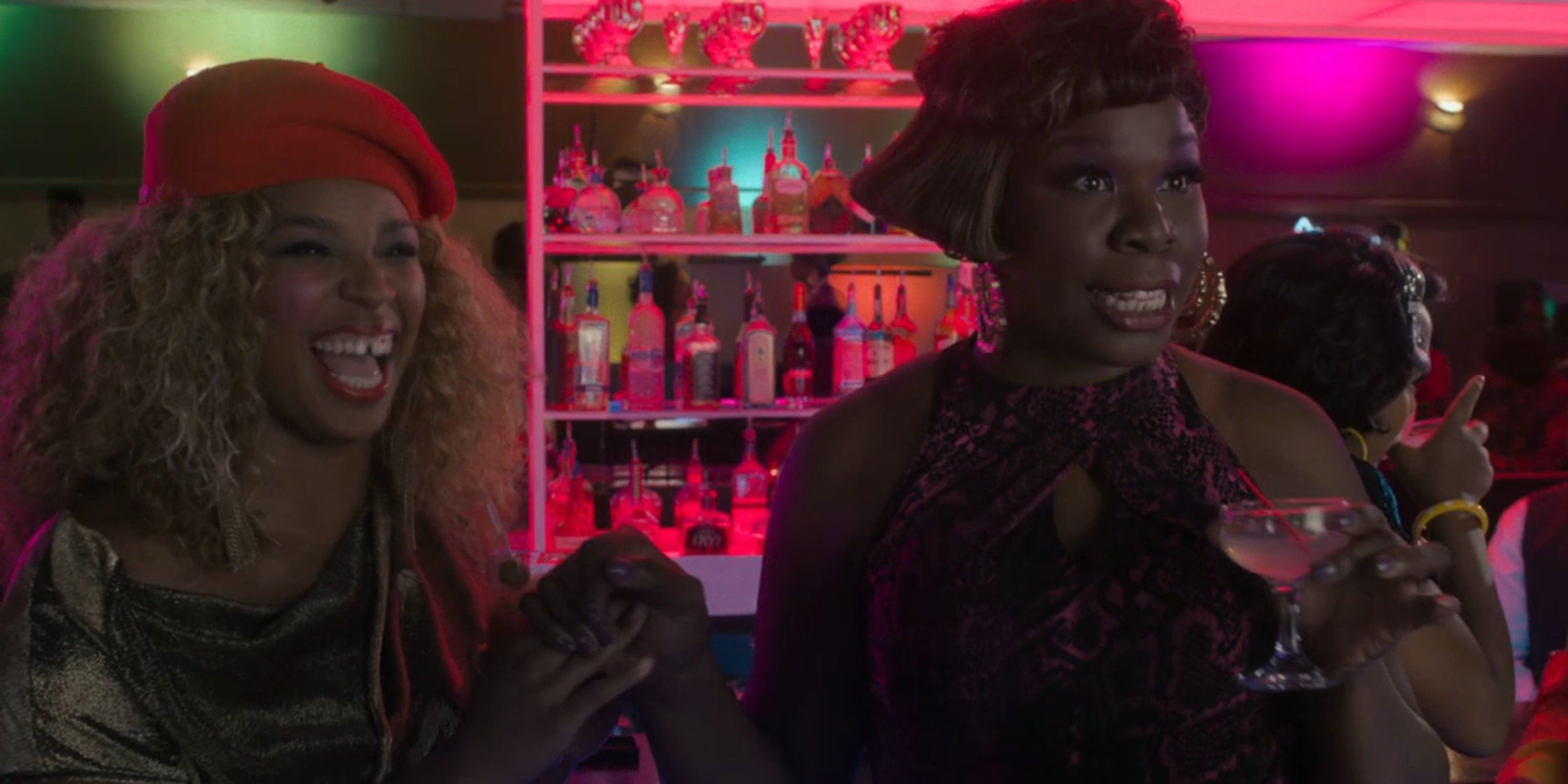 reveals that Prince Akeem inadvertently had sex with a Queens woman while under the influence of drugs and alcohol. The sequel recreates a club scene to introduce Leslie Jones' character, Mary, who is revealed to be the mother of Lavelle Junson, the rightful heir to the throne. The reveal works as the inciting incident for Coming 2 America's premise.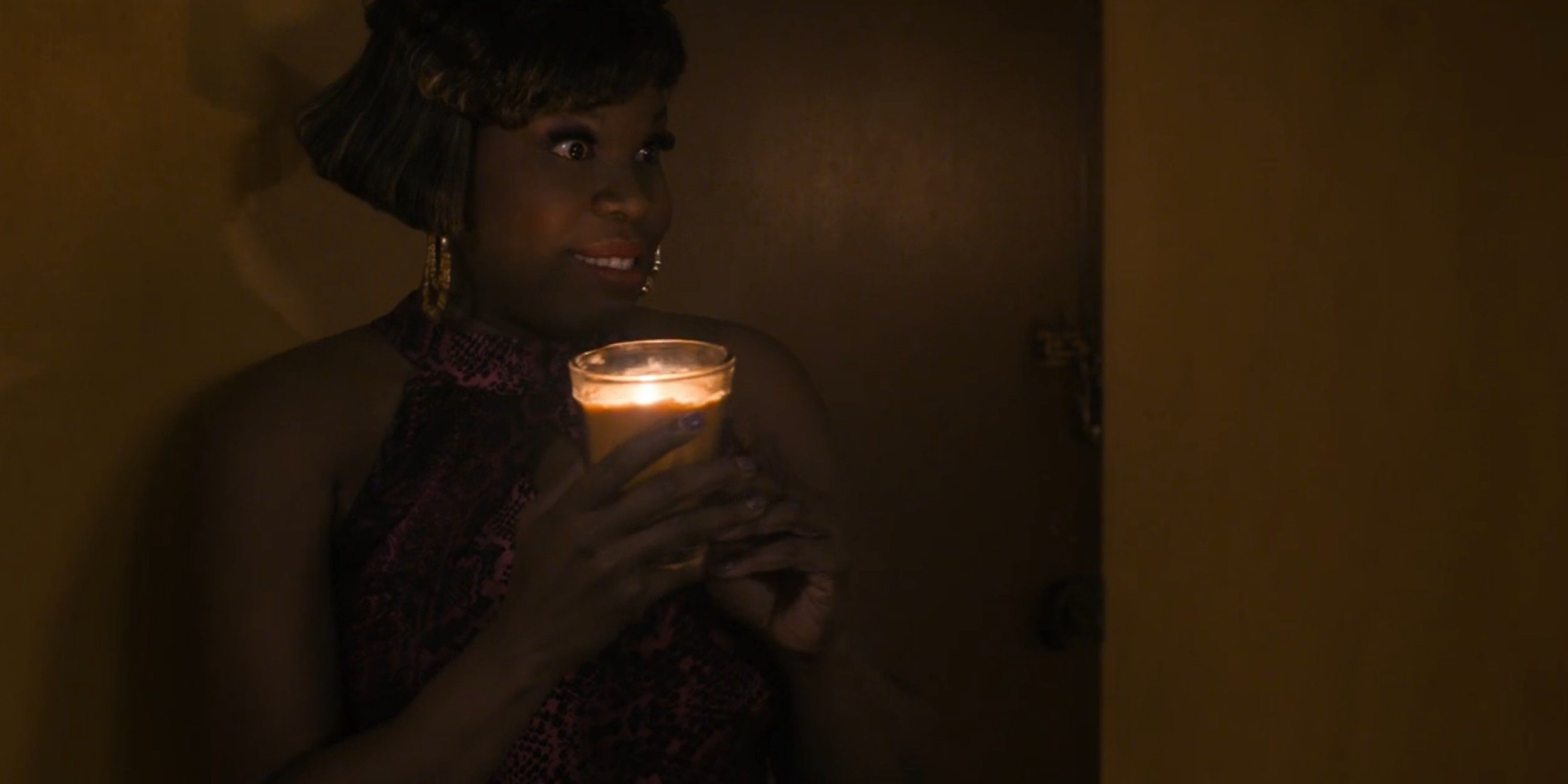 Coming 2 America's sex scene between Mary and Akeem is accompanied by "Soul Gro" by Stokely. In the original 1988 film, the fictional company Soul Glo is repeatedly referenced. Lisa's boyfriend Darryl Jenks (Eriq La Salle) uses the product in Coming to America, but he doesn't appear in the sequel.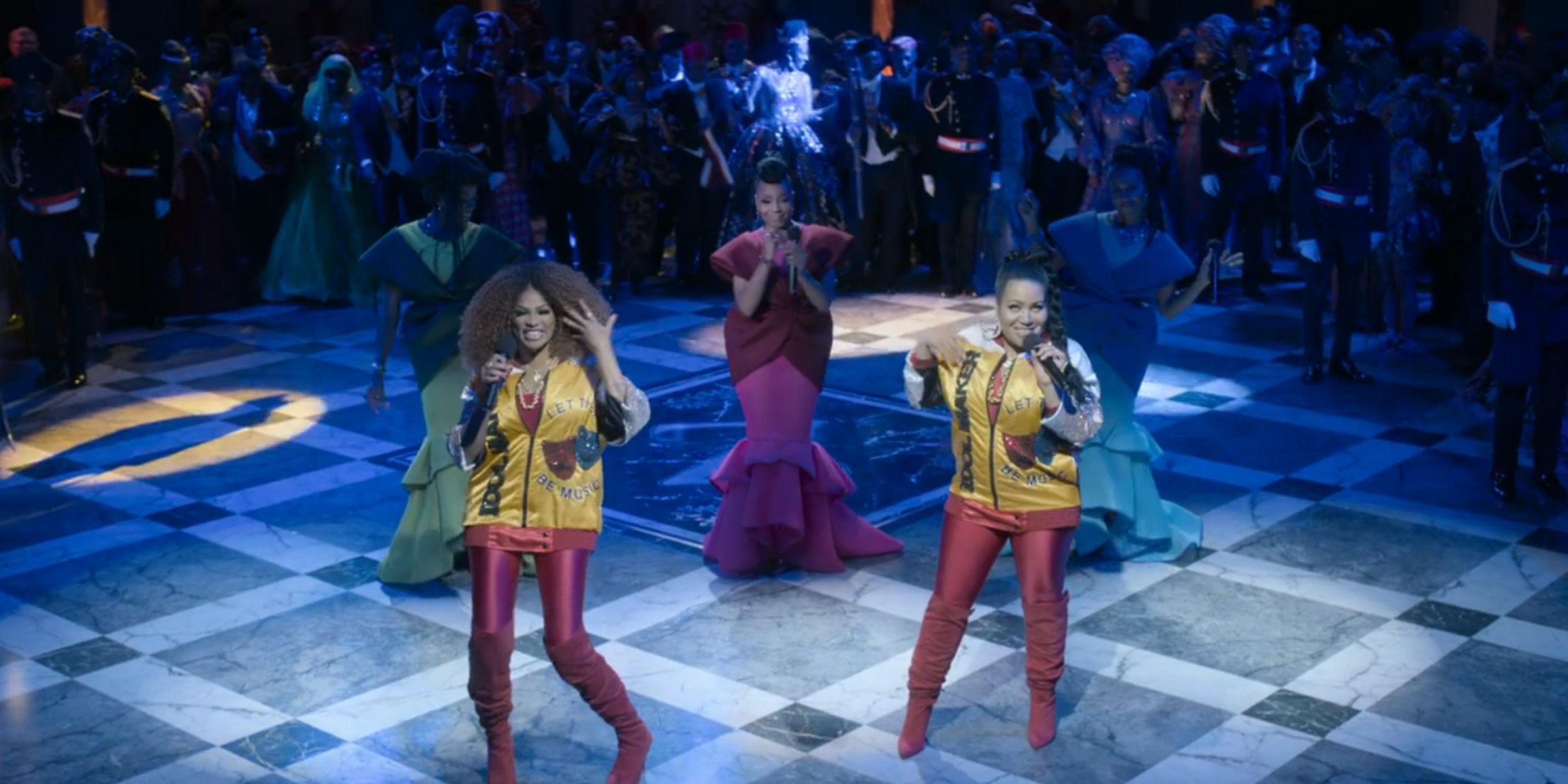 At King Jaffe's funeral in Coming 2 America, the music groups Salt-N-Pepa and En Vogue perform a song called "What a King." In real life, the performers collaborated for the 1993 hit "What a Man." Coming 2 America reveals that Queen Lisa has a weak spot for '80s and '90s American music, presumably because it reminds her of home.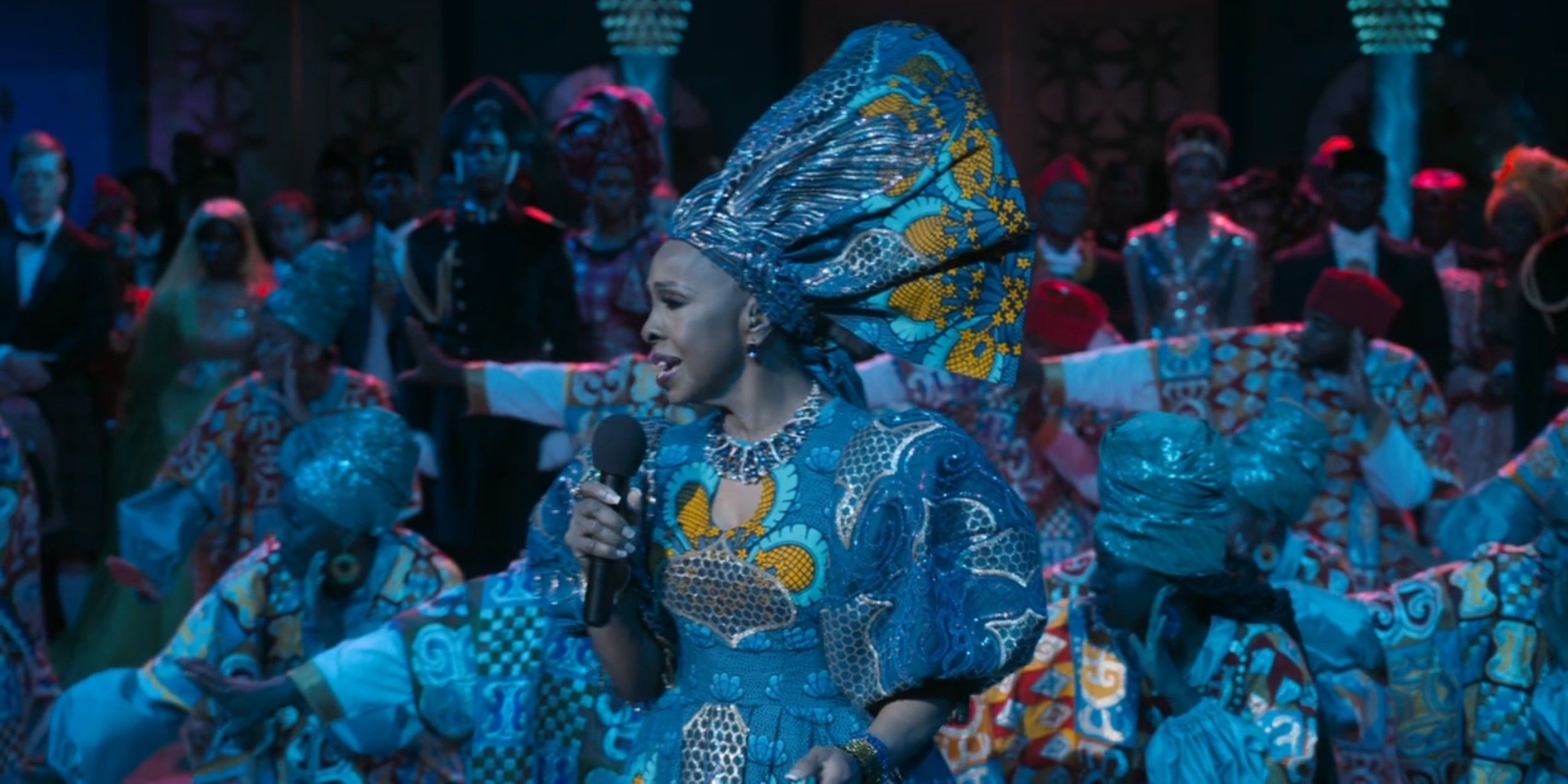 In Coming 2 America, the funeral sequence also includes an appearance from R&B legend Gladys Knight. She landed a #1 hit in 1973 with "Midnight Train to Georgia," and performs a variation in the 2021 sequel. The sequence aligns with the death of King Jaffe, who is alive at the beginning of his own funeral.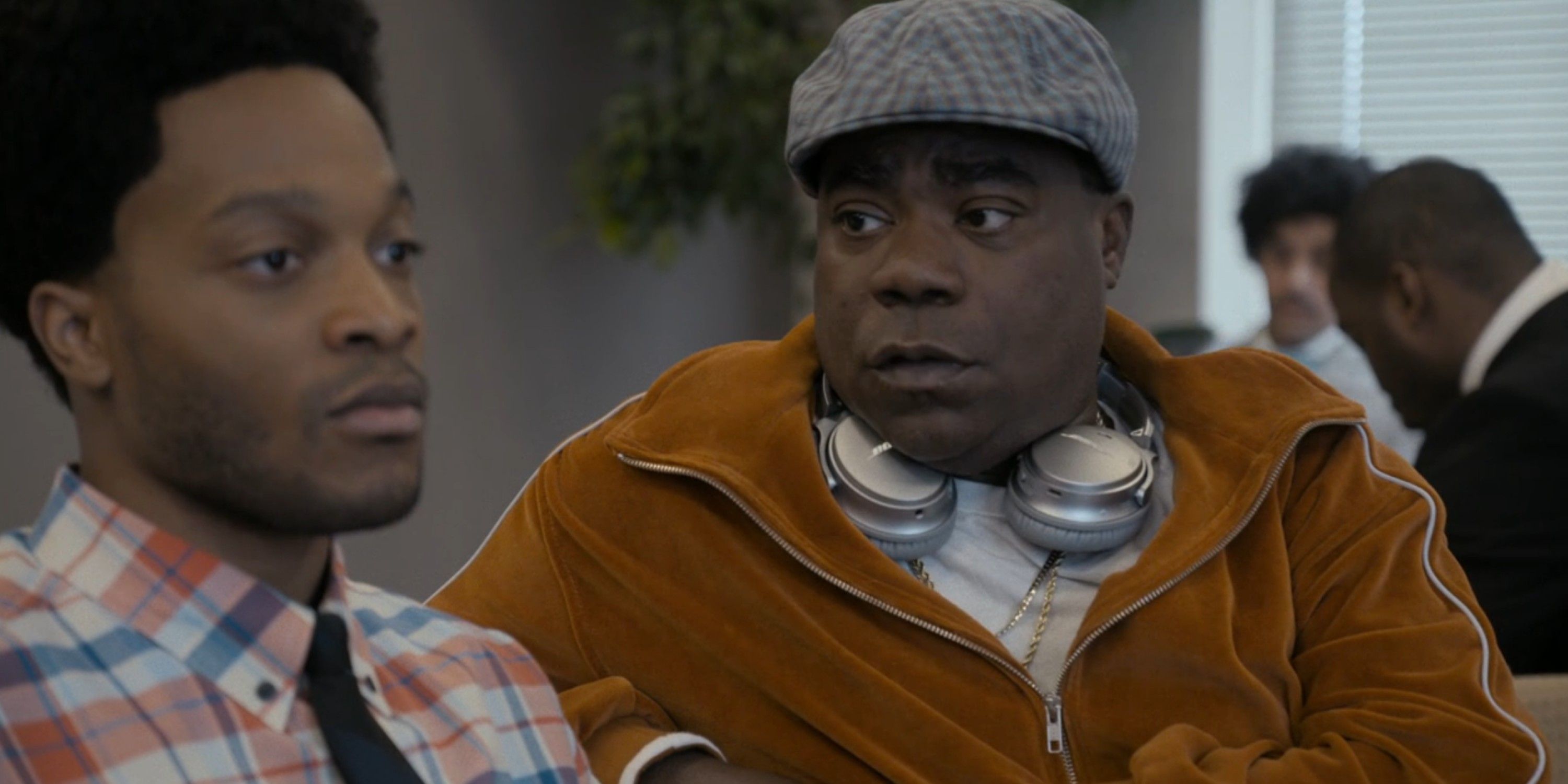 When Lavelle is introduced in Coming 2 America, he's ready to stop scalping basketball tickets and wants to pursue a regular job. His uncle Reem (Tracey Morgan) attempts to calm him and refers to his nephew as "young Jedi." Of course, this is a reference to the Star Wars franchise.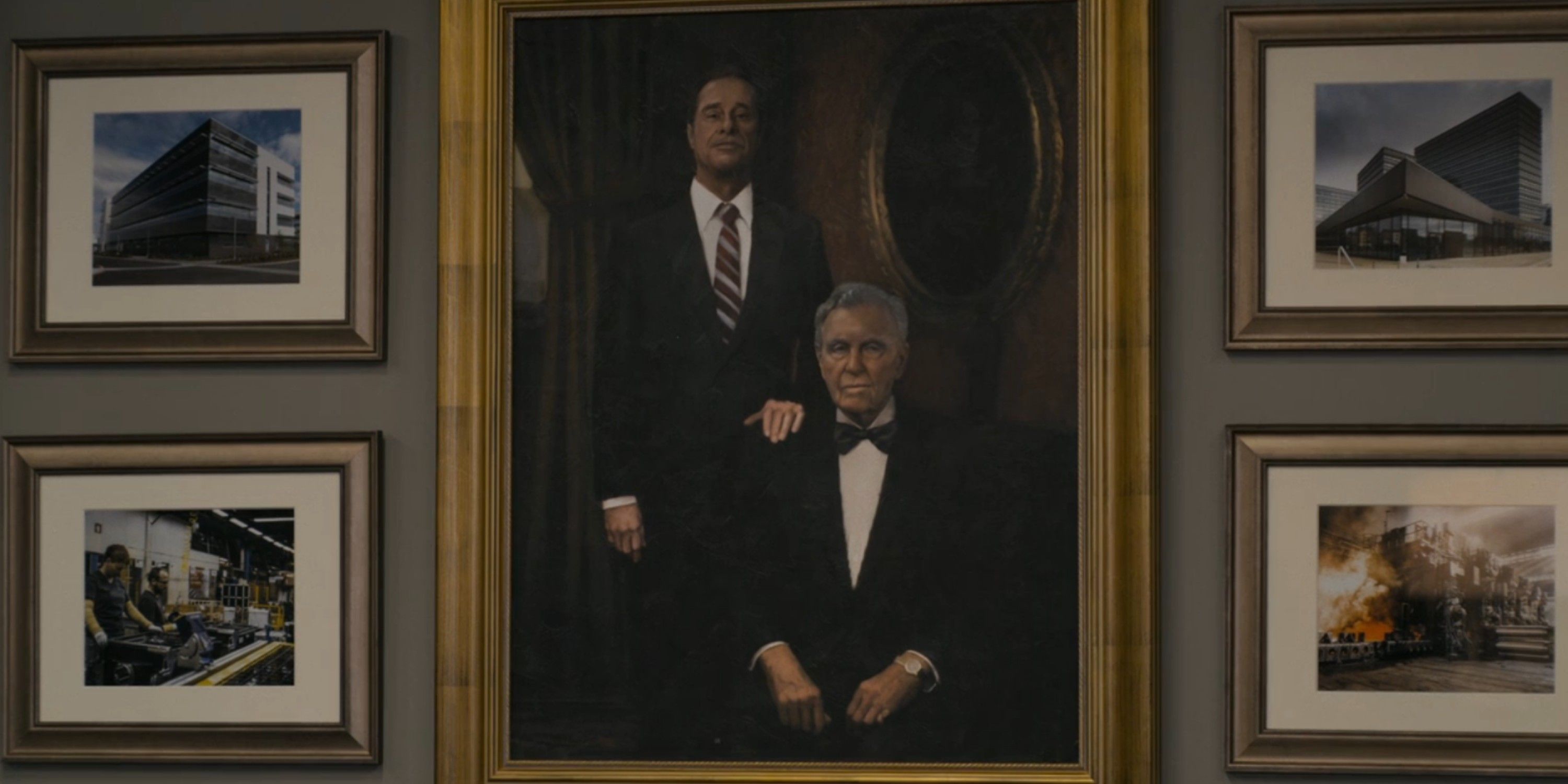 After Uncle Reem's introduction in Coming 2 America, Lavelle lands an interview with Calvin Duke (Colin Jost). The Duke & Duke employee references his grandfather and grand-uncle, who are characters in the 1983 Eddie Murphy film Trading Places. Randolph Duke (Ralph Bellamy) and Mortimer Duke (Don Ameche) reprised their characters in Coming to America.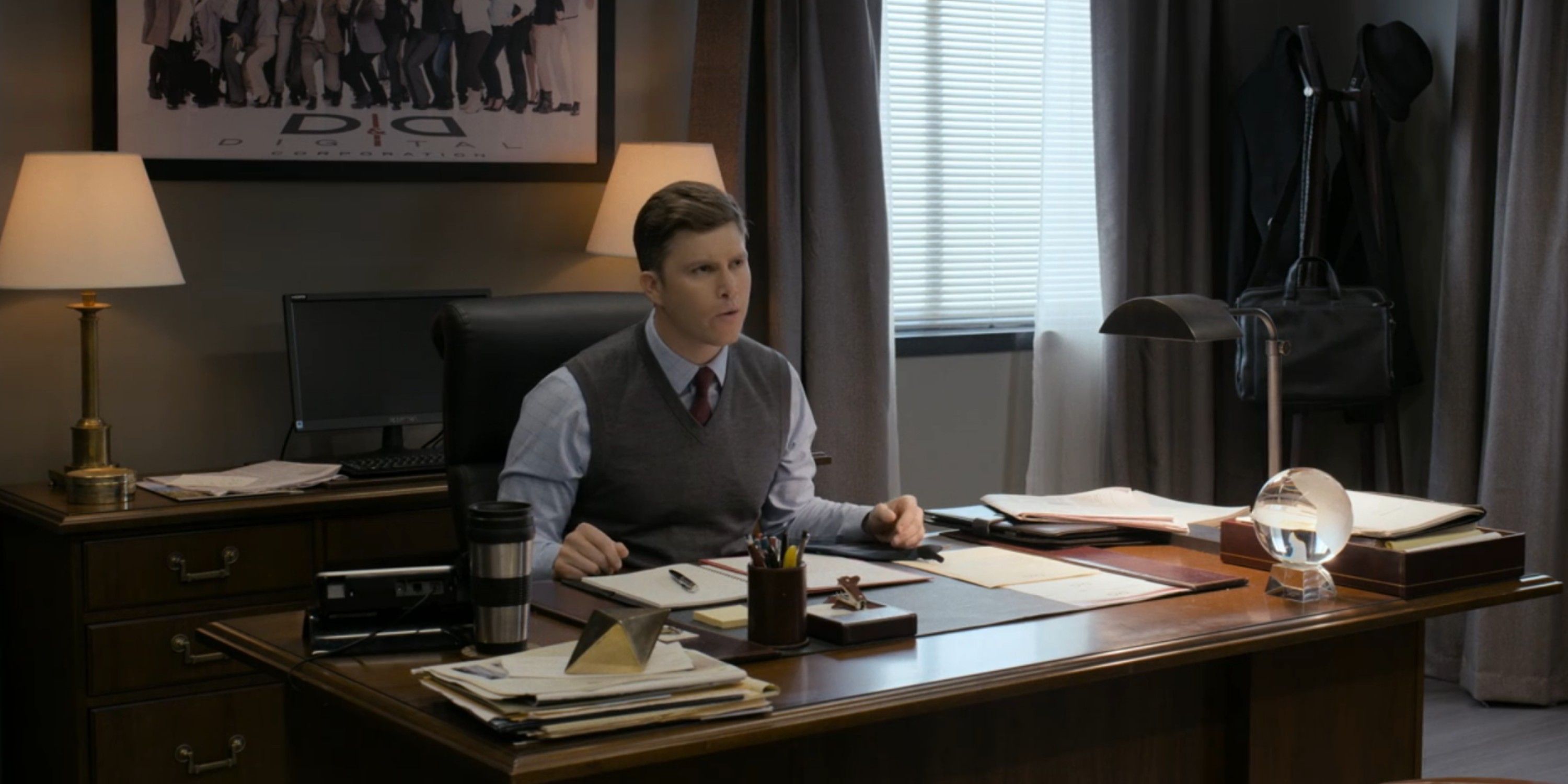 In Coming 2 America, Lavelle accuses Calvin Duke of being a racist and cites a blackface photo as evidence. In response, Jost's character explains that he was supposed to be "Will Smith's Aladdin." He's referring to the 2019 movie Aladdin, in which Smith plays not the title character but rather a blue genie.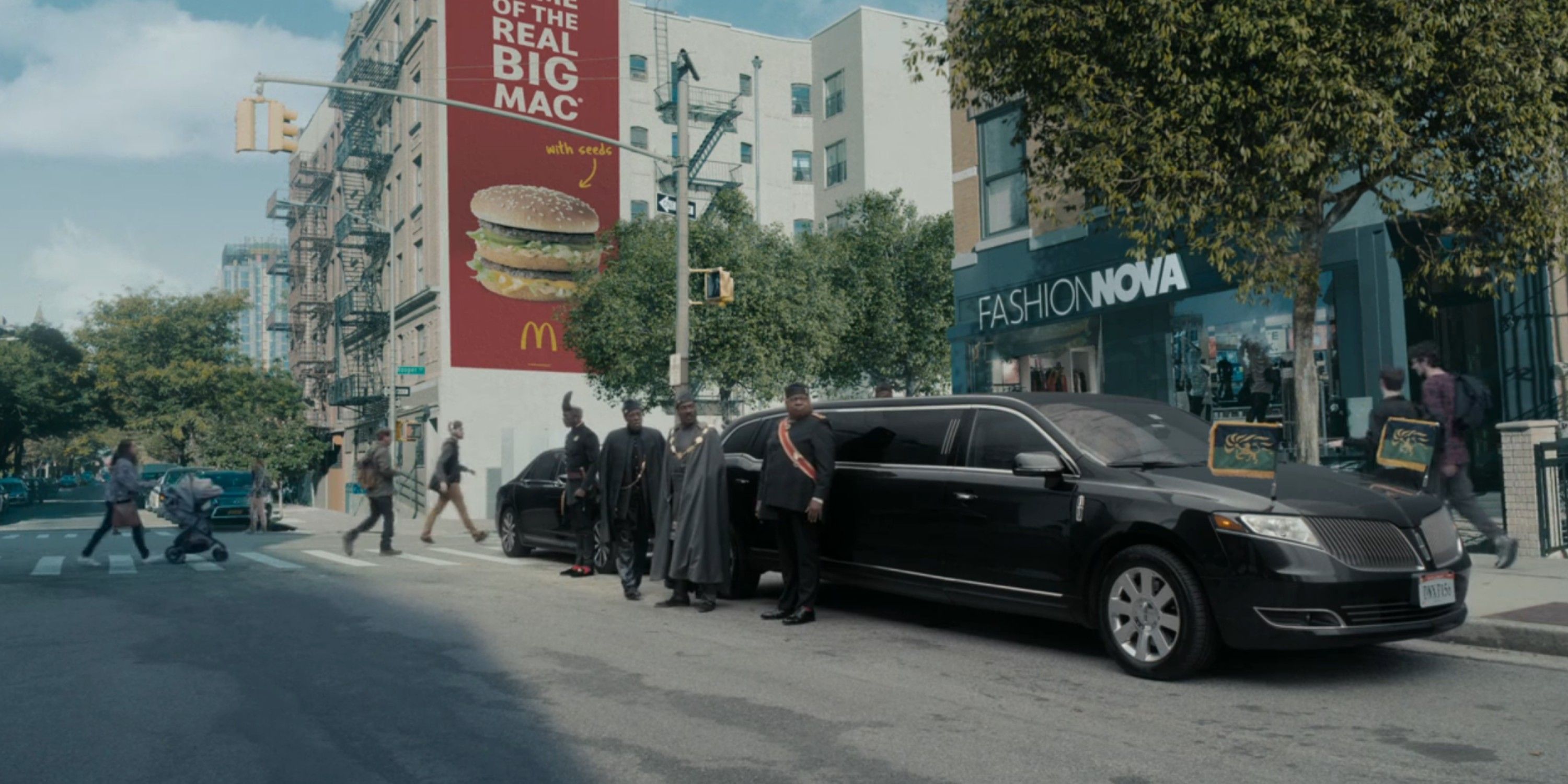 When King Akeem returns to Queens in Coming 2 America, he learns about gentrification in New York City. His former neighborhood has entirely changed, and there's a McDonald's poster plastered against an apartment building. The "with seeds" advertisement references an ongoing brand war with McDowell's.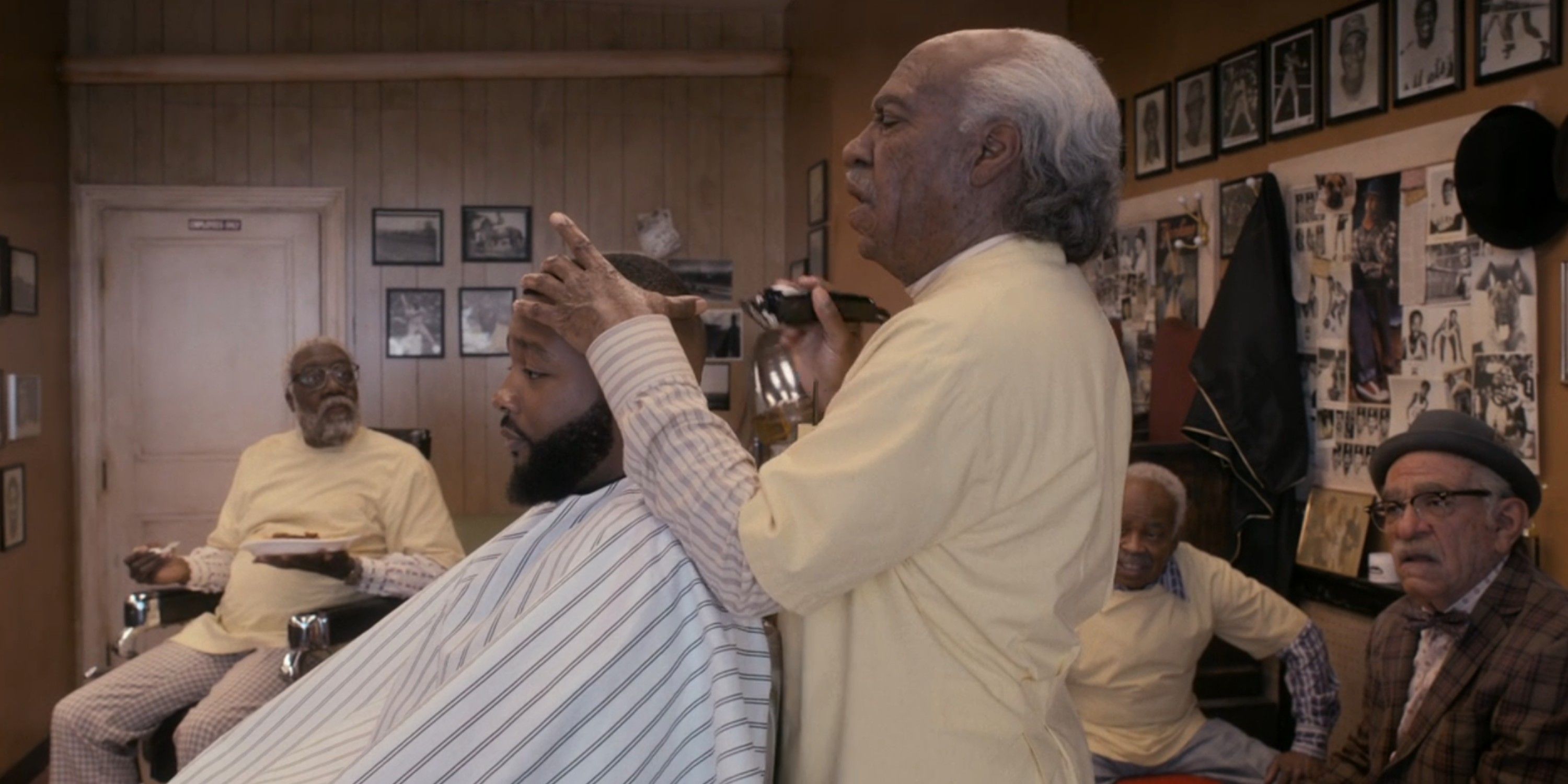 Coming 2 America's barbershop sequences include characters from the original film. Murphy reprises his roles as Mr. Clarence and Saul, Hall portrays Morris, and Clint Smith appears once again as Sweets. In the 2021 movie, the My-T-Sharp sequences reveal that Akeem's old neighborhood hasn't been entirely gentrified.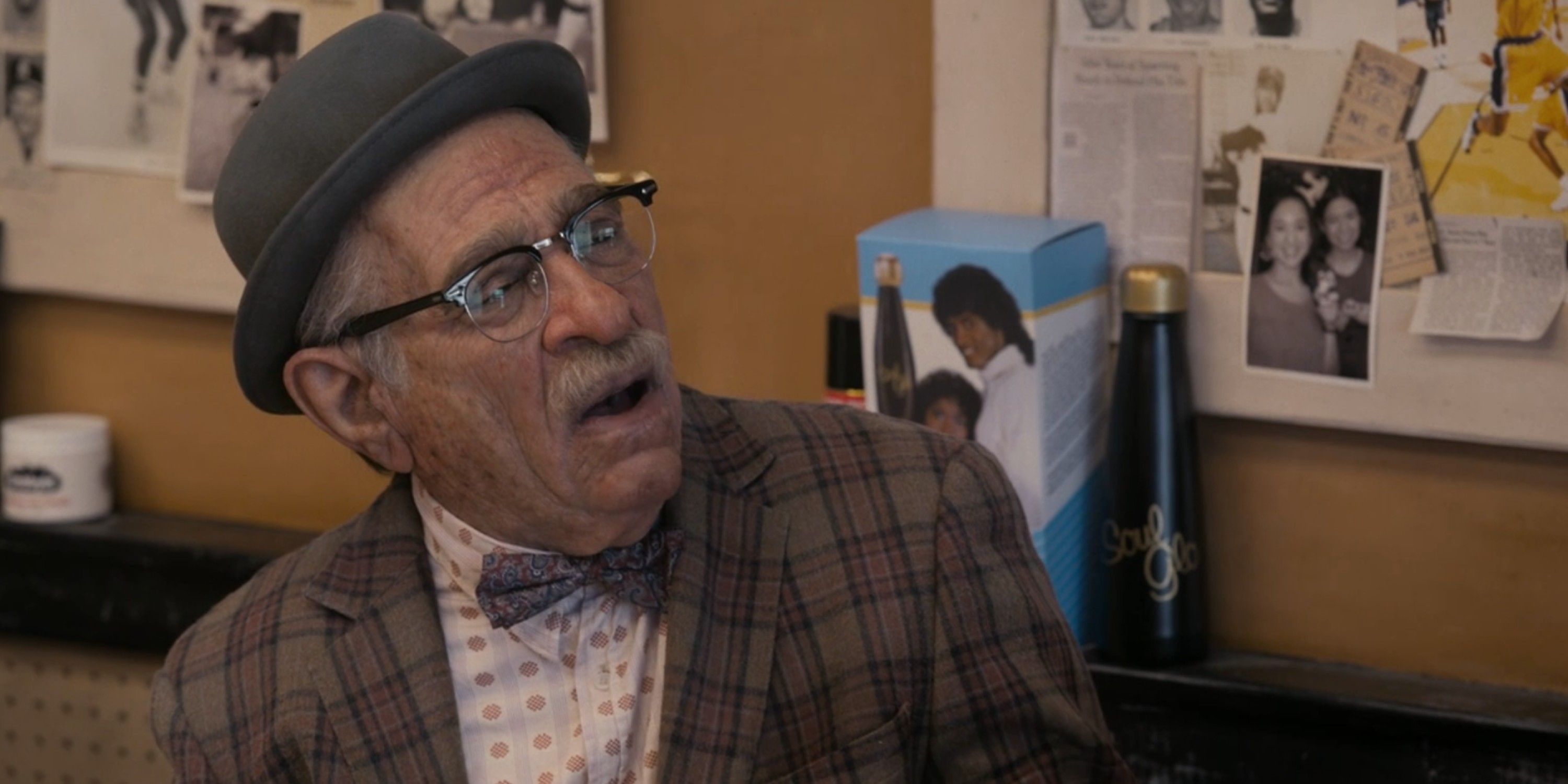 In Coming to America, an elderly Jewish man named Saul refers to Akeem as Kunta Kinte - the protagonist in the 1977 miniseries Roots. The same joke is made in Coming 2 America, although Saul also refers to Semmi as "Ebola" - a reference to the Ebola virus. When Coming to America released in 1988, many audiences were shocked to learn that Saul is portrayed by none other than Murphy.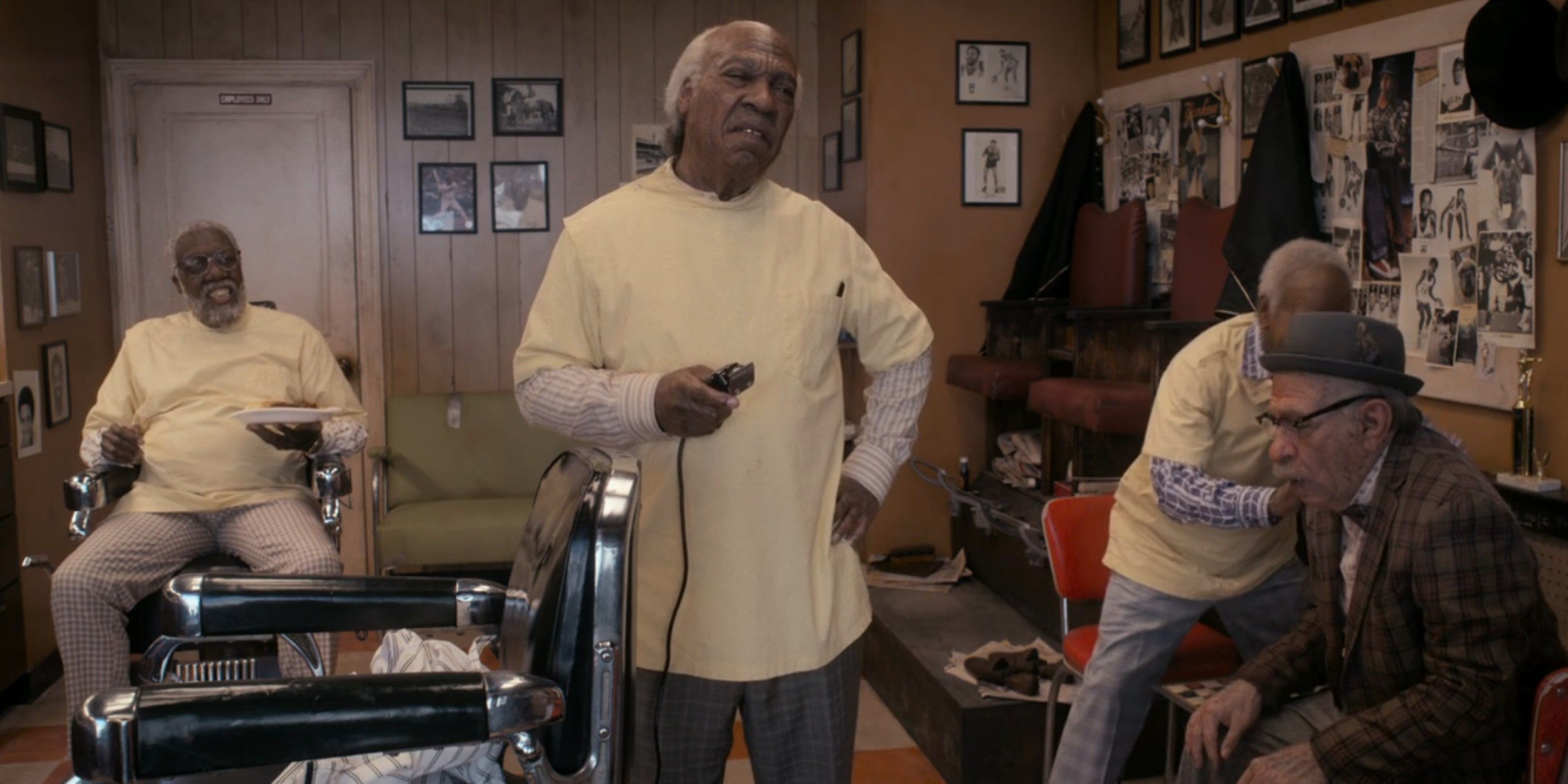 Mr. Clarence refers to King Akeem as "Idiot Amin" during the first barbershop sequence in Coming 2 America. It's a reference to Idi Amin, the former ruthless and corrupt president of Uganda during the '70s. Forest Whitaker won an Oscar for his portrayal of Amin in the 2006 movie The Last King of Scotland.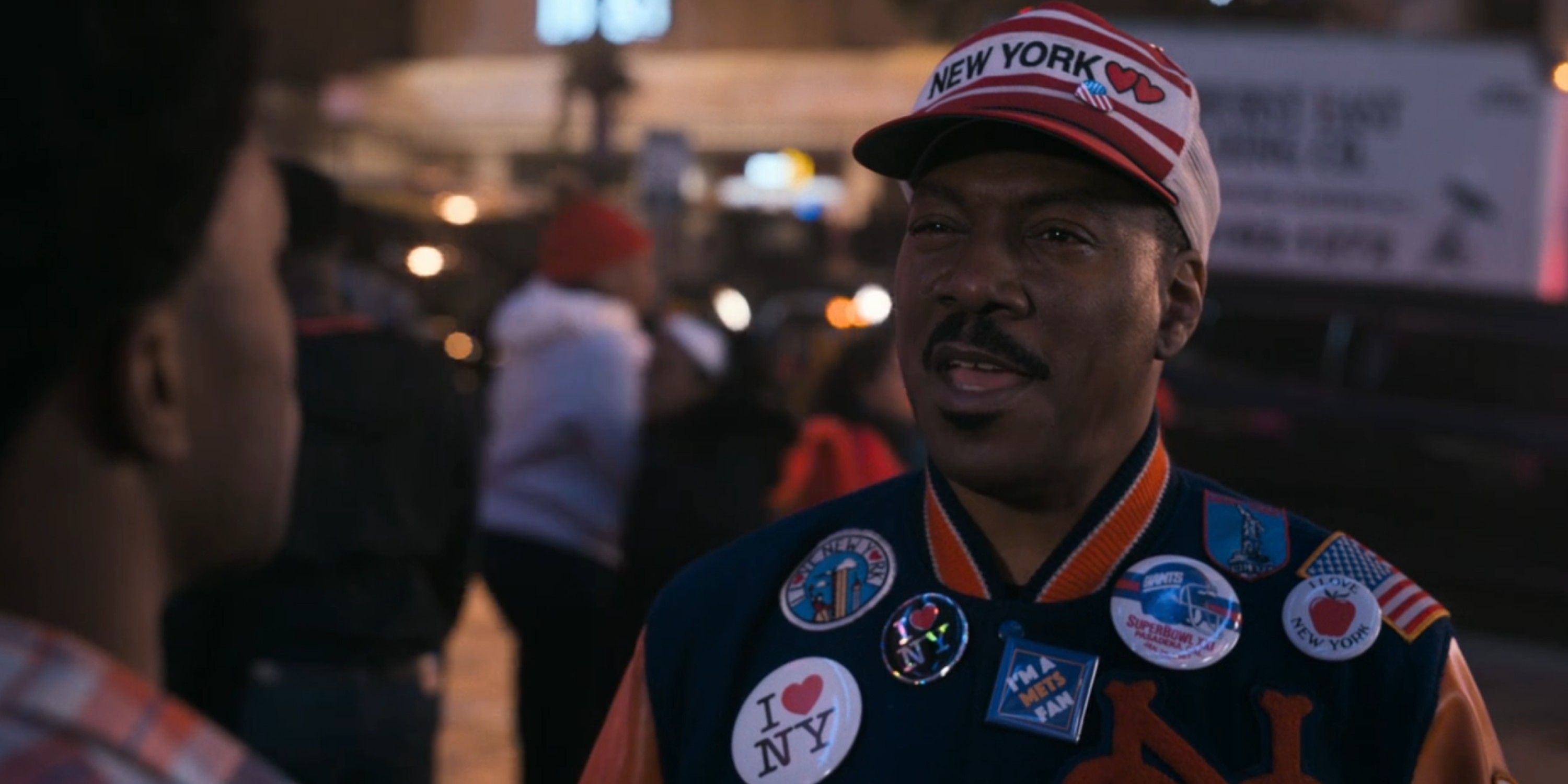 In Coming to America, Prince Akeem wears a New York Mets jacket that's covered in New York-themed buttons. The character wears the same jacket in the sequel when he confronts his son Lavelle outside Madison Square Garden. The New York Mets are based in Queens, New York.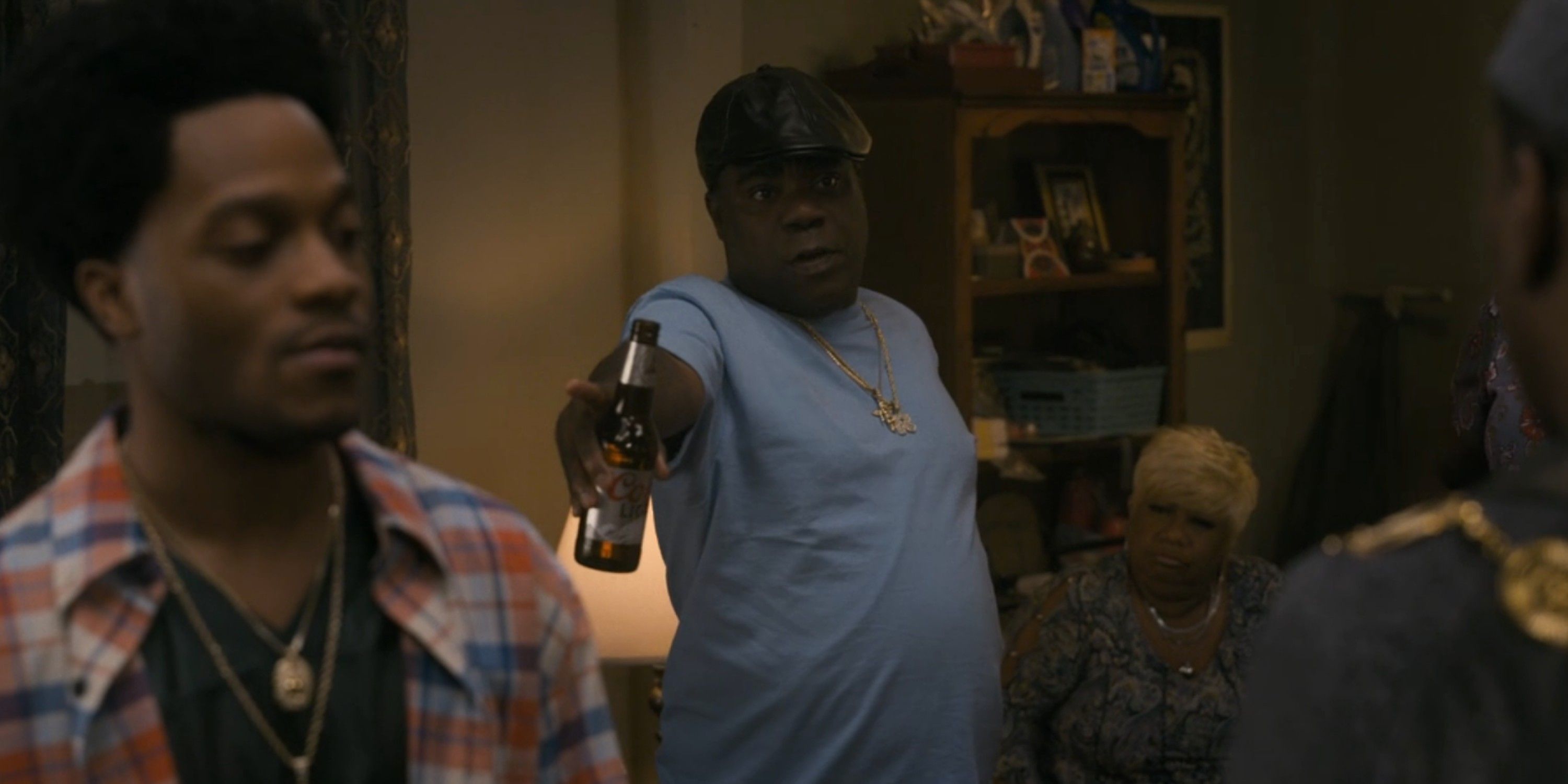 When King Akeem reunites with Mary, her brother Reem isn't thrilled about Lavelle having a new father figure. He references the native home of Murphy's character, Zamunda, and also includes a brief reference to "Wakanda" - the fictional setting of the 2018 movie Black Panther. Coming 2 America includes a fictional African country called Nexdoria, which is play on the words for a region that's figuratively next door to Zamunda.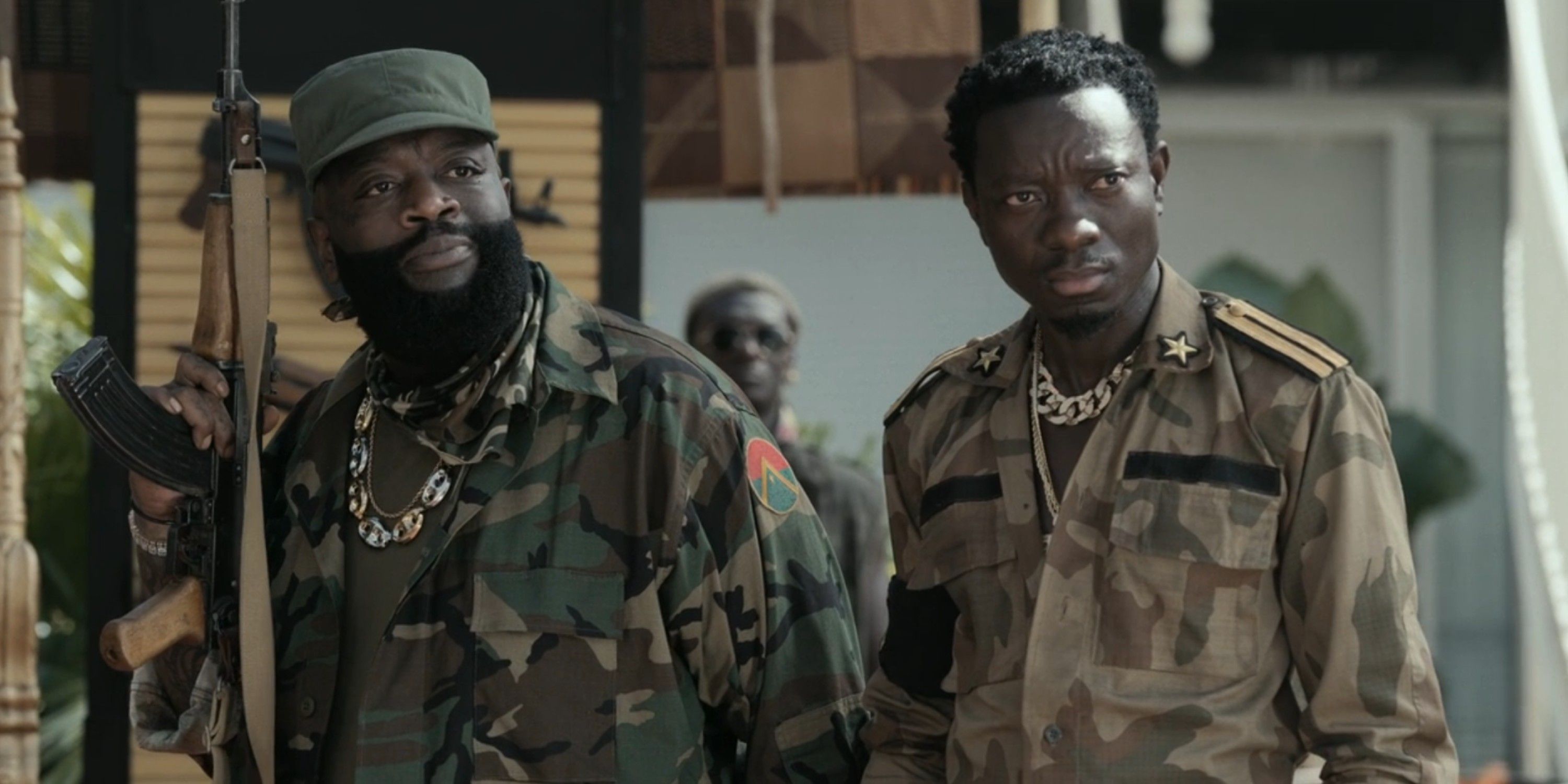 King Akeem's Zamunda mansion in Coming 2 America is actually the real-life home of musician Rick Ross. The six-time Grammy nominee appears briefly in the sequel, portraying one of General Izzi's military men (above left). Between 2006 and 2014, five of Ross' six studio albums reached #1 on the U.S. charts.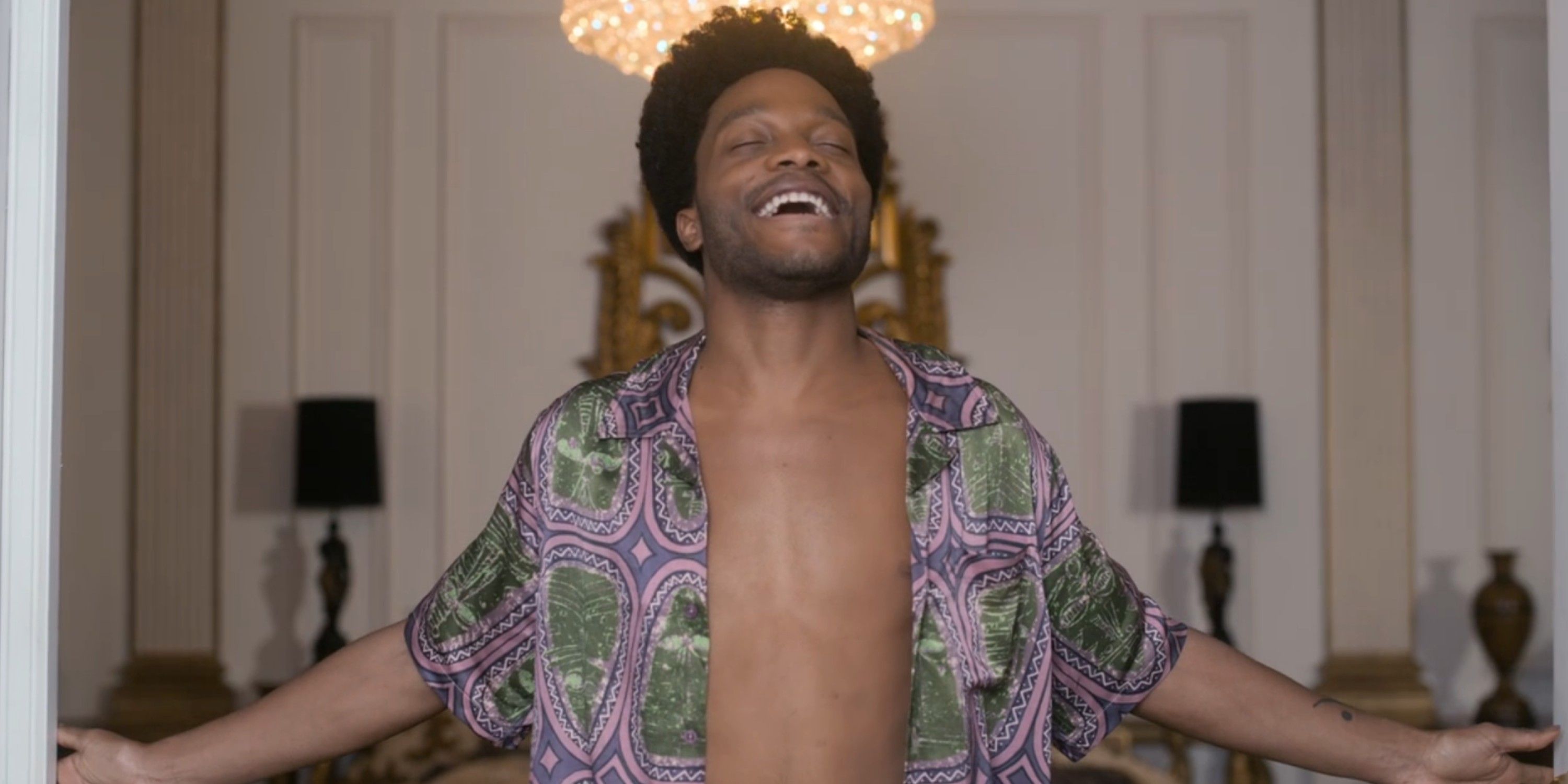 When Lavelle arrives in Zamunda during Coming 2 America, the entire sequence thematically links with Prince Akeem's introduction in Coming to America. Both characters take advantage of royal perks, and both seem thrilled to be surrounded by beautiful women. Lavelle eventually follows in his father's footsteps by fleeing Africa to find himself in America, with the irony being that he was born in the United States but had to leave to reach a life epiphany.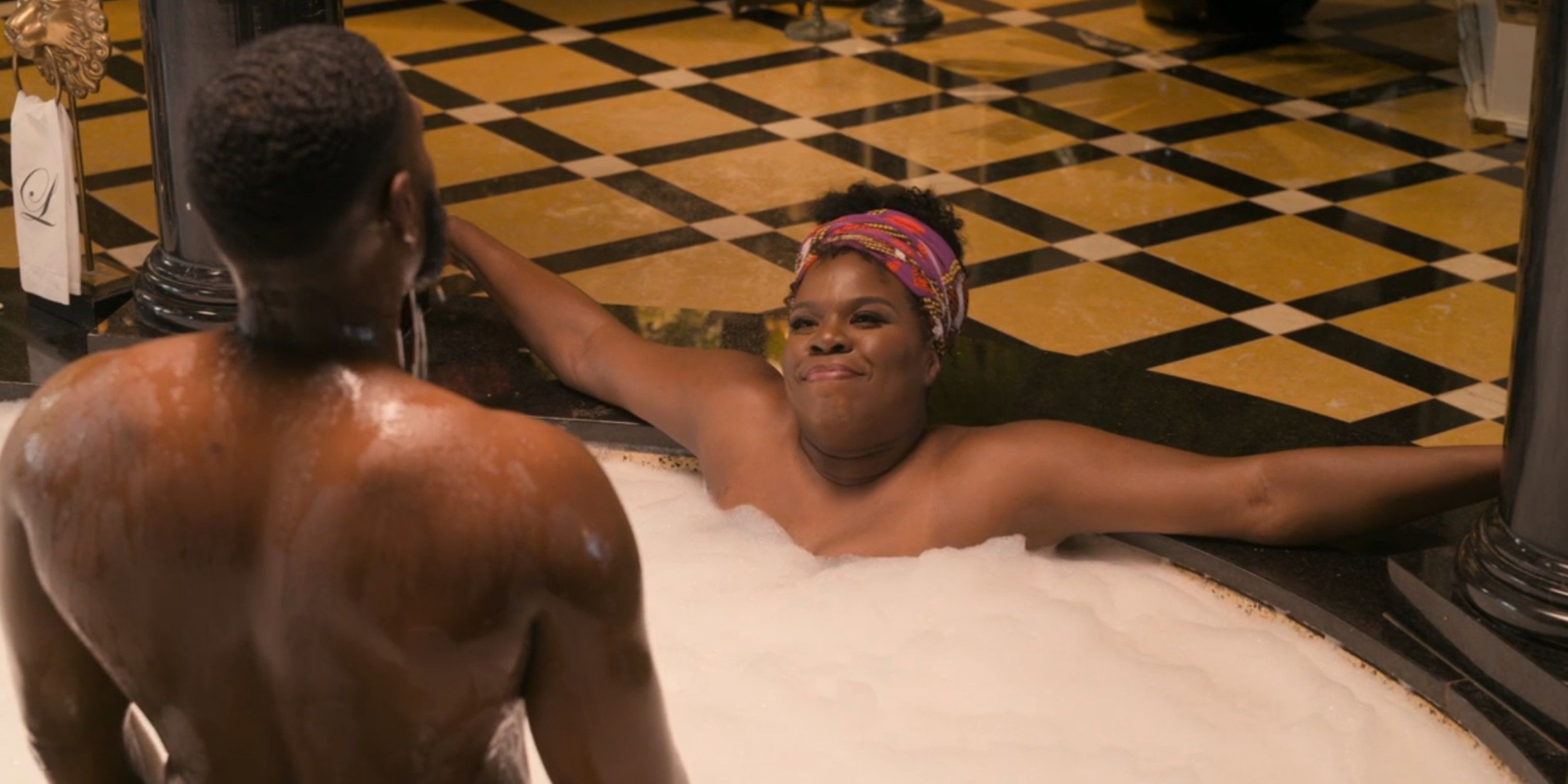 Coming to America's opening sequence shows Prince Akeem being cleansed by a female employee. When Mary arrives in Zamunda, she has a similar experience while taking a bath. As for Lavelle, he values the genuine bond that he forms with his personal barber and future wife, Mirembe (Nomzamo Mbatha).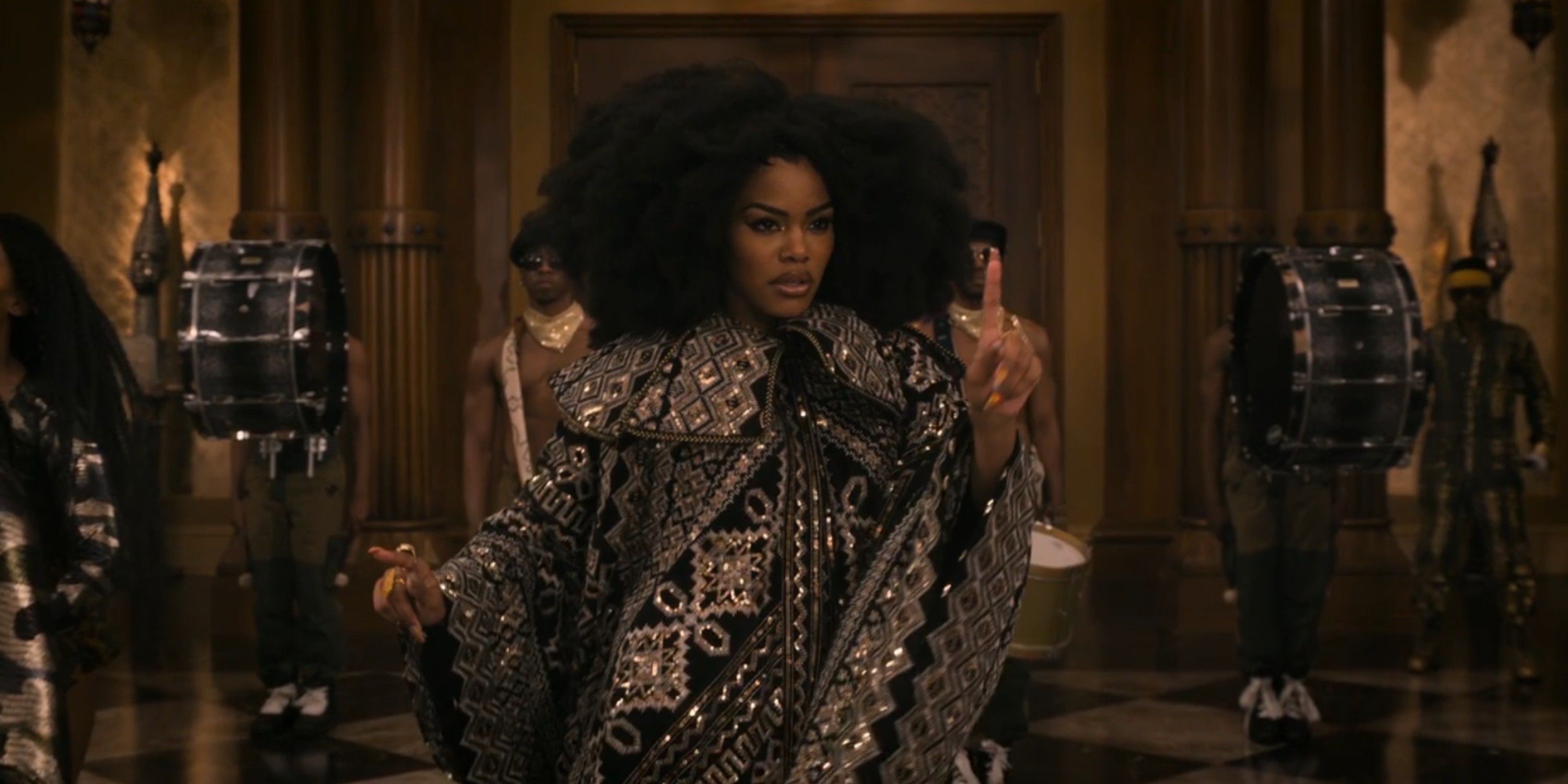 Coming 2 America's grand introduction of Bopoto (Teyana Taylor) thematically links to Imani Izzi's introduction in Coming to America. The difference, however, is that General Izzi's daughter seems to have a big personality, evidenced by her performance bravado. It's eventually revealed that Bopoto just wants to make a potential partner happy, much like Imani in Coming to America.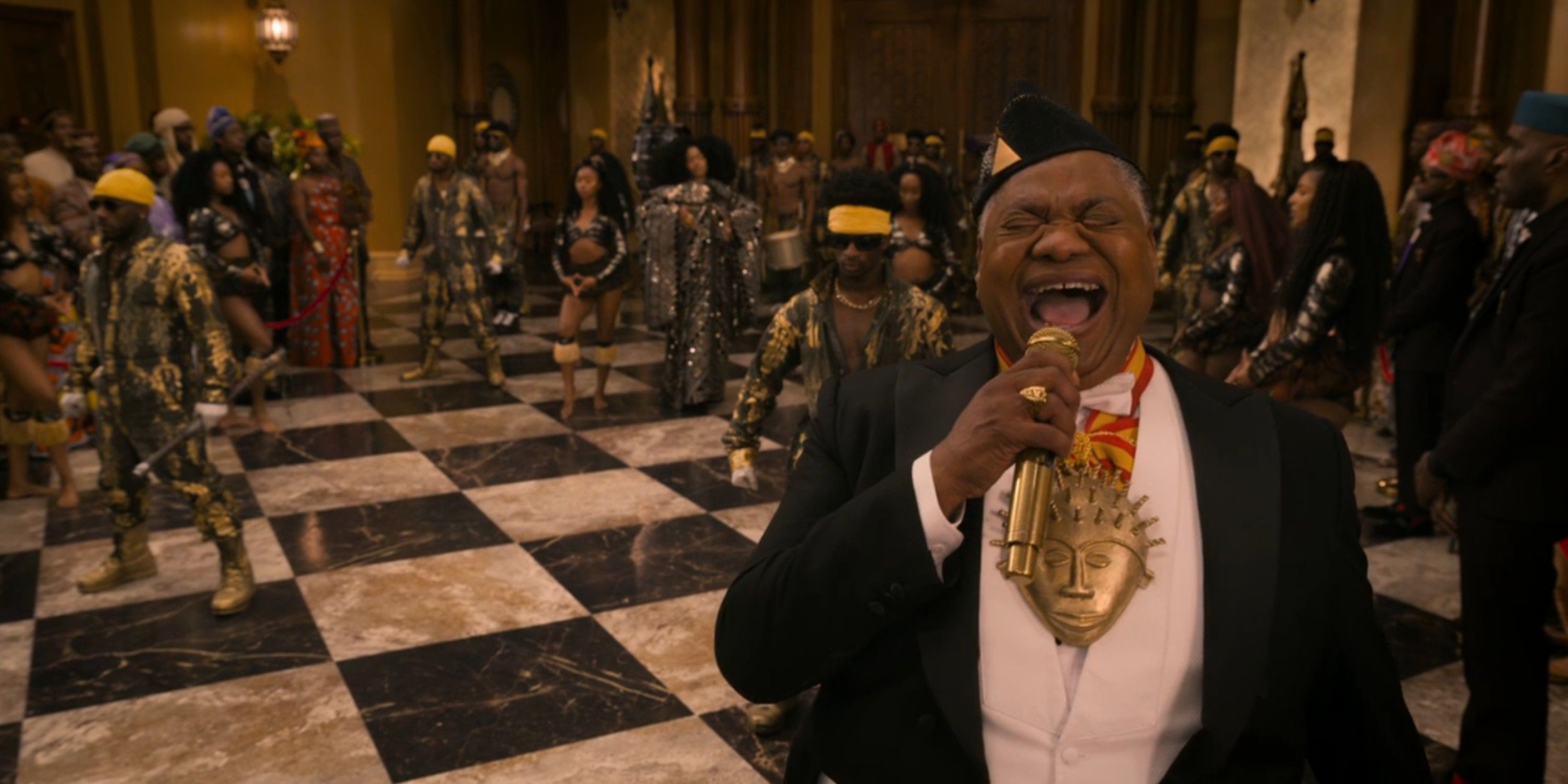 In Coming to America, the royal servant Oha (Paul Bates) sings a memorable "Queen to Be" number. The character appears once again in the 2021 sequel and performs while holding a gold microphone. Bates also appeared as Marty in True Romance and Manny in 8 Mile.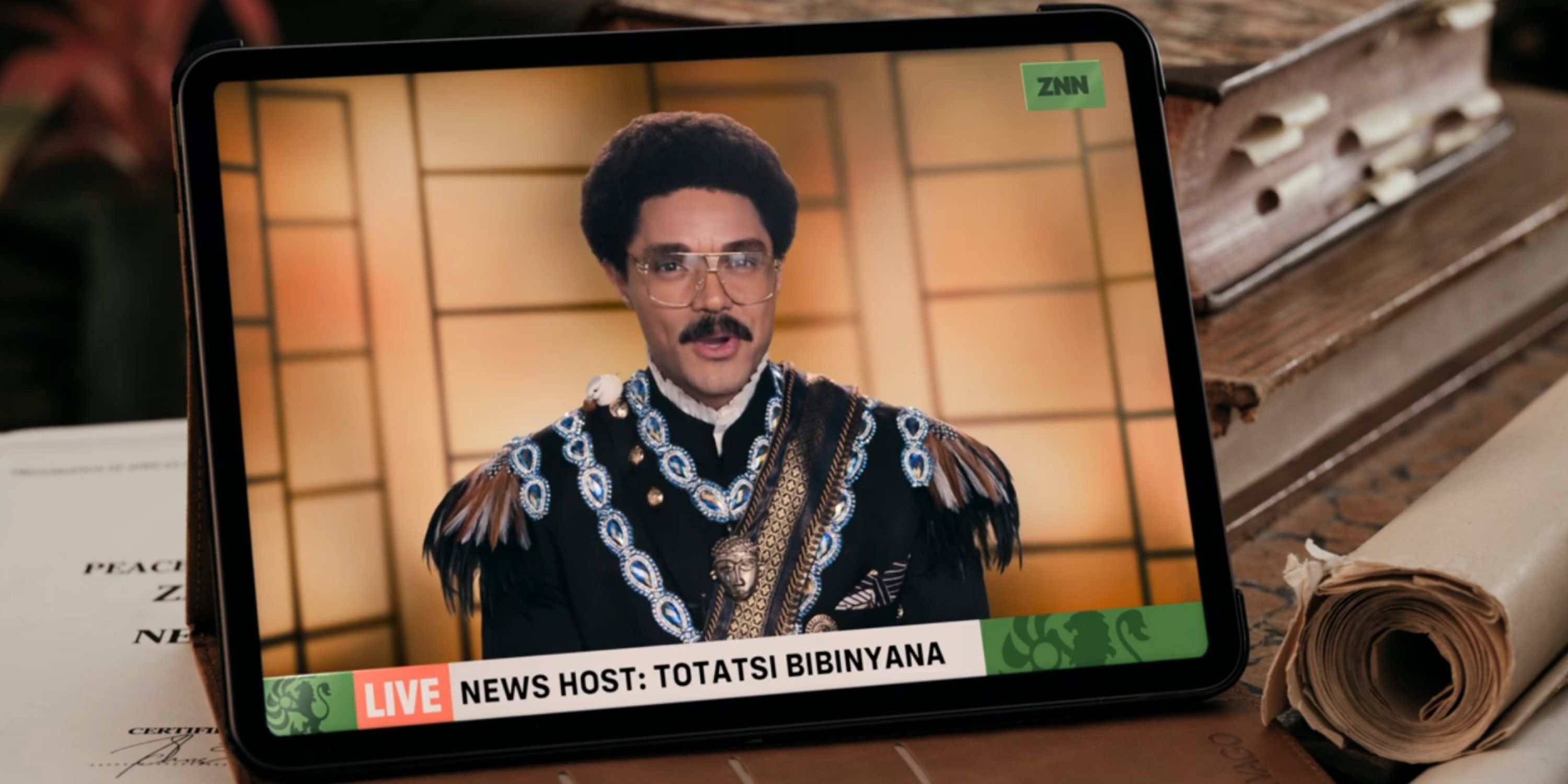 Coming 2 America features a cameo from Trevor Noah as Totatsi Bibinyana, an anchor for the Zamunda News Network. The TV station is branded as ZNN, a cheeky play on the American news network CNN. In a clever connection, Coming to America actor James Earl Jones voices the "This Is CNN" tagline, which is subtly referenced in Coming 2 America.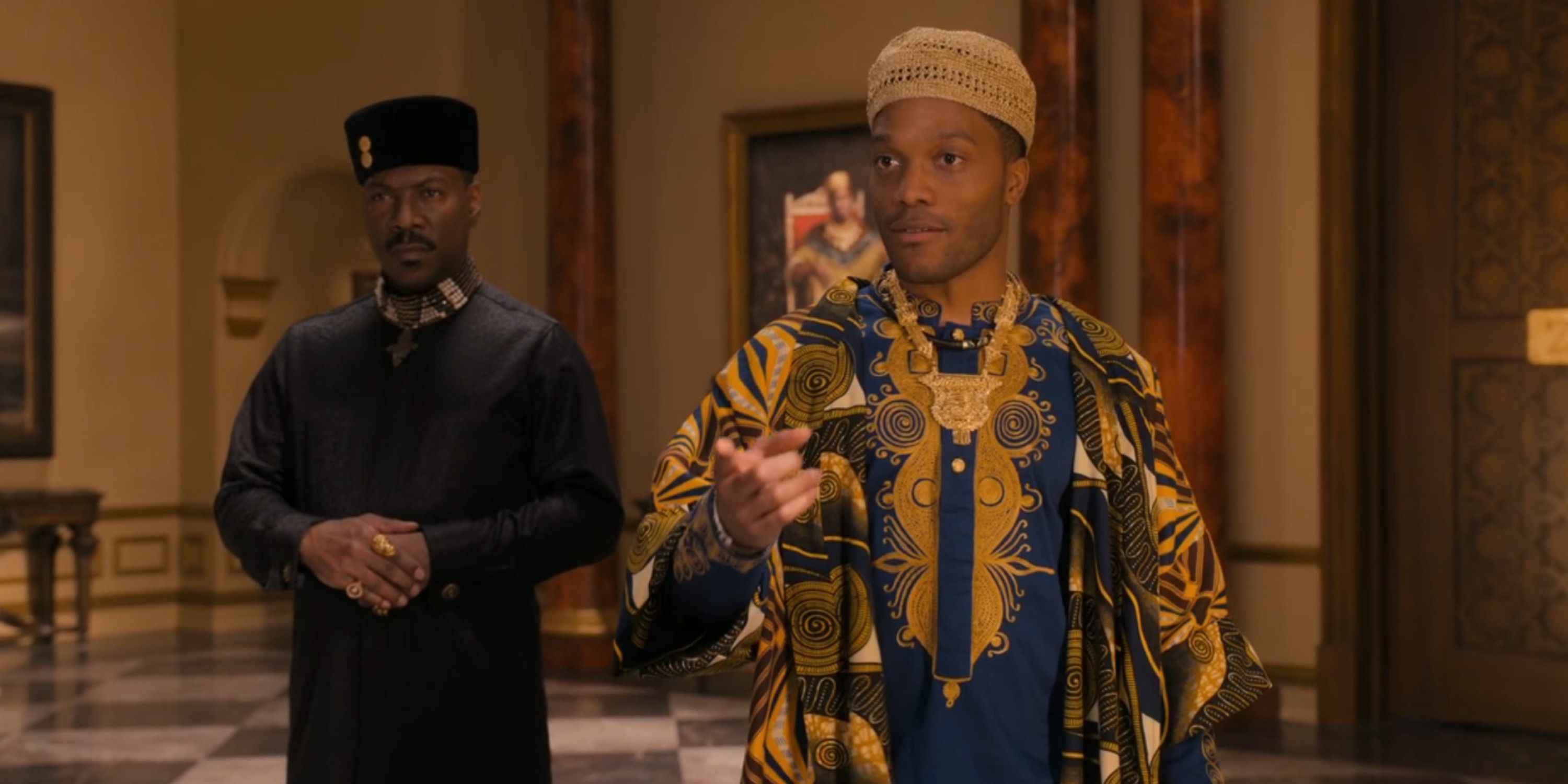 As Lavelle trains to become a proper prince in Coming 2 America, he learns about Zamunda heritage. He is asked to identify the subjects of numerous paintings and refers to one of his descendants as Jabba the Hutt; a Star Wars character. Moments later, he references James Brown and imitates Murphy's impression of the singer on Saturday Night Live during the early '80s.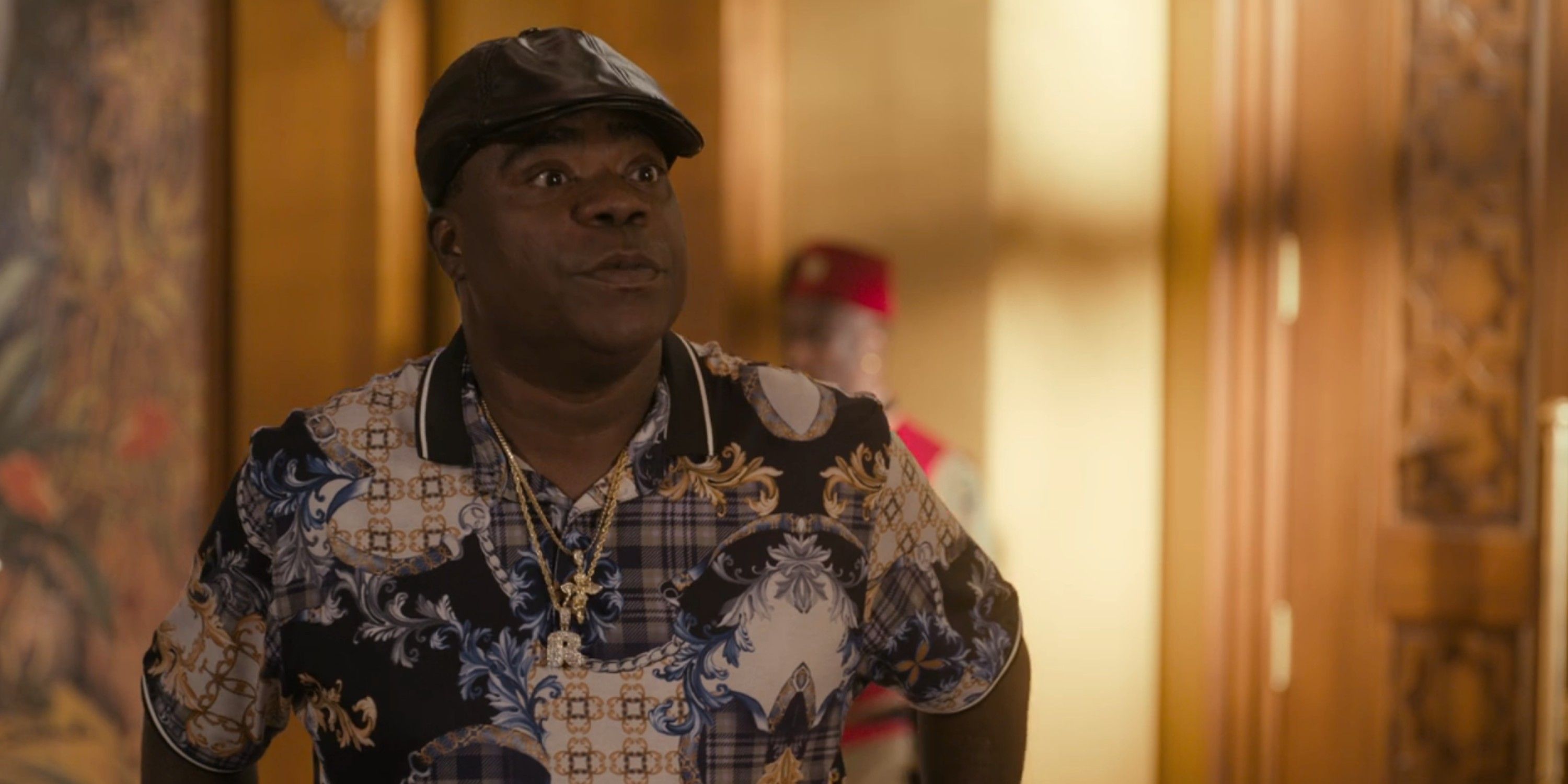 When Uncle Reem arrives in Zamunda during Coming 2 America, he refers to Semmi as "Benson." Hall's character doesn't understand the nickname, but some audiences may identify the reference to an '80s American sitcom. In Benson on ABC, Robert Guillaume portrayed Benson DuBois, a butler for a wealthy governor.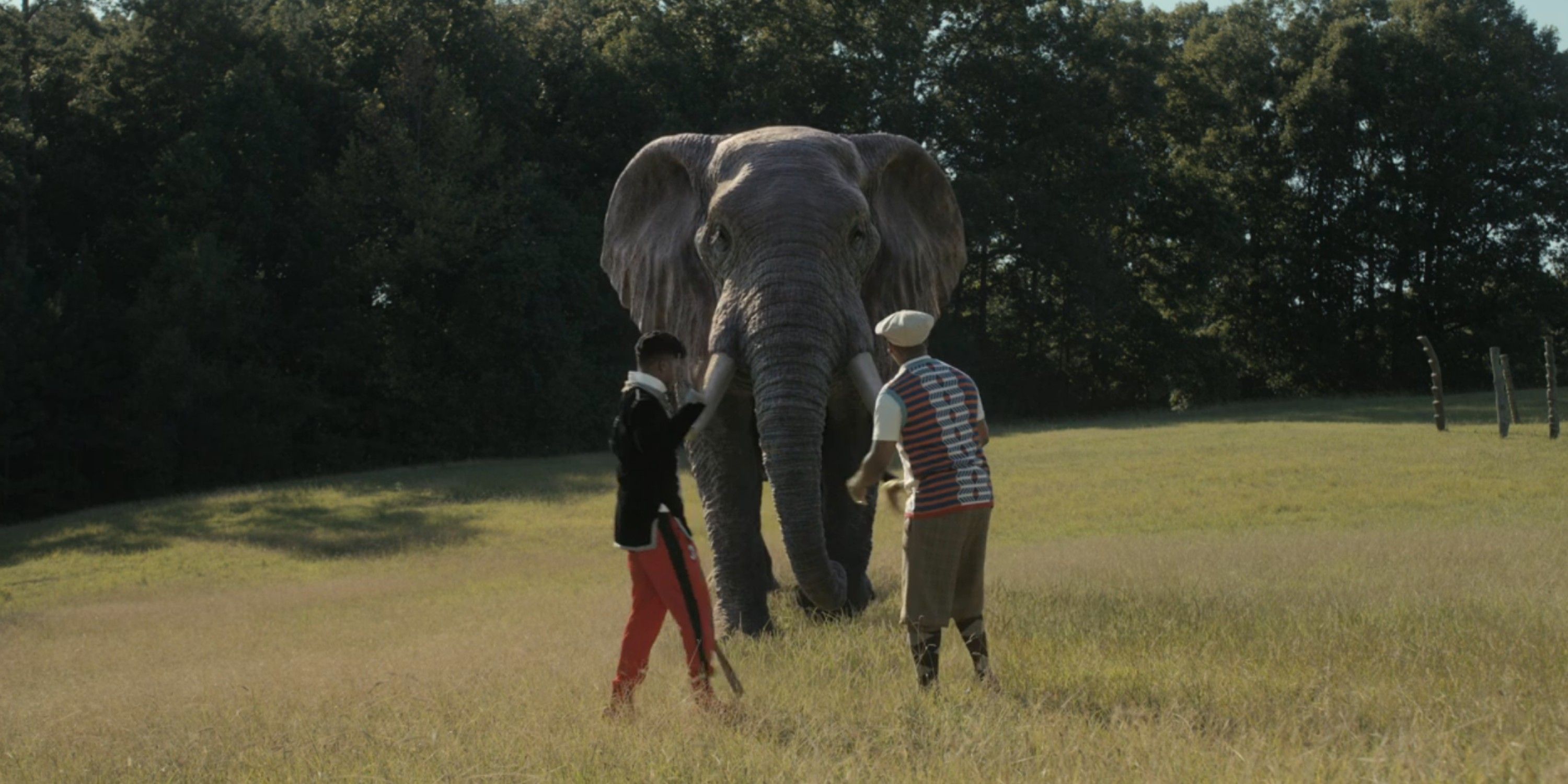 During Lavelle's training sequence in Coming 2 America, he's introduced to an elephant named Babar. It's presumably the same animal that was just a baby in Coming to America. The name references the famous children's book series Babar the Elephant.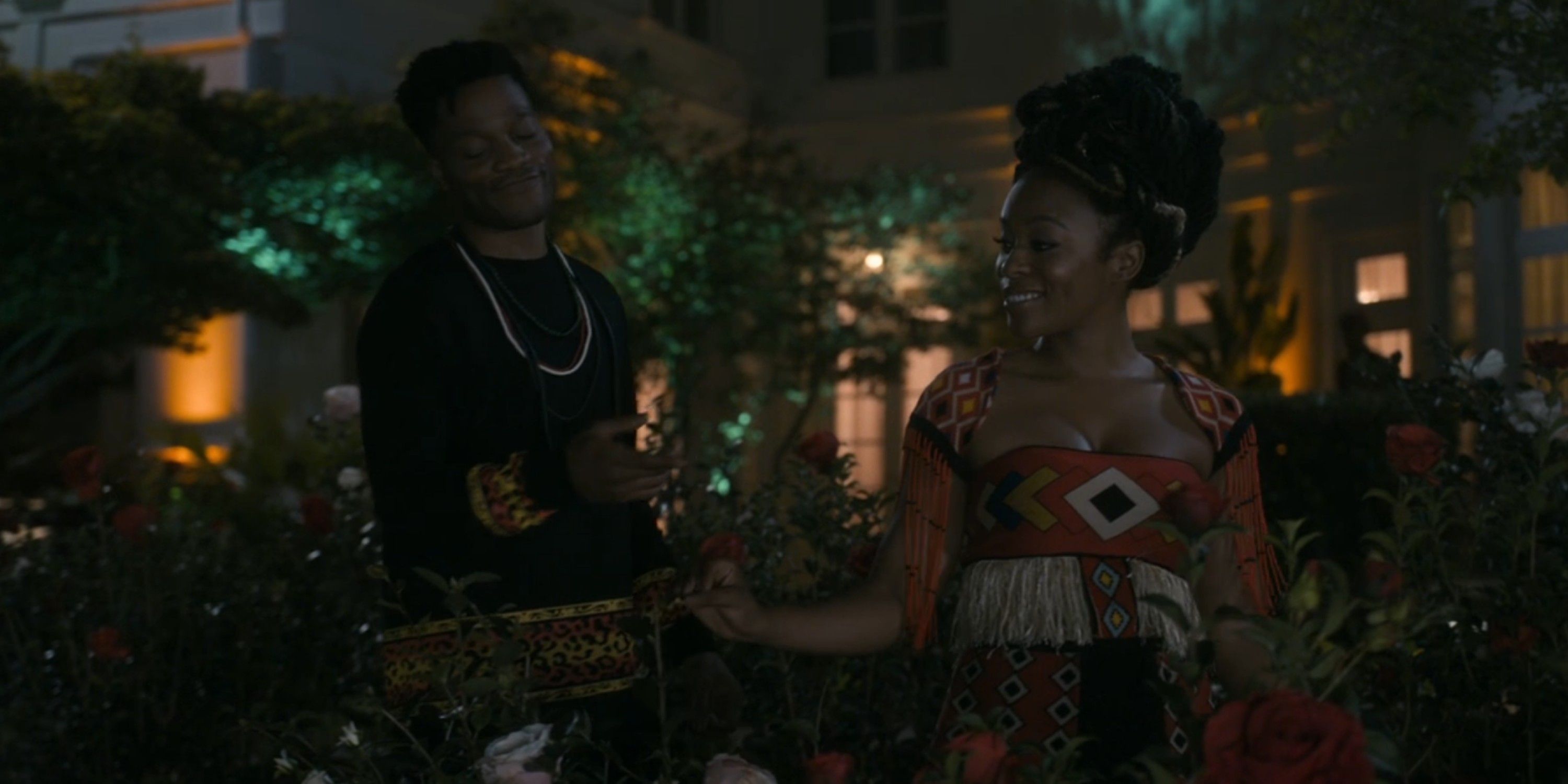 As Lavelle grows closer to Mirembe in Coming 2 America, they discuss American cinema. The duo specifically talks about sequels and the fact that some movies are ruined by follow-ups. The 2021 franchise movie indirectly references its own existence through Mirembe's suggestion that some sequels are "exceptions." In this case, she cites the Barbershop film series as evidence.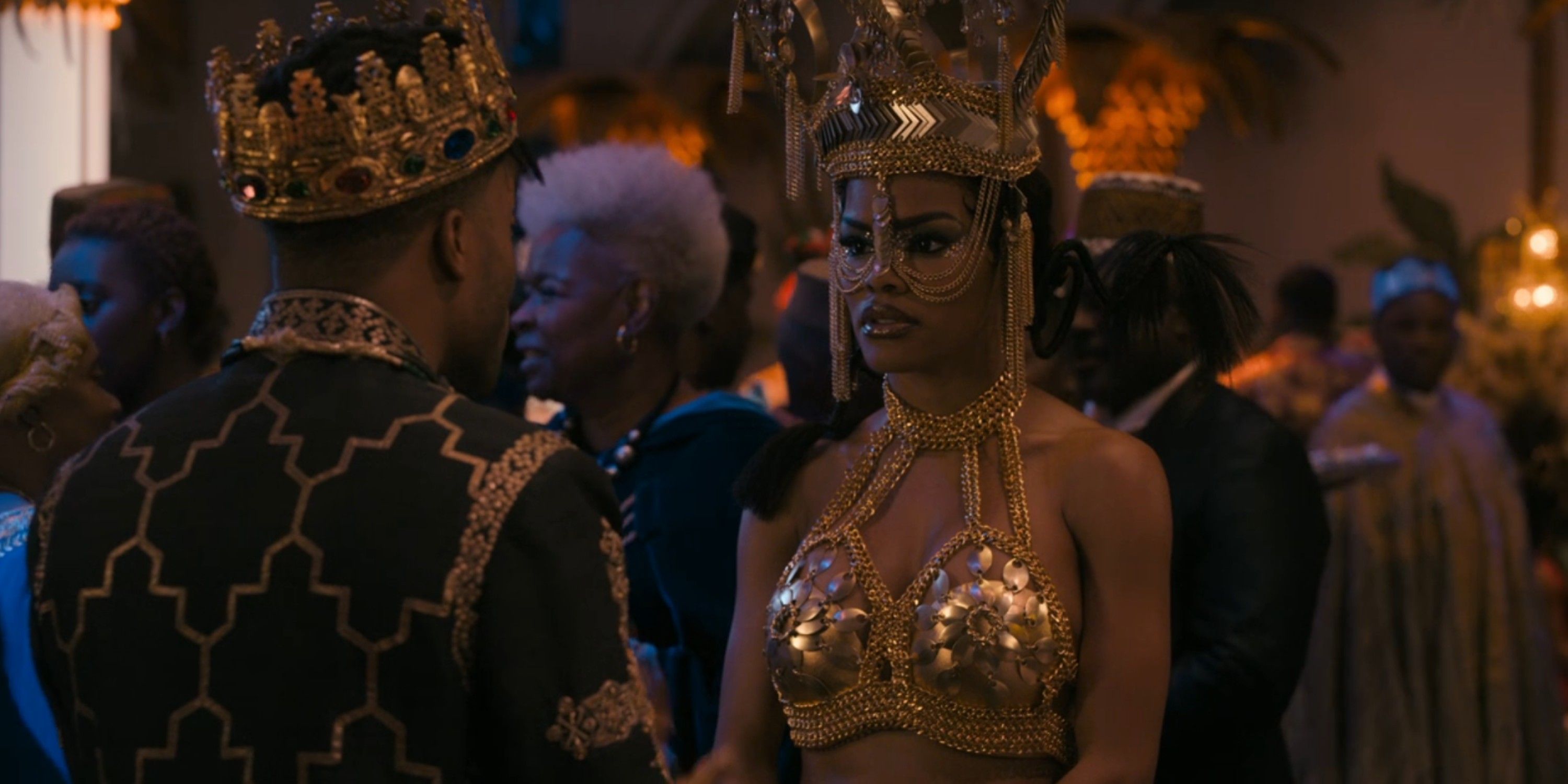 Coming 2 America's climax reveals that Bopoto and Mirembe have significantly different personalities. Whereas Lavelle's barber wants to start her own business in America, General Izzi's daughter just wants to be a loyal wife. Just as Prince Akeem is concerned about Imani in Coming to America, his son has the same worries about Bopoto in the 2021 sequel.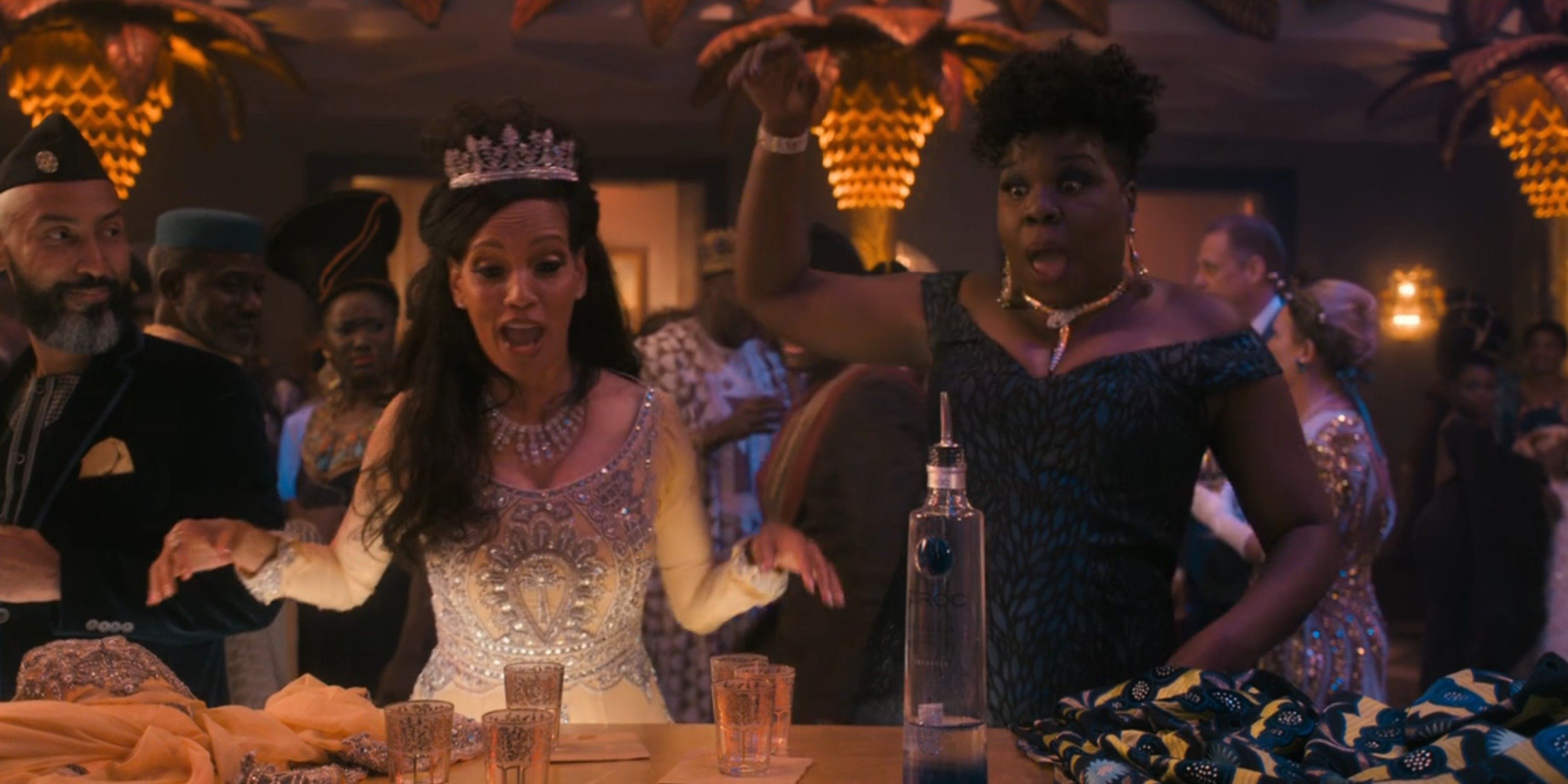 During a climactic party sequence in Coming 2 America, Lisa and Mary bond while drinking alcohol and dancing. Together, they sing along to the 1990 Digital Underground classic "The Humpty Dance." The late Tupac Shakur was briefly a dancer for the Oakland, California hip-hop group during the early '90s, and frontman Shock G, a.k.a. Humpty Hump (Gregory Jacobs), was celebrated in April 2021 after passing away at age 57.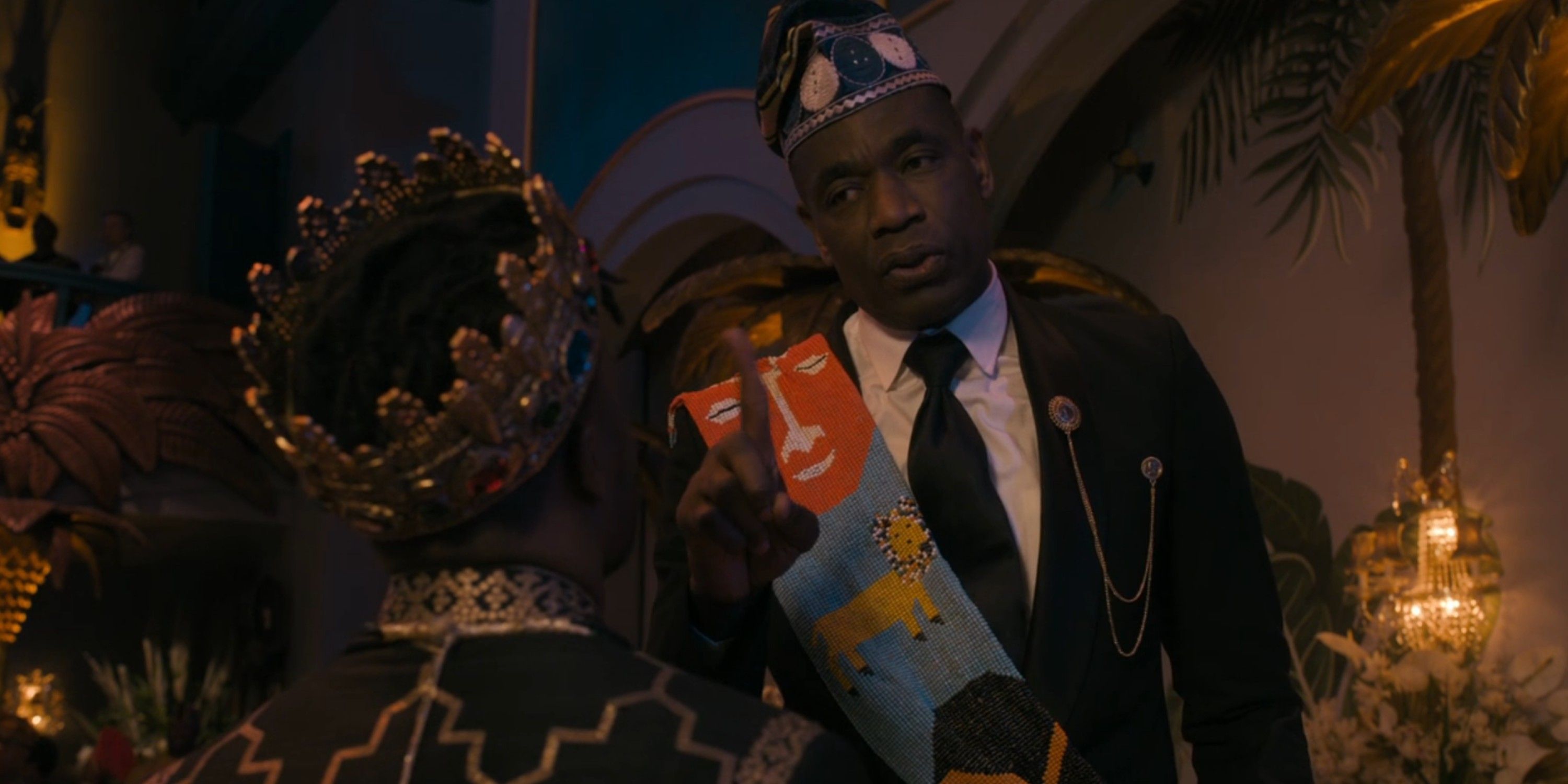 Former NBA star Dikembe Mutombo makes a brief cameo in Coming 2 America. He appears during a party scene and delivers his trademark finger wag, which he famously used in professional basketball games after blocking a shot. In the sequel, Mutombo uses the finger wag as a gesture of support when Lavelle worries about interrupting a conversation.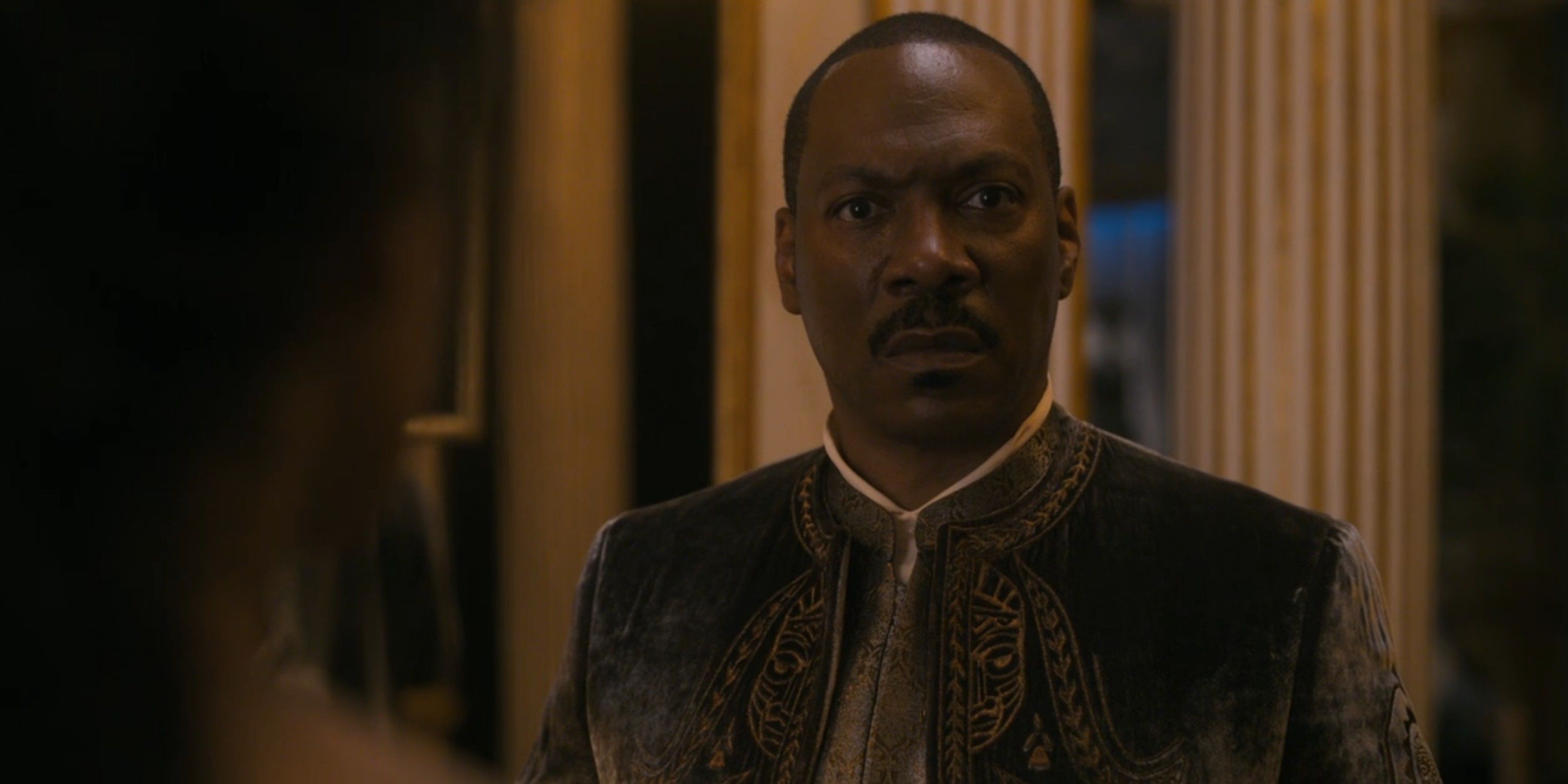 In Coming to America, Murphy breaks the fourth wall after Prince Akeem learns that Imani is willing to bark like a dog. He does the same thing in the 2021 sequel when his wife makes it clear that she's nothing like any of the Izzi women. Coming 2 America has a strong feminist message, and King Akeem's demeanor implies that his character still has some lessons to learn.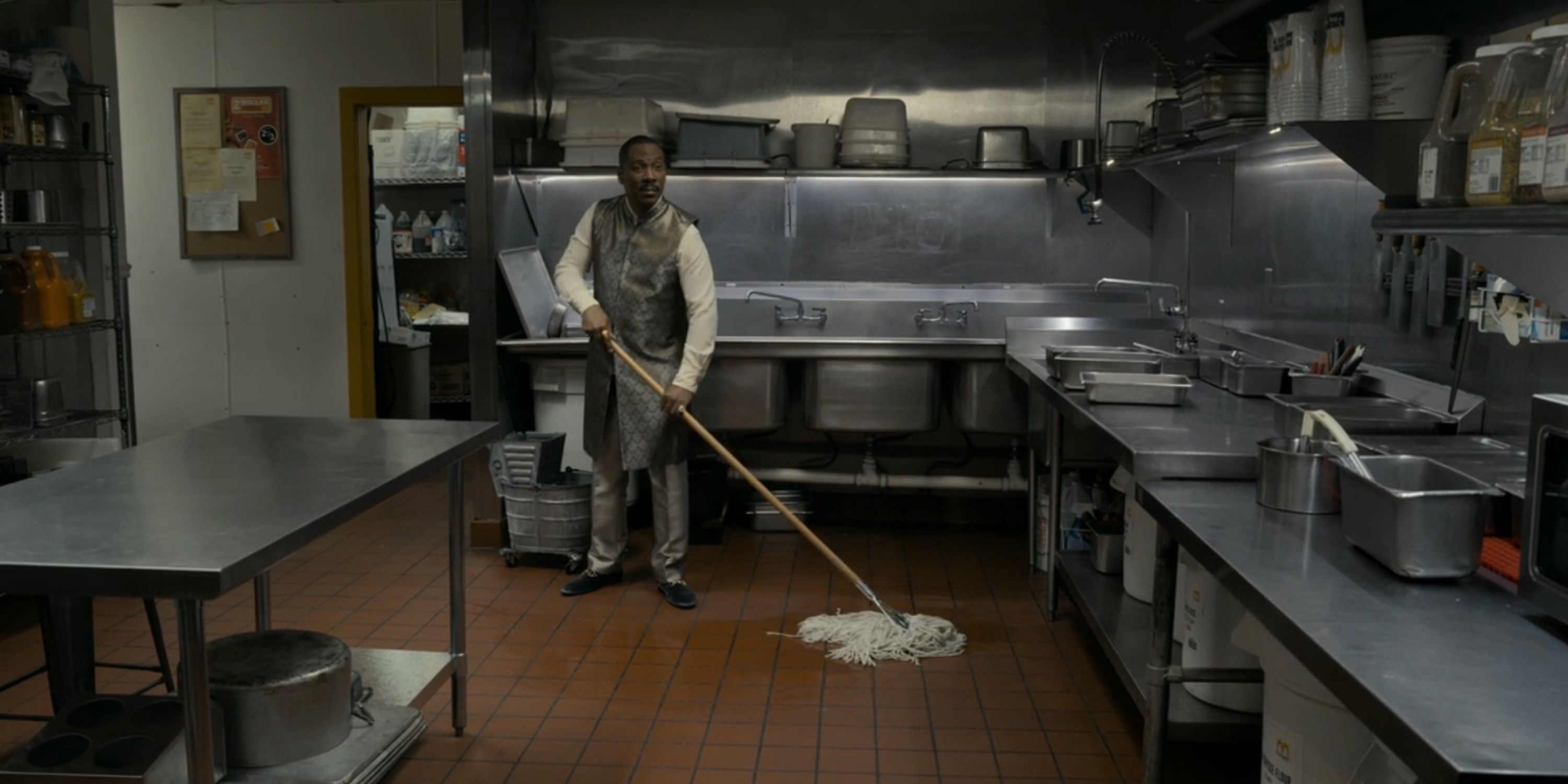 Shortly after being confronted by Lisa, King Akeem shows up at a local McDowell's in Zamunda. He receives advice from Lisa's father after being discovered with a broom in the kitchen. It's a direct callback to Prince Akeem's New York experiences in Coming to America and suggests that the character has indeed been thinking about who he wants to be as a husband, father, and king.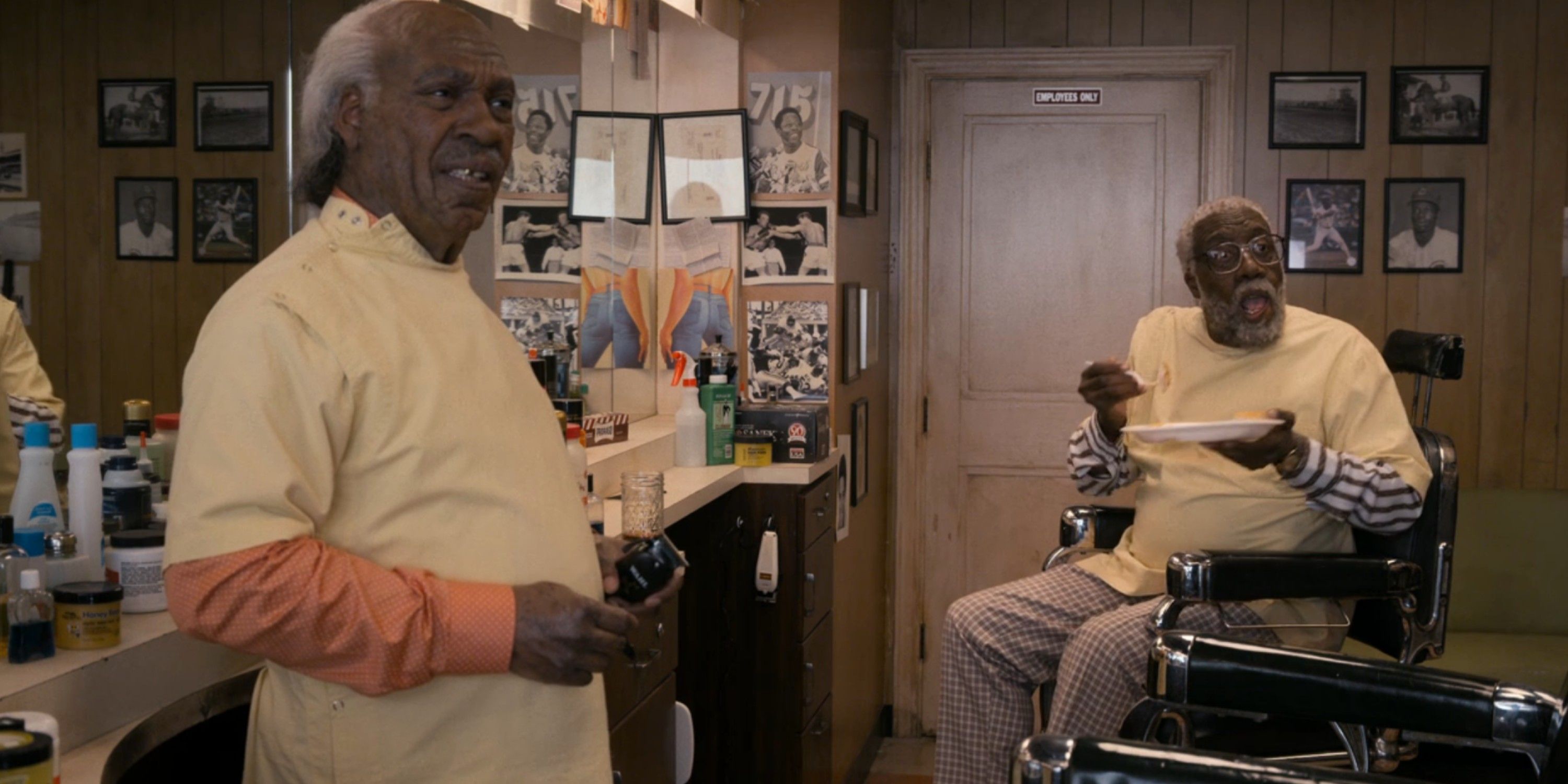 When King Akeem returns to My-T-Sharp in Queens, he's immediately greeted by his old friends. This time, Mr. Clarence refers to him as "Mufasa" - another reference to . Murphy once again reprises his role as Saul, who implies that Akeem has changed quite a bit since the '80s, stating "He was nicer when he was a Prince."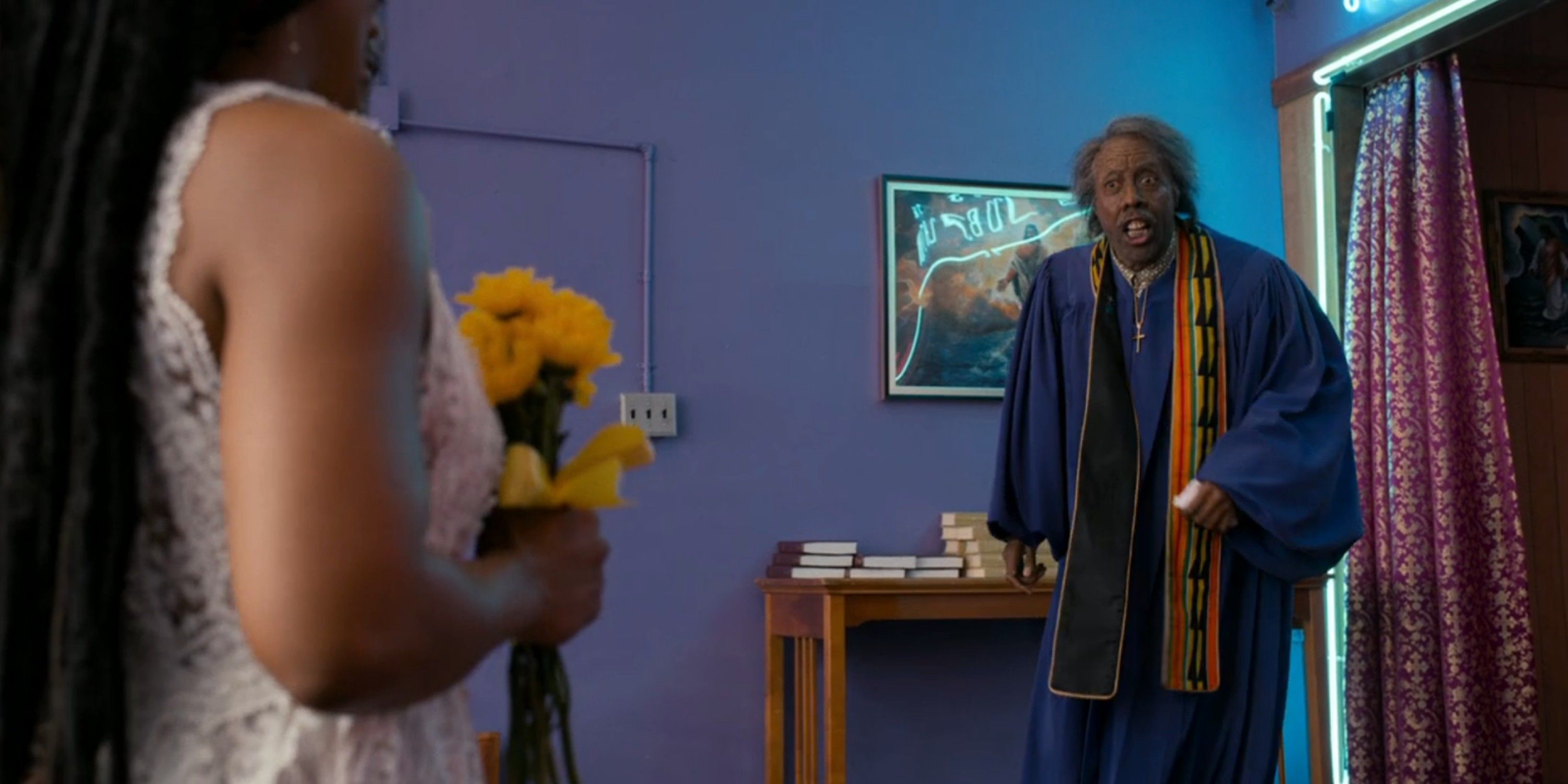 After Lavelle and Mirembe leave Africa for Queens, they are almost married by Reverend Brown. The character is portrayed by the aforementioned Hall, who reprises his role from Coming to America. King Akeem interrupts the ceremony and convinces Lavelle and Mirembe to get married in Zamunda.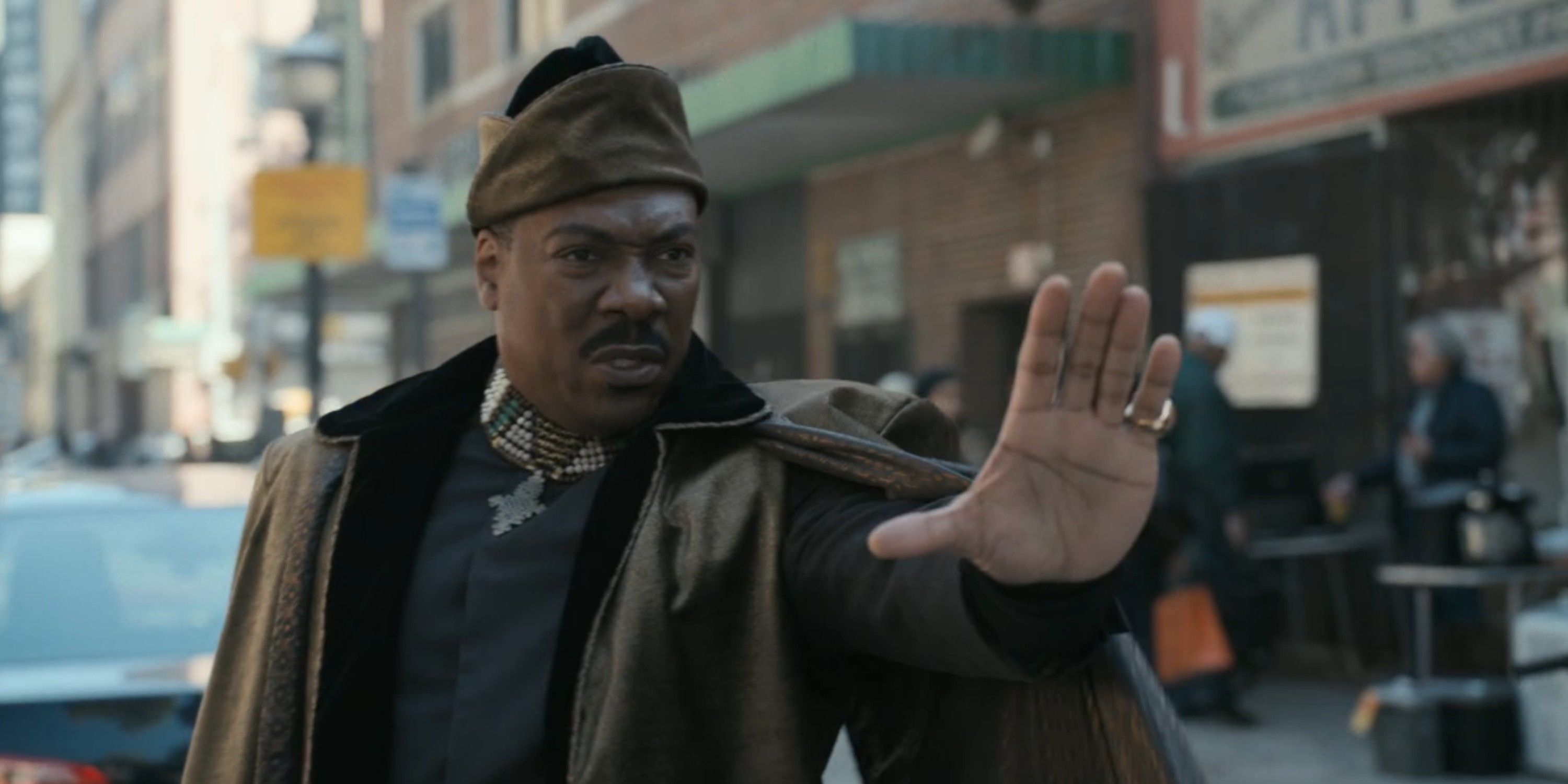 In Coming to America, Prince Akeem learns that his royal declarations won't work on the locals of Queens. He demands that a car "halt" and does the same thing three decades later in Coming 2 America's climax. The moment connects to the film's themes of privilege, power, and personal growth.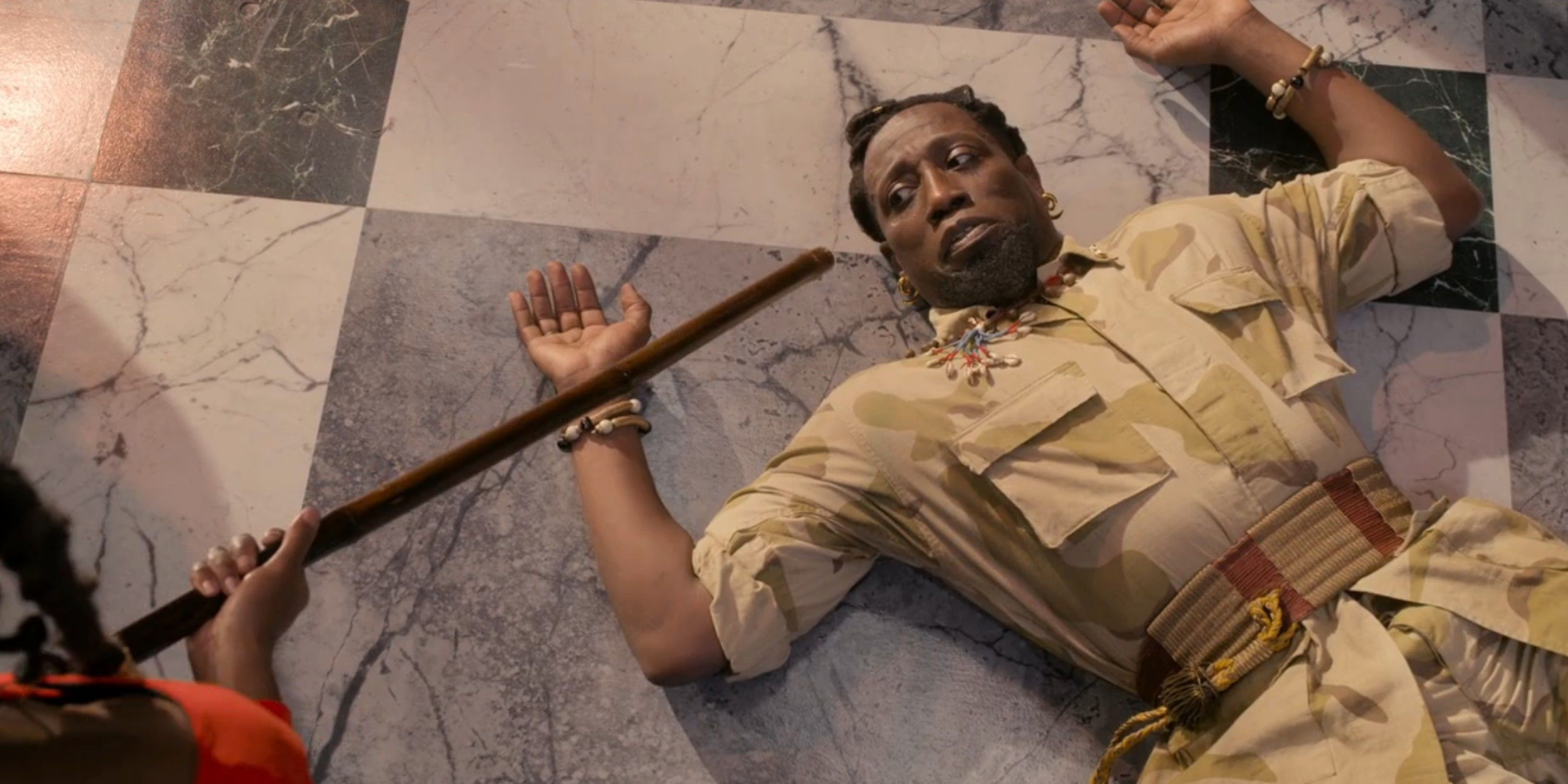 A Coming 2 America fight scene between Princess Meeka and General Izzi is a direct homage to the original film. In Coming to America, Prince Akeem and Semmi playfully battle it out, while the sequel shows the King's daughter standing up against a misogynistic general. As Murphy's character struggles with his feelings in the climax, Princess Meeka proves that she's worthy of being a Queen.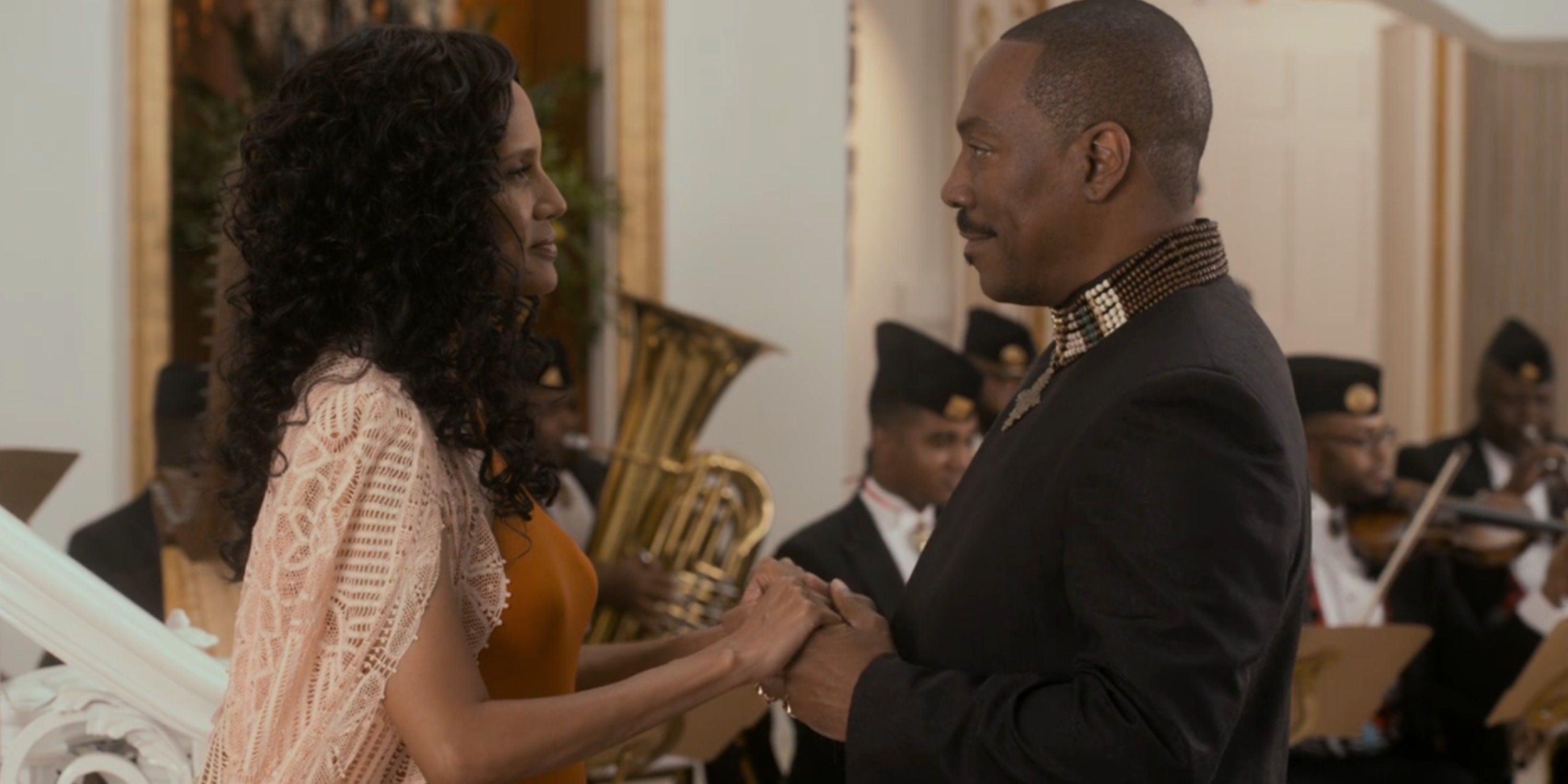 King Akeem makes a grand gesture to Lisa in Coming 2 America by hiring an orchestra to serenade her at their mansion. "To Be Loved" is a direct callback to the 1988 movie, specifically a sequence when Akeem and Lisa share a first kiss. The song was originally recorded by American singer Jackie Wilson.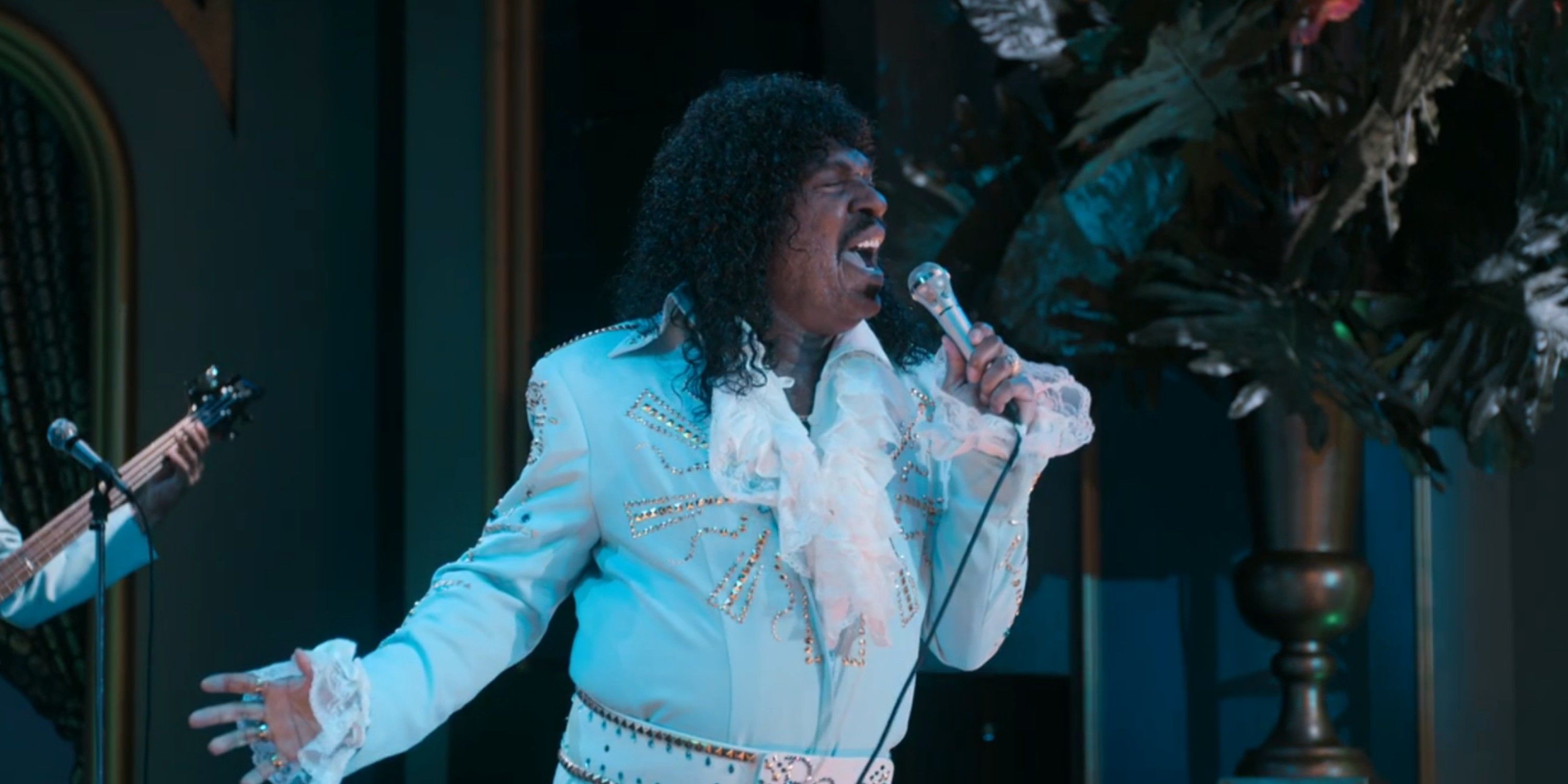 The final moments of Coming 2 America reveal that King Akeem personally arranged for a Queens singer to perform at Lavelle and Mirembe's wedding. The performer is none other than Randy Watson, the lead singer of Sexual Chocolate who sings "The Greatest Love of All" in Coming to America. Murphy reprises his role in the 2021 movie.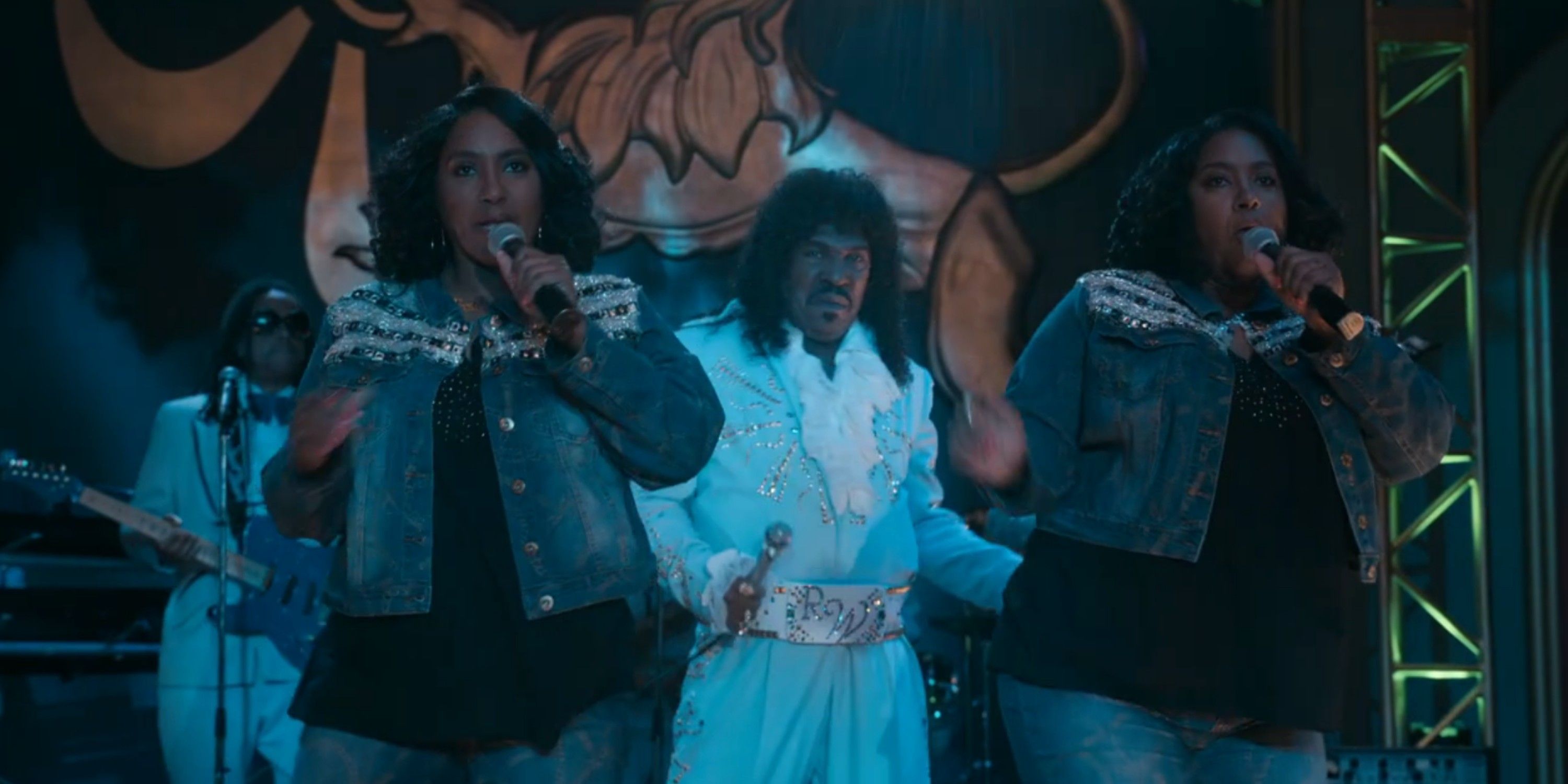 Coming to America features rapping female twins who appear during a speed dating sequence. For the 2021 sequel, an investigator was hired to locate them in New York City. Fresh Peaches and Sugar Cube, otherwise known as Janette Rosillo and Vanessa Colon, reprise their roles while performing with Randy Watson in Coming 2 America.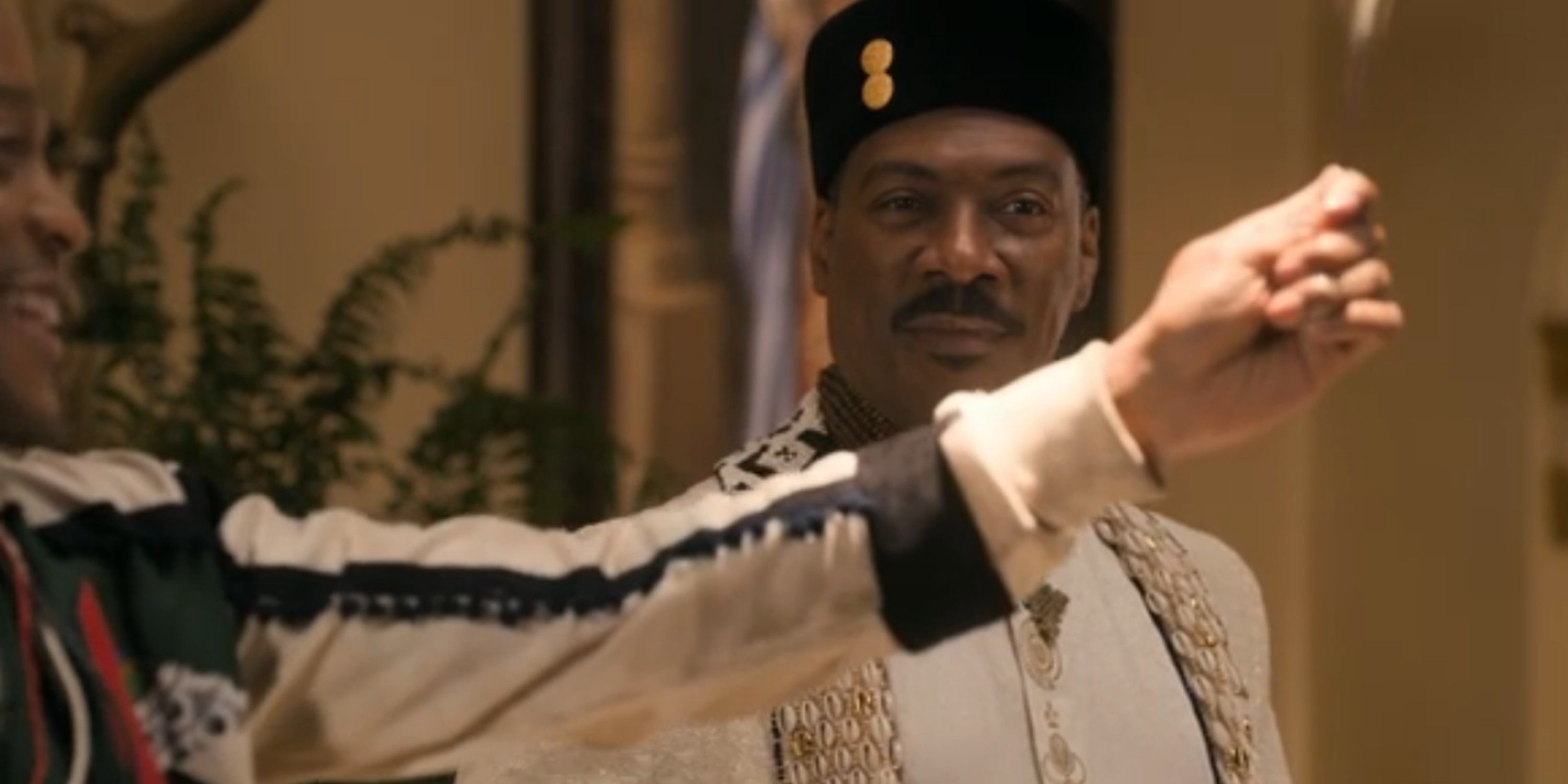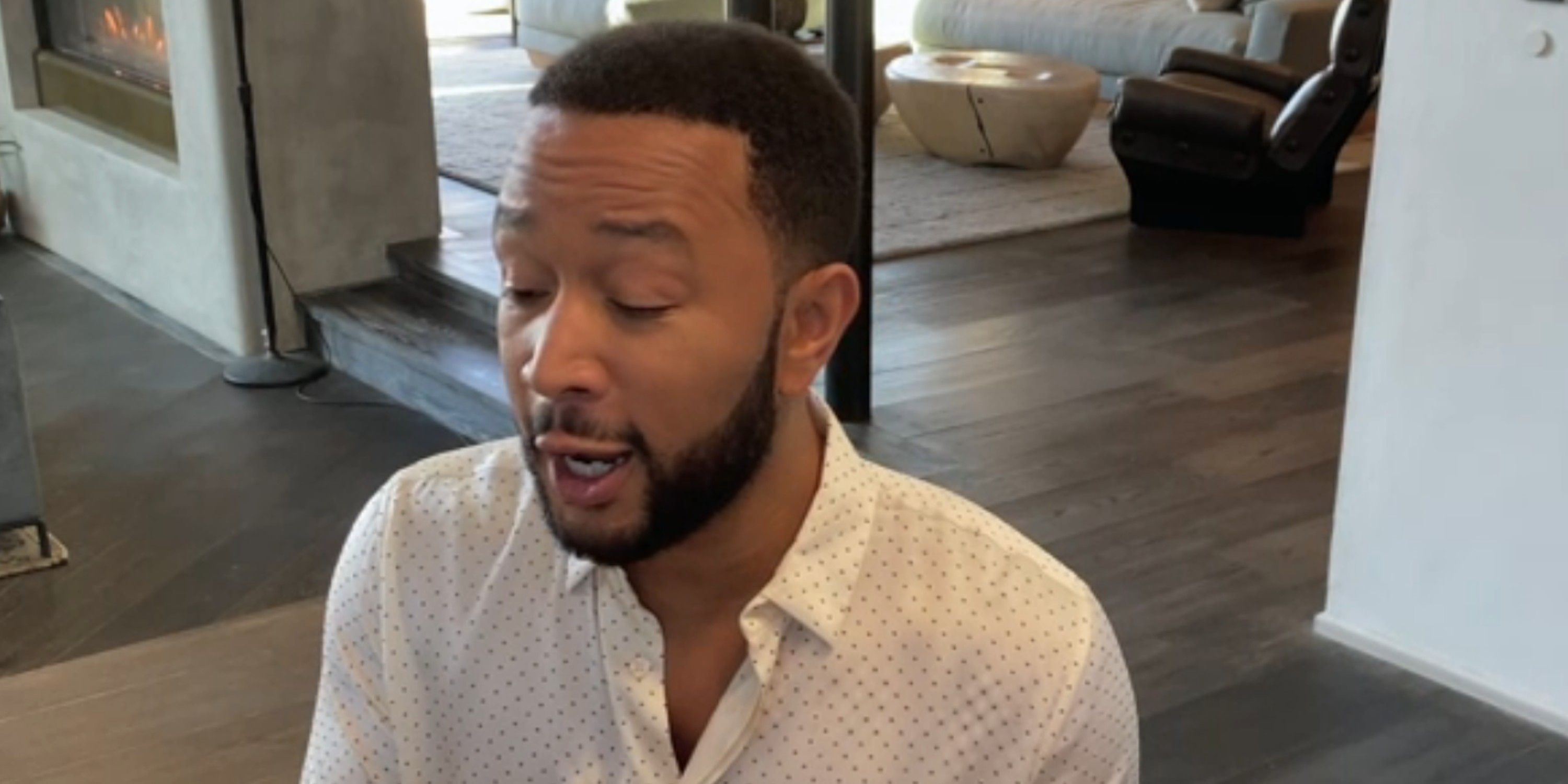 In Coming 2 America, the credits sequence ends with musician John Legend singing "She's Your Queen." The musical number was originally performed by the aforementioned Bates in Coming to America. Legend sings the theme song in the 2021 sequel.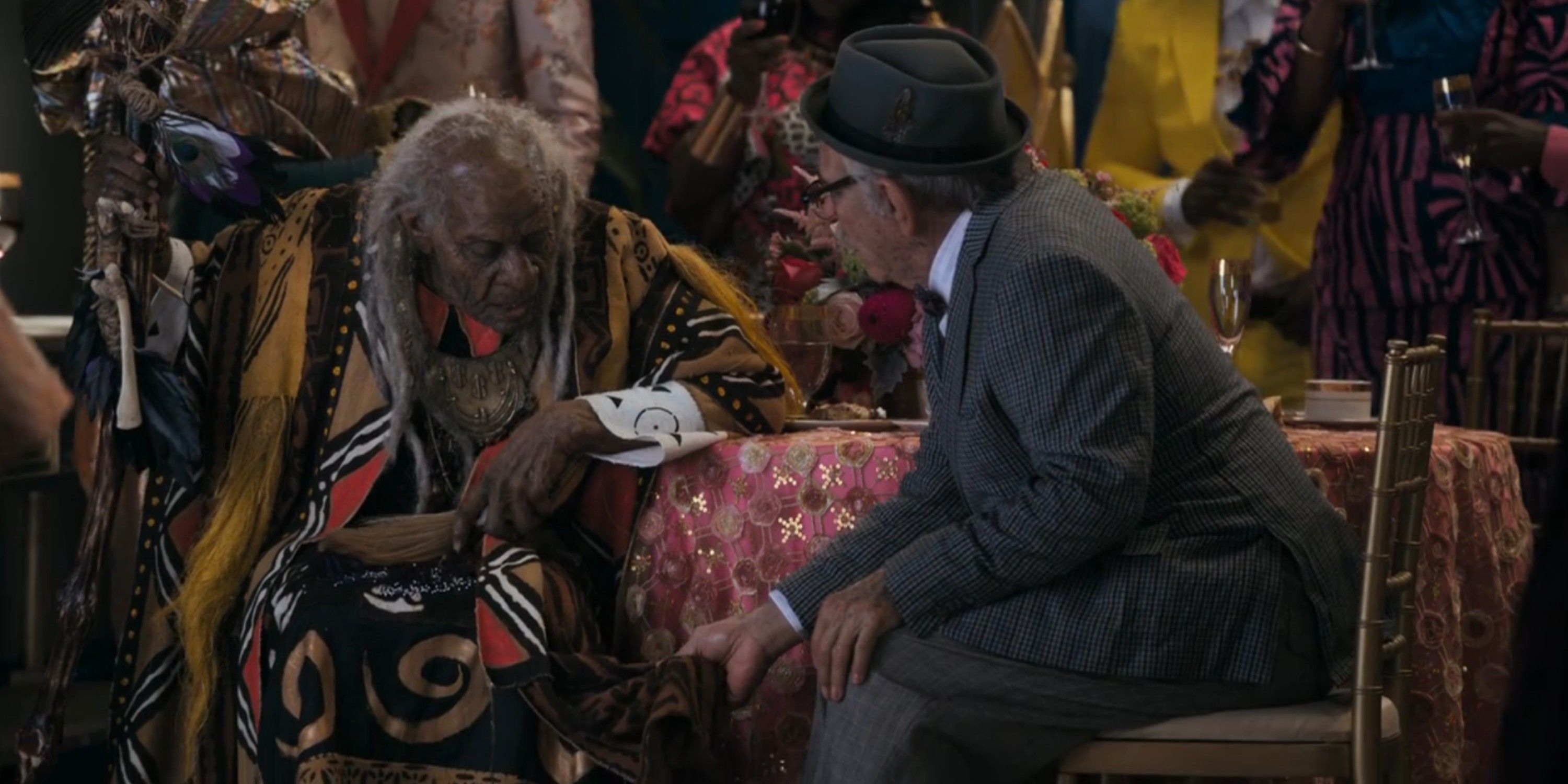 Coming 2 America's post-credits sequence shows Saul speaking to Baba and reciting "Signifying Monkey" by Rudy Ray Moore. The director, Brewer, offers a tip of the cap to the real-life subject of , which stars Murphy in the lead role. Saul's final line - "Hey, what is this, velvet?" - is also a callback to his first meeting with King Jaffe in Coming to America when he admires the man's clothing: "This is beautiful, what is that, velvet?"
Coming 2 America is available to stream on Amazon Prime.
Next: Why Coming 2 America Took 33 Years To Happen
Source : Screen Rant
More