Double Chocolate Zucchini Brownies
Perfectly moist and chocolatey, these double chocolate zucchini brownies are filled with chocolate chips and topped with chocolate frosting. Simple and delicious and you won't even be able to tell that 2 cups of zucchini is hidden inside! Zucchini is a wonderful vegetable, because of its mild flavor it is extremely versatile and delicious. Try these tried…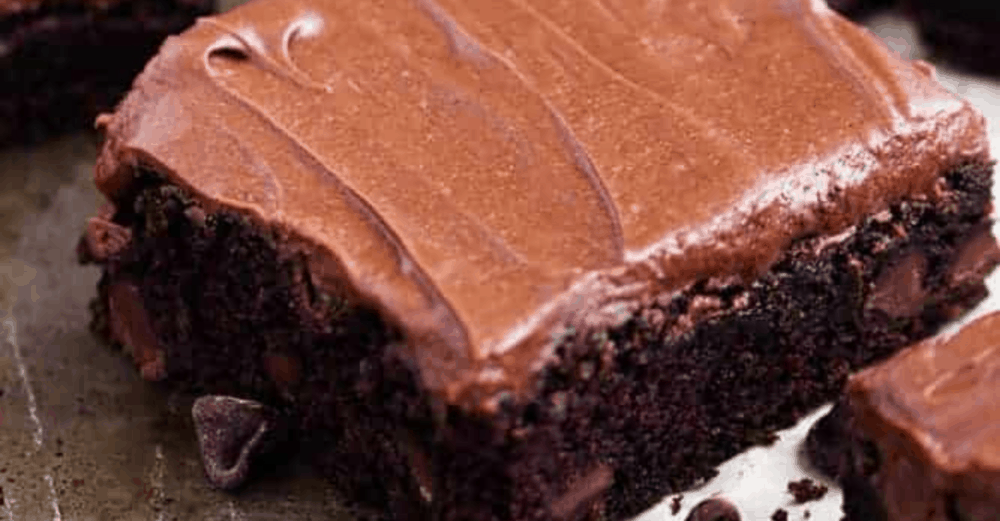 Perfectly moist and chocolatey, these double chocolate zucchini brownies are filled with chocolate chips and topped with chocolate frosting. Simple and delicious and you won't even be able to tell that 2 cups of zucchini is hidden inside!
Zucchini is a wonderful vegetable, because of its mild flavor it is extremely versatile and delicious. Try these tried and true zucchini recipes like Fried, Rice, and Lasagna!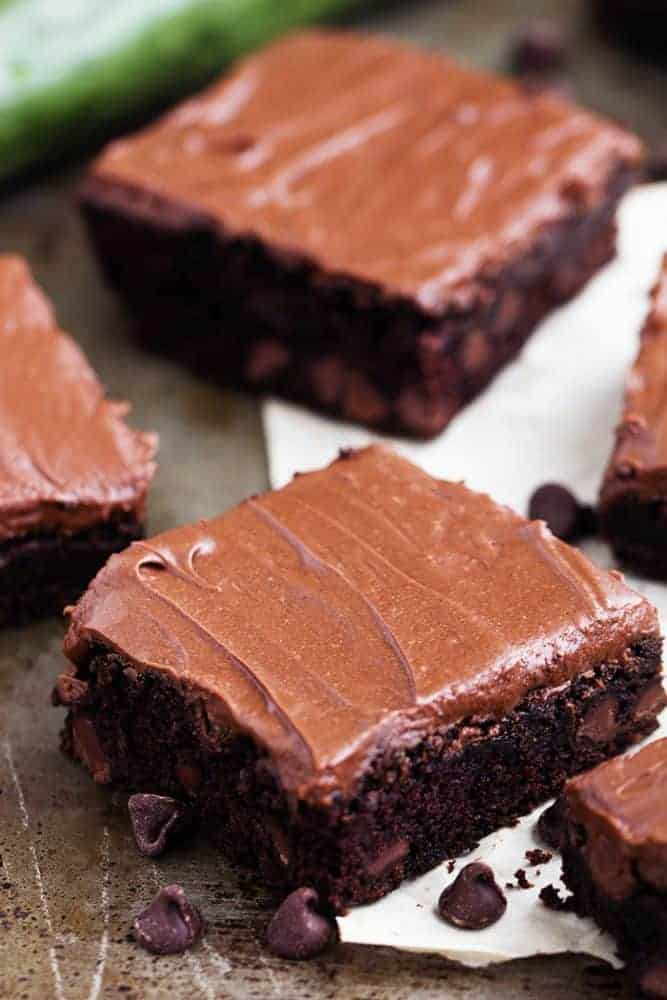 Double Chocolate Zucchini Brownies
Zucchini is popular vegetable in the summertime. Zucchini is a highlight and I have several tried and true recipes like this Cake, Muffins, or the Perfect Chocolate Chip Zucchini Bread, these are rich, and fudgy just like a brownie should be. They won't be cakey but have that classic brownie texture we all love. These are made in a 9×13 and its all in one pan, so these are the perfect dessert to take to potlucks, parties and big family gatherings. Your family and friends are going to love these!
I love watching my boys devour these and tell me that they are the best brownies that they have ever had. Little do they know that there are 2 cups of zucchini hidden inside. Muah haha! The zucchini makes these brownies so moist. And because you can never have enough chocolate I added some chocolate chips inside! It was so delicious with the chocolate chips hidden inside. But the chocolate frosting… it is a MUST! These brownies are so rich and are a total chocolate lover's heaven! The best way to use up that zucchini and are especially good with a cold glass of milk. You are going to love them!
Ingredients For Zucchini Brownies
Super easy to make, no one will know there are vegetables inside.
Canola oil: Canola oil is a mild oil that won't impart a ton of flavor so it is a great baking oil.
Sugar: Use white granulated sugar, it will help cut the bitterness of the cocoa and add moisture to the cake.
Vanilla extract: Vanilla actually helps chocolate taste more like chocolate, so do not leave it out.
All-purpose flour or unbleached: Both of these flours work great in baked goods. They provide structure and density.
Unsweetened cocoa: You can use natural or dutch cocoa for this recipe. They both add color and rich chocolate flavor.
Baking soda: This is the leavening or rising agent for the brownies that will help give them a bit of a lift.
Salt: Regular table salt is just fine, and will provide balance and flavor that is essential.
Zucchini shredded: Shred the zucchini as finely as possible so it doesn't have chunks.
Chocolate chips: You can use regular, dark, or even milk chocolate chips.
Chocolate Frosting
Cocoa powder: Again natural or dutch cocoa powder will work for the frosting.
Powdered sugar: Using powdered sugar will create a smooth frosting instead of grainy.
Butter melted: You want the butter melted so it can thin the icing and mix thoroughly.
Milk: Any percentage of milk will work here, if you need to thin it out add just a splash more till it's the right consistency.
Vanilla extract: Sweet vanilla adds the best flavor and helps the chocolate intensify in flavor.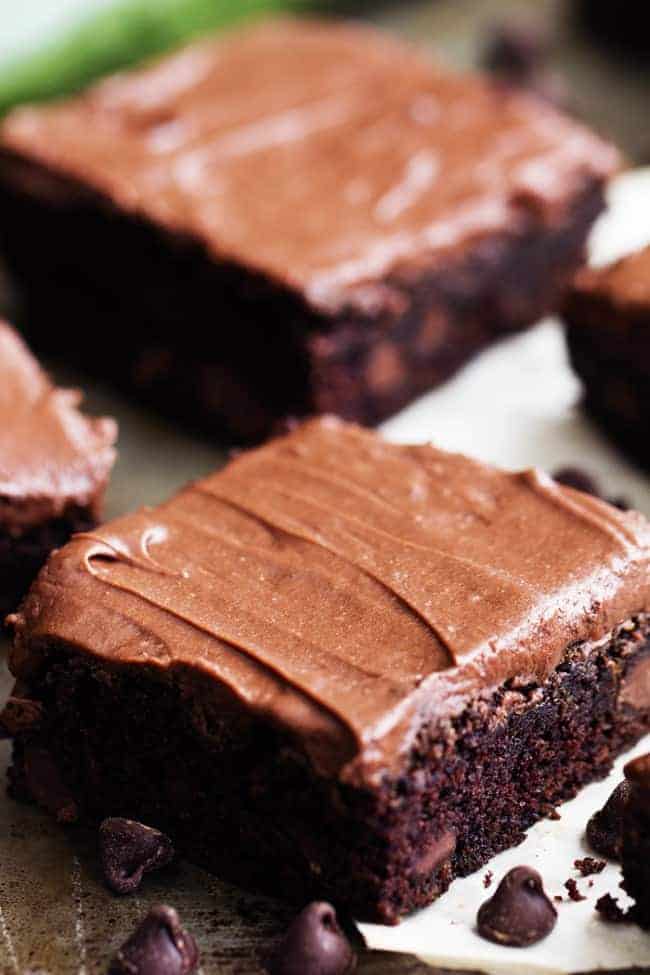 Let's Make Some Double Chocolate Zucchini Brownies
You are going to love how these taste and look. The frosting is the key!
Prep: Preheat oven to 350 degrees. Line a 9×13 inch pan with aluminum foil and lightly spray with cooking spray. This allows for easier removal.
Mix: In a medium-sized bowl add oil, sugar, and vanilla extract in a bowl until combined and crumbly.
Combine: In another bowl combine flour, cocoa, baking soda, and salt. Add the sugar mixture to the flour mixture.
Add: Stir the zucchini shreds into the batter until thoroughly incorporated. At this point, it may seem very dry and thick. Keep mixing and the zucchini will moisten the batter. Add in the chocolate chips.
Bake: Spread the batter into the bottom of your 9×13 inch pan. Bake for 25 minutes or until the brownies are fairly firm and begin to pull from the sides of the pan. Allow brownies to cool.
Frost: Add cocoa powder, powdered sugar, and butter to a small bowl and whisk. Add in milk and vanilla and continue to whisk until smooth. Spread over brownies.
Chocolate Zucchini Brownies Recipe
Fudgy, rich, decadent and chock full of zucchini, these will disappear fast.
The Batter: You will notice the batter is pretty dry until you add the zucchini. That is ok, the zucchini is the main source of moisture, if you stir and stir and it is still not moist add a splash of milk.
Size Matters: The larger the zucchini the drier it will be. Use a medium or small zucchini for this recipe you want moisture but not too much.
Grating Your Zucchini: To start, you can peel your zucchini, but only if you want to. I usually do not, but if you are worried about the green flecks showing and giving away your secret, you might want to. Grate the zucchini or you can chop it in a food processor, use the smallest holes. You will not have to drain or pat the zucchini dry for this recipe as the zucchini is the main source of moisture.
Cocoa Powder: There are two kinds of cocoa, natural or dutch. The main difference is that the dutch processed cocoa has been treated to take out some of the acidity of the chocolate. It usually has a richer, smoother flavor. I like to use natural in the brownies and dutch in the frosting.
Chocolate Chips: You can leave the chocolate chips out if you desire, use milk chocolate chips if you want a bit of a sweeter after taste. I used regular semi-sweet chocolate chips.
Frosting: You will want to sift the powdered sugar so it mixes up easily and without any lumps. The frosting is so good and is the perfect topping for these zucchini brownies, don't skip it!
Storing Your Double Chocolate Zucchini Brownies
If you are fortunate to have leftovers you will want to keep them moist for the next day.
Store: Keep brownies tightly covered at room temperature for up to 3 days or you can keep them in the fridge for up to a week. Many of my family like these straight from the fridge best anyway!
Freeze: These freeze beautifully and can be made ahead of time. Do not frost brownies before freezing for best results. Freeze unfrosted brownies tightly wrapped and covered for up to 2 months. Thaw at room temperature and frost when ready to serve.