Eleven LGAs across South-East Queensland to enter snap lockdown
Only four reasons to leave home after the state recorded six new local COVID-19 cases.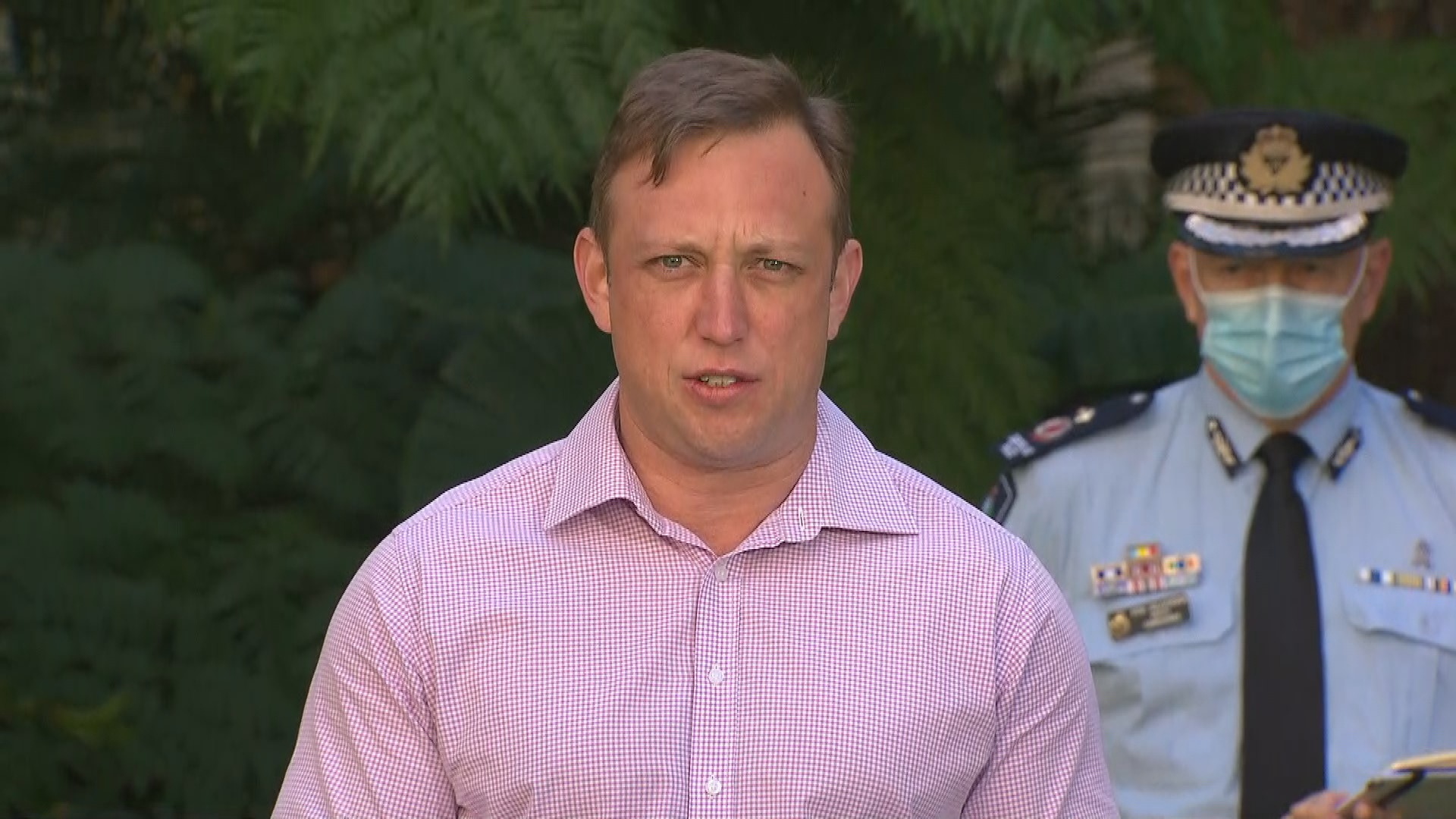 Queensland authorities have introduced a snap lockdown for 11 local government areas after the state recorded six new local COVID-19 cases.
Deputy Premier Steven Miles said the new transmissions were linked to an infected student at a Brisbane high school.
The lockdown in south-east Queensland will start at 4pm today and continue until 4pm on Tuesday.
Explainer:
From 4pm the only reason to leave home will be to buy essentials, such as groceries and shopping, work if you can't work from home, exercise within 10 kilometres of your home and healthcare, including vaccinations.
Only children of essential workers can attend school.
Dr Miles said the lockdown would be short and strict but necessary.
"We received the advice of the chief health officer, and the premier has ordered that we move strongly and implement all of the restrictions advised by the chief health officer.
"We must go hard and go early. And so from 4:00pm today, the 11 LGAs that currently have mask-wearing requirements will go into lockdown. This will be the strictest lockdown that we have had.
https://twitter.com/AnnastaciaMP/status/1421261232837840896?s=20
The 11 LGAs entering lockdown from 4pm:
Brisbane City
Moreton Bay
Gold Coast
Ipswich
Lockyer Valley
Logan City
Noosa Shire
Redland City
Scenic Rim
Somerset
Sunshine Coast
Dr Miles urged residents in the affected LGAs to stay at home and to avoid panic buying of essentials.
"If you are thinking about going out, please stay home if you can. If you are out and about now, please go home, if you can," he said.
"Grocery stores will stay open throughout the lockdown. So, please don't think that you need to rush to get essential items. You will be permitted to leave your homes for essential items. Please don't rush out to grocery stores.
"That creates a risk of infection that we want to avoid. We have been in contact with the supermarkets - they are all well-supplied."
READ MORE:
Dr Miles said the aim was to "go hard and go early".
Chief Health Officer Jeanette Young also stressed the need for people under the snap lockdown to limit their movements.
"So, for the next three days, I just ask everyone: Stay at home. The only real reason you need to leave home is for healthcare or to provide support to a vulnerable person. Hopefully, people have got enough food at home."
Dr Young confirmed there are seven infections in the cluster linked to Indooroopilly State High School, with six new cases, including a five-member family and a medical student.
"We had six new community-acquired cases yesterday, so there are now seven in that cluster. And they are related to two people who returned from overseas and were in hotel quarantine.
"So, there are now nine linked cases. I still don't have the direct link from one of those two cases through to these new seven cases, but I know through whole genome sequencing that that is where the transmission has occurred."
Dr Young said the Delta variant is spreading quickly.
READ MORE:
"We now have all five people in one household have been infected. So, all five of those household members. We know that Delta is a particularly infectious strain.
"Then we know that we have another person today who is a medical student at the University of Queensland who is a tutor for that 17-year-old that we announced yesterday."
More exposure sites are expected to be added across those 11 LGAs throughout the day.
Dr Young said health authorities could not rule out further cases outside of Brisbane.
"At the moment, I don't know where this virus is in southeast Queensland. It could be anywhere. It could be in the Sunshine Coast, because we had one of those original cases up there, and they live in Buderim.
"It could be down in the Gold Coast, because we had one of those original cases down there when they were being managed."
Dr Young pleaded with anti-lockdown protesters to scrap planned gatherings tomorrow in Brisbane.
"Please don't protest tomorrow. Protests are very, very important - I agree with protests, they are an important part of our democracy. But just don't do it tomorrow."