Flan
This Latin dessert is sure to win your heart with creamy custard layered in smooth caramel. In this flan recipe, cream cheese is added for extra indulgence! Each bite of flan is heaven. Caramel and cream are the best combinations! If you're like me and love all things rich and sweet, you should give my…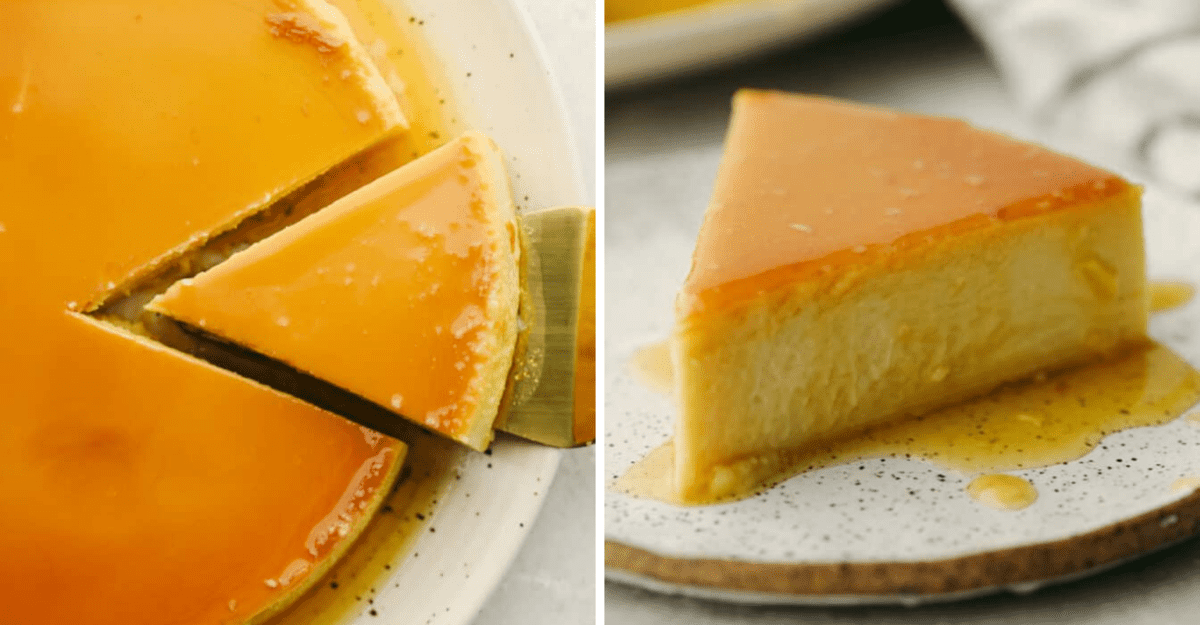 This Latin dessert is sure to win your heart with creamy custard layered in smooth caramel. In this flan recipe, cream cheese is added for extra indulgence!
Each bite of flan is heaven. Caramel and cream are the best combinations! If you're like me and love all things rich and sweet, you should give my crème brulée, dulce de leche cheesecake bars, and caramel apple upside-down cake a try!
Cream Cheese Caramel Flan Recipe
For those of you who haven't tried flan before, you're in for a treat! It's one of my favorites! Flan is a custard-based dessert topped with a thin, smooth layer of caramel. It's most commonly found in Mexico, Spain, and Puerto Rico. You'll find tons of different varieties of this dish, but the kind I'm making today is called Flan de Queso- also known as cream cheese flan! And let me tell you. Cream cheese flan is the love child of crème brulée and cheesecake. So incredibly delicious!
Truthfully, flan seems a lot more difficult to make than it really is. It only consists of a few simple steps! All you've got to do is mix up your caramel in a saucepan and use a water bath to cook your custard base. Once everything is baked, you flip the pan like you would with a bundt or upside-down cake. Perfectly shaped custard smothered in caramel should slide right out! It's a melt-in-your-mouth dream. Let's make some flan!
Flan Ingredients
Flan uses super simple ingredients. The caramel sauce, for example, only needs sugar and water! Then, the custard is just a mix of a few pantry staples. The key ingredients here are condensed and evaporated milk for maximum creaminess. You'll love it! Measurements for each ingredient are in the recipe card below.
Caramel Topping
Granulated Sugar: Sugar melts down to become the golden caramel drizzle you see on top of the flan!
Water: Water dissolves your sugar and helps everything melt down beautifully!
Custard
Cream Cheese: Cream cheese is the star player here. It adds a hint of tang and creaminess to your flan!
Granulated Sugar: Added for the perfect sweet flavor. Eggs bind everything together!
Eggs: I've found that large eggs work best here.
Sweetened Condensed Milk: Everything is better with condensed milk! This sweetens the flan and makes it nice and smooth, too.
Evaporated Milk: Added for an extra milky flavor.
Vanilla: Vanilla tastes amazing paired with the other creamy ingredients in this dessert. If you can, use pure vanilla extract! This will give it a better flavor.
How to Make the Best Flan
Making tasty flan just requires a little patience and attention to detail. See more tips on getting the best results below! You're going to love how it turns out. So creamy, sweet, and decadent!
Caramel Topping
Melt Ingredients: Let's begin! In a heavy saucepan, cook the sugar and water over medium heat until melted and boiling. Cook until it just begins to turn amber.
Pour in Bottom of Pan: Next, remove from the heat and pour into an ungreased 9 inch x 2 inch high cake pan, or a 2 quart baking dish. It will turn hard in the bottom of the pan, but that's okay!
Custard
Preheat Oven: First, preheat the oven to 350° Fahrenheit.
Beat Cream Cheese and Eggs: In the bowl of a mixer, beat the cream cheese until smooth and no lumps remain. Add in the eggs one at a time, mixing until each is fully incorporated. You may have to scrape the bottom of the bowl between eggs to make sure there are no lumps of cream cheese left. Otherwise, you will end up with lumpy flan.
Mix Ingredients, Add to Pan: Add in the remaining ingredients and mix until smooth. Then, pour over the caramel topping in the pan.
Bake in Water Bath: Place the pan in a larger baking dish or roasting pan with high sides and pour boiling water into the larger pan until it is about 1 inch deep. Bake for 50-60 minutes, until the center is still slightly jiggly.
Cool: Remove from the oven and remove the pan from the larger baking dish. Cool for about an hour. Cover and refrigerate overnight.
Flip and Serve: When ready to serve, place the pan on a baking sheet with hot water for about a minute to loosen the caramel from the pan. Run a knife around the edge and quickly and carefully invert onto a rimmed serving plate. And, voila! You've made delicious flan!
Tips and Tricks for Making Flan
While this recipe is pretty straightforward, there are a few things that can keep you from making the best flan possible. Since we are working with homemade caramel and eggs- there are certain conditions that need to be met so that everything tastes delicious! Keep these tips in mind and you'll be making flan like a pro.
Use Room Temperature Ingredients: Make sure your wet ingredients are at room temperature before mixing them together. This will make your custard smoother!
Don't Skip the Water Bath: A water bath is one of the most important parts of this recipe. The steam from the bath cooks the custard gently to keep it from curdling or scrambling.
Overcooking Caramel: Make sure you don't cook your caramel mixture on too high of heat. If your sugar burns, it will become bitter.
Use a Strainer: When you pour your custard into your pan, try pouring it through a strainer to prevent air bubbles!
Chill: Flan needs plenty of time to set. Make sure it cools for at least a few hours in the fridge before serving.
Adding Flavors: For a little extra flavor, try adding citrus zest, shredded coconut, or even a couple tablespoons of espresso powder to your caramel mixture.
Serve With: Flan tastes great served with fresh fruit like strawberries, raspberries, or even a fruit salad. A little whipped cream or chopped nuts on top is amazing, too!
Storing Leftover Flan
Flan is best served fresh for optimal flavor and texture. But with proper storage, it can taste just as good a few days after! There's nothing better than finding flan in the fridge when I'm craving something sweet.
In the Refrigerator: Store your flan in an airtight container or covered in plastic wrap. It will keep for up to 3 days.
In the Freezer: Make sure your flan has completely cooled before freezing. Wrap in plastic wrap and then store in a freezer bag. It will keep for up to 2 months, but it's best served at the 1 month mark. Thaw overnight in the fridge before consuming.
Breakfast
Caramel Apple Cinnamon Rolls