Fox News Ran Photoshopped Photos of Seattle Protests
Fox News is being slammed for breaching journalism ethics after it published Photoshopped news photos of protests in Seattle. The outlet has pulled the misleading photos and apologized. The Seattle Times first reported on the digitally altered and misleading photos published in Fox News' coverage of Seattle's Capitol Hill Autonomous Zone (CHAZ), where occupation protesters […]
Fox News is being slammed for breaching journalism ethics after it published Photoshopped news photos of protests in Seattle. The outlet has pulled the misleading photos and apologized.
The first reported on the digitally altered and misleading photos published in Fox News' coverage of Seattle's Capitol Hill Autonomous Zone (CHAZ), where occupation protesters have taken over approximately six city blocks and declared it to be autonomous.
For several hours on Friday, Fox News' homepage featured different photos for its coverage of CHAZ. One of them was of a man with a military-style rifle in front of smashed retail storefronts.
Another showed the exact same man standing next to a sign on a barrier at the CHAZ.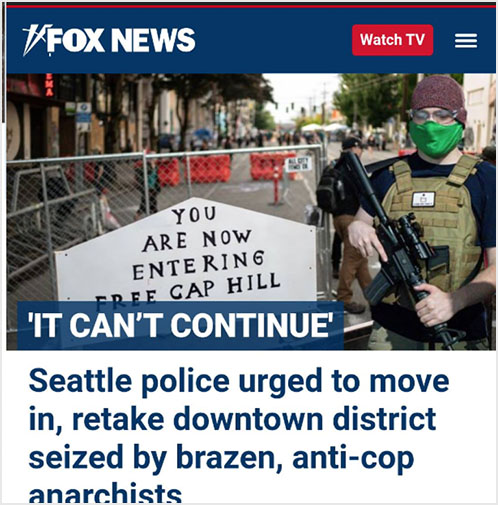 A third photo used on the homepage showed a man running through a street with buildings and a car burning, and Seattle is described as "CRAZY TOWN."
Problem was, the fire photo didn't show Seattle at all — it was actually photographed back on May 30th, a week before CHAZ was established, in St. Paul, Minnesota.
And the photos of the rifle-carrying man were composites created by combining multiple news photos together.
Embed from Getty Images
Embed from Getty Images
It's standard practice for photo illustrations to be clearly labeled as such, and they're generally used for features and opinion rather than straight news reporting.
Getty Images photographer David Ryder, who shot the two photos above, wasn't happy with how his photos were used.
"It is definitely Photoshopped," Ryder tells the Seattle Times. "To use a photo out of context in a journalistic setting like that seems unethical."
Journalism experts also criticized Fox News for running the photos in its coverage of the CHAZ, which has widely been reported to be mostly peaceful.
"I think it's disgraceful propaganda and terribly misrepresentative of documentary journalism in times like this, when truth-telling and accountability is so important," photojournalism ethics expert Kenny Irby tells the Times. "There is no attribution. There is no acknowledgment of the montage, and it's terribly misleading."
"For a news photo that is supposed to be of the moment, it is completely egregious to manipulate this the way they have done," NPPA executive editor Akili Ramsess tells the Times. "It's one thing for their opinion hosts to state whatever opinion they have, but for their online news platform, they have to follow the ethical norms of any news organization."
After being contacted by the Seattle Times about the photos, Fox News took them down and updated three of its stories with an apology.
"A FoxNews.com home page photo collage which originally accompanied this story included multiple scenes from Seattle's 'Capitol Hill Autonomous Zone' and of wreckage following recent riots," the editor's note reads. "The collage did not clearly delineate between these images, and has since been replaced.
"In addition, a recent slideshow depicting scenes from Seattle mistakenly included a picture from St. Paul, Minnesota. Fox News regrets these errors."