Guatemalans Protest Firing of Corruption Prosecutor
THIS WEEK IN LATIN AMERICA GUATEMALA: The firing of an anti-corruption prosecutor has sparked an angry reaction from civil society and demands for the resignations of President Alejandro Giammattei and […] The post Guatemalans Protest Firing of Corruption Prosecutor appeared first on Latin America News Dispatch.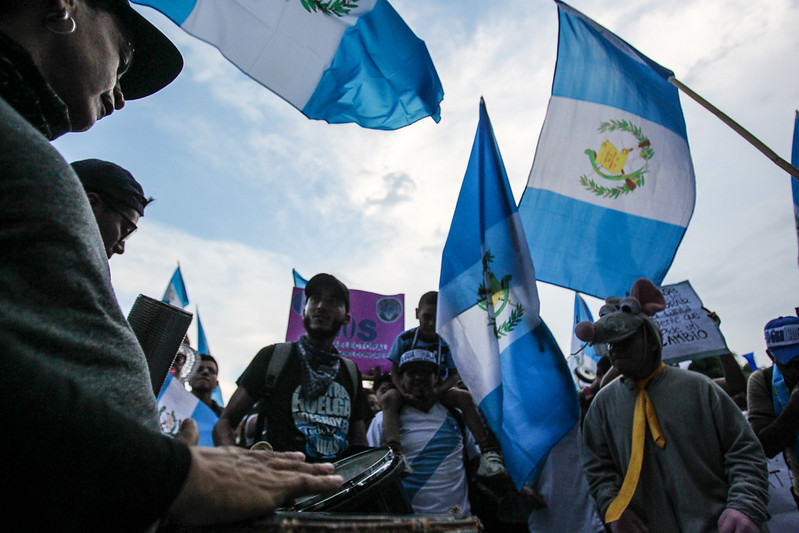 THIS WEEK IN LATIN AMERICA
GUATEMALA: The firing of an anti-corruption prosecutor has sparked an angry reaction from civil society and demands for the resignations of President Alejandro Giammattei and Attorney General María Consuelo Porras.
 Porras came under fire last month Juan Francisco Sandoval, a special prosecutor appointed to support the CICIG, an international body set up to investigate corruption in Guatemala. After the CICIG was disbanded in 2019 by President Jimmy Morales, Sandoval's office took over many of the international body's investigations.
Porras' was that the latter had refused to follow instructions and had interfered with the functioning of her office. In a press conference after his dismissal, Sandoval called the firing "illegal" and pledged to contest it.
On Friday, Sandoval from the administration of U.S. President Joe Biden in Washington, D.C. The U.S. State Department also announced last week that it was temporarily suspending anti-corruption cooperation with Guatemala because of Sandoval's firing. 
SOUTHERN CONE
BRAZIL: Supporters of President Jair Bolsonaro to demand changes to voting laws in order to prevent fraud in next year's presidential elections. The protesters were demanding that voting machines print paper receipts, making a physical recount possible. President Bolsonaro spoke to the demonstrators over videoconference, on the legitimacy of the election's outcome over a year before the first votes are cast, and suggesting that he would not accept an electoral defeat.
CHILE: Workers at the in northern Chile voted overwhelmingly last week to reject a contract offer from BHP, the company that owns the mine. The company has requested government mediation, during which workers will be required to continue working for a period of up to 10 days. If an agreement is not reached by the end of that period, the union. Escondida is, accounting for about 5% of global annual production. In 2017, a 44-day strike by workers at the mine contributed to a decline of 1.3% of the country's GDP.
ANDES
PERU: Leftist elementary school teacher Pedro Castillo was of Peru last week, inheriting a sharply divided congress in which his Perú Libre party holds only 37 of 130 seats and the world's worst COVID-19 death rate. Castillo, who has not previously held public office, is the fifth person in five years to hold the office of president of Peru. In his inauguration speech, he promised to and write a new constitution, while reassuring his opponents that he will. On Friday, Castillo appointed as finance minister in a move that was seen as a further reassurance to moderates.
COLOMBIA: Prosecutors have against former Colombian Army General Mario Montoya for his involvement in 104 extrajudicial executions between 2007 and 2008. The killings were part of the "false positives" scandal, in which over 6,400 civilians were murdered by the Army before being registered as guerrilla fighters killed in combat. Montoya, who was Colombia's top general from 2006 to 2008, is being charged with several counts of aggravated homicide. He is accused of, a policy which prosecutors say led to the murders of non-combatants.
CARIBBEAN 
HAITI: for a former Supreme Court justice and longtime political rival of deceased former President Jovenel Moïse for alleged involvement in the president's July 7 killing. Police say that Judge Wendelle Coq-Thelot who killed President Moïse at her home twice before the attack. Moïse from the Supreme Court in February of this year along with two other justices, accusing her of having been involved in a coup plot. Coq-Thelot's location is unknown, and her lawyers say the arrest warrant is illegal and are to dismiss it.
CUBA/UNITED STATES: The United States Treasury Department announced against the government of Cuba on Friday, in response to the repression of anti-government protests over the past month. The sanctions extend existing bans on international travel for officials in Cuba's national police force. 
Thousands of Cubans in cities across the island to protest food and medicine shortages. The protests were met with repression by police, and as many as 700 people have been arrested, according to the NGO. Meanwhile, the governments of Mexico and Bolivia began sending and food to the Caribbean country last week.
CENTRAL AMERICA
EL SALVADOR/NICARAGUA: Nicaragua has to former Salvadoran President Salvador Sánchez Cerén, after prosecutors in his home country issued an arrest warrant against him for corruption crimes. Sánchez Cerén, who served as president from 2014 to 2019, has lived in Nicaragua since 2020, and is a rival of current president Nayib Bukele. Both politicians were members of the Farabundo Martí National Liberation Front (FMLN) party until Bukele was expelled in 2017.
Sánchez Cerén is accused of illicit enrichment during his term as vice president from 2009 to 2014. His naturalization by Nicaragua will, as Nicaragua's constitution prohibits the extradition of its citizens.
NORTH AMERICA
MEXICO: Mexicans voted in a Sunday to decide whether or not to investigate living former presidents for corruption and other crimes. According to preliminary counts released Sunday night, between 89 and 96% of those who participated would like to see former presidents investigated. However, turnout was only around 7% of eligible voters, far from the 40% necessary for the referendum to be legally binding. Leaders of the ruling Morena party said that they would like to see regardless of the outcome of the vote. The opposition PAN party the government's decision to hold the referendum, calling it "a presidential spectacle."
MEXICO: President Andrés Manuel López Obrador issued an executive order to being held in federal prisons. The prisoners to be released include some older adults, victims of torture and people who are waiting to be sentenced. López Obrador also encouraged state governments to release people from state prisons if they fulfill the same characteristics. On Friday, the government of Mexico City announced that it will begin investigating from its prisons.
The post Guatemalans Protest Firing of Corruption Prosecutor appeared first on Latin America News Dispatch.
Source : Latin Dispatch
More