Homemade Pizza Sauce
Using homemade pizza sauce is the perfect way to level up your pizzas! It's loaded with sautéed garlic, fresh herbs, and only takes 5 minutes to make! I love making my own sauces at home. They always taste better than anything you can buy! You have got to try my homemade buffalo and teriyaki sauces,…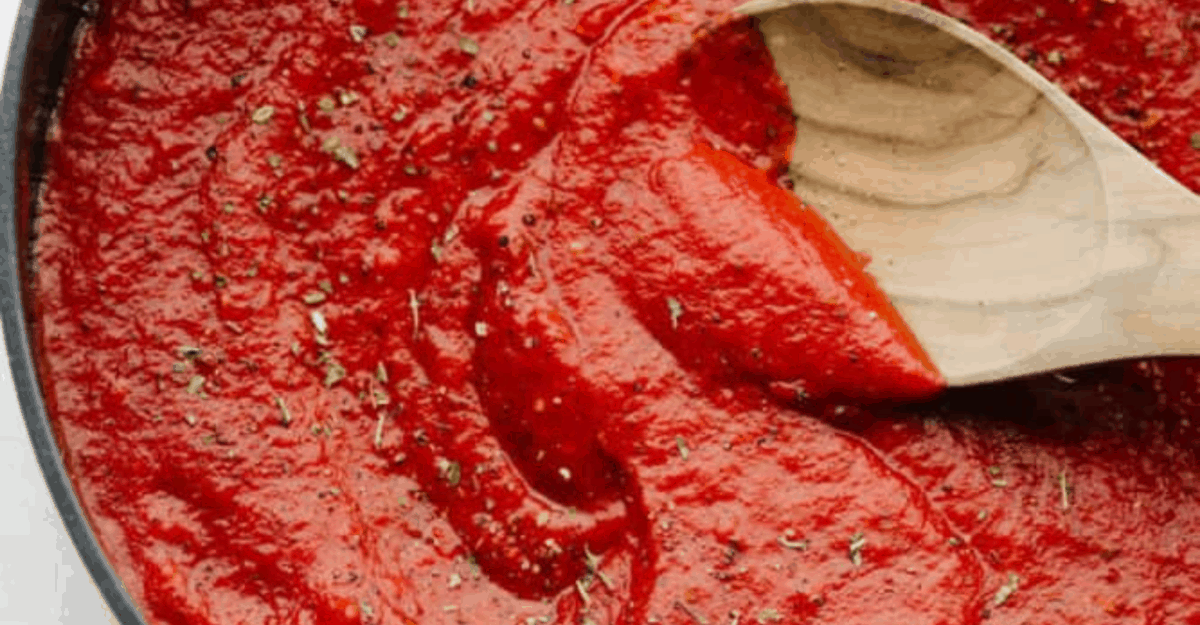 Using homemade pizza sauce is the perfect way to level up your pizzas! It's loaded with sautéed garlic, fresh herbs, and only takes 5 minutes to make!
I love making my own sauces at home. They always taste better than anything you can buy! You have got to try my homemade buffalo and teriyaki sauces, as well as fan-favorite alfredo! Once you make them from scratch, you won't want them any other way!
Pizza Sauce Recipe
I'm a lover of all homemade sauces. No matter what dish you are making, they upgrade it! The fresh flavor really can't be beaten. The best part of it all is that you can add seasonings as you go, taste-test, and adjust! No more picking out a sauce at the store and hoping it has the flavor you're wanting! Now, I've already done recipes for homemade marinara and tomato sauce, but thought a homemade pizza sauce recipe was completely necessary! It is beyond easy to make and is full of savory sautéed garlic and my favorite blend of Italian herbs. You're going to want to put this on everything!
This homemade pizza sauce tastes amazing no matter what kind of pizza you use it on! Try it on my foolproof dough for a delicious traditional pizza. Top English muffins and biscuits for fun, bite-sized variations. It also tastes amazing on healthy pizza variations like zucchini and eggplant. With how much incredible flavor is loaded into this sauce, no one will know you're using a vegetable as a crust! My family raves about this sauce! We all agree that it tastes better than takeout. You are going to love the fresh, natural flavors that shine through. The fact that it whips up in less than 5 minutes isn't bad, either! Let's make some sauce!
Ingredients for Easy Pizza Sauce
Chances are, if you have some tomato paste on hand, you have everything else needed to make this tasty sauce! It uses so many pantry staple ingredients and spices. Just another reason why I love this recipe so much! It uses the simplest ingredients, but the flavor is anything but simple! You're going to love the complex sweet, savory, garlicky flavors in each bite of pizza. All individual ingredients can be found in the recipe card below.
Olive Oil: Used for adding moisture and binding ingredients together.
Minced Garlic: Garlic is going to add the perfect savory flavor to your sauce!
Tomato Paste and Tomato Sauce: A blend of both tomato paste and tomato sauce is what is going to give your sauce its perfect texture. If you don't add tomato paste, your sauce will make your pizza soggy.
: This is my personal blend of basil, oregano, rosemary, marjoram, and thyme. You can customize the flavors to your liking!
Sugar: Granulated sugar is going to balance he flavors of your sauce.
Salt: Used to enhance overall flavor!
Paprika: Adds a mild spice to your sauce.
Pepper: For a hint of sharp, earthy spice.
Crushed Red Pepper: A pinch of crushed red pepper adds the perfect amount of heat!
Making the Best Sauce
If you have a frying pan and 5 minutes to spare, you too can make gourmet pizza sauce at home. Since all you need to do is mix everything together, you can't go wrong! This recipe is foolproof. It's just up to you to add seasoning and spices to your liking!
Sauté Garlic in Olive Oil: To begin, in a small saucepan sauté the olive oil and garlic. Whisk in the tomato paste, and tomato sauce.
Mix in Seasonings: Next, add Italian seasoning, sugar, salt, paprika, and pepper.
Heat and Whisk: Whisk everything together and heat for 3-5 minutes until heated throughout.
Add Red Pepper and Serve: Finally, add a pinch of red pepper for some spice if desired. Use in your favorite recipes.
Tips for Making Homemade Pizza Sauce
You are going to love this sauce smothered on all of your favorite pizzas! It is so easy to make and can be easily customized. You'll never want storebought again!
Adding Heat: If you want to kick it up a notch, add in more paprika, chili flakes, or a dash of cayenne.
Additional Flavors: Adjust the flavor to your liking! More garlic, herbs, or even a bit of balsamic vinegar can enhance your sauce.
Use High Quality Tomatoes: Since this is the base of your sauce, I recommend using the best quality canned tomatoes you can find! If you can find them, fire-roasted tomatoes will add a delicious, complex flavor.
Don't Skip the Sugar: Because tomatoes are naturally very acidic, you need sugar to balance out the flavor.
Adjust Thickness: If your sauce is too thin, gradually add more tomato paste. If your sauce is too thick, add more tomato sauce.
What Can I Use This Sauce With? Pizza sliders, stuffed pizza bites, deep dish pizza, calzones, you name it!
Storing Homemade Pizza Sauce
This pizza sauce is just as easy to store as it is to make! It keeps really well in the fridge, ready to go for quick weeknight dinners.
In the Refrigerator: The best way to store your homemade sauce is in the fridge. Keep tightly sealed in a jar for up to 1 week.
In the Freezer: Transfer your sauce to a ziplock freezer bag. It will keep in the freezer for 3-6 months! Let it thaw in the fridge overnight before serving.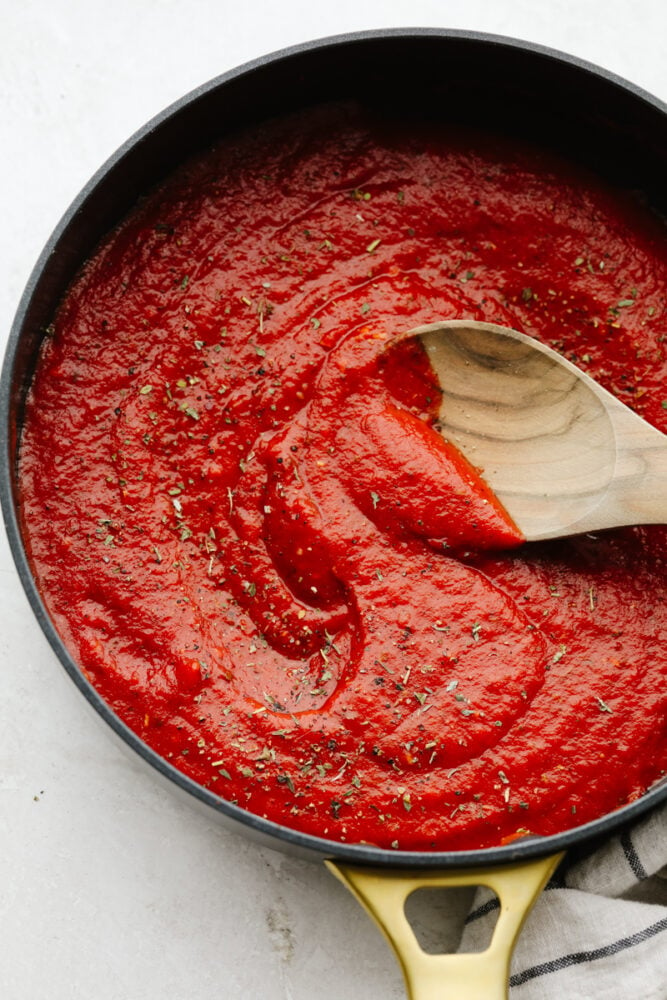 Dressings, Sauces, and Dips
Yum Yum Sauce