Homemade Teriyaki Sauce
Teriyaki Sauce is super easy and way better than store-bought! Made with simple ingredients you can pronounce, this is going to become a staple in your family. Making your own sauces is way easier and cheaper than you think. Try these other homemade sauces that you are going to love like this Fry, Cheese, and…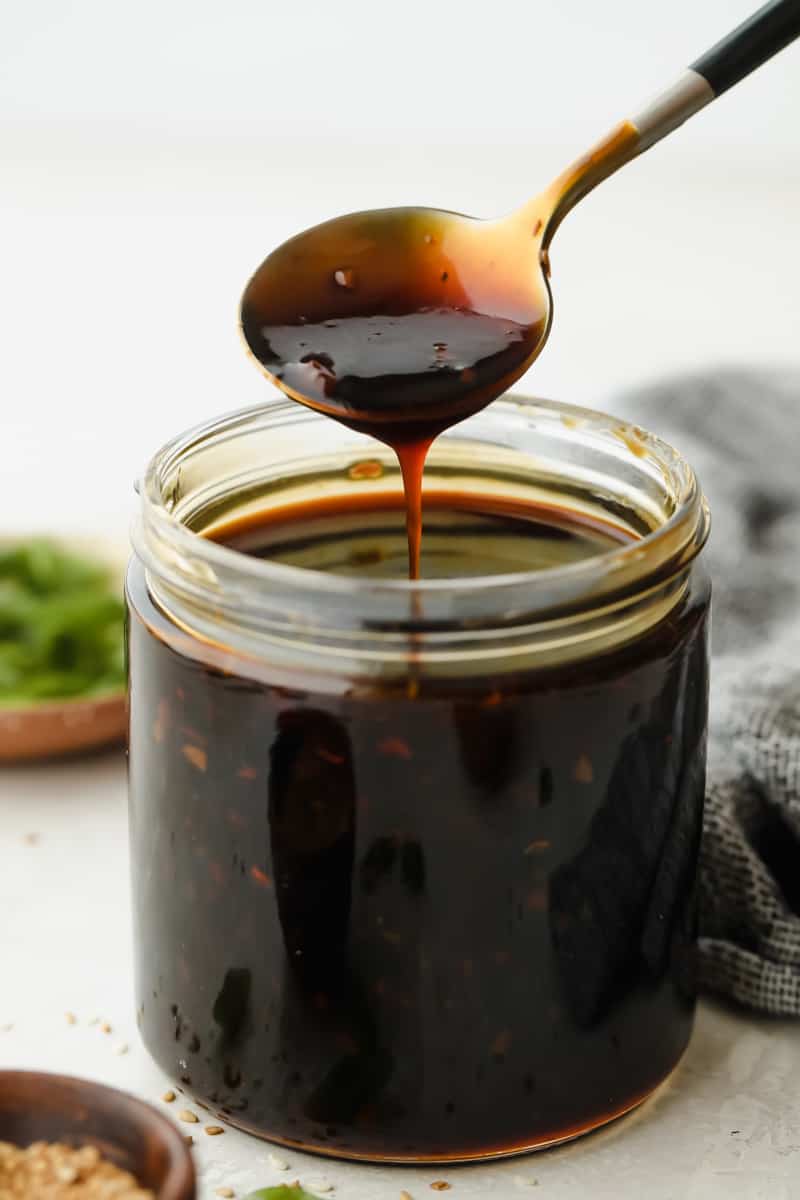 Teriyaki Sauce is super easy and way better than store-bought! Made with simple ingredients you can pronounce, this is going to become a staple in your family.
Making your own sauces is way easier and cheaper than you think. Try these other homemade sauces that you are going to love like this Fry, Cheese, and Yum Yum Sauce!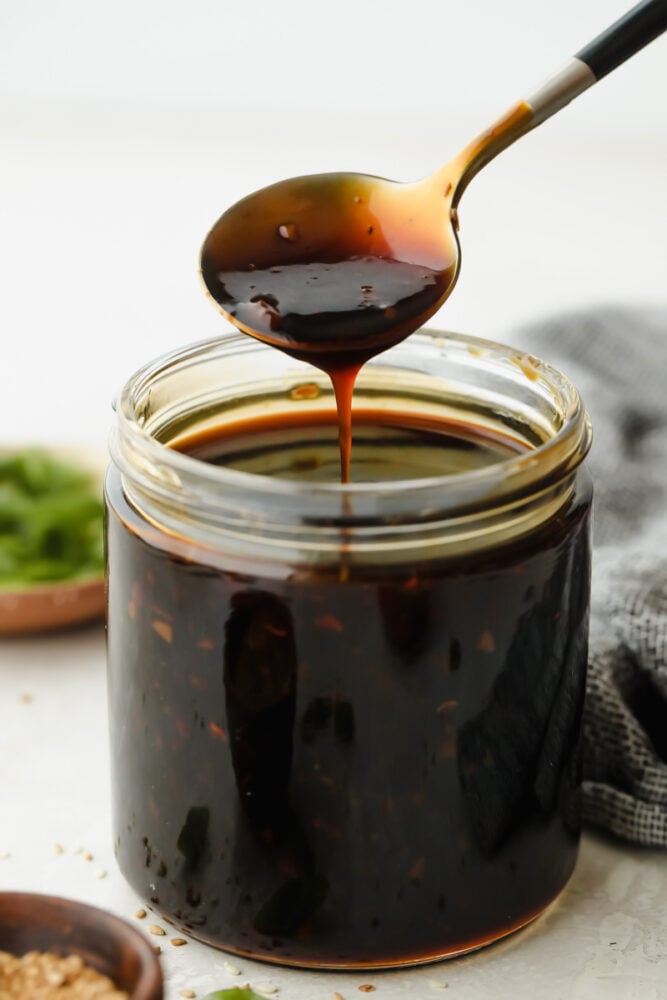 Teriyaki Sauce Recipe
Homemade anything is way better than store-bought, for many reasons. First, you know exactly what is in your sauce. No funny-sounding ingredients here. Second, you can control the amount and type of ingredients too. If you love a certain brand of soy sauce or want to use extra garlic or ginger you can. You can customize the teriyaki sauce to your family's tastes. And making your own is way cheaper than buying it. You will never go back to the jarred teriyaki sauce again after you taste this.
Teriyaki sauce is a favorite flavor around here. It is a savory, sweet sauce that elevates whatever you serve it on. Interesting enough though, the word Teriyaki in Japanese technically means a type of cooking style, not a certain flavor. Regardless, this flavor has become one of the most popular Asian sauces. It's tangy, thick and full of a perfect blend of sweet and spice. You are going to love how easy this teriyaki sauce is and how delicious it is too!
Easy Teriyaki Sauce Ingredients
Using fresh garlic and ginger is key here, it will create the best flavor in this teriyaki sauce. Find the list of measurements for each ingredient located in the recipe card below.
Low sodium soy sauce: I love using low sodium because it still has all the flavor and is better for the heart.
Brown sugar: You can use either dark or light brown sugar in this recipe with excellent results.
Apple cider vinegar: This gives it a bit of tang that is custom in teriyaki sauce.
Garlic cloves minced: You will want to use fresh garlic not jarred or powder. It will give you the best flavor this way.
Sesame oil: Look for sesame oil near the olive and canola oils. It can also be found near the bottles of vinegar.
Freshly grated ginger: Fresh ginger looks like a root, it is covered in a tough outer skin that's brown and can be found in the produce section of the store.
Water: You will want to use cold water to mix better with the cornstarch.
Cornstarch: This will thicken the sauce to the most ideal consistency.
How to Make Teriyaki Sauce
Just heat, stir and serve and you have the best teriyaki sauce that is going to be awesome! It is quick and easy to make, plus will store well for you to use your homemade sauce over and over again.
Heat: In a medium-sized saucepan over medium-high heat whisk together soy sauce, brown sugar, apple cider vinegar, garlic, sesame oil, and ginger. Heat it to a simmer.
Thicken: In a small bowl whisk together the water and cornstarch. Slowly whisk into the saucepan. Whisk the sauce constantly until it starts to thicken.
Enjoy: Remove from heat and cool.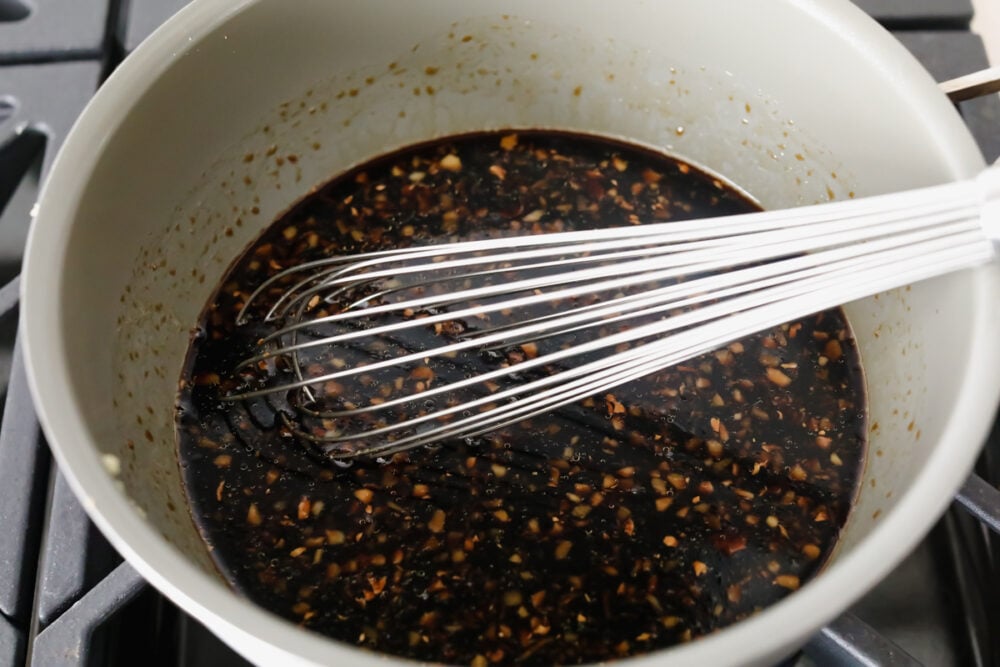 Homemade Teriyaki Sauce Tips
This teriyaki sauce is the perfect combination of salty, sweet, spicy and savory! Try these extra tips for the best flavor!
Make it gluten-free: Look for gluten-free soy sauce and you have a luscious gluten-free sauce that will taste amazing.
Sugar Swap: You can trade out the brown sugar for honey or maple syrup if you desire. The honey and maple syrup will change the consistency and taste just a bit. So adapt the other ingredients as needed. You may need to add a bit more cornstarch slurry to thicken it as desired.
Brown Sugar: Light and dark brown sugar work great in this recipe. The dark brown sugar will give the sauce a deeper flavor.
Grating Ginger: Use a knife to peel back as much ginger as you need. Using the smallest holes of a cheese grater, grate as much ginger as you need. You can also use a zester to grate the ginger. To preserve the rest of the ginger for another use, only peel as much as you need. Cover the peeled end tightly with plastic wrap and store it in the fridge.
How to Store the Best Teriyaki Sauce
Use the homemade sauce immediately as needed or store it in a tightly sealed jar for up to two weeks. This teriyaki sauce is perfect to make ahead as the flavors actually meld together and the teriyaki sauce gets better with time.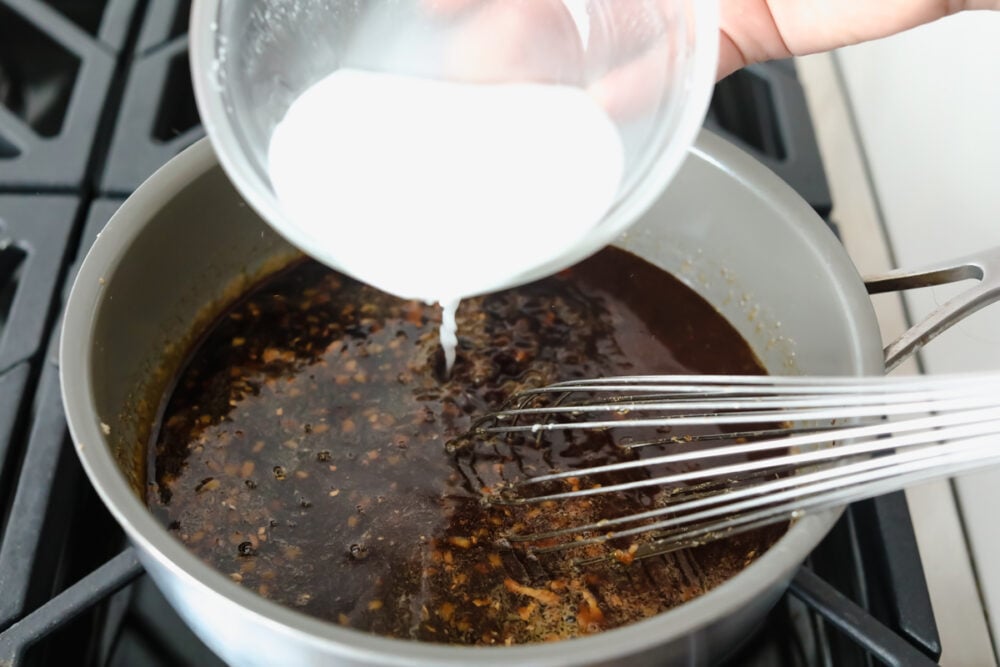 How to Use Teriyaki Sauce as a Marinade
Teriyaki Sauce can be used in many different ways. You can use it as a marinade, salad dressing, and topping for all sorts of dishes. We love to use this sauce on simple stir fry, as the sauce for slow cooker chicken and to top salads. It also makes a great dipping sauce for your Egg Rolls and Pot Stickers! YUM! Use this incredible sauce whenever you need a great sauce to accompany an already wonderful meal. Here are more scrumptious recipes to use this homemade teriyaki sauce with.
Chicken
Grilled Hawaiian Teriyaki Chicken Skewers
Dinner
Baked Sesame Teriyaki Salmon