Indian Batsmen Have An Opportunity To Reflect That Not All Wickets Are Going To Be Flat: Rahul Dravid
Rahul Dravid believes that the new crop of Indian batsmen will learn with experience that "not all wickets will be flat" and they need to develop the art of scrapping it out on low-scoring tracks like the ones on offer during the last two T20Is against Sri Lanka. India lost the three-match T20I series against Sri Lanka 1-2 on Thursday, playing without nine of their first-team players due to COVID-19 related isolation. Rookies Devdutt Padikkal, Ruturaj Gaikwad, Nitish Rana besides out of form Sanju Samson literally struggled against a quality spin bowling attack led by leg-spinner Wanindu Hasaranga accompanied by
believes that the new crop of Indian batsmen will learn with experience that "not all wickets will be flat" and they need to develop the art of scrapping it out on low-scoring tracks like the ones on offer during the last two T20Is against Sri Lanka.
India lost the three-match T20I series against Sri Lanka 1-2 on Thursday, playing without nine of their first-team players due to COVID-19 related isolation. Rookies Devdutt Padikkal, Ruturaj Gaikwad, Nitish Rana besides out of form Sanju Samson literally struggled against a quality spin bowling attack led by leg-spinner Wanindu Hasaranga accompanied by Akila Dhananjaya and Dhananjaya de Silva.
Rahul Dravid: Indian Batsmen Have An Opportunity To Reflect That Not All Wickets Are Going To Be Flat
Asked if he was disappointed in the manner the younger players were found wanting against Wanindu Hasaranga and company, Rahul Dravid replied in the negative.
"I am not disappointed as they are young. They are going to learn and get better only when they are exposed to these kind of conditions and quality of bowling. Sri Lankan team's bowling attack is an international bowling attack," Rahul Dravid said.
But the former India captain admitted that there is a lot to learn on how to play on challenging tracks, saying pitches in domestic cricket have become easier to bat as compared to his times.
"They would have liked to score a few more runs. They now have an opportunity to reflect that not all wickets are going to be flat. We need to find ways to scrap and score 130, 140 on these wickets," Rahul Dravid observed.

"It's really a good learning as they are all young players. This is a great opportunity to reflect on these performances and may be come up with some slightly better strategies. Let me be fair, we don't get these kind of conditions very often in T20 cricket but when you do, I think, you have responsibility to play slightly better," the head of NCA said.
Rahul Dravid said even his generation had their share of struggles but he feels during their times, they did play on tracks that offered turn and some were "under-prepared."
"I think the wickets in domestic cricket may have got better. I don't think the talent is missing it's just that you need experience to figure out a few more stroke making options in these kinds of pitches," Rahul Dravid opined.
The problem with the COVID-19 isolation was the fact that except skipper Shikhar Dhawan, there wasn't a single experienced batsman available who would have nicely blended with the youngsters in this team.
"It needs time and experience and you need to blood young players with experienced players so that you have that cushion. Obviously, last couple of games, we didn't have that cushion, most of guys other than Shikhar were young."
Rahul Dravid didn't want to take names of who all are T20 World Cup aspirants while praising the Indian spin quartet of Kuldeep Yadav, Yuzvendra Chahal, Varun Chakravarthy, and .
"We have a really good crop of spinners who are coming through. Heartening to see how our four spinners performed."
In the 3rd T20I, Sri Lanka chased down the 82-run target in the 15th over to win by 7 wickets and take the T20 series 2-1, having lost the ODIs 1-2. With India forced to play with only five specialist batsmen once again, the home side won again as they were led by the ever-impressive Wanindu Hasaranga (4-9) mixing up his leg-spins and googlies, as Sri Lanka sent India's top-order batsmen packing, turning the powerplay (4-29) into a highly unproductive one.
Rahul Dravid Defends Sanju Samson Despite Poor Run In T20Is For The Pitch In The Last Couple Of Matches Wasn't Easiest To Bat On
Sanju Samson, who has now failed in nine consecutive T20 matches since last year, was defended by the Indian coach. Sanju Samson's scores in the T20I series against Sri Lanka do not paint a good picture.
For someone who was tipped to make an impact before the T20 World Cup, 34 runs in 3 matches (with two fours and a six) at a strike rate of 94.44 and an average of just 11.33, these numbers are a massive disappointment. Sanju Samson simply squandered yet another golden opportunity before the T20 World Cup in October as he struggled against the Sri Lankan attack.
"It was not the easiest pitch to bat on. In ODIs, he got a chance and scored 46. He was batting well in the first T20 but last couple of wickets (pitches) were challenging. I guess yeah, if you look back at the series, we will be a little disappointed. Having said that not only Sanju but a lot of young guys in this team are talented kids, and we need to patient with them."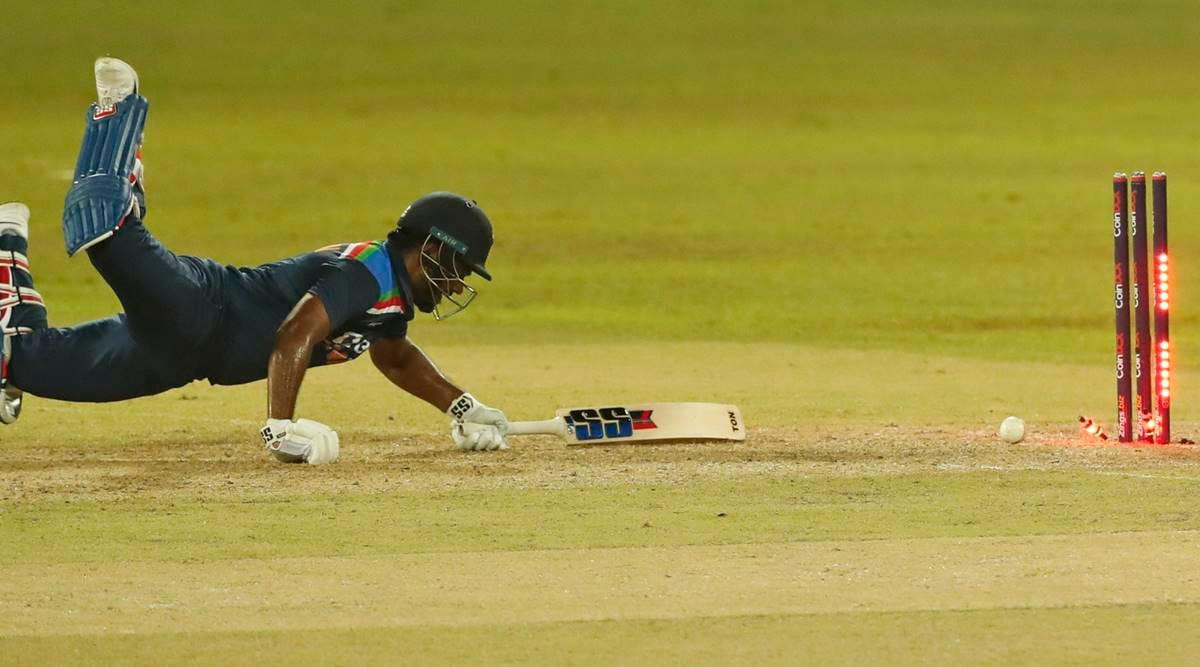 So far in his career, 's T20 numbers are ordinary — 117 runs in 10 games at a strike rate of 110 despite being given opportunities to bat in the top four. In his last 10 T20I innings for India, his scores read- 19, 6, 8, 2, 23, 15, 10, 27, 7, 0. Rahul Dravid was also impressed by the fact that the young team was able to live a cooped-up life in a bio-bubble for 45 days with only six matches to play.
"It's credit to all boys in the manner they maintained their spirit and worked really hard, I can't fault any of the boys for their effort," Rahul Dravid said.
He praised skipper Shikhar Dhawan and his deputy for maintaining a good team environment in difficult times.
"Shikhar, Bhuvi, the leadership group for the environment that they created and terrific energy that they created, I can't fault them on their effort."
However, he put things in perspective as to how playing cricket in these times of pandemic was a privilege when so many people around the world were suffering.