Is Security Breach's Setting Different From Other FNAF Games
While the FNAF games have traditionally had claustrophobic settings, Steel Wool Studios is bringing the series to a much larger, roamable venue.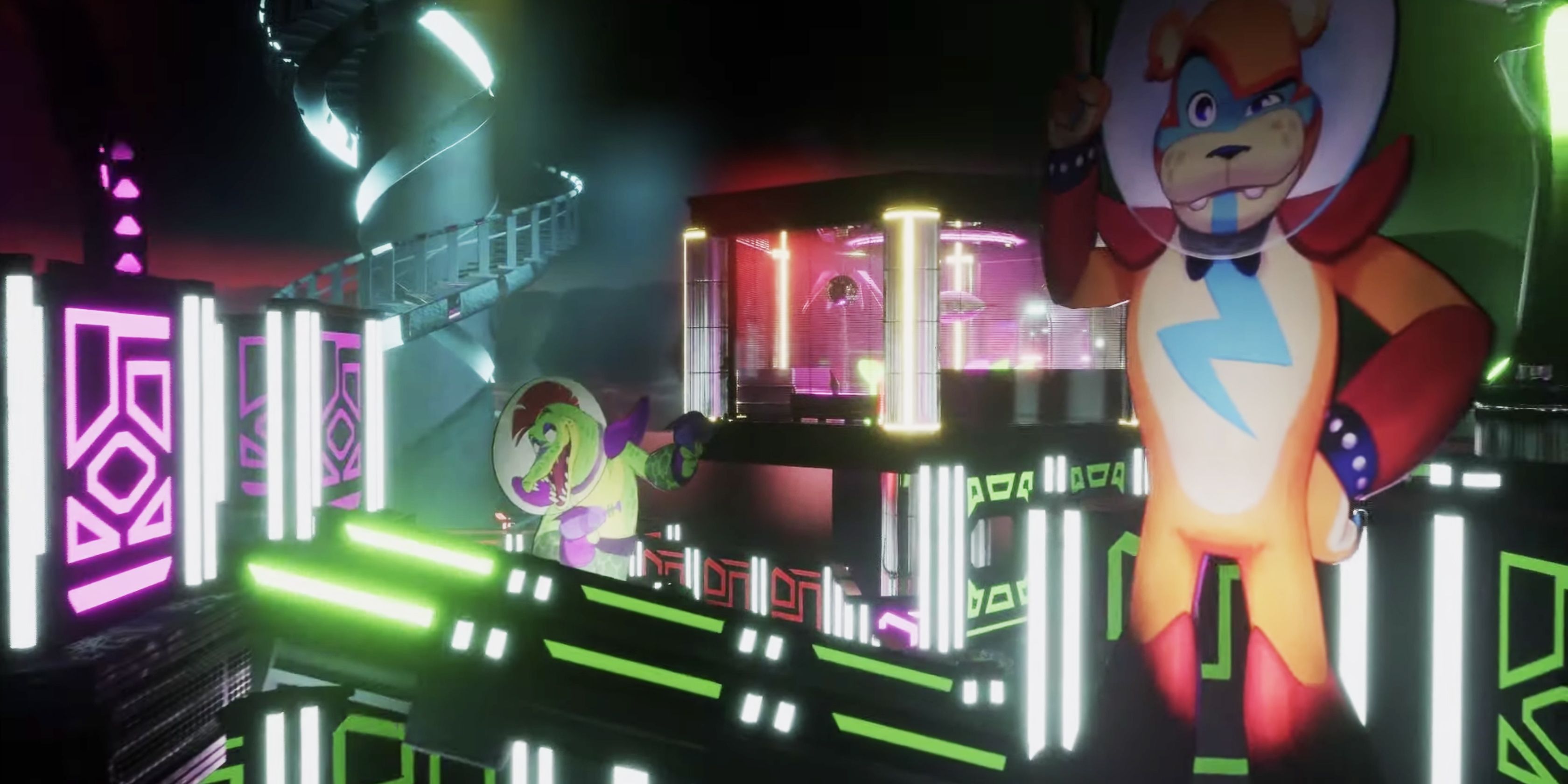 Five Nights at Freddy's: Security Breach, scheduled to ship sometime in 2021, will mark a significant departure for the horror series. While it won't be the first entry with first-person, free-roaming gameplay - that honor belongs to the VR entry, FNAF: Help Wanted - it will be the first of that kind built for flatscreen. It's also expected to have the largest scope of any FNAF game so far.
Little is known about the title so far beyond a handful of trailers. Players assume the role of Gregory, a child trapped among the series' evil animatronics. Helping him is an unknown security guard, and opposing him is Vanessa, a FNAF: Help Wanted character under the control of Glitchtrap. The goal is to escape as soon as possible or else die before dawn - the player's main tool, 's PS5 trailer, is a smartwatch linked to security systems. That carries over the series' main gameplay conceit without locking players in a single room.
To make it worth roaming, the setting of Five Nights at Freddy's: Security Breach isn't just another Chuck E. Cheese clone; it's a facility called the the Mega Pizza Plex. What's known about the Mega Pizza Plex so far is that it has neon-lit, mall-like colonnades and lobbies stacked with a variety of attractions, such as arcades, play structures, and slides. Another is a gigantic ball pit, which will almost certainly be used as a set-piece for a chase sequence - forcing players to escape the balls as soon as possible, or perhaps trap one of the machines in it. The Plex is, naturally, an expansion of the Freddy Fazbear's Pizza chain.
Adding to the size of Five Nights at Freddy's: Security Breach's complex are a collection of employees-only areas. These appear nondescript, but also darkened and potentially even more dangerous than the areas the animatronics usually inhabit. The truth remains to be seen, both literally and figuratively - since 2021 is the most precise  right now, even though publishers typically prefer narrower windows for the sake of building up hype.
Five Nights at Freddy's: Security Breach will initially be available for the PS4, PS5, and PC, with other consoles to follow. The Mega Pizza Plex will probably look its best on the latter two platforms, which will support ray-traced surfaces and reflections. Fans could get a chance to see more of the game at E3 2021 in June, although nothing has been officially confirmed just yet.
Next: Five Nights At Freddy's Security Breach: Who Is Gregory?
Source: PlayStation Blog
Source : Screen Rant
More