Lemon Coconut Cake
Lemon coconut cake is the perfect combination of delicious flavors and a soft texture! Moist and topped with the flaked coconut, this cake is insanely delicious and SOO good! A soft, spongey cake that is filled with sweet flavors and topped with a kick of lemon is totally my thing! If you love cakes like…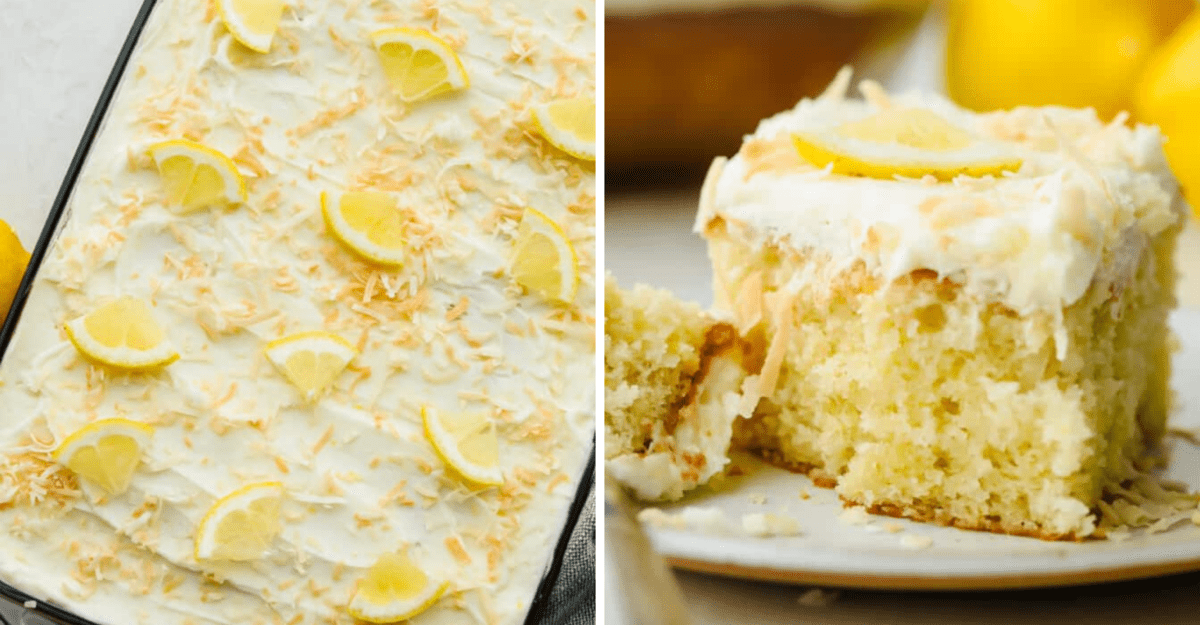 Lemon coconut cake is the perfect combination of delicious flavors and a soft texture! Moist and topped with the flaked coconut, this cake is insanely delicious and SOO good!
A soft, spongey cake that is filled with sweet flavors and topped with a kick of lemon is totally my thing! If you love cakes like this as much as I do then go ahead and try this Blueberry Lemon Pound Cake, Black Forest Cake or this incredible Praline Apple Bundt Cake.
Lemon Coconut Cake
A cake is only as good as its texture and let me tell you… This one is GOOD! It's perfectly moist and soft! The frosting that is topped with lemon zest and toasted coconut makes it absolutely incredible! I love it when you have flavors that complement each other in a cake and this one does exactly that. The lemon provides a very fresh flavoring (especially if you use fresh lemons!). And the coconut really brings in that subtle hint of sweetness. It's the perfect combination! If you love lemon taste then you should also try these Lemon Cupcakes or this Lemon Layer Cake!
The frosting on this cake is also flavored to taste like lemon so you get an added punch by adding that on. You could just try it with cream cheese frosting if you wanted to switch things up! This cake is not only delicious to the taste but is super easy to make! My kids love squeezing the fresh lemons for me. This cake only takes about an hour from start to finish, including baking time! So it's a great recipe to have on hand and make for parties or last-minute events! Your friends and family will go crazy about it!
What's In Lemon Coconut Cake?
The ingredients in this cake are super simple! You won't need much extra but if I were you I would try using a fresh lemon in this recipe if you can. It just tastes that much better! See the recipe card below for a list of exact ingredient measurements.
Butter: I like to use unsalted butter that is softened to room temperature. This will help it mix in smoothly!
Sugar: You need to get that sweet taste from something!
Cream of coconut: This is my favorite cream of coconut that you can try!
Eggs: Use large eggs that are at room temperature so that they mix better.
Coconut extract: This is for that delicious coconut flavor!
Lemon extract: You can use 1 Tablespoon of juice from a real lemon instead!
Lemon zest: Don't skip this part, it packs a big punch!
Flour: I used all purpose flour in this recipe.
Baking powder: This creates a light and fluffy cake texture.
Baking soda: This helps the cake to rise!
Salt: Salt will enhacne the other delicious flavors in the recipe.
Coconut: I use shredded, sweetened coconut in this recipe.
Milk: Whole milk is best to use because it creates and richer base.
Frosting
Butter: Unsalted and softened butter is what I use. Room temperature ingredients always mux better and make the frosting smooth!
Powdered sugar: This is used instead of granulated sugar because it dissolves quickly. Because of this, the texture of the frosting can be smooth and creamy!
Lemon juice: You can use this from a bottle or from a fresh lemon!
Lemon zest: This ingredients will add in an extra touch of lemon flavor.
Milk: you can use 1% or 2% or whatever you have on hand.
Coconut flakes: These should be shredded, sweetened and toasted!
Let's Bake a Cake!
This lemon coconut cake only takes about an hour to make from start to finish! It saves up as great leftovers too so there is no reason not to get baking it right now!
Preheat oven and spray pan: Preheat the oven to 350° and spray a 9×13 pan with pan spray and set aside.
Mix and combine: In the bowl of a mixer, beat the softened butter and sugar on medium together until light and fluffy. Beat in the cream of coconut until smooth. Add in the eggs one at a time, mixing until fully incorporated before adding the next egg. Add the extracts, lemon zest and milk and mix on medium-low until combined.
Sift and add wet ingredients: In a separate bowl sift together the flour, baking powder, baking soda and salt. In 2-3 additions add the flour mixture into the wet ingredients until combined. Beat on medium for 2 minutes. Fold in the shredded coconut.
Bake: Pour the batter into the prepared pan and bake for 35-40 minutes, or until a toothpick comes out clean from the center of the cake and the cake springs back when pressed.
Cool and frost: Cool completely and frost with the icing. Top with the toasted coconut and enjoy.
Frosting
Beat and combine: Beat the softened butter until light and fluffy. Add the powdered sugar and mix on low until combined. Turn the speed up and beat in the lemon juice, lemon zest and milk until smooth.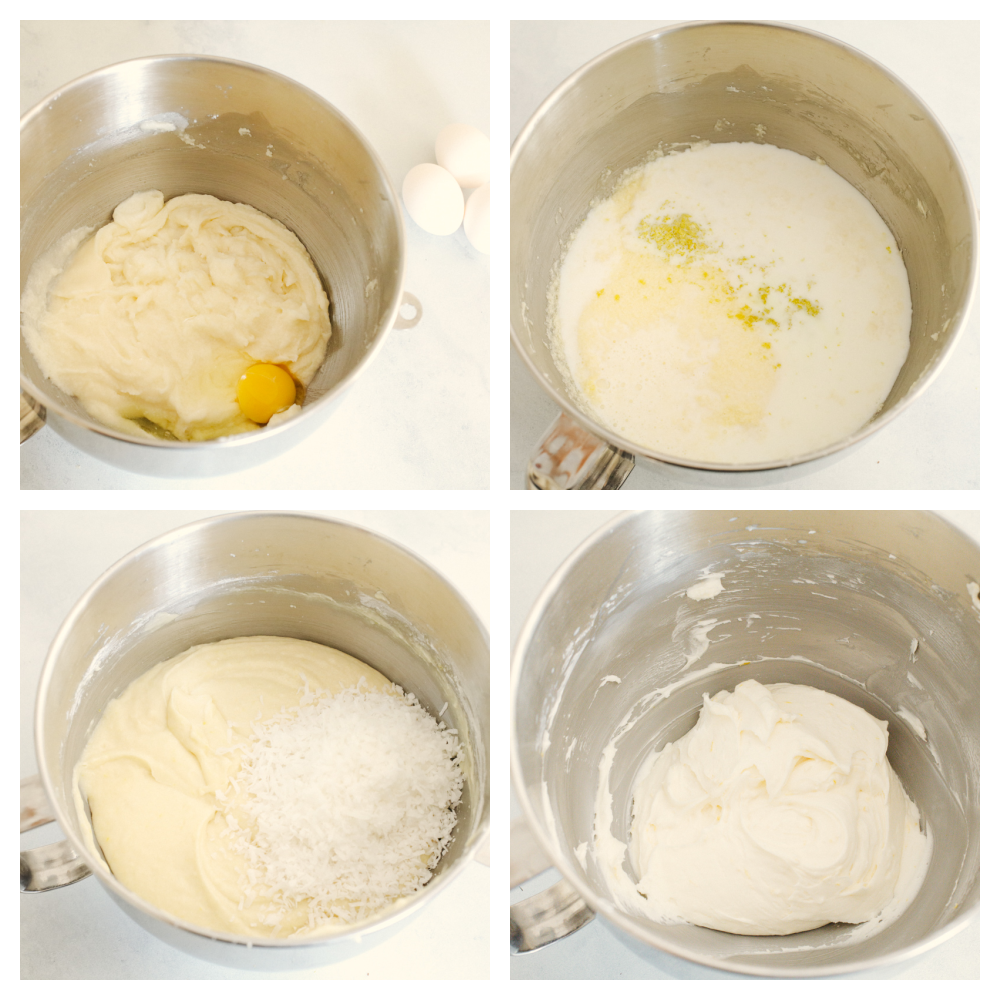 Tips For The Best Lemon Coconut Cake
This bright cake packs a punch of flavor that is delicious and refreshing! There are a few tips that I wanted to share with you that will make this cake just right!
Plan ahead: Be sure to give yourself time to set your butter and eggs on the counter the night before you plan to bake your cake so they can come to room temperature. This will help them mix better and creat a smoother batter and frosting! Yum!
Use fresh lemons: Using fresh lemons will give your icing a really bright lemon taste that doesn't taste artificial in any way.
How to toast coconut: Bake your coconut flakes for about 10 minutes at 350 degrees, checking on it and stirring it around every 2-3 minutes until golden brown. Use as much or as little as you would like to top your cake.
Cupcakes: You can totally make these into cupcakes instead! Just bake them for about 20 minutes at 350 degrees, or until the tops of the cupcakes bounce back when lightly pressed.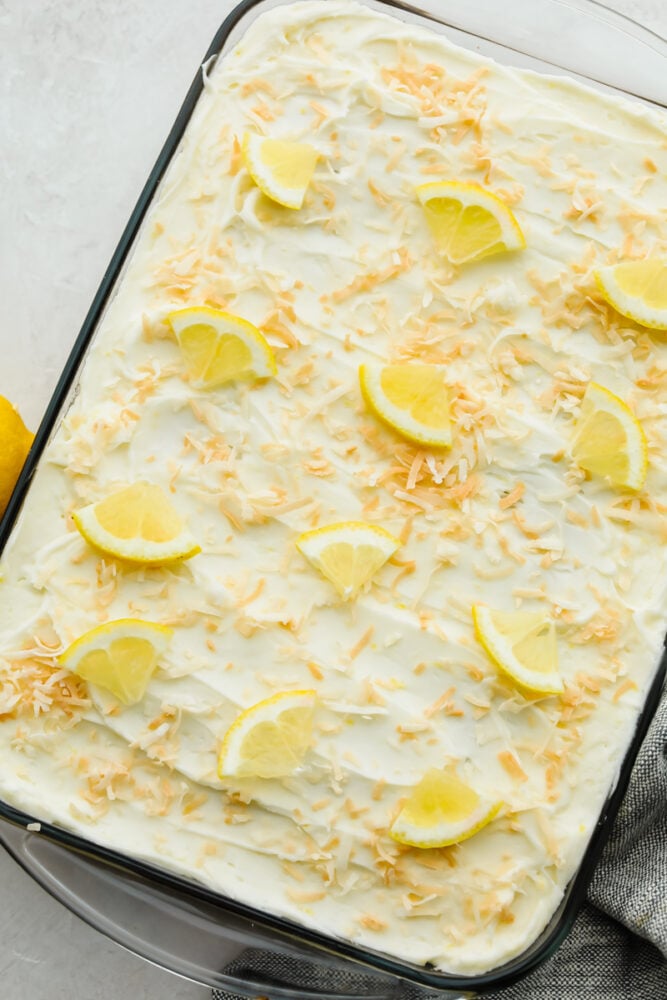 How To Store Leftovers
This lemon coconut cake is so good as leftovers! That is if you have any left to save! Here's how you can store it!
Refrigerator: Cover your cake with plastic wrap or a lid and place it in the fridge. It will last in your fridge for up to 4 days! When you are ready to eat it, let it come to room temperature first. Then, serve and enjoy!
Freezer: Once your cake has cooled, cover it tightly with plastic wrap. Then, layer it with some aluminum foil, write the date on it and freeze it. It can last in your freezer for up to 3 months! Once you are ready to eat it, then thaw it in your fridge over night, Mix up your frosting, frost and serve!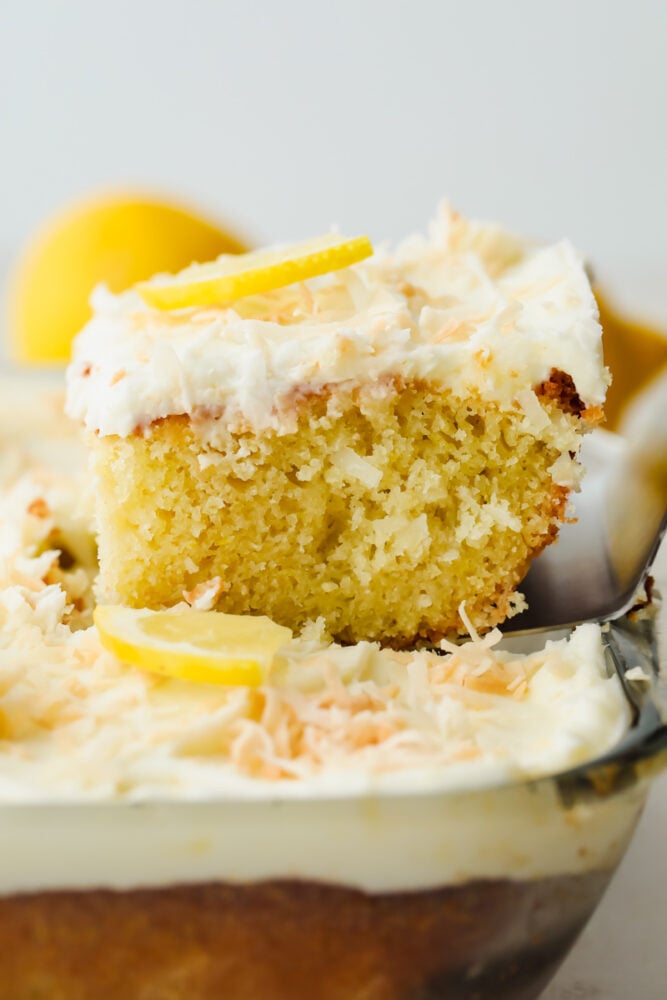 Beverages
Brazilian Lemonade