Lemon Cupcakes
The AMAZING sweet and zesty flavors of these Lemon Cupcakes will have you hooked! Fresh lemon adds a pinch of summer to a classic, decadent treat. With a perfectly moist sour cream cake base topped with creamy, fluffy frosting, this will be your new dessert of the summer. Red velvet, strawberry, and lemon blueberry are…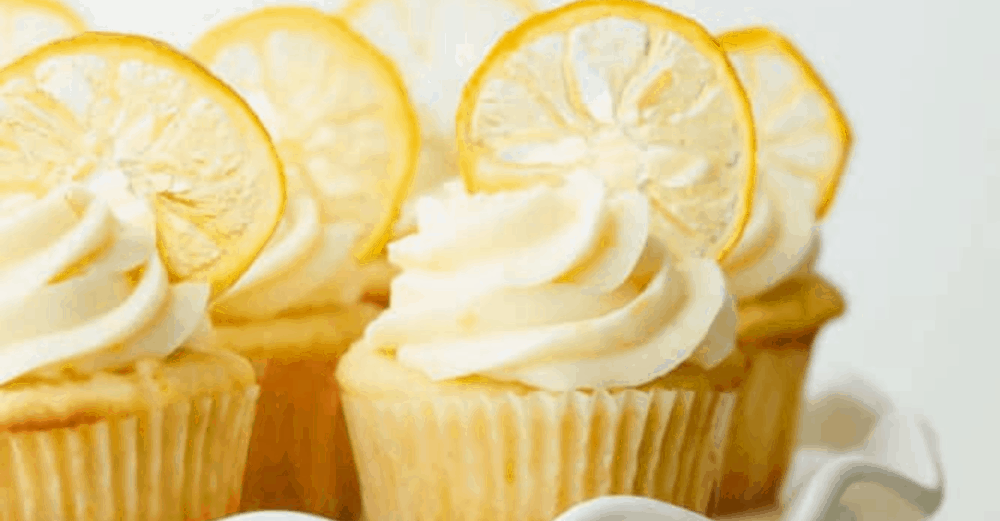 The AMAZING sweet and zesty flavors of these Lemon Cupcakes will have you hooked! Fresh lemon adds a pinch of summer to a classic, decadent treat.
With a perfectly moist sour cream cake base topped with creamy, fluffy frosting, this will be your new dessert of the summer. Red velvet, strawberry, and lemon blueberry are other tried and true cupcake recipes that you will LOVE!
The Best Lemon Cupcake Recipe
Lemon is one of my all-time favorite flavors in baked goods. It is just so fun and bright! The lemon flavor in these cupcakes is just tangy enough to satisfy but not overpowering or sour. With the perfect balance of zesty lemon, sugar, and cream, I have not been able to get enough of these! I cannot wait for you to try these for yourself!
The perfect cupcake starts at its core. Not having moist, buttery cake is honestly a deal-breaker for me when it comes to cupcakes. I have polished this lemon cupcakes recipe by finding the perfect amount of sour cream to add to the cake mix. The extra fat content really makes a difference in how rich and moist the cake is. Sorry waistline!
What You'll Need to Make Your Cupcakes with Lemon
The perfect ingredients for a perfectly moist cake! All individual measurements can be found in the recipe card below.
Granulated Sugar: Adds sweetness to your cake mix.
Lemon Zest: For fresh, tangy lemon flavor in your cake.
All-Purpose Flour: Gives your cake structure.
Salt: Enhances flavor.
Baking Powder: Helps your cake rise.
Baking Soda: Keeps your cake fluffy and light.
Sour Cream: The secret ingredient! Because of its high fat content, sour cream makes your cake amazingly moist and enhances flavor.
Fresh Lemon Juice: Using fresh lemon juice rather than bottled is what gives your cake its perfect juicy flavor.
Vegetable Oil: Keeps cake moist. You can also use coconut oil, avocado oil, or butter as a substitute.
Large Egg: For use as a binding agent. Not using an egg in your batter can leave you with a flat cake.
Vanilla Extract: For rich flavor.
Tasty Lemon Frosting Ingredients
The frosting on these Lemon Cupcakes has the most amazing, light and creamy texture and is bursting with citrus flavor!
Unsalted Butter: I like using unsalted butter in this recipe to keep the frosting sweet in order to balance the tanginess of the lemon.
Cream Cheese: Thickens your frosting and adds a tangy flavor.
Vanilla Extract: For flavor.
Salt: To enhance all flavors in your frosting.
Lemon Zest: Adds a pinch of tartness.
Fresh Lemon Juice: For amazing juicy, summery flavor! Fresh is best.
Powdered Sugar: For sweetness and a silky, smooth texture.
How to Make Lemon Cupcakes
Without further ado, let's get to the nitty gritty of making this perfect summer dessert!
Preheat and Prep: Preheat oven to 350° and line a muffin tin with cupcake liners. Set aside.
Mix Sugar and Lemon Zest: In a medium bowl, use a fork to mix the sugar with the lemon zest. This will release the oils in the zest and help get your cupcakes full of lemon flavor!
Add to Sugar Mixture: Add the flour, sugar, salt, baking powder and baking soda to the sugar mixture and whisk together.
Mix Wet Ingredients: In another bowl whisk the sour cream, lemon juice, vegetable oil, egg and vanilla together. Add the dry ingredients to the wet and gently mix until just combined.
Transfer to Muffin Tin: Scoop evenly into prepared muffin pan.
Bake: Bake for 16-18 minutes, until the top of the cupcakes spring back when lightly pressed or a toothpick comes out clean.
Cool: Cool in the muffin pan for 10 minutes or so and then remove cupcakes from the pan and allow to cool completely.
Lemon Cream Cheese Frosting Recipe
Mix Butter and Cream Cheese: In the bowl of a mixer, beat the butter and cream cheese together with the paddle attachment until combined and smooth, about 2 minutes.
Add Lemon and Dry Ingredients: Add the vanilla, salt, lemon juice and lemon zest and beat again for 1 minute.
Mix in Powdered Sugar: Add 4 ½ cups of powdered sugar and mix on low until the sugar is mostly absorbed by the wet ingredients. Scrape down the sides and bottom of the bowl and then beat again on medium-high until smooth and fluffy. If the frosting is not as stiff as you would like it, add the remaining cup of powdered sugar and beat again until smooth and stiff.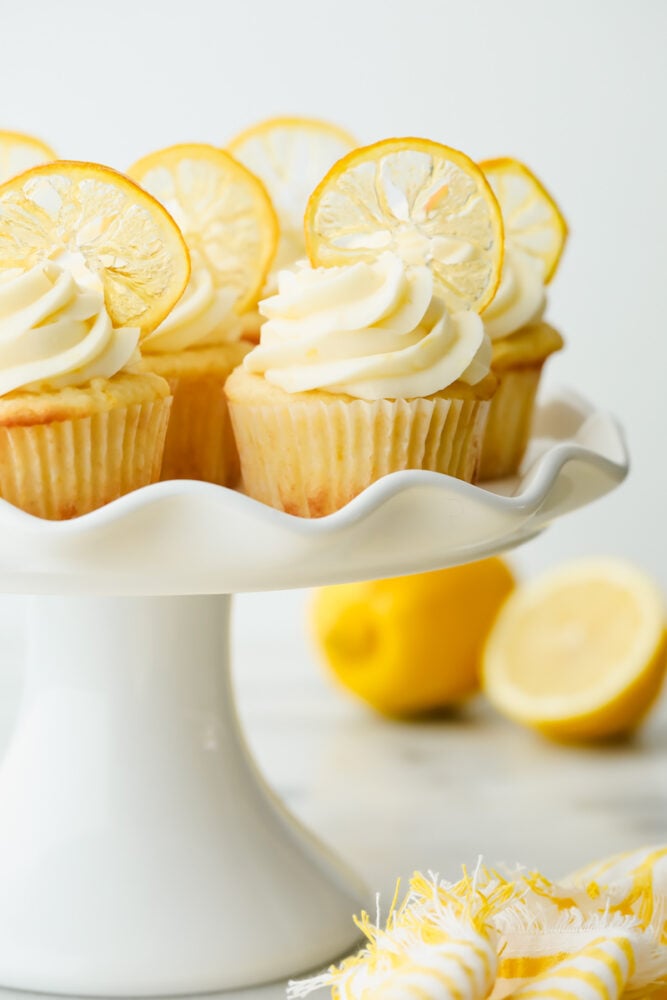 Making the Best Lemon Cupcakes
Lemon Cupcakes are sure to be a crowd pleaser with their bright, creamy flavor. Use these tips to ensure you make a perfect batch every time!
Lemons: The best lemons will be heavy and bright yellow in color. Any hints of green indicate that lemons are under-ripe. Avoid lemons with blemishes or that are pale in color- this typically means that they have less juice content and are not as fresh.
Sift Dry Ingredients: Sifting together your dry ingredients will make sure there are no air bubbles present and you will have a smooth batter.
Measure Flour: Adding too much flour is a common mistake and will leave your cake hard and dry. Be precise in measuring out your flour.
Use Pure Vanilla Extract: Using pure instead of imitation vanilla will make a big difference in the way your cupcakes taste. Using pure vanilla gives a more rich, natural flavor.
Lemon Curd: You can add a small dollop of lemon curd in cupcake liners before cooking for an extra burst of creamy, lemon flavor. If you do not have any on hand, you can use my easy lemon curd recipe to whip some up!
Use Room Temperature Wet Ingredients: Making sure that your dairy products are at room temperature before adding them to your mixture will ensure a smooth, evenly-mixed batter.
Filling Cupcake Liners: Make sure to only fill each liner 2/3 of the way full to keep them from overflowing during the cooking process.
Cool Before Frosting: Make sure your cupcakes are completely cooled before frosting them or your frosting will melt and lose its shape.
Frosting: Instead of spreading frosting on, try piping by filling a ziplock bag with frosting and cutting a small corner of the bag off.
Storing Your Homemade Lemon Cupcakes
At Room Temperature: Your cupcakes will keep for up to 2 days at room temperature in either a plastic cupcake container or covered with plastic wrap. Deeper containers are best so that you do not smash your frosting.
In the Refrigerator: Cupcakes in an airtight container will keep in the fridge for up to 5 days.
In the Freezer: Cupcakes that have not been frosted can be kept in the freezer for up to 3 months if they have been individually wrapped with plastic wrap and placed in a large ziplock bag.
Breakfast
Lemon Ricotta Pancakes