Lemon Pie
Lemon Pie is sweet, a bit tart and totally refreshing! The perfect zingy, light, summertime dessert! I love pie, there is just something so scrumptious about incredible flavors encased in a flakey buttery crust! These are some of my favorites you have to try, Banoffee, Chocolate, and Strawberry Pie. Fresh Lemon Pie I love the…
Lemon Pie is sweet, a bit tart and totally refreshing! The perfect zingy, light, summertime dessert!
I love pie, there is just something so scrumptious about incredible flavors encased in a flakey buttery crust! These are some of my favorites you have to try, Banoffee, Chocolate, and Strawberry Pie.
Fresh Lemon Pie
I love the flavor of lemon, it adds so much tang and flavor to food. It brightens, lightens, and intensifies. It is zippy and fresh. Plus, don't you love that bright yellow color! Lemons just make everything and everyone happy. It's a joyful food to look at and cook with. Just like in my Lemon Meringue pie and perfect Lemon Curd, this recipe for Lemon Pie is going to become a quick family favorite!
This summertime favorite starts with a flakey golden crust that we pre-bake to make sure we have no soggy bottoms here! Then the zingy and zippy lemon is mixed with creamy tangy cream cheese and sugar to create a smooth balanced filling that is going to make you pucker, just a little bit. The whipped topping adds just enough sweetness and the lemon zest adds that deep lemon flavor without adding any more tartness. This lemon pie is a perfect marriage of sweet and tart that will taste like a piece of heaven in your mouth!
What You Need For Lemon Pie
The ingredients in this lemon pie are super simple, and they come together in the most delicious way. For more information on the ingredient amounts scroll to the the recipe card.
 Pre-made pie crust: or make your own, pre-baked pie crust that is 9 inches to fit in the pan.
Cream cheese: Leave the cream cheese out to be softened. This takes about an 15 to 20 minutes.
Sugar: Adds the sweetness to this lemon pie.
Eggs: Have the eggs at room temperature for best practices when baking.
Fresh lemon juice: Freshly squeezed is best. Do not use the bottled if you can help it.
Lemon zest: Adds more flavor, you will want to be sure to add this to the lemon pie!
Vanilla: A nice mellow flavor that enhances the lemon.
Top it Off!
Heavy whipping cream: To ensure the fluff, use full fat.
Powdered sugar: Adds a bit of sweetness.
Lemon zest to top: Adds color and flavor.
How to Make Lemon Pie
Zingy, and fresh, creamy and delicious this is a super easy pie with big flavor. This lemon pie comes together quickly and effortlessly in a matter of minutes.
Prep and Pre-Bake: Prepare pre-made pie crust in a 9-inch pie pan and preheat the oven to 425. Prick the bottom of the pie crust with the fork to avoid the bottom bubbling up. Bake for 10 minutes or so, until just beginning to brown.
Cream: Using a paddle attachment, mix together cream cheese and sugar. Scrape the bottom of the bowl and mix again briefly.
Add Eggs: Scrape down the sides and bottom of the bowl again and add the eggs. Mix until thoroughly combined.
Flavorings: Add lemon juice, lemon zest, and vanilla and mix until just combined.
Adjust Oven: Lower oven temp to 350.
Fill and bake: Pour filling into hot pie crust and bake for 30-40 minutes, until the center has a slight jiggle but is not liquid.
Cool: Allow to cool completely before chilling in the fridge for at least 4 hours, if not overnight.
Topping: Whip together whipping cream and powdered sugar until medium peaks form. Top the pie as desired, either in rustic dollops or piped. Add lemon zest if desired.
How to Get the Best Tasting Lemon Pie
You want this lemon pie to sing, not be sour or bitter, so here are a few tips to make that happen.
Lemons: The taste all begins with the lemons. Pick lemons that are firm but give just slightly under pressure. They should be free from blemishes, super soft spots, or dark spots. Store lemons in the fridge, not the counter. They will keep better, and taste better. Wash them thoroughly before zesting.
Juicing: To get the most juice out of your lemons cut and quarter the lemons and microwave for 20 seconds to help release their juice.
Zesting: Use a zester or the smallest holes of a cheese grater. Stop zesting when you get to the pith or the white part of the lemon. It will make the lemon flavor bitter.
Make Your Own Crust: If you make your own crust use butter-flavored shortening to enhance the flavor and give you a rich buttery flavor to your crust.
Full Fat Cream Cheese: This will give you the creamiest filling. Make sure you beat it till it's good and creamy with no lumps.
Room Temperature: To make sure your filling mixes up perfectly without lumps and chunks have your eggs and cream cheese at room temperature. Take out of the fridge 1-2 hours out of the fridge before making pie.
Let it Cool: It is hard I know, but it must cool and it must be refrigerated for the best flavor.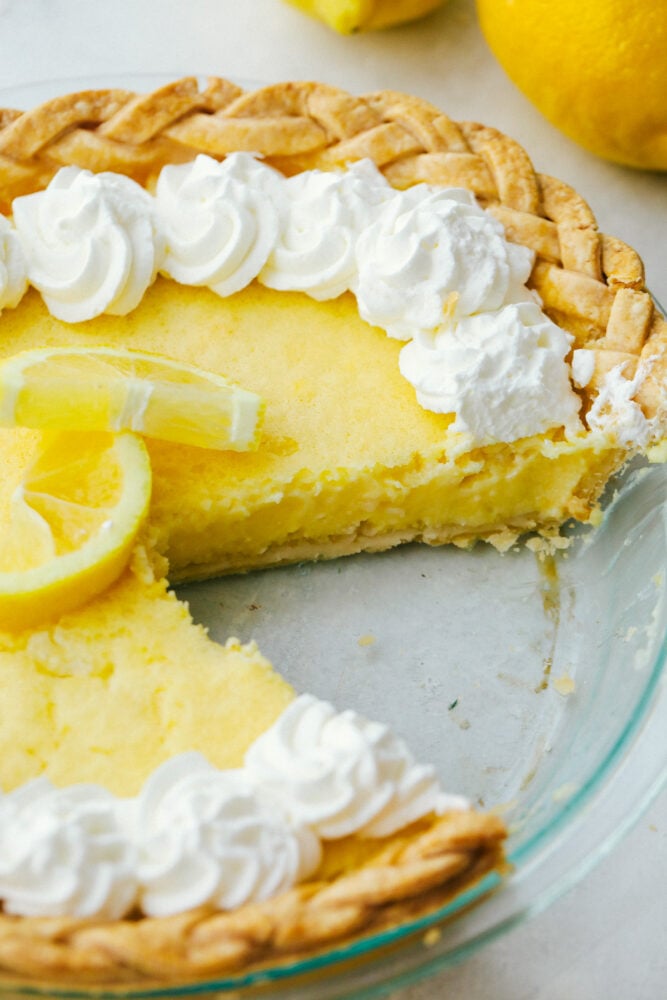 Storing Creamy Dreamy Lemon Pie
Yes the hardest part will be waiting for the pie to chill, but it is worth it. I promise. This pie will keep for up to 3-4 days in the fridge. To keep the whipped topping from weeping, place whipped topping only on the pieces you serve. That way it will also be easier to store. Loosely cover with plastic wrap before placing it in the fridge.
Dinner
Lemon Garlic Parmesan Shrimp Pasta