Morrison and Biden meet in New York
It's the first time the leaders have sat down together since the AUKUS deal was revealed.
The leaders of Australia and the United States have pledged to tackle global challenges such as climate change and mounting tensions in the Indo-Pacific together in their first bilateral meeting.
US President Joe Biden said the two countries were "in lockstep" as he and Prime Minister Scott Morrison sat down with large delegations on the sidelines of the United Nations General Assembly in New York on Tuesday (early Wednesday morning AEST).
"The United States has no closer or more reliable ally than Australia," he said as he kicked off the meeting, calling Mr Morrison a "friend".
"Our nations have stood together for a long, long time, and we can rely on one another, and that's really reassuring. 
"And we're grateful for our partnership and what we've accomplished together over 70 years."
Both leaders mentioned the challenges of tackling climate change and defending freedom and democracy around a world at an "inflection point".
They highlighted the Indo-Pacific without directly mentioning China.
"So, Mr President, I want to thank you for your leadership and your focus on the Indo-Pacific region. There's no doubt, you get it," Mr Morrison said.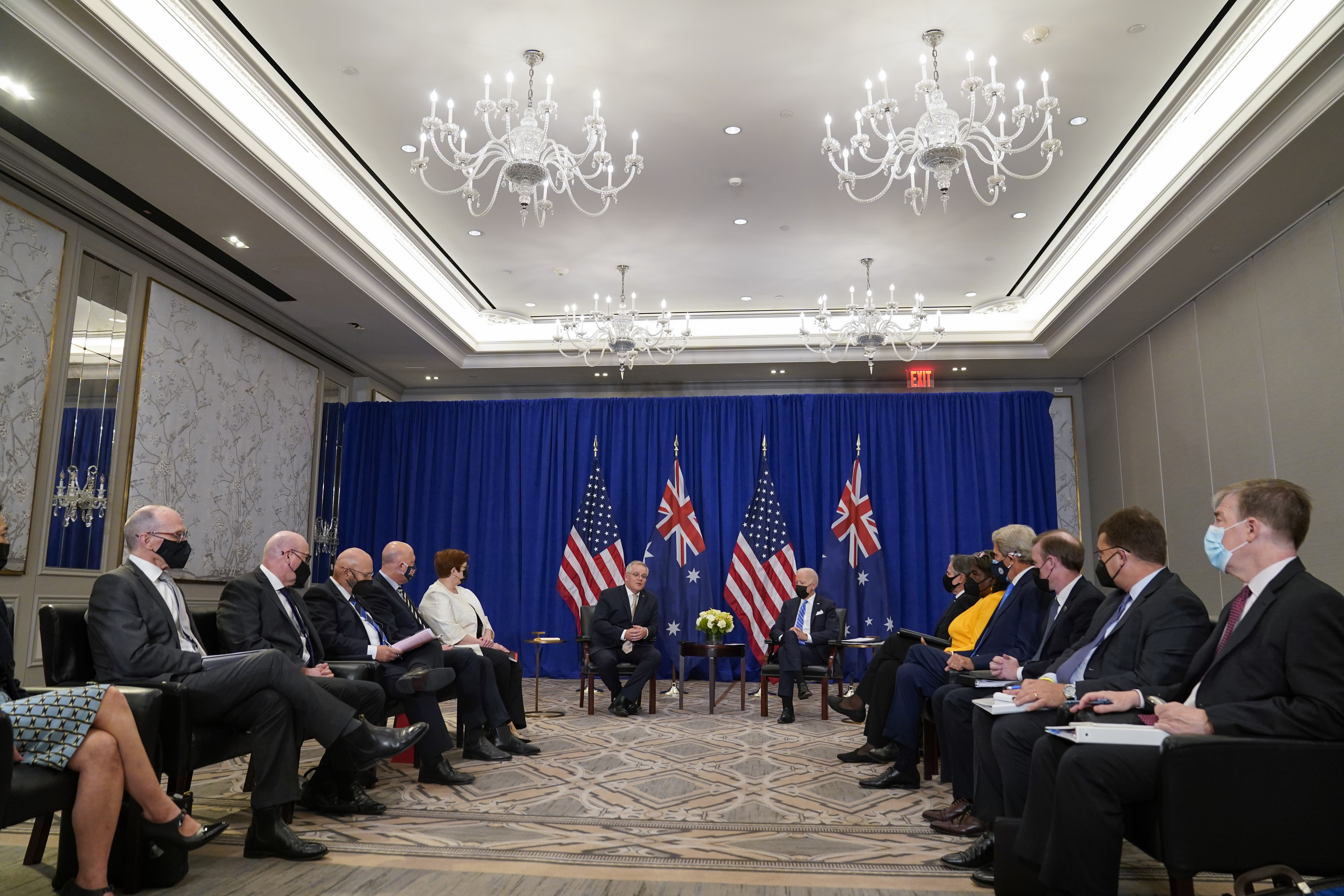 It was the pair's first face-to-face meeting since the wide-ranging AUKUS military pact announcement that included the ditching of a $90 billion French submarine deal Paris has described as a "stab in the back".
They did not specifically mention tensions with France both made a point to mention the importance of other global alliances.
"It's not just about our partnership, because our partnership reaches out to so many others, whether it be our friends and in the ASEAN nations, or Europe or elsewhere, where we share so many like minded interests," Mr Morrison said, in a comment echoed by Mr Biden.
"The issues we discuss in our partnership today really do reach out to so many others in terms of how we address the global challenges."
Mr Morrison noted the importance of the ANZUS treaty and its invocation after the devastating terrorist attacks on the twin towers of the World Trade Centre on September 11, 2021.