Peter Pan & Wendy Set Photos Show First Look at Jude Law as Captain Hook
Some new set photos from Disney's upcoming live-action Peter Pan & Wendy offer a glimpse of Jude Law as the charismatic villain, Captain Hook.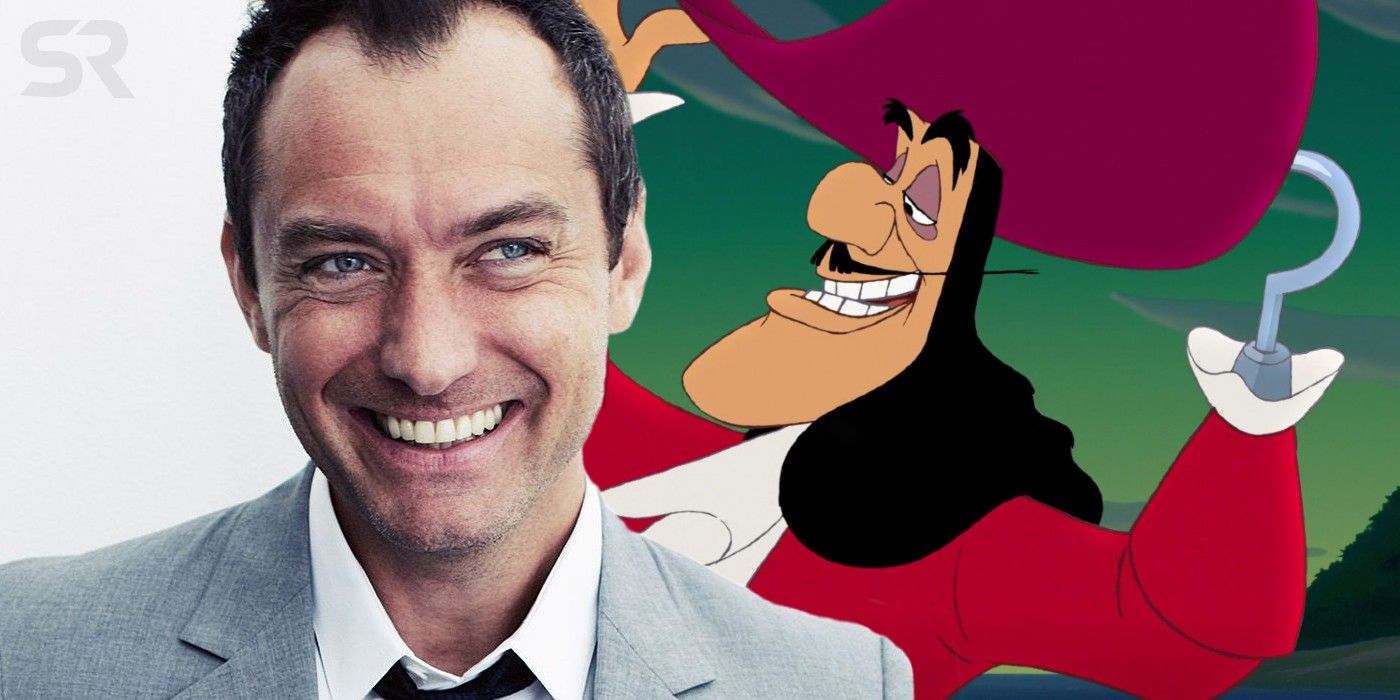 New images from Disney's upcoming Peter Pan & Wendy offer a first look at Jude Law as the infamous pirate Captain Hook. Author J.M. Barrie's classic 1904 novel Peter & Wendy was first brought to life by Disney as an animated feature in 1953 called Peter Pan. The film became an instant sensation and has been a part of childhoods around the world ever since.
After finding success with several live-action adaptations of some of their most popular animated films, Disney's latest effort includes Law as Captain Hook, newcomer Alexander Molony as Peter Pan, Yara Shahidi (Grown-ish) as Tinkerbell, Ever Anderson as Wendy, and comedian Jim Gaffigan as Mr. Smee. Production on the new film is currently underway, with David Lowery, who was responsible for the 2016 adaptation of the Disney classic Pete's Dragon, taking on directorial duties. Initially, Peter Pan & Wendy was expected to be released both on Disney+ and theatrically, but as with so many films in the current COVID-19 era, the theatrical release was scrapped in favor of an exclusive release on Disney+. At present, the film is expected to arrive at some point in 2022.
While 2022 may feel like a very long way off for those Peter Pan fans eager to see what Disney's updated version of the classic tale will look like, some new images have arrived that show off Law's transformation into Captain Hook. Film Updates has provided the new snaps via its official Twitter account, and from the look of things, Law makes for a pretty great Hook. Unfortunately, the photos fail to capture what the actual hook that the character wears in place of a hand looks like, but everything else about Law's on set demeanor is pure pirate:
Of course, this is a very unique and difficult time for everyone, so Law can also be seen holding a face shield in the images, one aspect of his look that thankfully won't make it into the film. Production is taking place in London and Vancouver, Canada, making for two different sets of Covid rules to be mindful of on set. It isn't the easiest way to make a film, but sets full of health regulations and rules have largely become the norm in the past few months with regard to film productions. This being said, production on Peter Pan & Wendy seems to be moving along quite smoothly so far.
For those who feared that Law wouldn't be a suitable Captain Hook, these latest images from Peter Pan & Wendy offer a new perspective on the Fantastic Beasts and Where to Find Them star as one of the greatest fictional villains of all time. Law has always been an outstanding actor and in this particular case, there's every reason to believe that he'll deliver a very sound and authentic portrayal of a villain who people love to hate.
Next: All The Live-Action Disney Remakes In Development
Source: Film Updates
Source : Screen Rant
More