Star Wars: Rise Of Skywalker Video Reveals Inside Of Rey's Lightsaber
A newly released video from Star Wars: The Rise of Skywalker concept artist Matthew Savage shows the inner workings of Rey's lightsaber.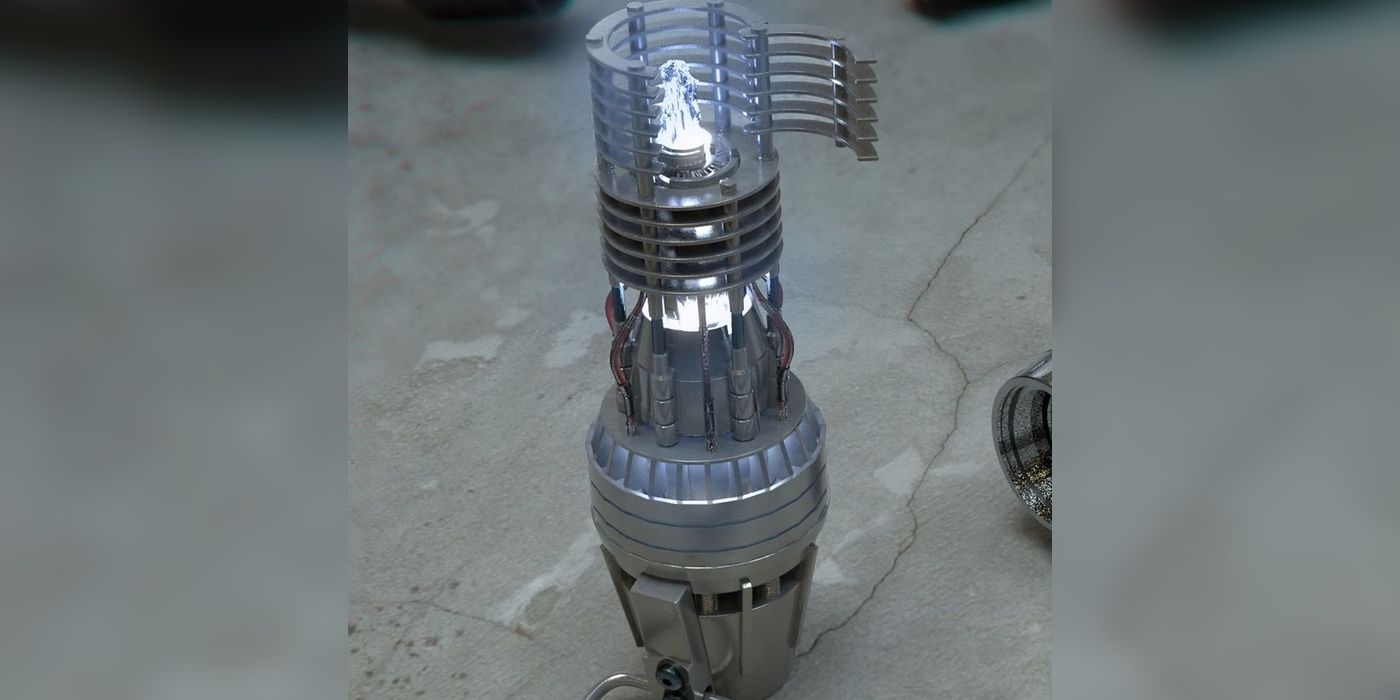 A new video reveals the inner workings of the lightsaber that Daisy Ridley's Rey builds for herself at the end of . In the final scene of The Rise of Skywalker, Rey is seen burying Luke and Leia's lightsabers near Luke's childhood home on Tatooine. She then reveals her own unique lightsaber, that contains some upgrades over most versions of the traditional Jedi weapon seen previously in Star Wars canon.
Rey's new lightsaber was constructed from scavenged parts, a nod to her backstory as a scavenger on Jakku, including her old staff. The lightsaber yellow and is revealed to open differently, using a gear at the top of the hilt of the lightsabers, which is twisted and releases the blade.
And now we get to see the inner workings of the lightsaber, thanks to a concept art video and images posted by The Rise of Skywalker concept artist Matthew Savage on Instagram. The art, which you can see below, reveals where the kyber crystal is located, and the protective cage that surrounds it. The video shows that the hilt of the lightsaber can be removed, and that the cage surrounding the kyber crystal has a small gate that swings open. Take a look:
In the post, Savage mentions that the concept was developed in pre-production, before the color of Rey's lightsaber had been revealed, which is why in the images, the crystal is a neutral blue. However, the video shows the crystal as the yellow used in the final film. This artwork presents new insight into Rey's lightsaber, as in the film we only get a quick glimpse of it being activated in the final scene on Tatooine.
In the Star Wars universe, kyber crystals are rare, powerful crystals scattered throughout the galaxy that are Force-attuned. Both Jedi and Sith use them to power their lightsabers, harnessing the energy of the crystal to produce the blade that protrudes from a lightsaber. The video reveals that Rey has constructed a sophisticated housing for the crystal, using a cage mechanism to keep it in place.
The post by Savage marks information that's been revealed in recent weeks. Now that the film, which is the ninth and final installment in the Skywalker saga, has been released for home viewing on Disney+ there is no embargo on social media posts that contain spoilers, meaning that fans are gaining further insight into the film's production and backstory. This hopefully means that more new information will be forthcoming over the next few weeks, satisfying the Star Wars fan base in the absence of any new film releases.
More: Rise of Skywalker's Different Red Sith Troopers Explained
Source: Matthew Savage
Source : Screen Rant
More