Strawberry Streusel Bars
Strawberry Streusel Bars are buttery, sweet and the perfect summertime treat! With a tasty shortbread and mouth watering crumble top, everyone is going to love these! Strawberries are such a beautiful fruit to use in your cooking, their sweetness adds so much flavor. Try them in this Salad, Pie, and Bread! Amazing Strawberry Streusel Bars…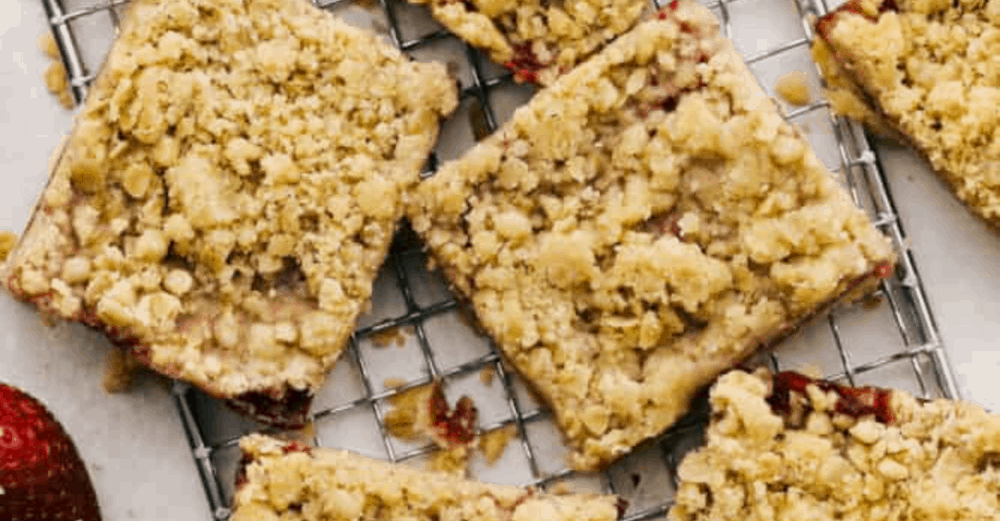 Strawberry Streusel Bars are buttery, sweet and the perfect summertime treat! With a tasty shortbread and mouth watering crumble top, everyone is going to love these!
Strawberries are such a beautiful fruit to use in your cooking, their sweetness adds so much flavor. Try them in this Salad, Pie, and Bread!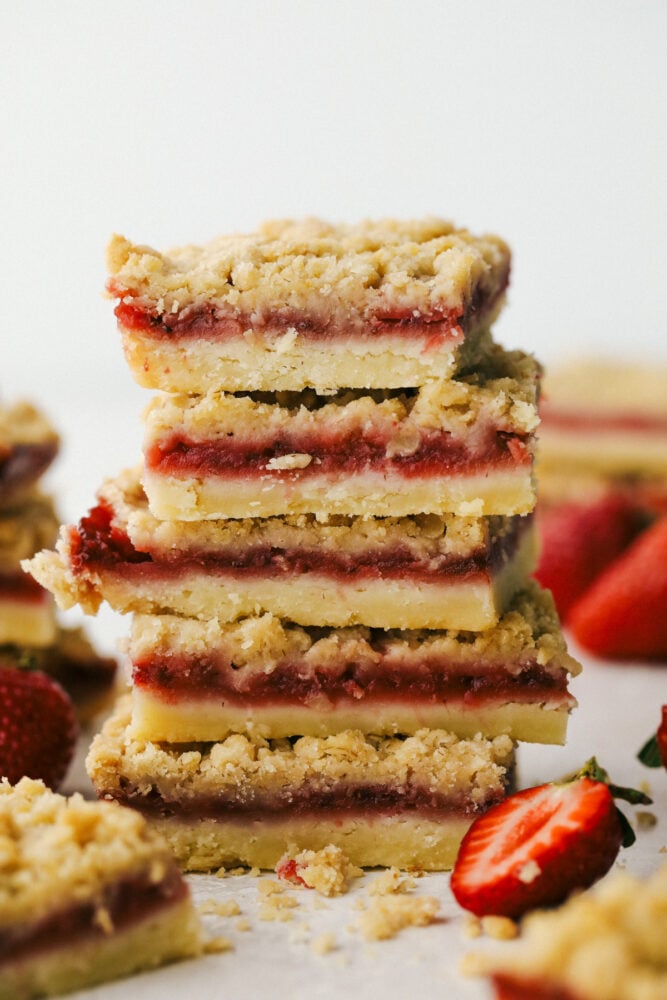 Amazing Strawberry Streusel Bars
I love when strawberry season is here! I cannot help but buy strawberries every time I go to the store or farmers market. They are red, juicy and super sweet! I have several strawberry recipes on the blog that are delicious just like these strawberry streusel bars. These cookie bars are the perfect blend of sweetness, tartness and a bit of rich butteriness that is going to win everyone over!
Strawberry streusel bars are a surefire crowd pleaser! They are buttery, sweet, and a little bit crunchy. The texture and color alone are enough to draw a crowd. These are perfect for a potluck, or family gathering. Bars make some of the best desserts because I can make a large batch of desserts all at once and they are not overly messy to serve. Perfect for little hands to hold. Just try these other bar favorites, Neiman Marcus Bars, Lemon Bars and Cherry Pie Bar!
Ingredients for These Incredible Strawberry Bars
You may have everything you need right now in your pantry. So grab some strawberries and let's start baking! For the full recipe print or read the recipe card below.
Flour: All-purpose flour will work perfectly.
Powdered sugar: It mixes a bit easier than regular sugar.
Salt: Balances out the sweetness.
Butter: Have your butter cold, and cubed.
Strawberry Filling
Cornstarch: Is used as a thickener.
Sugar: Balances the tartness.
Fresh strawberries diced: It is ok if they are about to turn.
Strawberry preserves: Adds a little bit more strawberry flavor and helps it all stick together.
Lemon zest: Helps to keep the strawberries fresh tasting, without adding a bunch of lemon flavor.
Streusel Topping
Flour: All-purpose, again is what I used.
Oats rolls or quick: They will both work, it just depends on what you want.
Brown sugar: Gives a deeper flavor than white.
Salt: Balances the sweetness and helps everything taste better.
Butter:  Again use cold cubed butter.
How to Make Dessert Bars
These strawberry streusel bars come together quickly and then you pop them in the oven and let it do all the work for you.
Bake the Crust
Prep: Preheat oven to 350. Grease and flour a 9×13 pan and set aside.
Blend it till crumbly: Mix together flour, powdered sugar, and salt. Add the cold, cubed butter. Using a fork or a pastry blender, cut butter into the dry ingredients until it starts to get crumbly. You can continue with the fork or pastry blender, but I find it easiest to mix the rest of the way with clean hands.
Press: Evenly drop clumps of dough into the pan and then use your fingers to press down into the pan. Bake for 25-30 minutes, until the edges start to get golden. Meanwhile, prepare the filling and streusel topping.
Layer the Strawberry Filling
Combine: Mix together the cornstarch and sugar, set aside.
Strawberries: Dice the strawberries into small pieces. Mix together with the sugar mixture, strawberry preserves, and lemon zest.
Layer it: Spread evenly across the par-baked crust.
Oatmeal Streusel Topping
Mix: Combine flour, brown sugar, oats, and salt.
Crumble: Add butter and cut it in with a fork or pastry. Mix until the butter is about pea-sized and clumpy.
Place: Spread evenly across the top of the strawberry filling.
Cook: Bake for 30-35 minutes, until the streusel topping begins to brown.
Enjoy: Allow the strawberry streusel bars to cool before serving.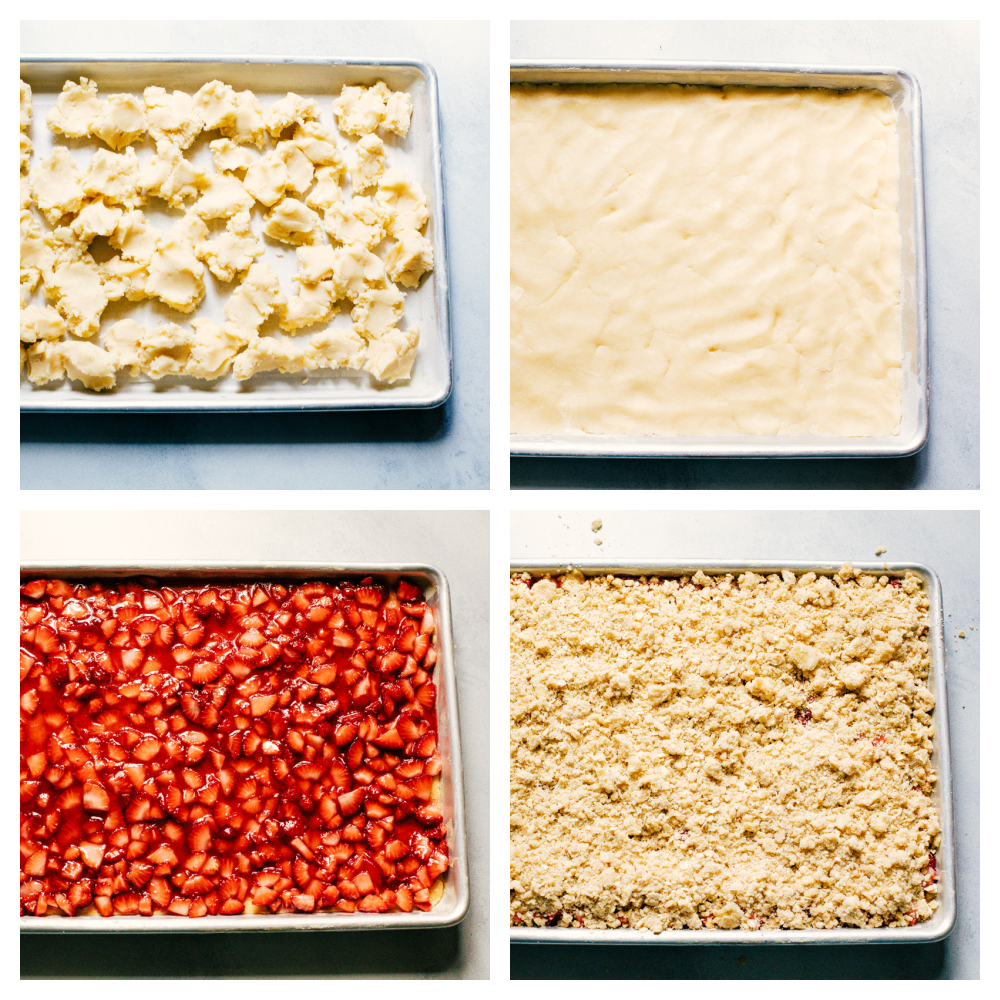 Tips For the Best Strawberry Streusel Bars
Simple and decadent these strawberry streusel bars are going to disappear as fast as you can put them out.
Strawberries: Be sure to dice the strawberries evenly. If you want to cover more area chop the strawberries up a bit more so they are smaller but still chunky enough to give you a mouthful of goodness.
Cold: Normally you see me tell you to bring your butter, eggs etc to room temperature, but not here. You want your butter to be cold and stay cold. If the butter "melts" too much before it hits the oven, you'll end up with greasy blobs instead of light strawberry squares.
Get your Hands Dirty: Mixing usually works best if you use your hands. Using a spoon will work too, but there is just something about using your hands that mixes it up best. Just do not overwork it to the point where it starts to melt the butter.
Let them Cool: While these are insanely delicious warm, they will fall apart if you try to eat them without letting them cool first.
Oats: Which kind of oats you use is totally a personal preference. The regular oats will give you more of a bite and substance whereas the quick will blend in more.
Add a Glaze: If you want to really kick it up a notch, whip up a lemon glaze to drizzle on top. Use 1 cup of powdered sugar and about 2 Tablespoons of fresh lemon juice and mix well. Drizzle over warm strawberry streusel bars and let cool. YUM!
How to Store Leftover Streusel Bars
I am not sure you will have leftovers, but incase you do, let's make sure these strawberry streusel bars get put away right!
Room Temperature: Cover tightly and keep at room temperature for 2-3 days.
Fridge: Strawberry Streusel Bars really do store best in the fridge. Make sure they are in an airtight container and they will keep in the fridge ro up to 1 week.
Freeze: I love freezing leftovers to pull out when I need them but do not have time to make them. I wrap the strawberry bars in plastic wrap, then place in a freezer safe bag sealed tightly for up to 3 months. Let thaw at room temperature, or fridge.
Beverages
Frozen Strawberry Lemonade