Suryakumar Yadav Defends Manish Pandey Despite His Poor Form
Suryakumar Yadav defended fellow middle-order batsman Manish Pandey over the latter's dismal return in the three-match ODI series against Sri Lanka. Suryakumar Yadav said Manish Pandey had batted 'really well' in the tour before pointing to his unlucky run-out in the previous ODI. The 31-year-old batsman has been in and out of the limited-overs team for a few years. There is no doubt about the talent but Manish Pandey has been inconsistent with his displays with the bat. Suryakmar Yadav: Manish Pandey Was Batting Really Well And Not Dropping Him For The 3rd ODI Due To Poor Form Was Team
Suryakumar Yadav defended fellow middle-order batsman Manish Pandey over the latter's dismal return in the three-match ODI series against Sri Lanka. Suryakumar Yadav said Manish Pandey had batted 'really well' in the tour before pointing to his unlucky run-out in the previous ODI.
The 31-year-old batsman has been in and out of the limited-overs team for a few years. There is no doubt about the talent but Manish Pandey has been inconsistent with his displays with the bat.
Suryakmar Yadav: Manish Pandey Was Batting Really Well And Not Dropping Him For The 3rd ODI Due To Poor Form Was Team Management's Call
India lost the final ODI by three wickets. Before the game they had handed over five debut caps and made a total of six changes, raising questions on why Manish Pandey wasn't one of the players to sit out despite his form. In the three-match ODI series also, Manish Pandey showed promise but wasn't able to fire on and score big in all the matches. In the three ODIs, Manish Pandey scored 26, 37, and 11 runs respectively.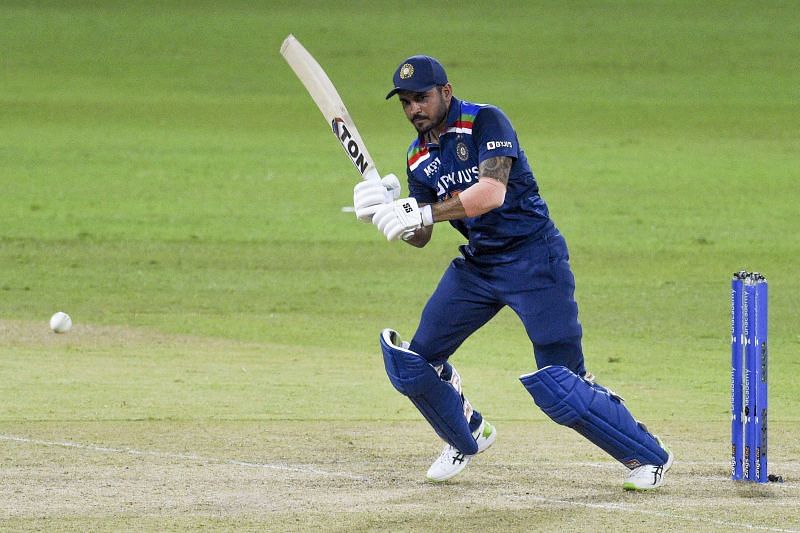 "That was completely the team management's call, I can't get into that decision. But yes, he's been batting really well as we saw in the practice games, we played intra-squad games also.

"And last game, you all must have seen it it was an unfortunate dismissal, he was batting really well at that time as well. So that must have been the reason but as I said, this isn't my call," Suryakumar Yadav said in the post-match press conference.
Although Manish Pandey has been a victim of some haphazard selection choices in the past, he'll only have himself to blame for not getting any more opportunities soon. Apart from the runout, the 31-year-old had two brilliant chances to score runs but couldn't convert his starts and ended the series with just 74 runs at an average of 24.67.
After opting to bat first, India managed to score only 225. Prithvi Shaw and Sanju Samson scored 49 and 46 runs respectively at the top of the order while Suryakumar Yadav hit 40 off 37 balls. Sri Lanka did not face a lot of trouble as they chased down the target in the 39th over after the match was reduced to 47 overs per side due to rain.
Manish Pandey Unlikely To Feature In The Upcoming T20I Series
Although a Rahul Dravid reprieve is possible, it looks unlikely that Manish Pandey will get any more game time on this tour. Youngsters like Sanju Samson, Ishan Kishan, Nitish Rana, Devdutt Padikkal, and Ruturaj Gaikwad are waiting in the wings to capture top-order spots and Manish Pandey hasn't been that good in T20Is of late either.
It will take some injury concerns or last-minute changes for the Karnataka batsman to get a look in for the series. The first T20I will be played on Sunday, July 25.
Manish Pandey will always be remembered as the first Indian to score a century in the IPL. Despite his average of 33.29 in 29 ODIs and 44.31 in 39 T20Is, his form hasn't been consistent. His average in T20Is is high because he has been unbeaten 17 times in 33 innings. He has only 3 fifties in 39 T20Is and 1 ton and 2 fifties in 29 ODIs which is below expectations.
The 30-year-old Suryakumar Yadav made his ODI debut in the first one-dayer against Sri Lanka and was named man of the series for registering scores of 31 not out, 53, and 40 in the three-match series. Suryakumar Yadav's sensational run for in the IPL earned him a spot in the England T20I series at home.