Swiss Chicken Bake
Creamy Swiss Chicken Bake is absolutely delicious. Chicken breasts are smothered in an easy-to-make Swiss cheese sauce, covered in crispy, seasoned breadcrumbs, then baked until bubbly. It's an easy chicken casserole the whole family will love! If you love creamy chicken casserole recipes, also try this chicken divan, poppy seed chicken casserole, or chicken noodle…
Creamy Swiss Chicken Bake is absolutely delicious. Chicken breasts are smothered in an easy-to-make Swiss cheese sauce, covered in crispy, seasoned breadcrumbs, then baked until bubbly. It's an easy chicken casserole the whole family will love!
If you love creamy chicken casserole recipes, also try this chicken divan, poppy seed chicken casserole, or chicken noodle casserole.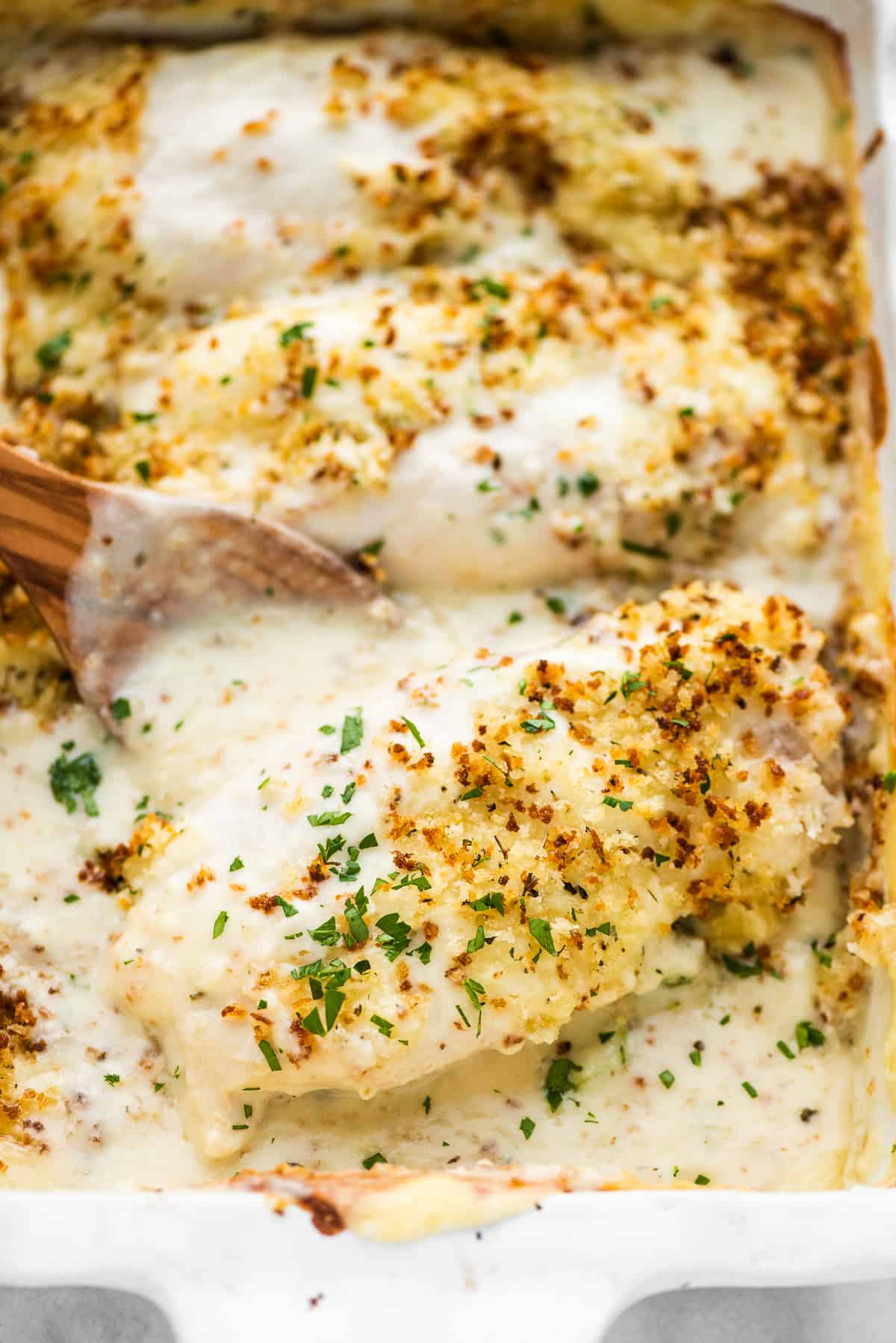 Swiss Chicken Bake
This is one incredible, family-loved recipe. Tender chicken breasts are cooked in a simple Swiss cheese sauce that is absolutely heavenly. Then we top the casserole with buttered breadcrumbs and the little crunchy bites are delicious with the creamy sauce.
Some Swiss chicken recipes call for using canned soup, but we skip that and replace it with a sauce that is nearly as easy to make as opening a can and is SO MUCH tastier.
After the Swiss chicken casserole goes into the oven, we put on a pot of rice and make some roasted broccoli – the cheese sauce is amazing on the broccoli! The whole dinner comes together with minimal effort and it's always met with rave reviews at the table.
Ingredient notes
You likely have most of the ingredients to make this Swiss chicken casserole in your kitchen right now!
Butter, flour, and chicken stock: these three form the base of the cheese sauce.
Garlic powder, onion powder, and salt: we use these to add flavor to the sauce.
Swiss cheese: we buy sliced Swiss cheese and add some to the sauce and use extra to put on top of the chicken.
Sour cream: this lightens the cheese sauce and gives it a wonderful flavor.
Panko: this is used for the crispy topping. You can use regular breadcrumbs instead.
Butter: makes the panko get golden and extra crispy in the oven.
Italian seasoning: adds a great flavor to the crispy topping. Try this homemade Italian seasoning!
Chicken breasts: we use boneless, skinless breasts. You can also substitute chicken thighs.
How to make this Swiss chicken bake
You can make Swiss chicken in just 4 easy steps! Making this Swiss chicken bake is really simple! See the recipe card below for the full details.
Make the cheese sauce: Whisk some flour and butter in a small pot. Then add the chicken stock and spices and give it a minute to thicken. Finally, add the cheese and let it melt into the sauce. So easy!
Make the buttered breadcrumbs: Mix some panko with melted butter and Italian seasoning.
Assemble the casserole: Half of the cheese sauce goes into the bottom of your casserole dish. Then lay 4 seasoned chicken breasts on top and cover them with the rest of the sauce. Drape 4 Swiss cheese slices over the chicken then cover them with the buttered croutons.
Bake the casserole: This step is as easy as putting the casserole dish into the oven. Keep an eye on it while it bakes and if the breadcrumbs get too brown, cover the casserole dish with foil.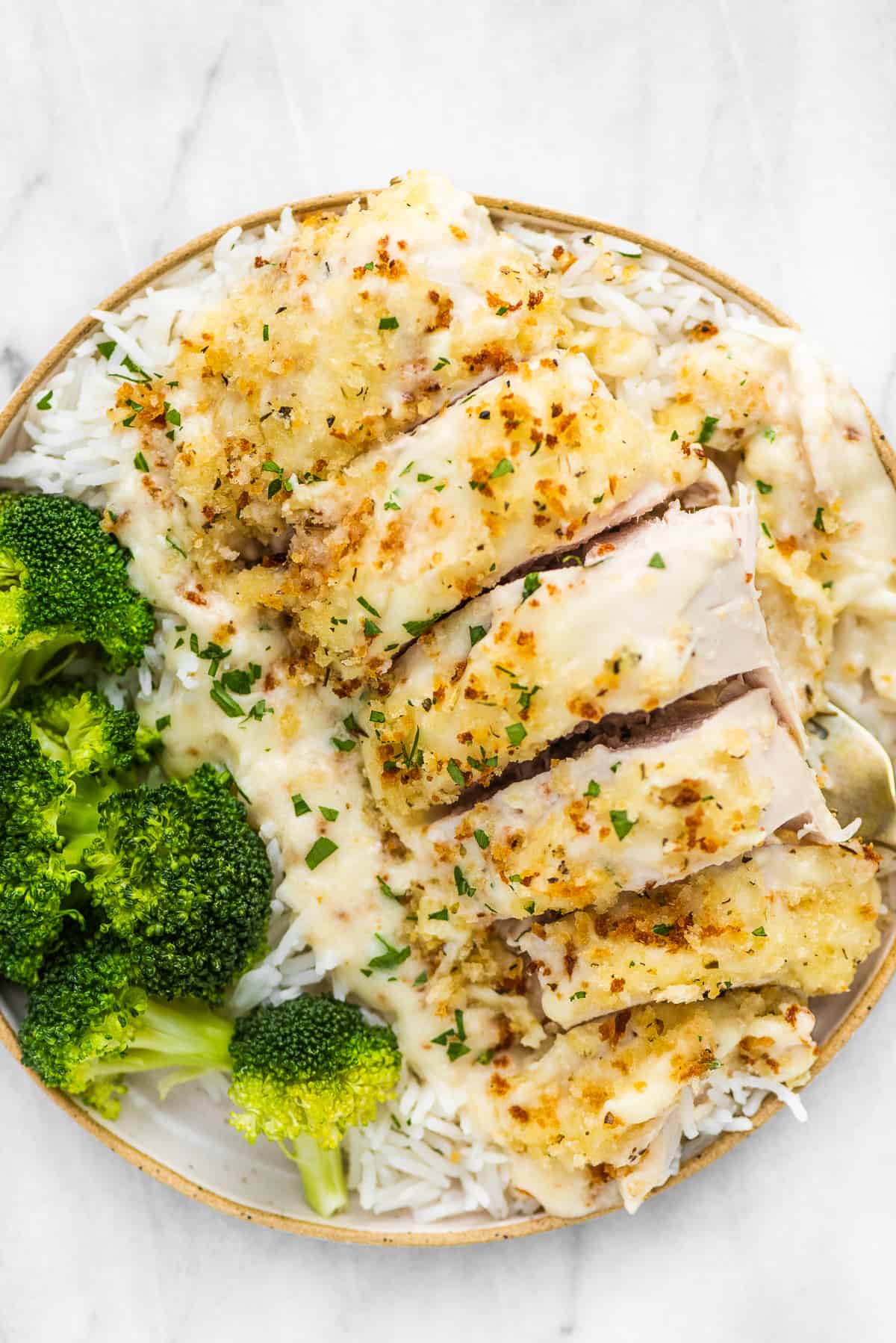 Recipe FAQs
Can this casserole be assembled ahead of time?
Yes! This casserole can be assembled up to 2 days in advance and stored covered in your fridge until you're ready to bake it. The buttered panko can be prepared ahead of time, but it's best added to the casserole right before it goes into the oven so that it doesn't get soggy. You'll need to add an extra 10-15 minutes to the baking time if you're cooking it from cold.
Can I freeze this Swiss chicken bake?
Yes! Just like assembling this casserole ahead of time, it's best to leave the panko off until it's time to bake it. Wrap the assembled casserole tightly then freeze it for up to 3 months.
How long will the leftovers last?
Leftover Swiss chicken will keep well in your fridge for 3-4 days. They reheat beautifully so this is a great recipe to plan to take for lunch this week!
Can I use chicken thighs instead?
Chicken thighs can be used instead of breasts, but you'll need to adjust the cooking time. Plan on using 8 chicken thighs and baking the casserole for 30-35 minutes.
Side Dishes
How to Make Perfect Instant Pot Rice