Terraria Journey's End: Queen Slime Boss Guide | Screen Rant
Terraria's newest updated added many new enemies and bosses to for players to fight. This guide will show players how to summon and kill Queen Slime.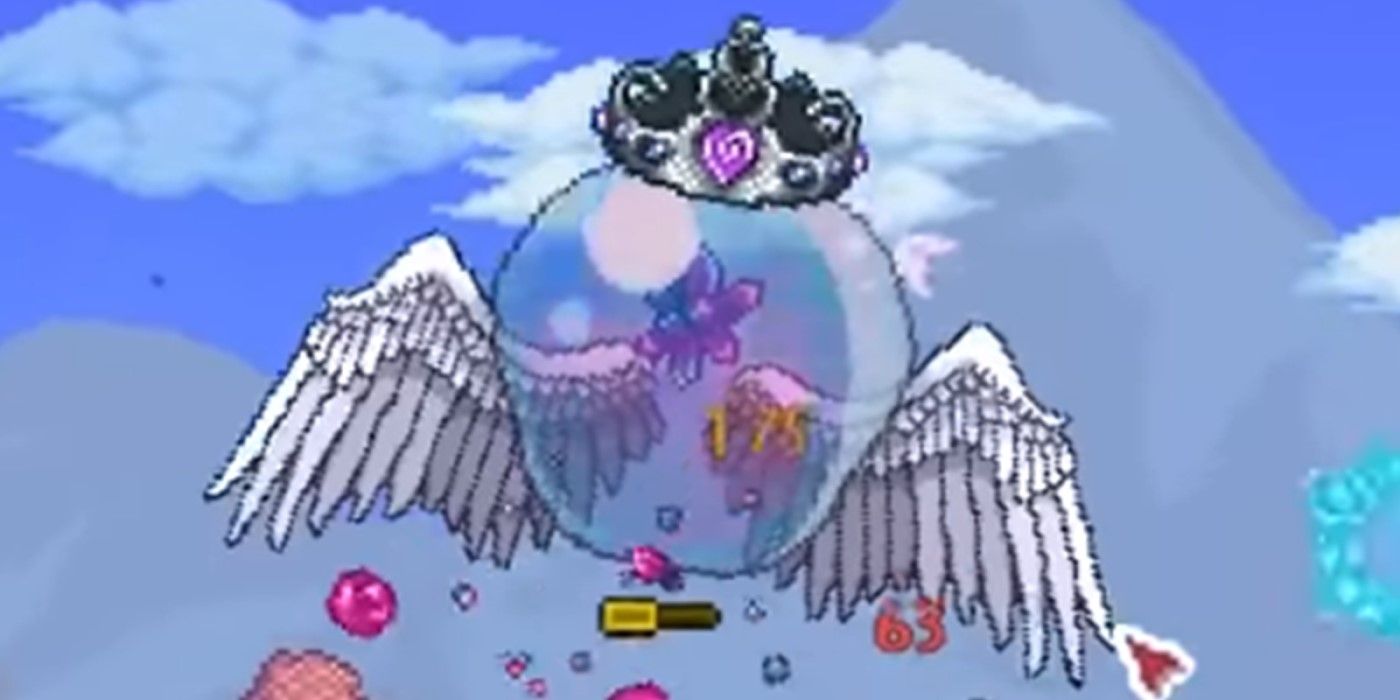 Over the years many people have referred to Terraria as a two-dimensional version of Minecraft. While there are many similarities between these games, Terraria sets itself apart by being much more focused on combat and harsher difficulty. This is even more apparent when players began facing down the many different bosses in Terraria.
With the newest update, Journey's End, two new bosses were added to the game for players to go up against. One of these bosses is the Queen Slime, who is basically the hard-mode counterpart to the first boss of the game, King Slime. Players should not be fooled by the similarities between these two enemies though, as Queen Slime is much more difficult and capable of killing unprepared players. This guide will show players how to summon Queen Slime and then bring her down.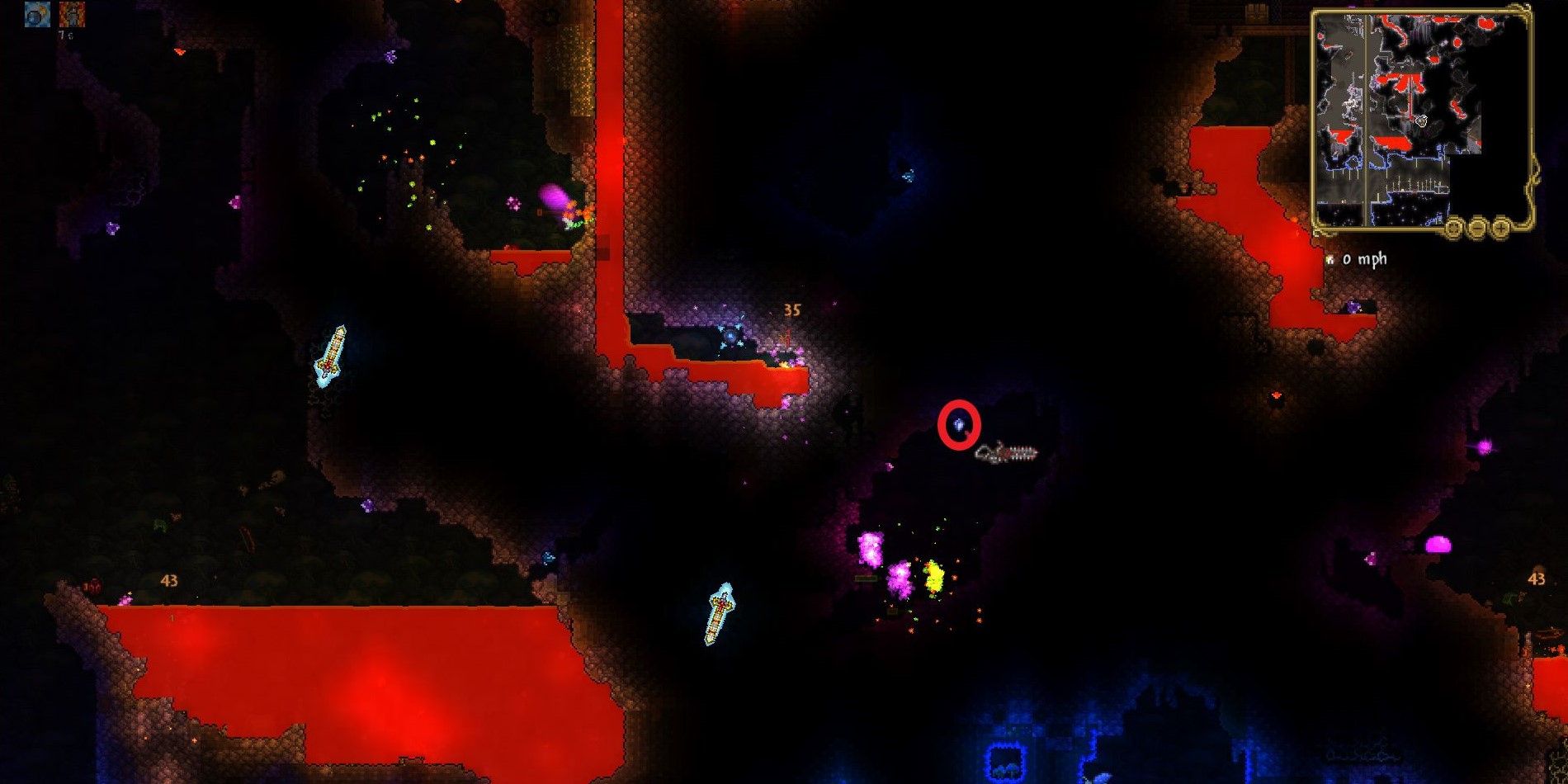 In order to even fight against the Queen Slime, players will need to find a Gelatin Crystal to summon her. Unlike some other boss summoning items, the Gelatin Crystal cannot be crafted from other components, so it must be found out in the world. Players should look for a Gelatin Crystal in the underground area of a Hollow Biome. This means that players will not be able to find this crystal until after beating the Wall of Flesh/Eater of Worlds and destroying a few Crimson Altars/Demon Altars.
Once players descend below a Hollow Biome they should keep an eye out for Crystal Shards as they are exploring. Gelatin Crystals will typically spawn alongside these shards and they look very similar. Players will notice that the Gelatin Crystal will flash between purple and blue in color, which makes them easier to differentiate from the shards. Once players have obtained one of these rare items they should return to the surface of the Hallow Biome and use the Gelatin Crystal to spawn a Queen Slime to fight.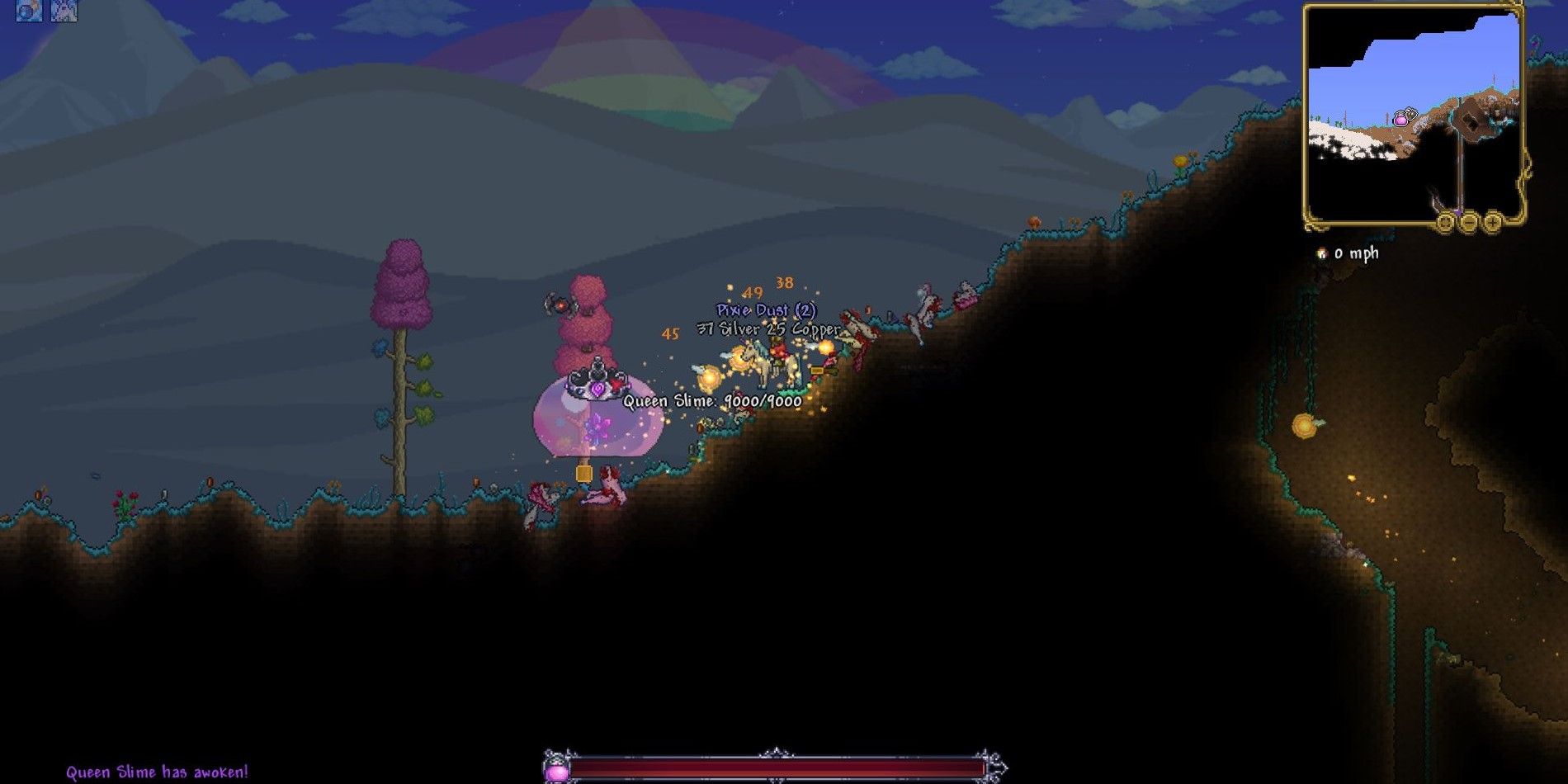 Queen Slime actually has similar moves to King Slime at the beginning of this fight, she is just much stronger and faster than her counterpart. She will jump in the air and try to land on players to cause damage. This attack is luckily is well telegraphed and so therefore easy to avoid. Those who have fought King Slime will have no problem dealing with this aspect of the fight.
After a few jumps though, Queen Slime will land back on the ground and sit still for a moment. Players should be careful here because the boss can then use two different actions at random that can cause heavy damage. She will either leap forward at the player very quickly or fire off a string of six crystal projectiles at the player. The best idea is for players to move away from Queen Slime as quickly as possible when she pauses and prepare to jump over these projectiles when they come towards them. Players can also hide behind parts of the terrain or use blocks to shield themselves from here projectiles.
Queen Slime will also periodically summon Crystal Slimes that can attack the player with similar projectiles. Players who want to survive this fight should make it a priority to kill these slimes before she can summon more. If too many of them are on the screen at once it can be near impossible to dodge all of the projectiles that will be thrown at the player at once. Players should kill her minions first and then redirect their attacks to the Queen Slime.
Once Queen Slime drops below 50% health she will grow wings and the fight changes completely. She will stay in the air and now directs her projectile attacks directly at the player whenever she wants. Players will want to avoid these attacks whenever they can and keep an eye out for when Queen Slime flies right above them and tries to drop on their head. Players can dodge this attack fairly easily and she leaves herself open for quite a bit of damage after this attack. Players who are capable of keeping this up will bring Queen Slime down in no time at all.
Next: Terraria: Journey's End Patch Notes Are Massive & Impressive
Terraria can be played on PC, Xbox One, PlayStation 4, iOS, and Android.
Source : Screen Rant
More