Very Berry Cheesecake Salad
Berry Cheesecake Salad has only the freshest berries combined with a creamy cheesecake fluff. This is so amazing and will be the hit of any gathering! Cheesecake and berries makes a perfect combination! Here are more berry cheesecake recipes that are a MUST make, like these Bars, Brownies or Cheesecake. Berry Cheesecake Salad I am…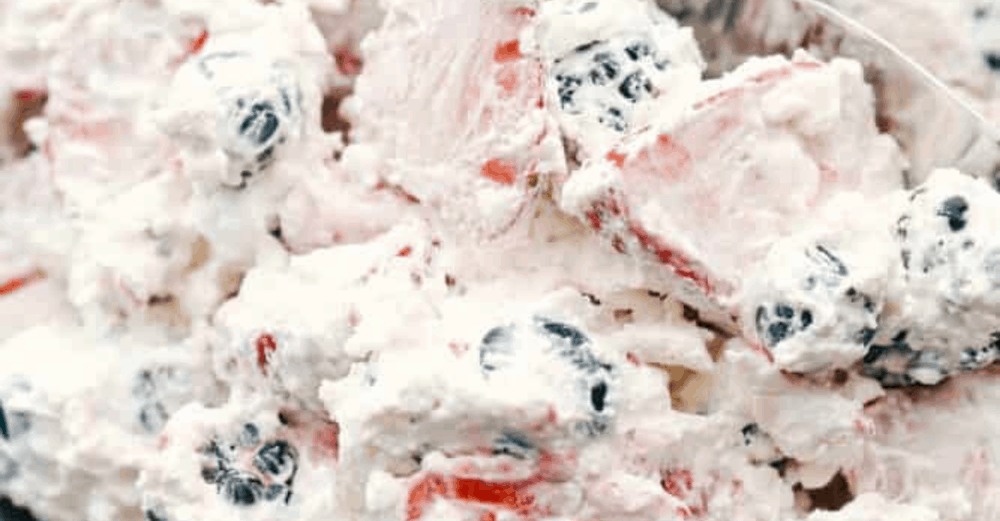 Berry Cheesecake Salad has only the freshest berries combined with a creamy cheesecake fluff. This is so amazing and will be the hit of any gathering!
Cheesecake and berries makes a perfect combination! Here are more berry cheesecake recipes that are a MUST make, like these Bars, Brownies or Cheesecake.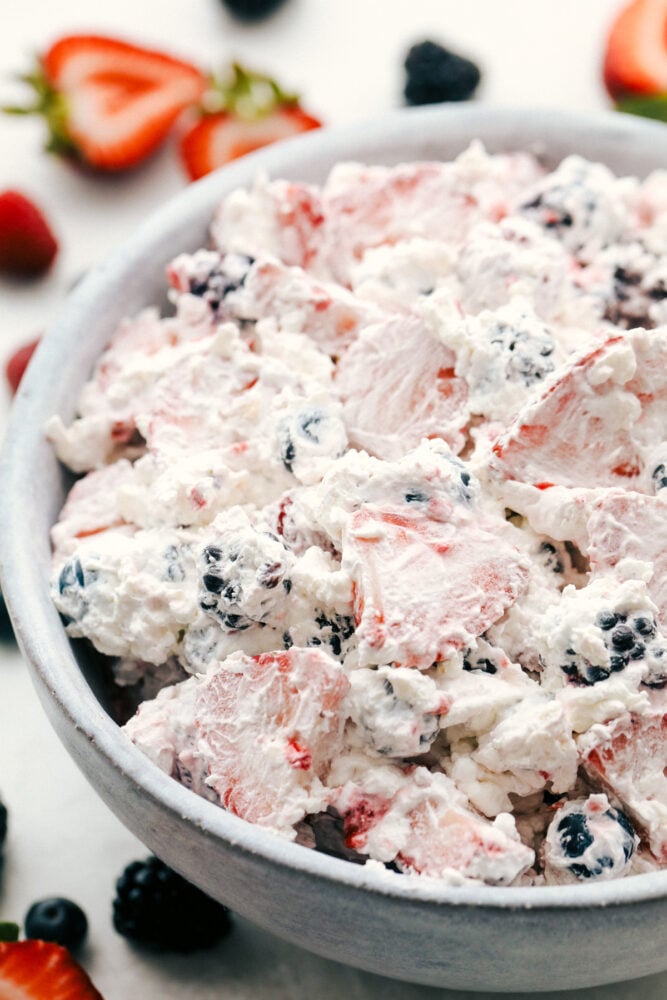 Berry Cheesecake Salad
I am loving the fresh and delicious berries that are starting to pop up in the stores right now. I love fresh fruit! We eat so much fruit around here it is crazy. I am always trying to think of yummy ways to use up our fruit. This is probably hands down my family's all-time favorite fruit salad. It is a little bit sweet, a little bit creamy, and a whole lot of scrumptious. With berries and cream cheese, it's sure to be a winner!
Yes, I know, you are looking at the ingredients and thinking it's a dessert, not a salad. It's a salad or dessert. I'll let you decide. I will tell you though, I took this to a large gathering and it was scraped clean in a matter of minutes. The berries are so refreshing and the cream cheese fluff is light and a little bit sweet. Everyone is going to love this incredible side dish, you will not have to worry about leftovers, which is a good thing. This salad only stores well for about 2 days. Make this for your next potluck or BBQ and watch the rave reviews come in. This is so GOOD!
What You Need For Berry Cheesecake
Super easy and fast, it's perfect for when you need a dynamite salad fast!
Cream cheese: Leaving the cream cheese on the counter for an hour will help softened it when blending it together.
Sugar: This adds in the sweetness! It will alter your taste but using less sugar or substituting it for a lower calorie sugar works too.
Cool Whip: This is found in the freezer isle near the ice cream. Make sure to let it thaw before using in the cheesecake salad.
Strawberries: Slice the strawberries into fourths or long ways for bite sized spoonfuls.
Blackberries, Blueberries and Raspberries: Fresh, washed, and ripe are the best for this salad.
How to Make Cheesecake Salad with Berries
Super creamy and fresh, this is an absolute summer must make!
Creamy filling: In a large bowl, beat together cream cheese and sugar until smooth and creamy. Fold in the thawed cool whip.
Fold and serve; Add strawberries, blueberries, blackberries, blueberries, and raspberries. Fold carefully into the cream cheese mixture. Serve immediately.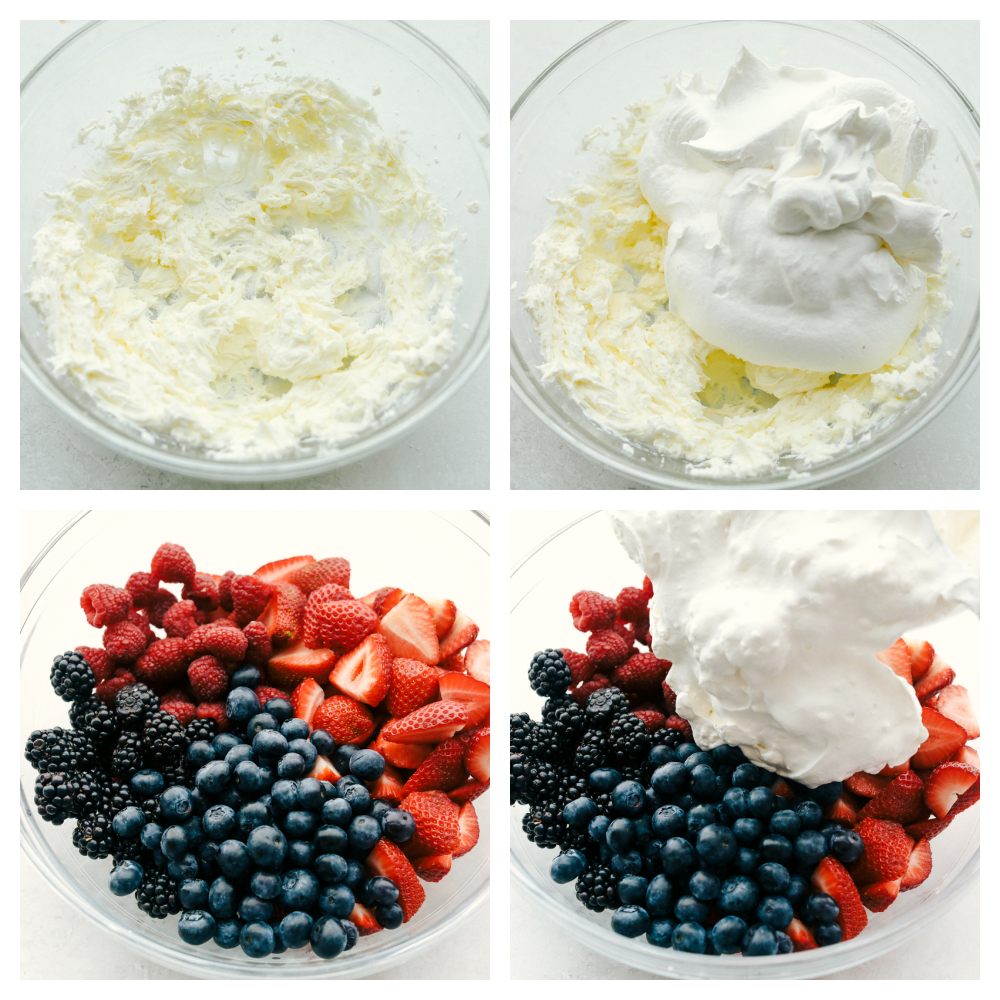 Very Berry Creamy Cheesecake Salad Tips and Variations
This salad is almost a dessert, but no one will care, it is just too good!
Fruit: Look for the ripest, freshest berries you can find. They should be firm, but not underripe, vibrant colors, and free from blemishes. Slice the strawberries till they are bite-size for easy eating. The berries you will not need to cut.
Frozen Fruit: I do not like to use frozen fruit, because the berries release too much liquid and your salad may become a mushy mess. To help alleviate that you can rinse the frozen fruit, once it's thawed, with water till it runs clear. The fruit will still not be as plump and firm, but it will still taste delicious.
Cream Cheese: To ensure everything mixes in smoothly, make sure your cream cheese is really soft, and then beat it really well. It makes the berries easier to mix in as well.
Cool whip topping: A great substitute for cool whip would be 2 cups of vanilla yogurt.
Sugar: If you are worried about the sugar dissolving use powdered sugar instead of granulated. It will give you a smoother consistency. I kind of like the little bit of crunch regular sugar gives.
Flavors: You can add a bit of flavor to your salad by adding ½ tsp of vanilla, or almond extract. Or add lemon or lime zest for a bit of zing.
Stir in: Add broken-up chocolate-covered graham crackers, cookies, or even chopped snickers for more of a dessert than a salad.
What to serve with Berry Salad
You are going to love how light and refreshing this salad is, and the fact that it's a bit sweet means it will go perfectly with a meaty, savory main dish. Perfect for your next Potluck or BBQ, this salad brings both color and flavor to the table. I will warn you it is addicting, so you may want to double the recipe so you have enough.
Dinner
Grilled Asian Garlic Steak Skewers
Dinner
Grilled Honey Mustard Chicken