WATCH: Delhi Capitals unveil new role of Rishabh Pant as DTC conductor
The name of Rishabh Pant is synonymous with flamboyance, the exuberance of youth and lion-hearted efforts. The effervescent wicketkeeper-batsman has climbed the ladder to make a place for himself in the Indian team at the highest level. Hailing from humble beginnings in Roorkee, Pant has played the entirety of his first-class career for Delhi. As…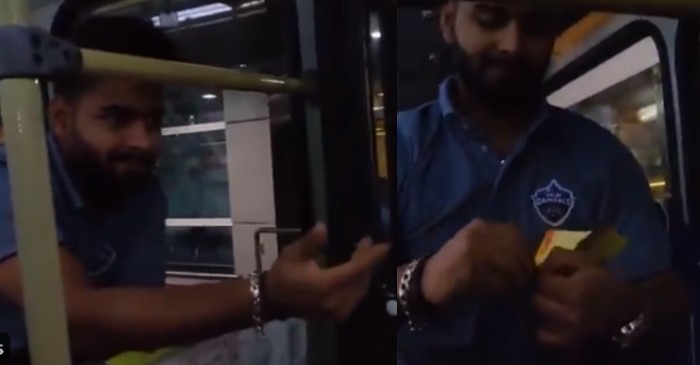 The name of Rishabh Pant is synonymous with flamboyance, the exuberance of youth and lion-hearted efforts.
The effervescent wicketkeeper-batsman has climbed the ladder to make a place for himself in the Indian team at the highest level.
Hailing from humble beginnings in Roorkee, Pant has played the entirety of his first-class career for Delhi. As a result, a lot of time of his growing years was spent in the capital of the country.
Also, he represents the Delhi Capitals (DC), formerly known as Delhi Daredevils, in the Indian Premier League (IPL).
With the announcement of the thirteenth edition of IPL taking place in UAE, in between September 19 to November 10, franchises have started creating a lot of buzz around it.
Recently, DC's social media handle released a video of their marquee cricketer, Pant, who donned the role of a Delhi Transport Corporation (DTC) conductor.
In the video, the 22-year-old asked for tickets in a typical Haryanvi tone with a tinge of blatantly blunt attitude, famously worn by the DTC conductors.
Here's the video:
⚠️ Caution ⚠️

Travelling without a ticket during #IPL2020 will be ill-advised when @RishabhPant17 is around ????????????‍♂️#YehHaiNayiDilli pic.twitter.com/MfExrHcSok

— Delhi Capitals (Tweeting from ????) (@DelhiCapitals) August 10, 2020
It is not the first time fans have seen him tickle the funny bones. Even during games of IPL or India, Pant is known to make hilarious comments from behind the stumps.
His efforts of sledging Australia captain Tim Paine was well documented during 2018 India's Down Under tour.
In one of the Test matches of the tour, Pant tagged Paine as 'temporary captain'. In return, Paine asked the Haridwar-born cricketer to babysit his kids. The latter obliged to former's request.
Coming to his numbers, in all T20 games, Pant holds an impressive strike-rate of 156.34. He has amassed 2675 runs in those games, with an average of 33. Also, Pant has two centuries and 17 half-centuries to his name.
Time has arrived for the return of investment which DC's have put on the young brigade, namely , Prithvi Shaw, and Pant. The DC's will look at clinching their first IPL title on the back of the balance in the team.
Source : Cricket Times
More