WITCH TIPS & HOROSCOPES 9/15-21/2021
See what's the stars for you!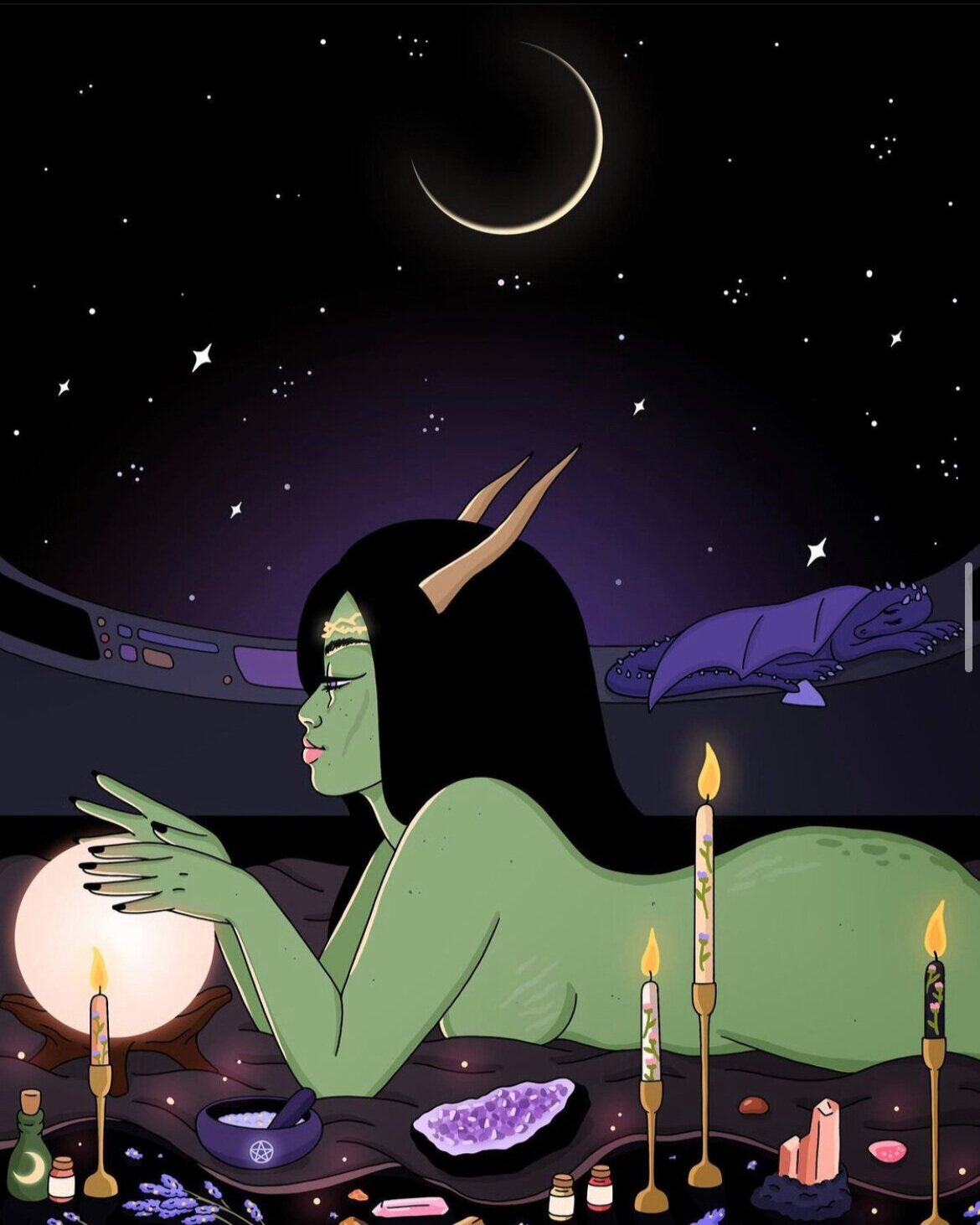 Astrology by
WITCH TIPS
This week's astrology is beautiful, magical, and what dreams are made of! The Virgo Sun harmonizes with Pluto, which is retrograde in Capricorn, on September 16, giving us a push to move forward. On September 17, Venus, who's in Scorpio, squares off with Saturn, who's retrograde in Aquarius, which will bring insecurities to a head. The Harvest Full Moon in Pisces occurs on September 20, glowing and warming up our hearts and sentiments. An hour before the Harvest Full Moon, Mercury in Libra shares a glorious aspect with Jupiter, who's retrograde in Aquarius. The same day, Mars in Libra connects with the Nodes of Destiny, giving us the drive to make our vision a reality. Therefore, this is a very magically potent time to bring life to the intentions that you wish to manifest. Dreams can and will come true! 
Aries
Your competitive spirit is making you want to argue and assert your will to maintain the top position in all you do. But, what are you really fighting for? Separate your ego from the situation and stop pushing so hard. You have nothing to prove to anyone other than yourself.
Taurus 
Everyone wants to hear what's on your mind, so choose an environment conducive to conversation about future endeavors and relationships. Being supported by those you care about will prove to add a lot of potency to your dreams and hopes that you wish to bring to fruition during this week.
Gemini 
When life gives you lemons, make lemonade. It's important to use your personal setbacks as fuel for you to know how to move forward and to navigate towards a better place. With your intellect and brain power, there is nothing you can't achieve if you put your brain to it.
Cancer 
Stop being critical about your previous actions this week. Do not be hard on your slip-ups, be kind and graceful instead. We all make small mistakes and have missteps. The lesson to be learned is that it's essential to be gentle with yourself when issues occur. No one is perfect.
Leo 
Good moments when you feel threatened, you revert to using defensive tactics such as gossip to help make you feel better. The caveat is that the tells you tell are only affecting you, not anyone else. Instead of projecting, look inwards to see how you can evolve and grow internally. 
Virgo 
You are changing your perspective and emotional reactions this week. Instead of focusing on the main new details of a relationship, situation, or discussion, you are allowing yourself to see the broader picture in life. This will allow you to not take matters too personally in the upcoming days ahead.
Libra 
It's important to add structure to your routine, but do so slowly. Don't take on more that you can commit to or chew. Making sure that you stick to a set schedule will be pivotal during the Harvest Moon, as you'll find it balances you out and gives you energy.
Scorpio 
True belonging starts with your relationship with yourself. Use this week to meditate and find peace and look inwards. What parts of yourself do you like or wish to change? Give yourself a gentle nudge to grow while working on transforming yourself to align with your highest purpose and power.
Sagittarius 
What inspires you? Think about what creative endeavors are the motivational driving force behind achieving personal success, then make moves to attain that. With a clear mindset, anything is possible  for you (all of this will propel you forward in the right direction if you believe in the vision now).
Capricorn 
This week creates tension between your heart and will. Although it's unlike you to go about relationships freely, without concern and thinking about the future, you are wanting to do so now — which will make you start to overthink relationships. Do what feels right for you in the moment.
Aquarius 
Stress at work is creating a lot of turmoil in your personal life. It's important to create balance between the two to ensure that you are not bringing the fevered energy from work into your home. Separating these entities from each other will be helpful as you move through the week.
Pisces 
For the first time in a long time, you are seeing the light at the end of the tunnel. It's been a long journey towards cultivating a peaceful vibe within yourself, and it's time for you to acknowledge how far you've come in little. Celebrate your growth this week.
Source : The Hoodwitch
More